The Big Read: Mr. Hindsight pores over the past 16 Coyotes drafts with 2020 vision (that's a pun!)
Who did they take? Who should they have taken? Why didn't they listen to you?!
Welcome to the AZ Coyotes Insider newsletter. I generally publish stories four to six times per week. By subscribing, you'll be supporting independent, accountable journalism. Subscribe now so you won't miss a story.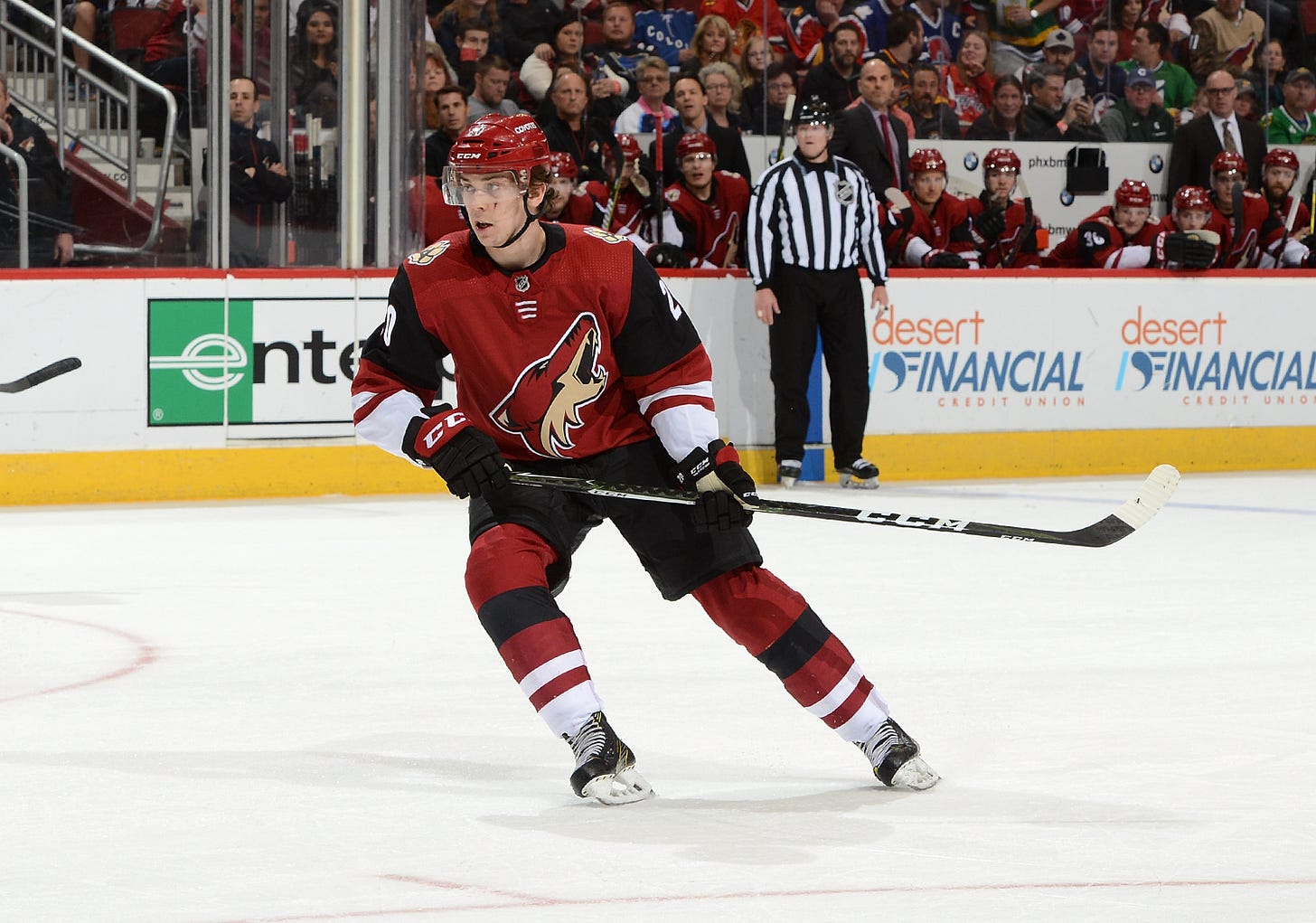 Dylan Strome.
All photos courtesy of Arizona Coyotes
---
In no instance is the expression "hindsight is 20/20" more applicable than pro sports drafts. Fans, analysts and even NHL insiders expend a lot of breath criticizing a team's picks two, three, even 10 years after the fact, assuring everyone that, of course, they knew whom that team should have selected at the time.
A quick check of many fans' or analysts' records would provide contrary evidence. Dylan Strome was widely regarded as the third best prospect in the 2015 NHL Draft, and most fans and media thought that the Coyotes should have taken Filip Zadina (not Quinn Hughes) when the Coyotes chose Barrett Hayton with the No. 5 pick in 2018.
Remember something when you judge NHL scouts' and executives' draft performances: The NHL Draft is the hardest of the four major North American professional sports in which to achieve success. "I'm convinced nobody is good at it," a colleague told me recently. "Nobody."
There's a simple reason. NHL teams are drafting 17- and 18-year-old players. Other leagues either have higher minimum draft ages (NBA, NFL) to allow for more physical and mental development (and easier evaluation), or they have oodles of draft rounds and farm teams (Major League Baseball) to mitigate the risk of missing on picks.
I think the NHL should raise its minimum draft age. So do many league executives and coaches, but the NHLPA would fight tooth and nail to keep things the way they are, ignoring the reams of data and wasted money that support my opinion.
Those facts notwithstanding, the woulda shoulda coulda draft game is fun to play. You can do it with every team, and it's especially fun with fan bases that crow about their recent success like the Canucks'. For every Hughes and Brock Boeser there is a Jake Virtanen, Olli Juolevi or Cody Hodgson.
With the 2020 NHL Draft a little more than a week away, Mr. Hindsight has pulled out his 20/20 lenses to pore over the past 16 Coyotes drafts. Why 16? It's a reasonable time frame to consider for players who are still playing, and it allows me to ignore the dark truth about 2003, the best draft of this millennium, when the Coyotes did not have a first- or second-round pick due to gross asset mismanagement.
The Coyotes' draft history is not a good one, as you'll see below. In some cases, they failed to identify the right players. In other cases, they failed to develop those players properly. Lack of resources also played a role, and again, it's a tough job.
If you need a reason for hope about this franchise's future, look at new GM Bill Armstrong's track record in St. Louis. Something about the Blues' process worked better than most teams' processes. Drafting and developing are the lifeblood of an organization, so while the jury is still out on Armstrong's performance in the GM chair, give some credit to Coyotes ownership and president/CEO Xavier Gutierrez for identifying a man whose ability numerous league sources have praised.
OK, back to the Coyotes' draft history. While I have included every pick from each of the past 16 drafts, I will focus on the top two picks — whom the Coyotes selected and whom they should/could have selected. Disagree with my selections? You can tell me about it in the comments section below the story, but a word of caution: Mr. Hindsight is never wrong.

Credit to hockeydb.com for all of the graphic screenshots.
2004

First pick: Forward Blake Wheeler. It's hard to argue with Wheeler at No. 5 overall. Sixteen years later, he is the third most productive player from that draft, and probably its third best player behind No. 1 pick Alex Ovechkin and No. 2 pick Evgeni Malkin. Of course, GM Don Maloney couldn't close that deal. Wheeler declined to sign the Coyotes' entry-level offer and became a free agent, signing with Boston. Of the Coyotes' numerous regrets in 24 years in the desert, this is a top-10 choice. At least Captain Coyote exacted some revenge, 10 years later.

Second pick: Defenseman Logan Stephenson. He never made it past the AHL and played this past season in Slovakia.
Sleeper pick: Forward Daniel Winnik at No. 265.
Whom they could/should have taken: Center David Krejci went at No. 63 to Boston. He has 686 points in 911 career games. On defense, Alex Goligoski (407/868) went to Pittsburgh at No. 61 overall.
2005

First pick: Center Martin Hanzal became an effective two-way center for the Coyotes and centered the top line between Ray Whitney and Radim Vrbata during the Coyotes' run to the 2012 Western Conference Final. Chronic back issues and the Coyotes' inability to find elite centers to play ahead of Hanzal hurt his optics, but he was never going to be a high point producer.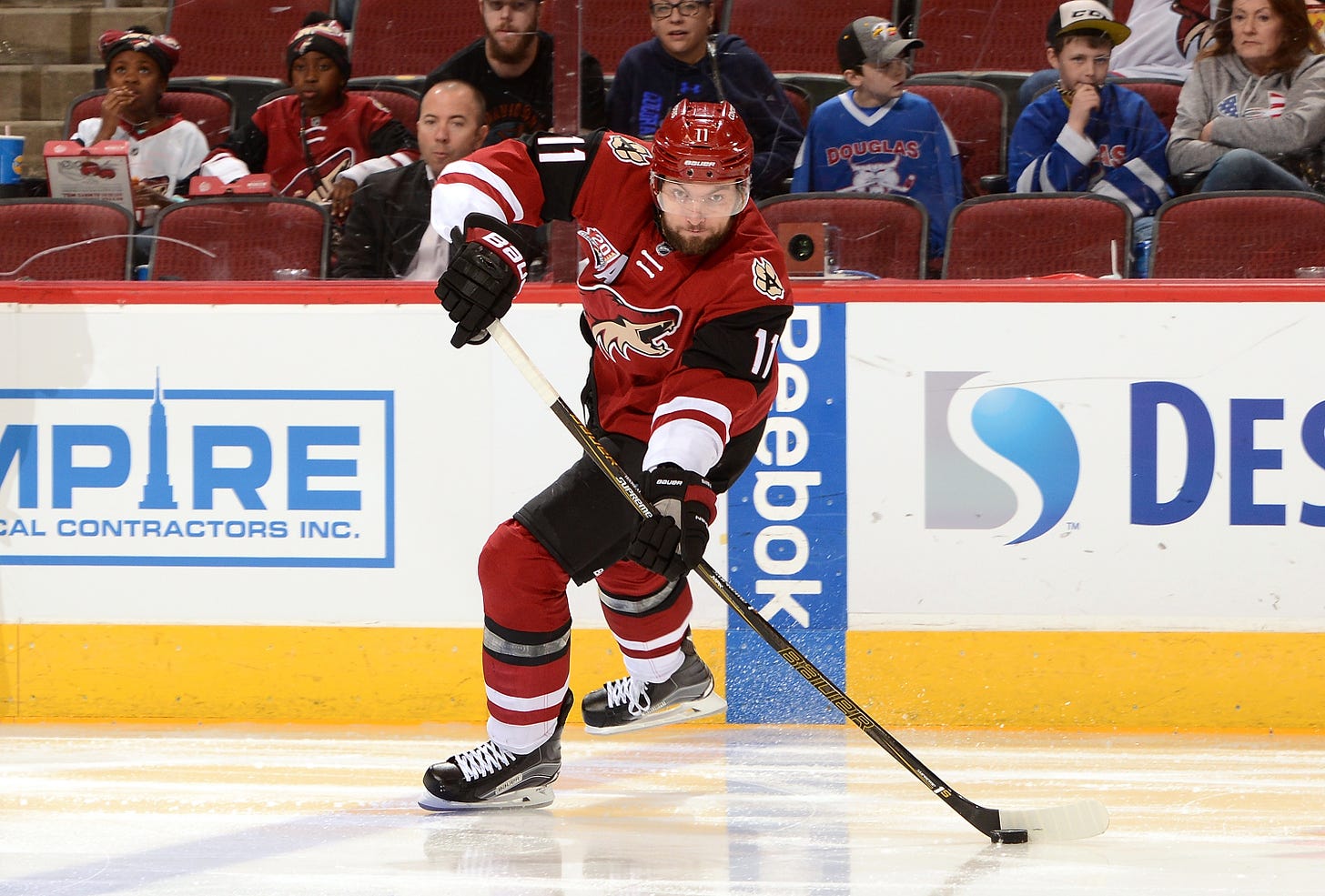 Marty Hanzal
---
Second pick: Goalie Pier-Olivier Pelletier. He only managed one game in the AHL! This was a disastrous pick.
Sleeper pick: Defenseman Keith Yandle at No. 105. To date, he is the best late-round pick in Coyotes' history.
Whom they could/should have taken: Forward T.J. Oshie (567 points in 803 games) went at No. 24 to St. Louis. Center Paul Stastny (726/945) went at No. 44 to Colorado. Defenseman Kris Letang (537/808) went with the first pick of the third round to Pittsburgh. Goalie Jonathan Quick went at No. 72 to Los Angeles.
2006

First pick: Forward Peter Mueller. Mueller had a terrific rookie season, a decent second season and then his play slipped, leading to a trade. Injuries derailed what might have been a very good career, but Mueller is at peace with his decision to play abroad, as I detailed here.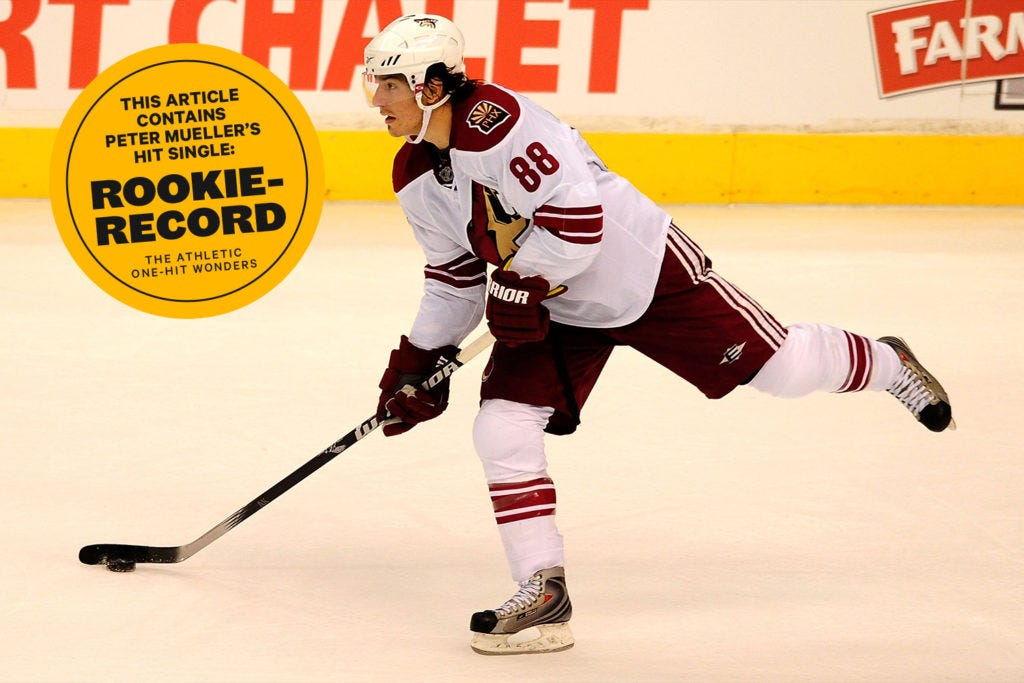 Second pick: Defenseman Chris Summers. Summers spent the majority of his career in the AHL and was a throw-in when the Coyotes traded Yandle to the New York Rangers at the 2015 trade deadline.
Whom they could/should have taken: Forward Claude Giroux (815/889) went at No. 22 to Philadelphia. Forward Brad Marchand (646/751) went at No. 71 to Boston.
2007

First pick: Center Kyle Turris. This one was painful because the Coyotes finally had the chance to get it right with a No. 1 center. It didn't happen. Turris didn't last long in Phoenix before making enemies in the Coyotes' locker room, holding out in a contract dispute and rubbing coach Dave Tippett and GM Don Maloney the wrong way, leading to his trade to Ottawa.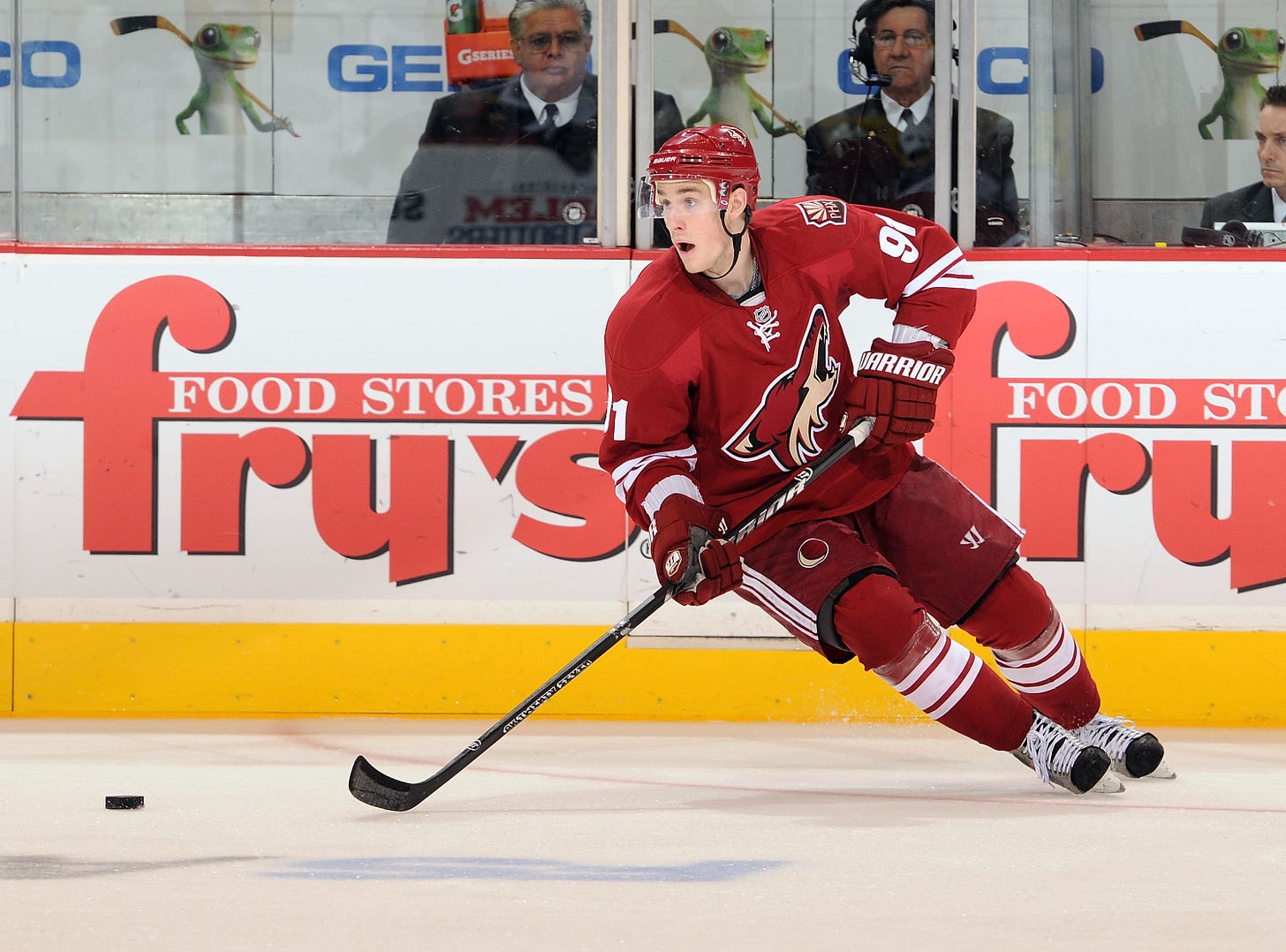 Kyle Turris
---
Second pick: Defenseman Nick Ross. In keeping with a Coyotes' second-round trend, Ross never played an NHL game. He bounced around the AHL before embarking on a European career in 2012. He played last season with Miskolci in Slovakia.
Whom they could/should have taken: A bunch of guys. Forward Jakob Voracek (695/915) went to Columbus at No. 7. Center Logan Couture (546/715) went to San Jose at No. 9. Forward Max Pacioretty (554/763) went to Montreal at No. 22. Defenseman P.K. Subban (426/713) went to Montreal at No. 43. Forward Wayne Simmonds (499/909) went to Philadelphia at No. 61. Forward Jamie Benn (688/814) went to Dallas at No. 129!
2008

First pick: Forward Mikkel Boedker: Boedker showed flashes of potential, including those two, game-winning OT goals against Chicago in the 2012 postseason, and a 19-goal, 51-point season in 2013-14, but he never could take the next step. He was traded to Colorado at the 2016 trade deadline.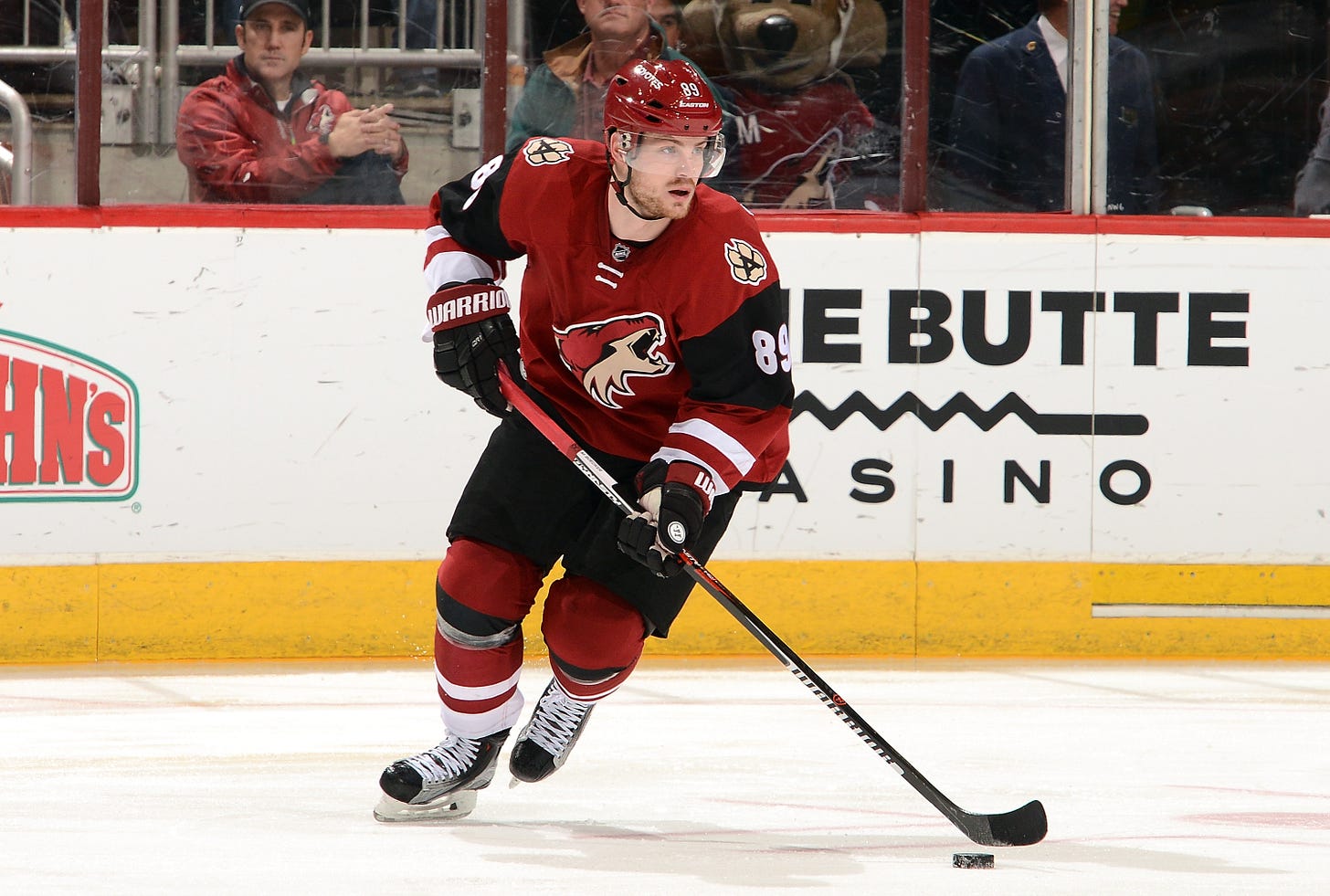 Mikkel Boedker
---
Second pick: Forward Viktor Tikhonov. As far as personalities go, Tikhonov is one of the nicest guys I have encountered in two decades of covering this league, but he was not worthy of a first-round pick. He has played in the KHL for the past four, and eight of the past nine seasons.
Whom they could/should have taken: How about defenseman Erik Karlsson (603/736), who went to Ottawa at No. 15, or 2020 Norris Trophy winner Roman Josi (413/632), who went to Nashville at No. 38? Yikes! Other possible picks include defenseman John Carlson (478/757), who went to Washington at No. 27; forward Josh Bailey (476/865) to the New York Islanders at No. 9; and hey, center Derek Stepan (479/739) to the New York Rangers at No. 51.
2009

First pick: Defenseman Oliver Ekman-Larsson. Poring over the 2009 draft, there is only one player I might have taken over Ekman-Larsson (more on that below). From 2013-2016, he was elite and probably should have been a Norris Trophy finalist in 2015-16 when he had 21 goals and 55 points on a talent-challenged roster.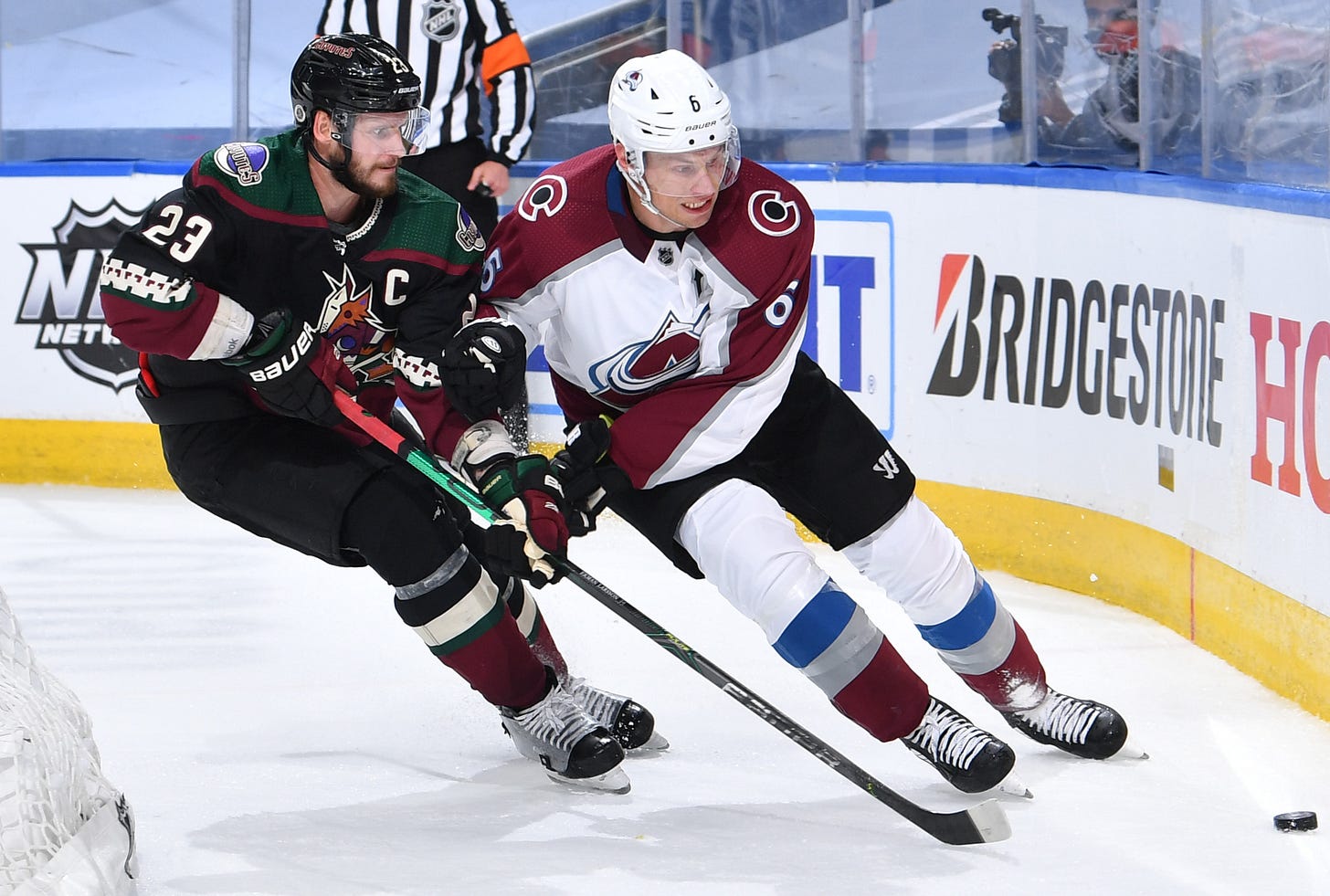 OEL
---
Second pick: Forward Chris Brown. Again, notice a trend in the second round? Brown played 23 NHL games. He has been in the German league for the past three seasons.
Whom they could/should have taken: Center Ryan O'Reilly went at No. 33 to Colorado. He won a Cup and the Conn Smythe Trophy last season in St. Louis. After Brown, Ottawa got forward Jakob Silfverberg (291/558) at No. 39. Dallas got forward Reilly Smith (354/577) at No. 69.
2010

First pick: Defenseman Brandon Gormley. This may go down as the worst first-round pick in Coyotes' history. After bouncing around the AHL, Gormley has spent the past four seasons in Europe; three in Sweden, one in Finland.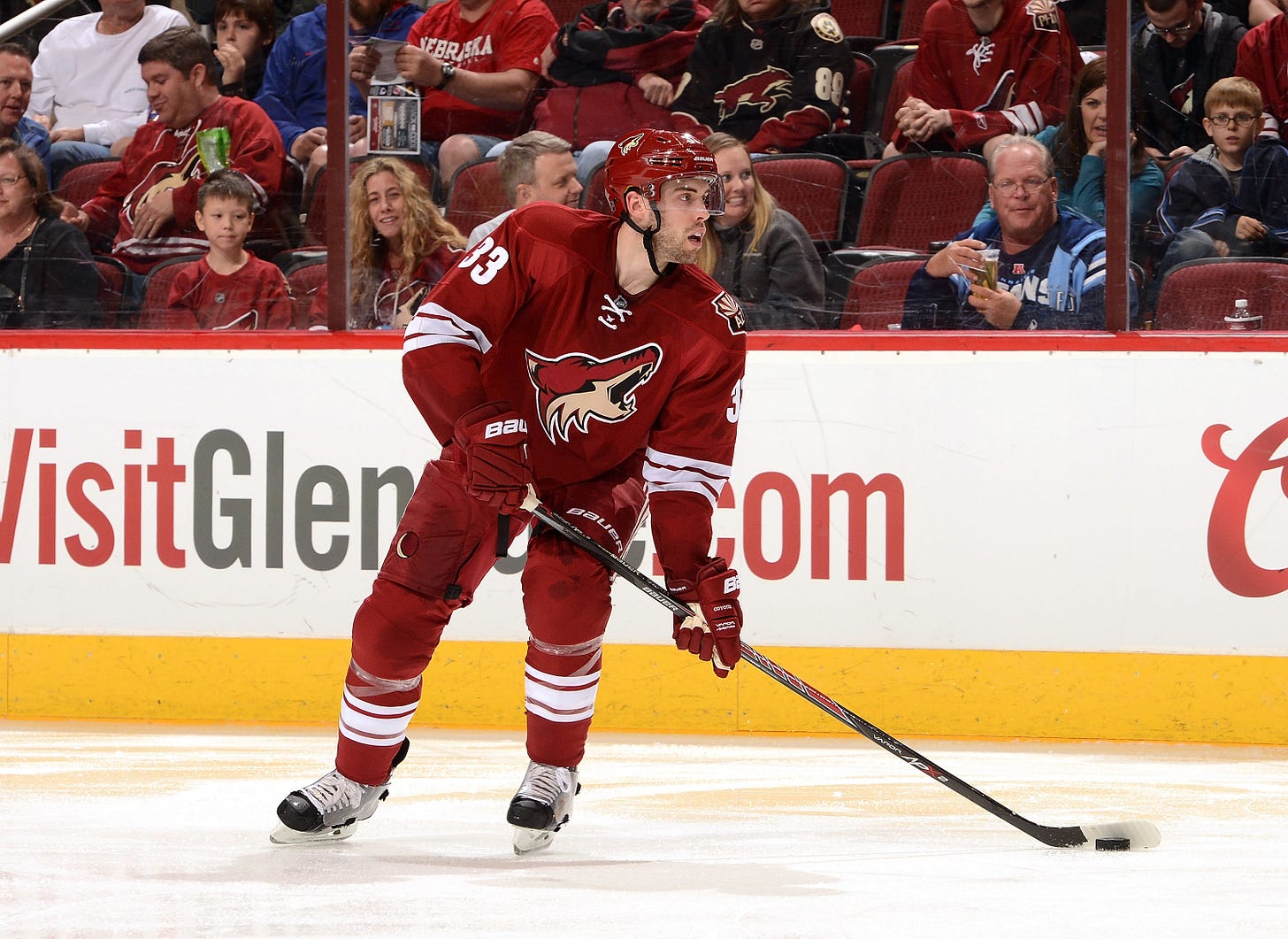 Brandon Gormley
---
Second pick: Goaltender Mark Visentin. It's hard to criticize Visentin. Injuries derailed any hope he had of developing into an NHL goaltender and he retired from the game in 2018.
Whom they could/should have taken: How about forward Vladimir Tarasenko (428/507), who went at No. 16 to St. Louis? Or forward Evgeny Kuznetsov (389/479), who went at No. 26 to Washington. Or defenseman John Klingberg (291/425), who went at No. 131 to Dallas. Or forward Brendan Gallagher (334/547), who went at No. 147 to Montreal.
2011

First pick: Defenseman Connor Murphy. Murphy is a serviceable No. 4 or No. 5 defenseman and a guy who adds character to a team. He has carved out a decent NHL career.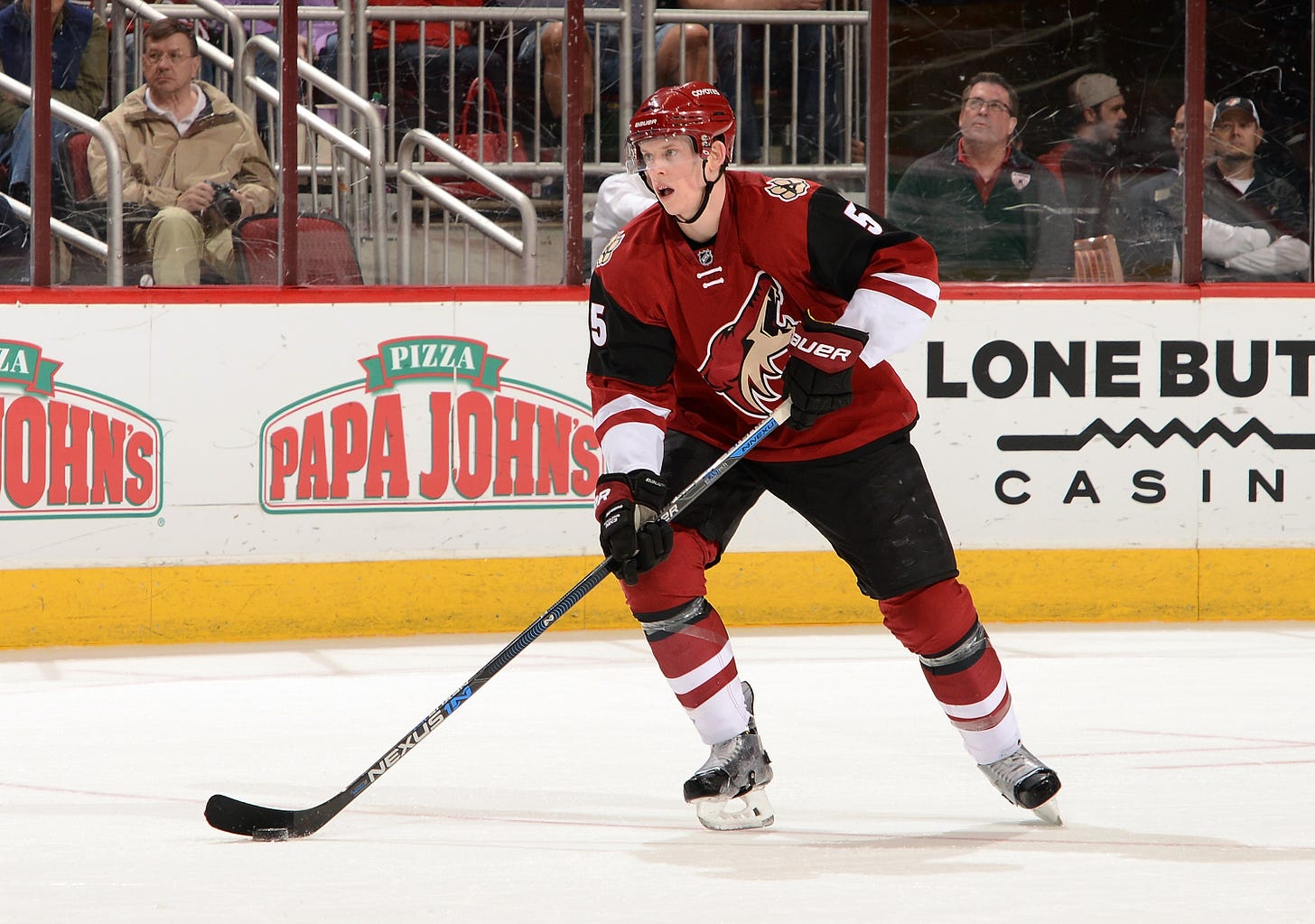 Connor Murphy
---
Second pick: Forward Alexander Ruutu. Second round, no NHL games. Trend.
Whom they could/should have taken: Forward Nikita Kucherov (547/515) went at No. 58 to Tampa Bay. Forward Johnny Gaudreau (445/464) went at No. 104 to Calgary. Forward Ondrej Palat (328/496) went at No. 208 to Tampa. What a draft for the Lightning.
2012

First pick: Forward Henrik Samuelsson. There were a lot of problems with this selection. Samuelsson's conditioning and commitment were in question from the time he arrived. He ended up playing fewer NHL games (three) than any first-round pick that season. He played in England last season where he had five goals and 12 points in 31 games.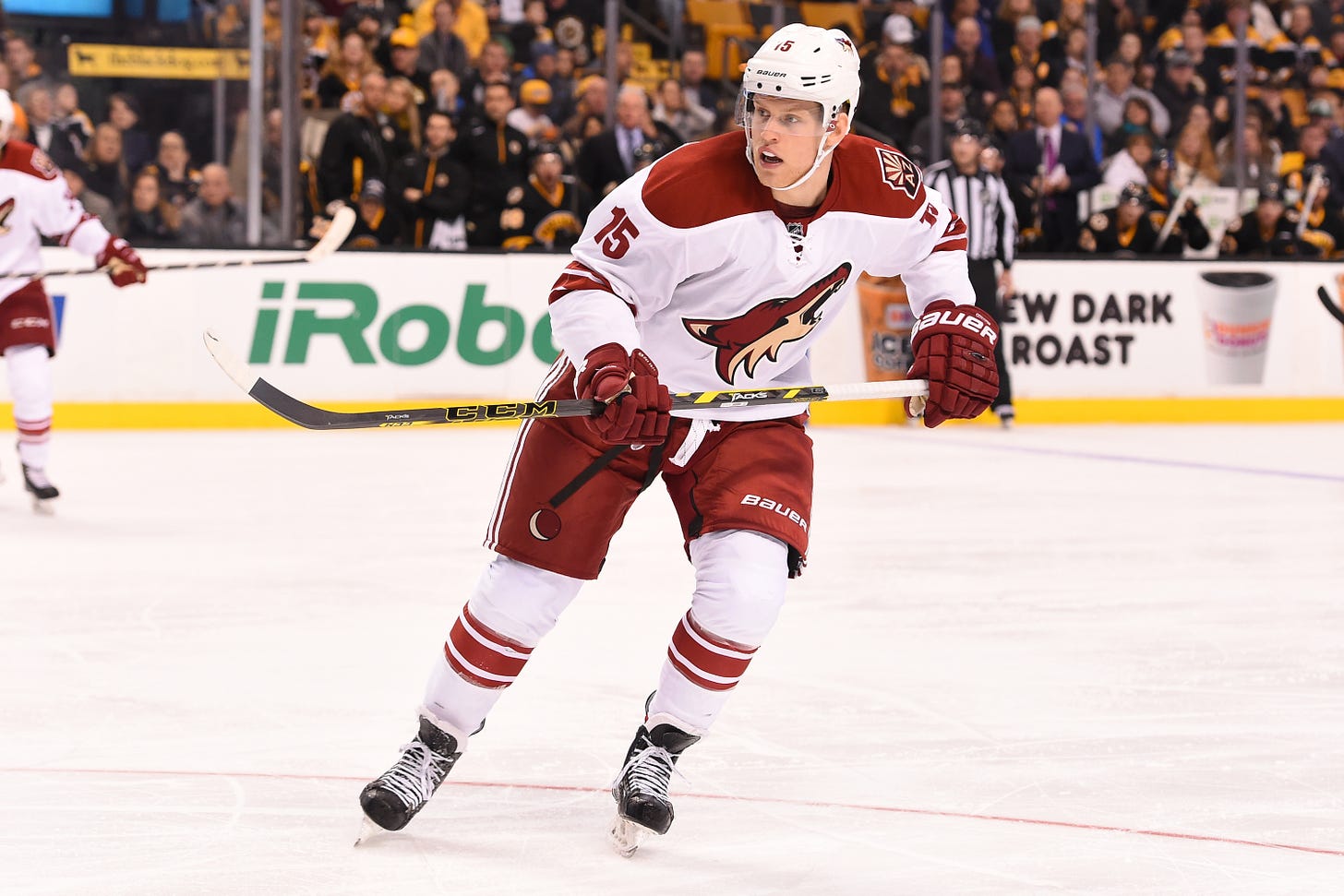 Henrik Samuelsson
---
Second pick: Forward Jordan Martinook. Coach Rick Tocchet was not a big fan of Jordan Martinook's game. I was. I thought he gave his all every night and he has brought plenty of character and personality to the Carolina Hurricanes' dressing room.
Whom they could/should have taken: This was not a good draft, but the Blues stole defenseman Colton Parayko (159/386) at No. 86, Philadelphia found defenseman Shayne Gostisbehere at No. 79 (199/340), and Carolina found defenseman Jaccob Slavin (151/377) at No. 120.
2013

First pick: Forward Max Domi. Domi has more points than any player taken after him but he may be on the move again this offseason, suggesting problems with his game and/or size. Domi's father, Tie, infamously criticized the Coyotes organization on the air and is widely believed to have been a driving force (through agent at the time Pat Brisson) behind his trade to Montreal for Alex Galchenyuk, also a Brisson client.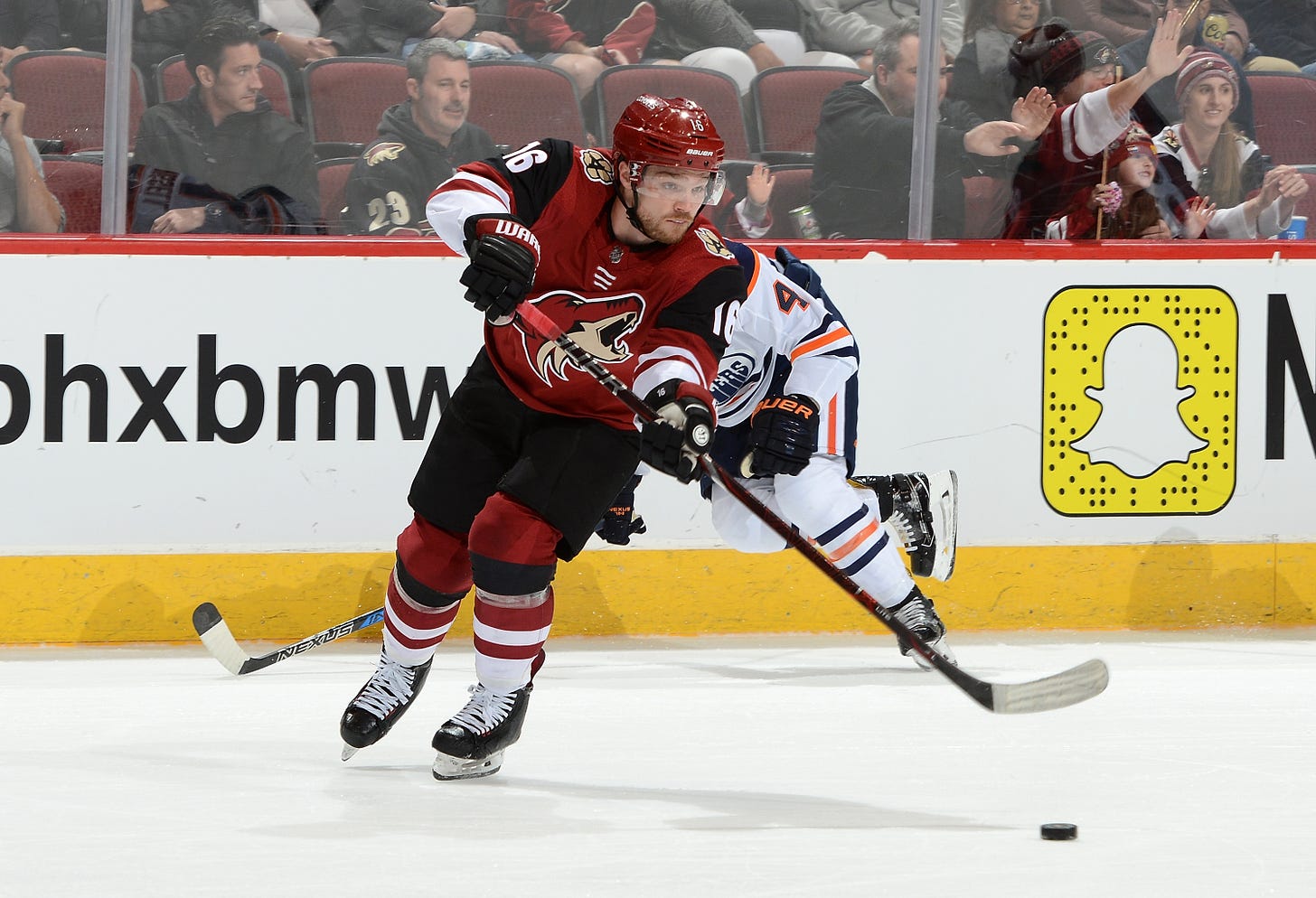 Max Domi
---
Second pick: Center Laurent Dauphin. Dave Tippett believed Dauphin had the tools to become an effective fourth-line center. It hasn't happened.
Whom they could/should have taken: Defenseman Shea Theodore (129/264) went to Anaheim at No. 26 and has turned into an elite NHL defenseman in Vegas. This was not an impressive draft, but forward Jake Guentzel (98 goals in 243 games) went to Pittsburgh with the No. 77 pick.
2014

First pick: Forward Brendan Perlini. I can't think of a Coyote, past or present, with whom I enjoyed chatting more than Perlini. His interests ranged far beyond hockey. He was just as happy dissecting art as he was his game. He is a restricted free agent with Detroit, his third NHL team.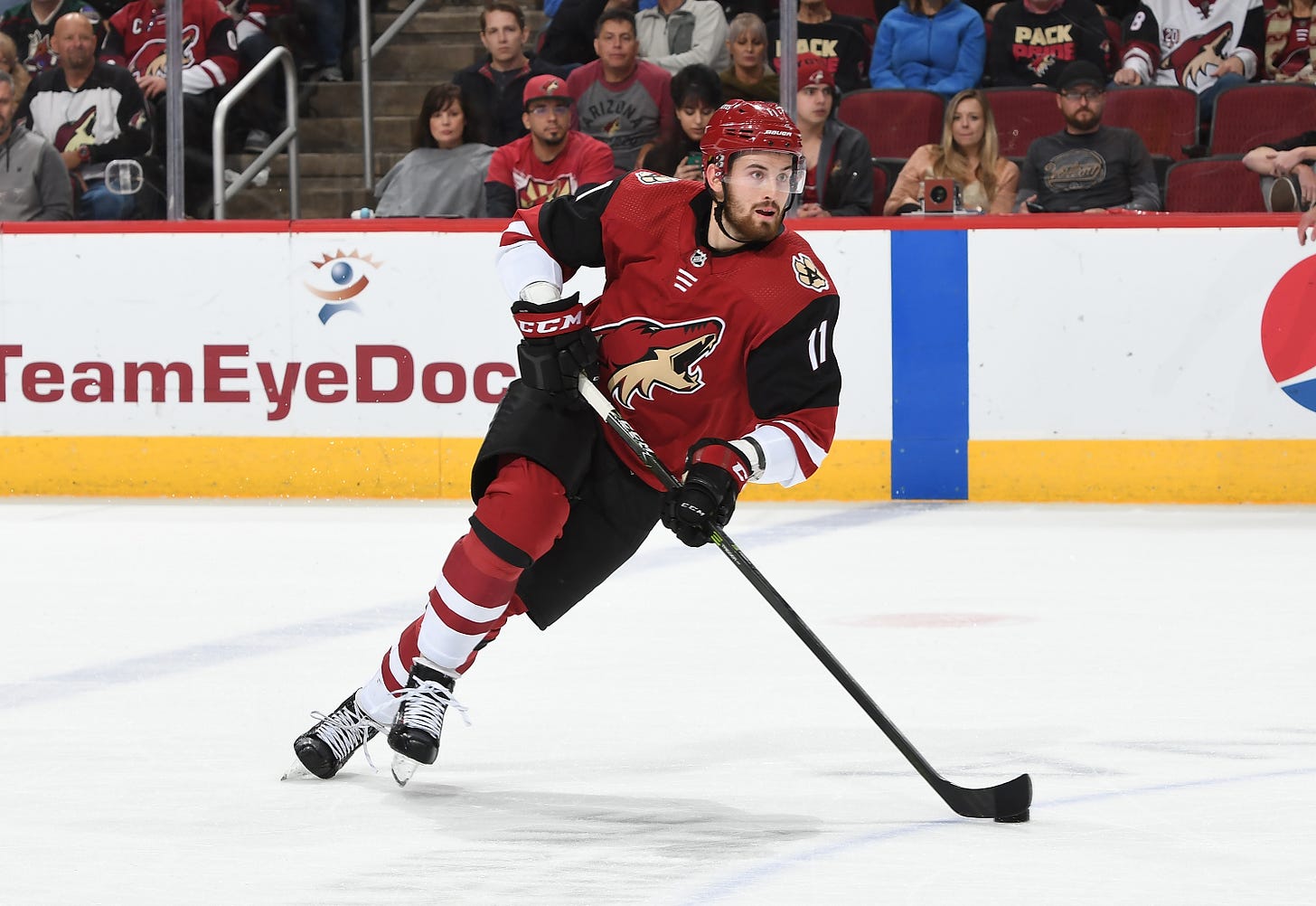 Brendan Perlini
---
Second pick: Despite his pedigree and size, MacInnis never panned out. He did play 10 games for Columbus this season (his first NHL games), notching one assist.
Sleeper pick: Center Christian Dvorak at No. 58. Dvorak is becoming a very good NHL player.
Whom they could/should have taken: Center Dylan Larkin (266/389) went to Detroit at No. 15. That one seems glaring until you get to forward David Pastrnak (279/390) to Boston at No. 26, or center Brayden Point (262/295) to Tampa at No. 79, or even forward Viktor Arvidsson (151/335) to Nashville at No. 112. The Coyotes could have had a No. 1 center or a high-scoring wing.
2015

First pick: Center Dylan Strome. As I mentioned previously, almost everyone (notably, not coach Dave Tippett) had Strome rated as the No. 3 prospect in this draft. The tougher truth for the Coyotes was that this draft was loaded with top-shelf talent, they had two picks, and they didn't land that top-shelf talent. Next to 2003, 2015 is probably the best draft since the turn of the millennium.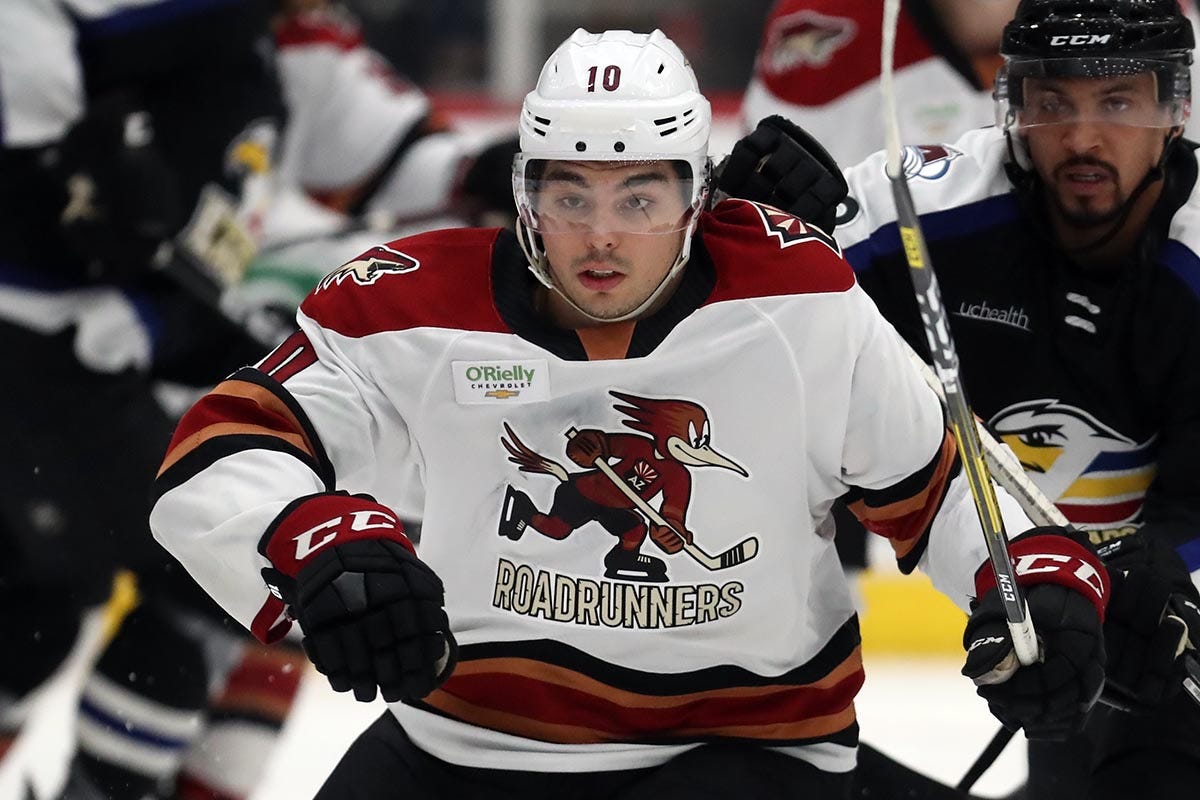 Nick Merkley
---
Second pick: Forward Nick Merkley. Knee injuries stunted Merkley's development. He went to New Jersey in the Taylor Hall trade.
Sleeper pick: Forward Conor Garland at No. 123. Scout always tell me how much they love watching Garland play.
Whom they could/should have taken: Hoo-boy. There is a lot of choices. To name a few: forward Mitch Marner (291/300) to Toronto at No. 4. Forward Mikko Rantanen (250/281) to Colorado at No. 10. Center Mathew Barzal (207/234) to the New York Islanders at No. 16. Forward Kyle Connor (201/249) to Winnipeg at No. 17. Defenseman Thomas Chabot (119/205) to Ottawa at No. 18. Forward Brock Boeser (161/197) to Vancouver at No. 23. Center Travis Konecny (185/299) to Philadelphia at No. 24. Center Sebastian Aho (263/310) to Carolina at No. 35. Center Anthony Cirelli (94/168) to Tampa at No. 72. Is that enough names for you?
2016

First pick: Forward Clayton Keller. Keller is entering a critical year for the optics of his career. His eight-year, $57.2 million contract will kick in next season. He hasn't produced at the level the Coyotes had hoped the past two seasons, but there were promising signs in the postseason.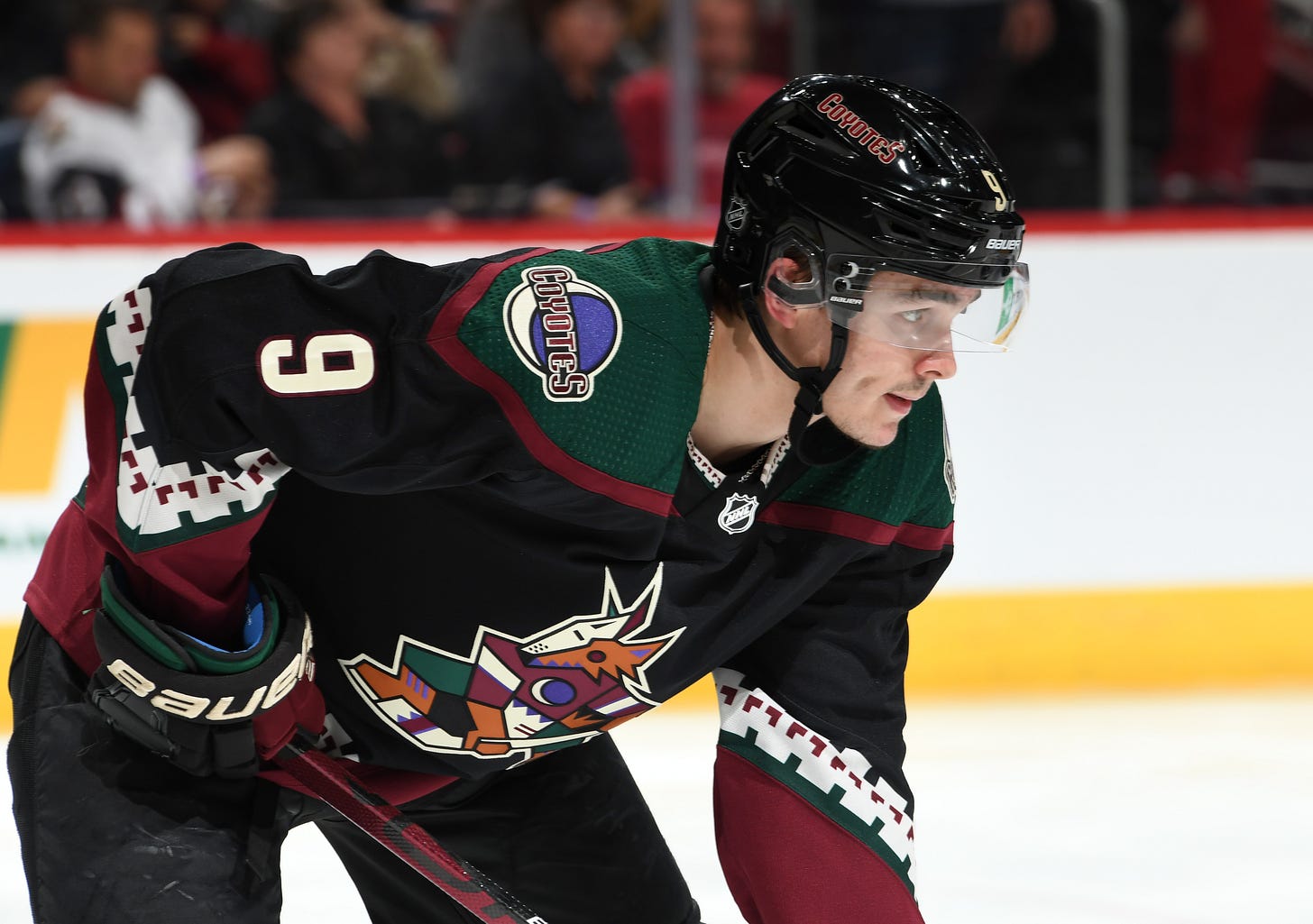 Clayton Keller
---
Second pick: Defenseman Jakob Chychrun. Despite a rough postseason, Chychrun made good progress this season at a very difficult position. Like Keller, Chychrun faces a critical offseason as he looks to become an elite defenseman.
Whom they could/should have taken: It's too early to say that the Coyotes should have taken anyone else, but defenseman Mikhail Sergachev (106/228) to Montreal at No. 9 and Charlie McAvoy (92/184) to Boston at No. 14 both look like excellent picks below Keller. Forward Alex DeBrincat (173/234) went to Chicago at No. 39, but it's debatable whether the Coyotes need any more small, skilled players.
2017

First pick: Pierre-Olivier Joseph. As far as character, they don't make them better than P.O. Joseph. Pittsburgh is said to be high on Joseph, who was part of the Phil Kessel trade, but I have my doubts whether he can ever become something more than a third-pair defenseman. I think second pair is probably his ceiling. He'll probably be a great community asset, too.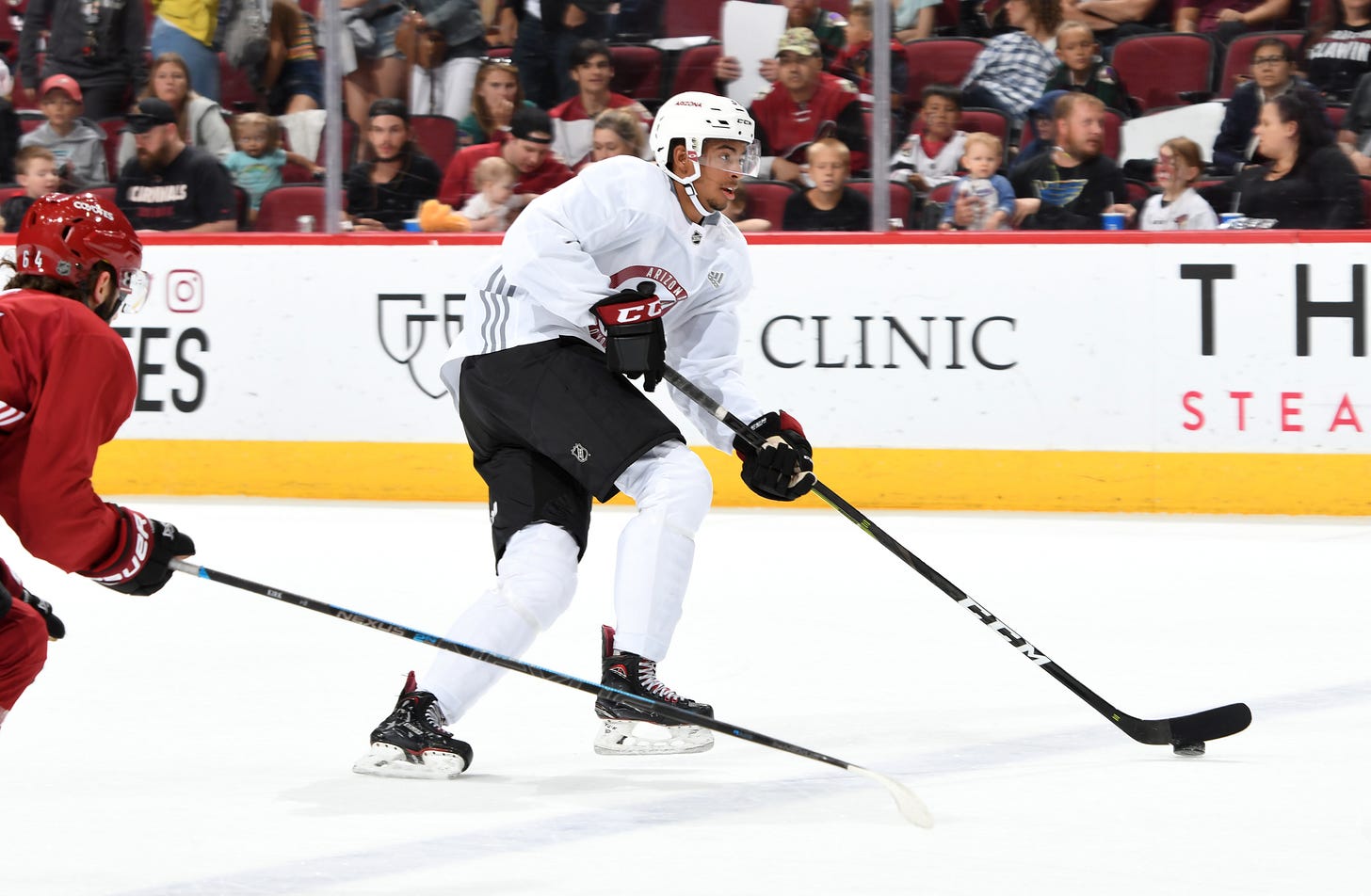 P.O. Joseph
---
Second pick: Defenseman Filip Westerlund. The Coyotes still own his rights but nobody talks about him as a significant prospect any more.
Whom they could/should have taken: Good luck. 2017 was an awful draft after the top five picks. Nobody taken after Joseph has done much. In fact, nobody after the top five picks has really done much other than St. Louis' Robert Thomas.
2018

First pick: Center Barrett Hayton. In retrospect, keeping Hayton with the NHL club felt like a wasted season. He needed to play more. He might have had he not suffered an injury at the World Junior Championship, but he was the classic tweener who needed an exception to play in the AHL. Much is still expected of Hayton and scouts are still very high on him. He is eligible to play in Tucson this season if GM Bill Armstrong doesn't feel he is ready.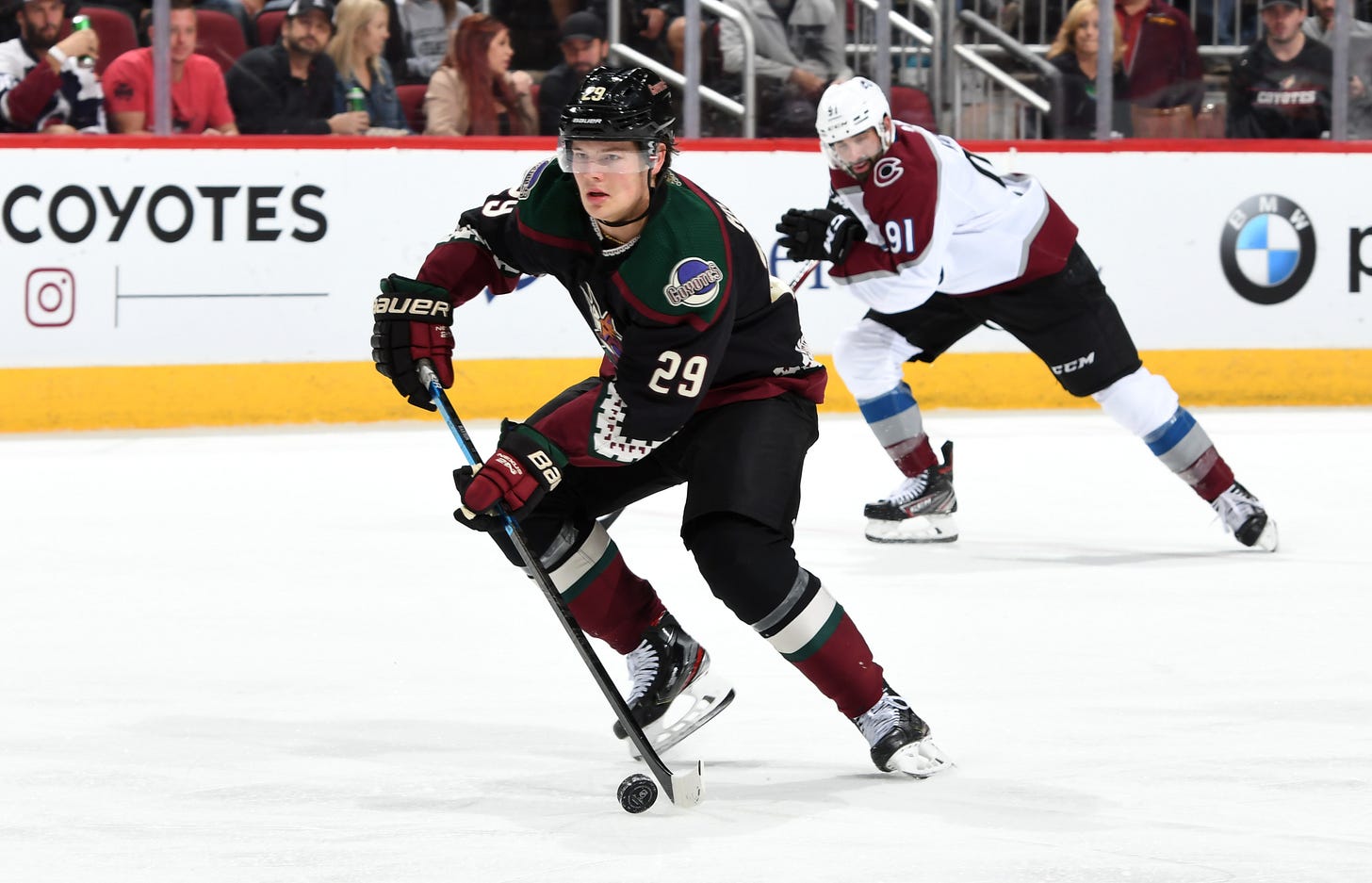 Barrett Hayton
---
Second pick: Defenseman Kevin Bahl. The Devils like his game and his muscle. The latter ingredient is something the Coyotes could have used down the road.
Sleeper picks: Keep an eye on forward Jan Jenik at No. 65 and goalie Ivan Prosvetov at No. 114.
Whom they could/should have taken: The easy answer here is Hughes (56/73), but let's wait until there is a larger sample to judge this one. And let's see if Hughes can learn how to defend. Right now, he can't.
2019

First pick: Defenseman Victor Söderström. The jury is clearly still out on Söderström, who could really benefit from a year or two in the AHL to learn the North American game. I don't think new Armstrong will rush him; a mistake that the Coyotes have made too frequently in the past.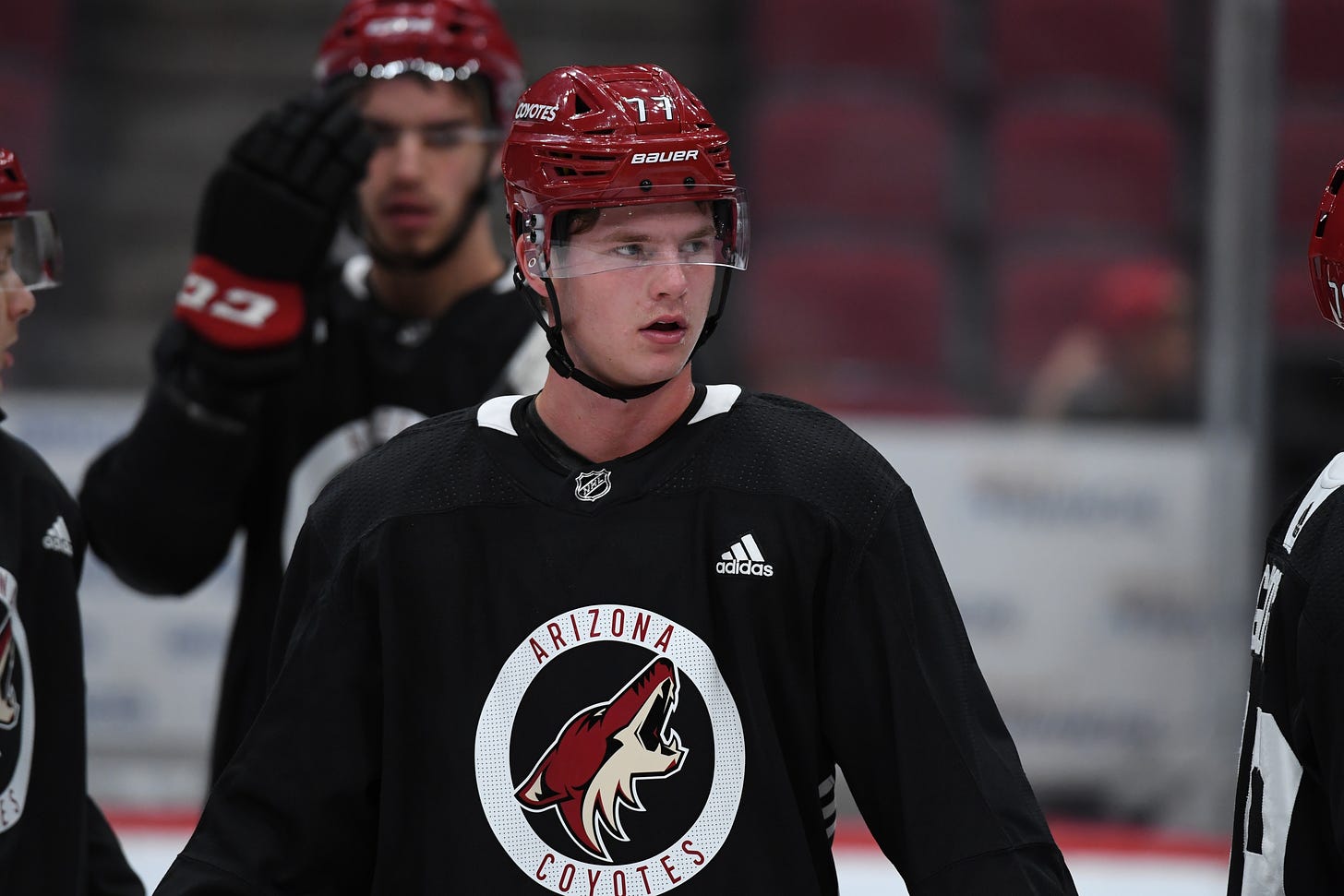 Victor Söderström
---
Second pick: Center John Farinacci. Farinacci is a third-round pick but he still showed up on Corey Pronman's evaluation of the Coyotes system as a legitimate prospect.
Whom they could/should have taken: Slow your roll. These boys are still trying to grow beards.
Follow Craig Morgan on Twitter: @CraigSMorgan