Offseason spotlight: Big contract, increased role put pressure on Clayton Keller to beef up his frame, offensive production
Welcome to the AZ Coyotes Insider newsletter. My plan is to publish stories four to six times per week. By subscribing, you'll be supporting independent, accountable journalism. Subscribe now so you won't miss a story.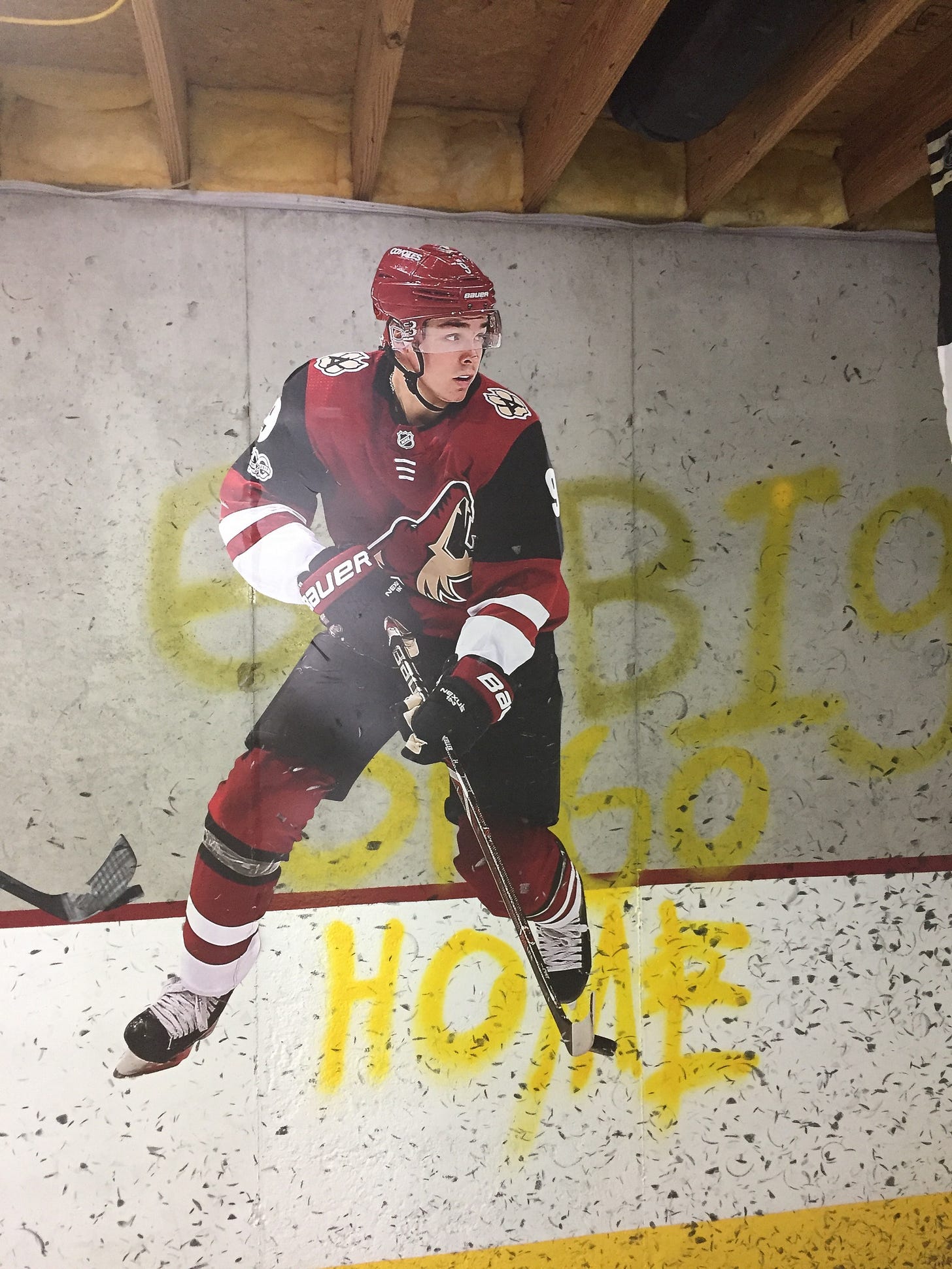 When the Coyotes played the 2019 Stanley Cup champion Blues in St. Louis in November, I took a Lyft ride across the Mississippi River to tour Clayton Keller's family home in Swansea, Illinois. I wanted to see the famed shooting gallery that he and his father, Bryan, had built in the basement.
Above the painted dasher boards, the Kellers affixed five Fatheads to the concrete walls. Keller chose his idol, Sidney Crosby, whose footsteps he followed at Shattuck-St. Mary's. He picked the diminutive Patrick Kane, whose game he hoped to emulate, and he picked three Russian players: Pavel Datsyuk, Alex Ovechkin and Evgeni Malkin.
Aside from the puck-battered images of goalies Roberto Luongo and Miikka Kiprusoff, there is one more Fathead on the wall: Keller's. At the moment, it seems out of place in the company of those presumed Hall of Famers, but with an eight-year, $57.2 million contract kicking in next season, and with the Coyotes looking to shed lots of payroll in the form of veteran players, Keller is about to assume a much more prominent role in Arizona. It's time for him to justify a contract for which former general manager John Chayka has taken heated criticism.
"I'm ready for this," Keller said by phone on Saturday. "This is what I have worked all my life for, to be a great player. I want that responsibility."
Keller turned 22 in July. That may seem young, but with the league going younger all the time as a cost-saving measure, more and more data suggest that NHL players' prime performance years have shifted to the ages between 22 and 27, 28 or 29. By NHL standards, Keller is not young any more. He is hitting that prime window as he enters his fourth NHL season and there are signs of maturity all over his life like that contract and the custom home he is building in Paradise Valley that he hopes will be ready in March.
"It's going to have a sport court out back and a full-sized gym and a putting green," he said, laughing. "So it will pretty much have everything I want."
Keller spent a little time back in Illinois after the Avalanche eliminated the Coyotes from the playoffs in August, but he is back in Arizona with his dad, working out, golfing when he can and living at his parents' desert home.
Keller has been working with former Coyotes strength and conditioning consultant Tommy Powers, who does private training with a number of NHL players through his company, Empowers Performance, including Keller, Phil Kessel and the Minnesota Wild's Matt Dumba.
"He's awesome," Keller said. "I get so much out of training with him."
When he's not training, Keller has been spending a lot of time with his dad, who likes to grill steaks and chicken for him.
"He's a good cook and I do think he likes doing it for me," Keller said. "For him, it's like making up for lost time because I left home when I was 14."
The protein will do Keller some good. One of his main goals this offseason is to beef up and add strength in order to win more battles, be more consistent throughout the season, and to elevate his production level to numbers commensurate with that $7.15 million cap hit. Keller estimated that he weighed about 165 pounds when his career began. He is around 173 pounds now.
"We all knew what he needed when we drafted him," said Coyotes coach Rick Tocchet, who came aboard one year after Keller arrived. "Everybody said he obviously has to get stronger and I think every year he has gotten stronger. To what speed and level is debatable but you can't as a young player just all of the sudden put on 15 to 20 pounds. It just doesn't work that way. There's a gradual process to it and we expect him to get stronger again this year."
Consistency is a buzzword that coaches preach to young players. Keller has had stretches of consistency in his career and Tocchet believes he had more last season than the season before, including a postseason in which he recorded four goals and seven points in nine games. Still, there is plenty of room for growth.
"I have seen this process before," Tocchet said. "Young guys start to figure this out where they might not feel great on the ice but they can still be consistent and contribute. Sometimes, young guys get tired because of the schedule and the pace of the game and the size of the players, and their play just drops dramatically, they get loose out there and they make egregious mistakes. When he is tired out there he does stuff that he would never normally do. Eliminating that just comes with the maturation of your game, and that comes with strength, mental toughness, being smart out there, angling, buying time."
There are telltale signs for Tocchet when Keller is off of his game.
"He's not supporting the puck, he plays a wider game and doesn't come toward the puck," Tocchet said. "When you give him the puck and he becomes a give-and-go player, he'll find people, but I find he stays on the outside when he is a little bit tired or having mental lapses. He holds onto the puck a little too long sometimes. I tell him, 'If you come out of those piles and you're getting confronted, move that puck and then buzz to an open area quick instead of holding it and losing it or getting knocked off the puck.'"
Keller was on pace for 20 goals and 52 points in an 82-game season, and that was an improvement over the previous season when he slipped to 14 goals and 47 points. With the new contract kicking and some veterans likely heading out the door, however, Keller will need to produce consistently in the 60-plus point range. A modicum of playoff success has given him the confidence that he can do that.
"I felt good out there and I could tell that all of the work that I did in the time off paid off," he said of his postseason. "It felt good to produce and it really helped to score in the first game because that builds your confidence. I definitely think that is something I can build off of."
With the Coyotes struggling to find offense, Keller has become a lightning rod in his past two seasons. That big contract, his penchant for sticking to the perimeter and the roles in which he plays make him an easy target for fan criticism, but Tocchet remains convinced in the future of one of his best students. The pair have a close relationship and they talk constantly about the game.
"We'll probably get together here soon,whether it's lunch, dinner or a round of golf," Tocchet said. "I know he is taking some heat from some people but I see the improvement, I see the right attitude and I see the passion from Kells. He really has a lot of passion for this game and that's so key. He wants to be a star player. He's just got to keep doing the right things and I think he'll achieve it."
Follow Craig Morgan on Twitter: @CraigSMorgan