Welcome to the AZ Coyotes Insider newsletter. I generally publish stories four to six times per week (some of them free). By subscribing, you'll be supporting independent, accountable journalism. Subscribe now so you won't miss a story.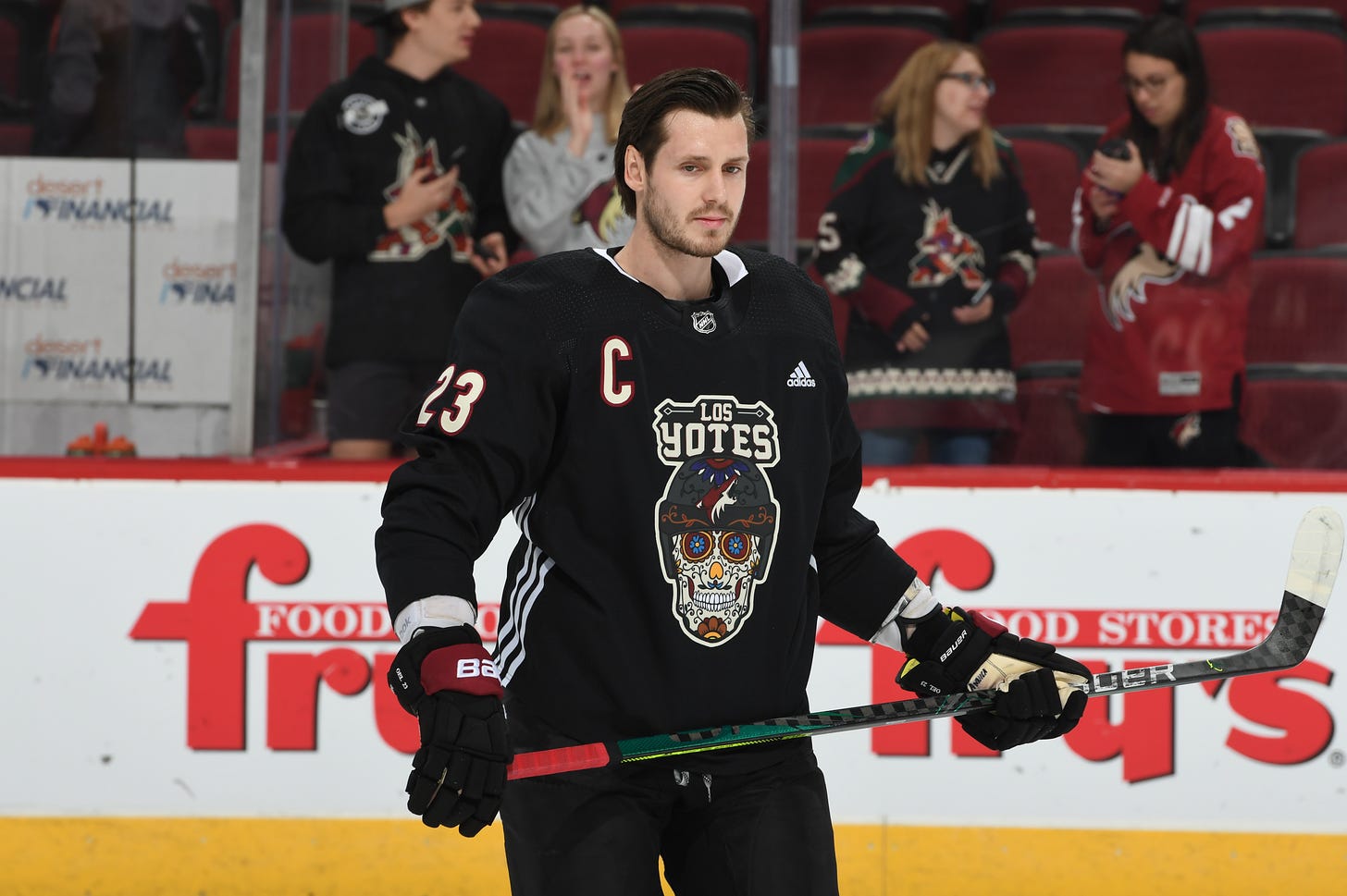 Has Oliver Ekman-Larsson played his last game as a Coyote? Photo courtesy of Arizona Coyotes
---
CORRECTION: The original version of this story omitted Christian Fischer from the list of second-round picks still with the team. I have added him and adjusted the math.

Barring unexpected moves, the Coyotes won't be selecting on Day 1 of the 2020 NHL Draft on Tuesday, and for the early part of Day 2 on Wednesday. Arizona has no picks in the first three rounds due to trades and league sanctions for illegally fitness-testing draft eligible players before the 2019 scouting combine.
It's an awful situation, and it accentuates an age-old problem for the Coyotes: The early rounds of the draft (or any for that matter) have not borne enough fruit.
Ten days ago, I did a deep dive on the past 16 Coyotes' drafts. It was a largely depressing exercise for fans. Part II of my draft series does not offer a happier place.
If the Coyotes trade captain Oliver Ekman-Larsson to Boston or Vancouver, as is widely expected, then only four of the team's first-round picks and two of its second-round picks over that same, 16-draft time frame will still be with the club or in the pipeline. This, despite having 22 first-round picks over the past 16 drafts, and 18 second-round picks.
First-round picks still here if OEL is traded
2019: Victor Söderström
2018: Barrett Hayton
2016: Clayton Keller and Jakob Chychrun
Second-round picks still here
2017: Filip Westerlund (the Coyotes have his rights for one more year)
2015: Christian Fischer
2014: Christian Dvorak
Ignoring individual production (which makes the picture look even worse) and trades made to bolster the club, if OEL moves on, that's a success rate of 17.5 percent for the Coyotes over that 16-draft time frame (seven of 40 picks).
Compare that to the past two Stanley Cup champions.
The Tampa Bay Lightning, from which the Coyotes hired director of amateur scouting Darryl Plandowski, have four of their 15 first-round picks over the past 16 drafts with the team or in the pipeline: Cal Foote (2017), Andrei Vasilevskiy (2012), Victor Hedman (2009), Steven Stamkos (2008).
Six of their 16 second-round picks are with the club or in the pipeline: Gabriel Fortier (2018), Alexander Volkov (2017), Boris Katchouk (2016), Taylor Raddysh (2016), Mitchell Stephens (2015) and Nikita Kucherov (2011).
Ignoring individual production and trades made to bolster the club, that's a success rate of 32.3 percent (10 of 31 picks).
Despite never picking higher than No. 20 the past nine years, and only picking higher than No. 17 once since 2008, the St. Louis Blues, from which the Coyotes hired general manager Bill Armstrong, have five first-round picks with the club or in the system: Robert Thomas (2017), Klim Kostin (2017), Jaden Schwartz (2010), Alex Pietrangelo for now (2008), and David Perron (2007).
Six of the team's 21 second-round picks over the past 16 drafts are with the club or in the system: Nikita Alexandrov (2019), Scott Perunovich (2018), Jordan Kyrou (2016), Evan Fitzpatrick (2016) Vince Dunn (2015) and Ivan Barbashev (2014).
Ignoring individual production and trades made to bolster the club, that's a success rate of 28.9 percent (11 of 38 picks).
It is more difficult to acquire talent through trades or free agency, which is why every executive will tell you that drafting and developing players is the lifeblood of successful organizations. When teams invest in players and their development, there is also a loyalty component that is difficult to quantify.
"That's one of the things that I learned in St. Louis is that the homegrown talent — if you draft them and develop them and you bring them into your family — they will fight harder," Armstrong said. "That's proven."
That's what it makes it so strange to watch all of the Ekman-Larsson trade talk. The current captain is one of the best four picks in the franchise's Arizona history, along with Keith Yandle, Blake Wheeler and Daniel Briere. As Armstrong noted, that is the sort of homegrown talent that you like to keep around.
Armstrong is not beholden to the decisions of previous GMs, however. He has to chart a course that he and ownership believe best positions the club for future success. And yet, the dearth of high picks still with the club, and the franchise's history of poor selection and development of those picks (the past few drafts are still uncertain) explains the Coyotes' consistent lack of on-ice success.
That's why there has been so much emphasis on the scouting aspect of the organization in recent hires. It's a foundational aspect of success.
More thoughts on OEL
This could all change by the time you read this. The Coyotes could strike a deal and all of the chatter could turn to analysis. While we wait for a resolution to the Oliver Ekman-Larsson situation, however, consider the difficult position in which Armstrong, a first-time GM, finds himself.
Coyotes ownership has made it plain that it wants to trade the captain, and it's no secret that Ekman-Larsson's relationship with coach Rick Tocchet has been less than optimal. On the flip side, Ekman-Larsson's contract (seven years remaining at a cap number of $8.25 million) is tough to move in a flat-cap, COVID-19-impacted market, and yet, Armstrong knows that he can't devalue that level of asset if he wants to jump-start the Coyotes' rebuild.
While he was the St. Louis Blues assistant GM the past two seasons, Armstrong sat in on trades that Blues' GM Doug Armstrong made. He may be leaning on his old boss for advice, but the Coyotes GM has never had to put his solo stamp on a deal of this magnitude; one that will shape the early optics of his tenure. If the optics say he got less than fair value from the Bruins or Canucks, his tenure will be off to a rough start.
Leagues sources said that the Coyotes have asked Ekman-Larsson and agent Kevin Epp to expand their list of potential trade partners beyond the Boston Bruins and Vancouver Canucks to create more options and more leverage, but OEL's camp is not budging. When Ekman-Larsson agreed to re-sign with the Coyotes in 2018, rather than test the unrestricted free agent market in 2019, he did so with the agreement that he would have trade protection. He has earned the contractual right to choose his trade destination, which includes the Bruins, a team he very likely would have signed with as a UFA.
There have been multiple deals discussed with both teams. The Coyotes are probably looking for a combination of picks (probably a first- and second-round pick from each team) and prospects, but per two sources, they also inquired about Canucks goalie Thatcher Demko, which was a nonstarter. From the Bruins, the Coyotes seem more interested in their prospect pool, which they feel is better than the Canucks' pool, but Boston also has a pair of attractive, cost-controlled players in defenseman Brandon Carlo and restricted free-agent forward Jake DeBrusk that could help the Coyotes and should be in consideration if the Coyotes are looking to do more than simply shed salary and eye a brighter future a few years down the road.
Armstrong has made it clear that there are deals to be made, but "people are just staring each other in the face," waiting for the other to concede a little more. The Coyotes can't wait too long, however. If they can't sort this out by the start of free agency on Friday, one or both of their trade partners may decide to move on to other options, leaving the Coyotes with one trade partner and no leverage, or no trade partners and no options. Even if that doesn't happen, Ekman-Larsson will likely have his own timeline, after which he may pull the plug and decide he is coming back to Arizona, awkwardness and all.
UPDATE:
Epp confirmed this to me on Tuesday morning.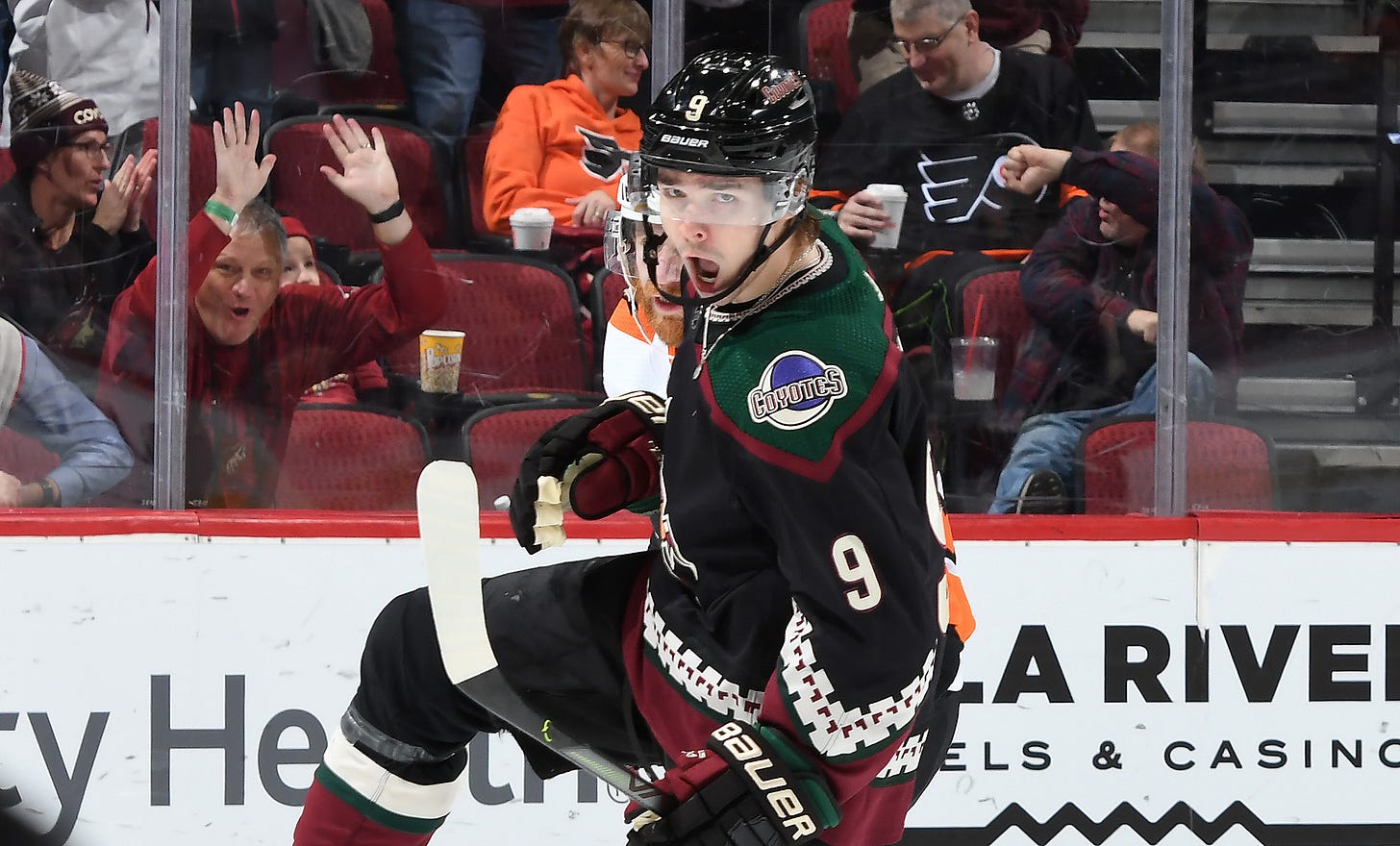 Clayton Keller. Photo courtesy of Arizona Coyotes
---
More trade talk
It is going to be difficult for the Coyotes to execute a lot of trades in the current market, but they seem open to just about anything. We already know that they are open to moving any number of veterans heading into the final year of their contract. After buying out forward Michael Grabner and learning that defenseman Niklas Hjalmarsson will not waive his no-move clause, that list includes center Derek Stepan, defensemen Alex Goligoski, Jason Demers, Jordan Oesterle and goalie Antti Raanta. The Coyotes would also be interested in moving Phil Kessel's contract (two years remaining), but that will be difficult.
That doesn't mean the Coyotes won't listen on younger players, however. Again, Armstrong is not beholden to former GM John Chayka's plan, so whatever long-term contractual commitments the Coyotes made to build around players such as Clayton Keller and Nick Schmaltz may no longer apply.
I was asked recently which players on the current roster are untouchable. It's hard for me to imagine the Coyotes moving effective, cost-controlled players such as Conor Garland and Lawson Crouse, and I still think the contracts for center Christian Dvorak and defenseman Jakob Chychrun are reasonable. Past goalie Darcy Kuemper, who may stick around due to a flooded goalie market, it's hard to find any other players that fit the bill.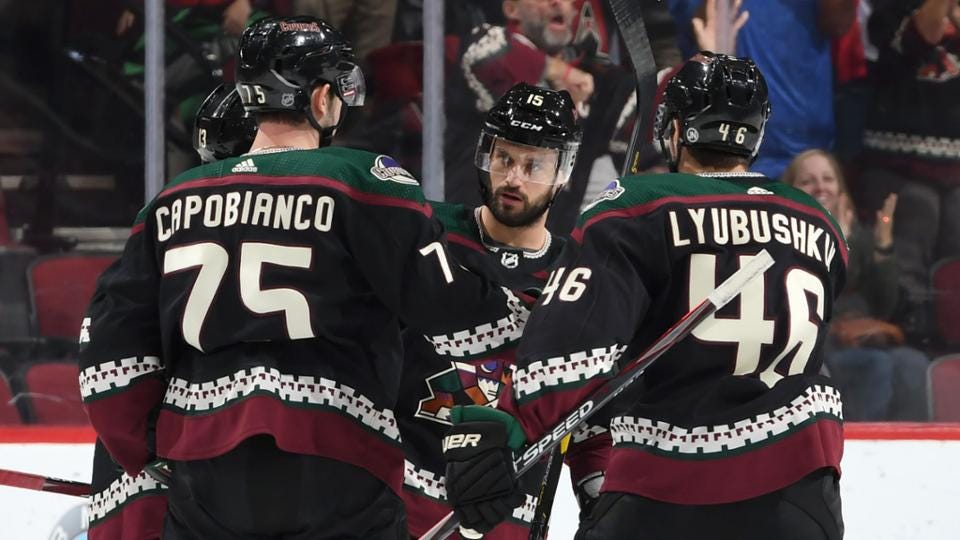 Kyle Capobianco and Ilya Lyubushkin. Photo courtesy of Arizona Coyotes
---
Third defense pair
The Coyotes re-signed restricted free-agent defensemen Kyle Capobianco and Ilya Lyubushkin to one-way deals on Monday.
There will be other moves coming this offseason, but it's not hard to imagine Capobianco, a puck-moving left-handed defenseman, and Lyubushkin, a stay-at-home, physical, right-handed defenseman, forming the third defense pair for the Coyotes.
RFA news
Hinostroza had arbitration rights this season and his contract negotiations were likely headed in that direction. The sense was that Hinostroza was going to earn somewhere between $2.25 and $2.6 million, a number at which the Coyotes likely were not comfortable.

It's a little surprising that the Coyotes did not qualify him and then try to either work out a deal or use Hinostroza as part of a trade package, but with all of the pandemic-induced cap issues that teams are having, some RFAs could hit the open market this season.

After a promising first season in Arizona in which he had a career-high 16 goals and 39 points in 72 games, Hinostroza, 26, slipped to five goals and 22 points this past season in just four fewer games.
A source confirmed on Tuesday morning that the Coyotes will tender a qualifying offer to restricted free-agent forward Christian Fischer. Qualifying offers are due by 2 p.m. Wednesday, Arizona time. The (AHL) Tucson Roadrunners also have three RFAs: defensemen Jordan Gross, Dane Birks and Vili Saarijärvi (plus 10.2(c)'s Jalen Smereck and Merrick Madsen). I will update this section as I gain more information.
UPDATE:
2020 NHL Draft information
Schedule
Tuesday: Round 1, NBCSN, 4 p.m. Arizona time
Wednesday: Round 2, NHL Network, 8:30 a.m. Arizona time
Coyotes 2020 draft picks
Fourth round: No. 111
Fifth round: No. 142
Sixth round: No. 173
Seventh round: No. 204
Check out Grant McCagg's 2020 NHL Draft Guide.
Check out Corey Pronman's draft guide, including a seven-round mock draft.
Follow Craig Morgan on Twitter: @CraigSMorgan