Luke Schenn's perseverance pays off
Former Coyote raises Stanley Cup as member of Tampa Bay Lightning
Welcome to the AZ Coyotes Insider newsletter. I generally publish stories four to six times per week (some of them free). By subscribing, you'll be supporting independent, accountable journalism. Subscribe now so you won't miss a story.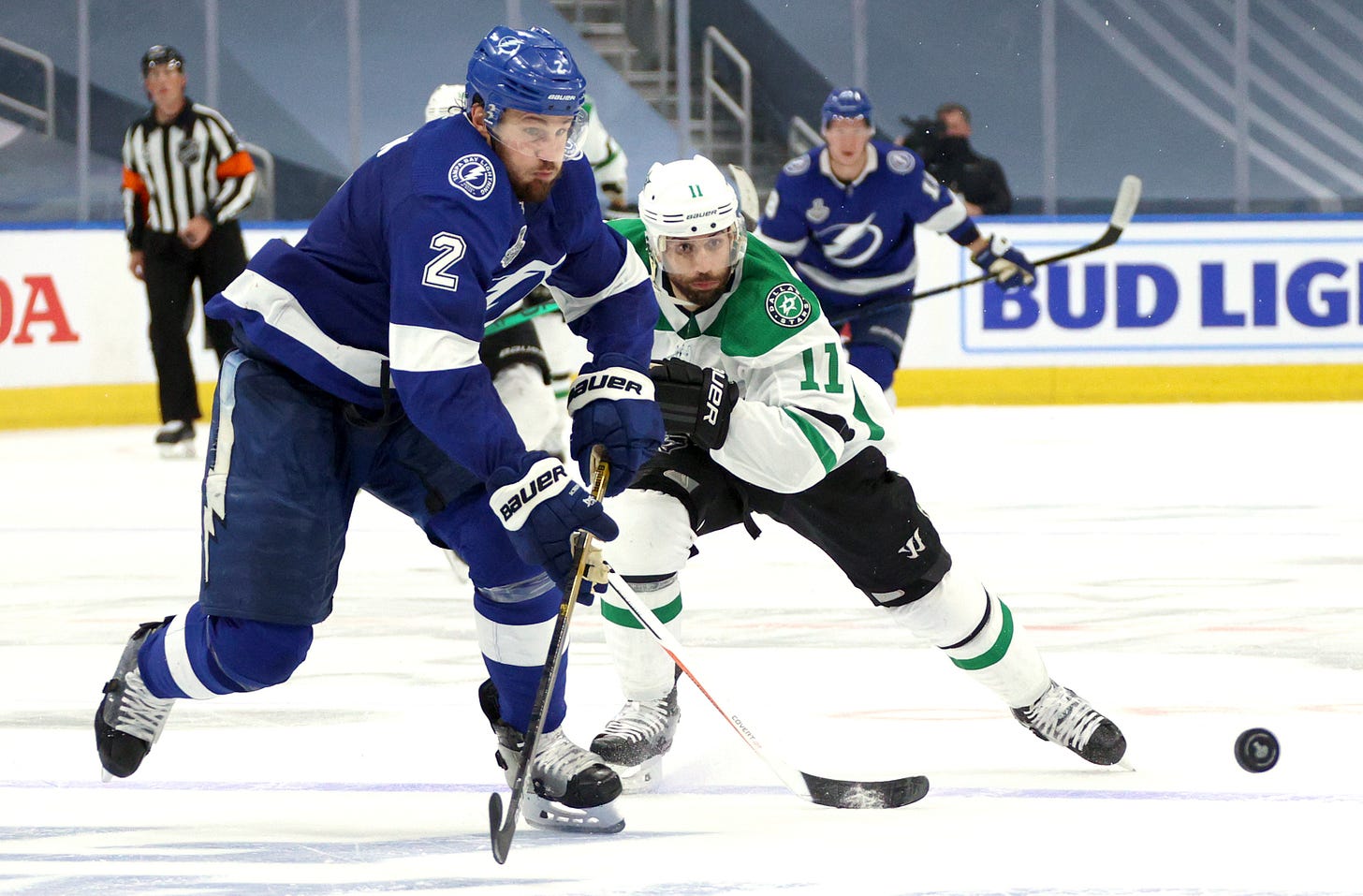 Luke Schenn. Photo courtesy of Arizona Coyotes
---
Luke Schenn was as wise with his boat choice on Wednesday as he was with his team choice in the 2019 offseason. With the City of Tampa and the Lightning holding a boat parade along the Hillsborough River to honor the Lightning's Stanley Cup championship, the former Coyote climbed aboard a vessel that held an NHL camera crew, Bolts captain Steve Stamkos, and Conn Smythe Trophy winner Victor Hedman.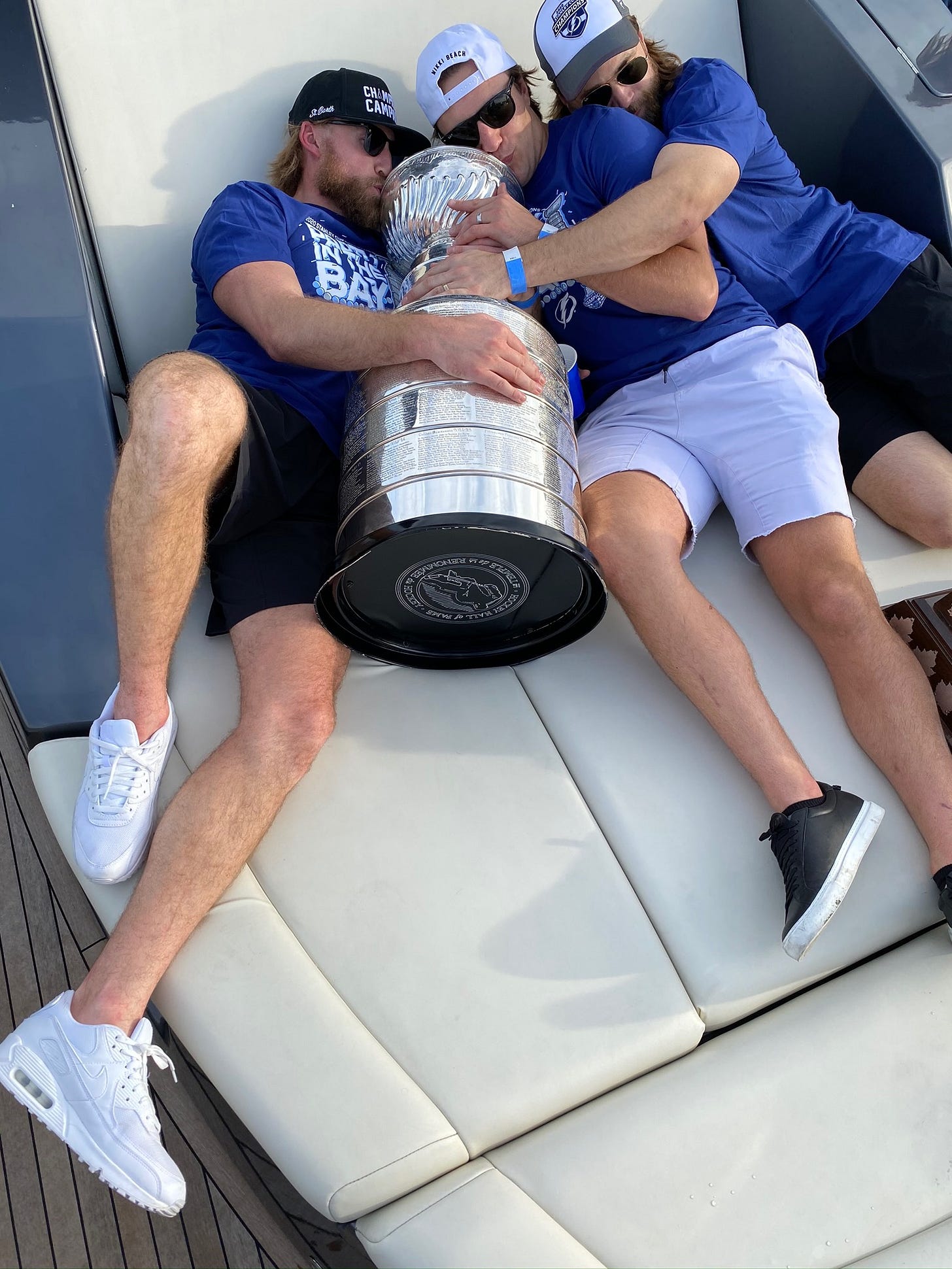 Photo courtesy of Luke Schenn
---
"I was with the right crew," Schenn said, laughing, when I caught up with him by phone on Thursday. "It was a party. You'd never know how crazy hockey is in Florida. We didn't really know what to expect when we were flying home. We knew there was going to be a boat parade but with COVID times it was unbelievable to see all the people that showed up. They all wanted to be a part of it. It was beyond my wildest dreams.
"The NHL camera crew said they have done a ton of parades like the Chicago Cubs' (2016) World Series parade where there were like (5) million people, but they said in a unique way, this was probably the coolest thing they have ever seen."
Talk to anyone who has played with or come to know Schenn and they will tell you that it was just as cool to see the veteran defenseman hoisting the Cup in the Edmonton bubble, and "100 more times" along the waterfront.
"It's always awesome to see, but especially when you know a guy well and you know the story of their career," Coyotes defenseman Alex Goligoski said. "He's had some ups and downs and he's been searching for a home; kind of grinding it out. He just wanted a chance to be on a contender and get his foot in the door and he played some good hockey for them.
"He's such a good teammate. I know that gets said a lot but all the guys who have ever played with him love him. He really is one of the best I have ever played with. He would do anything for the team to have success, whatever role it might be. If he's not playing, if he's playing four minutes a night or if he's playing 15, he's the same Luke. He understands winning hockey and how important it is to have a good culture in a locker room."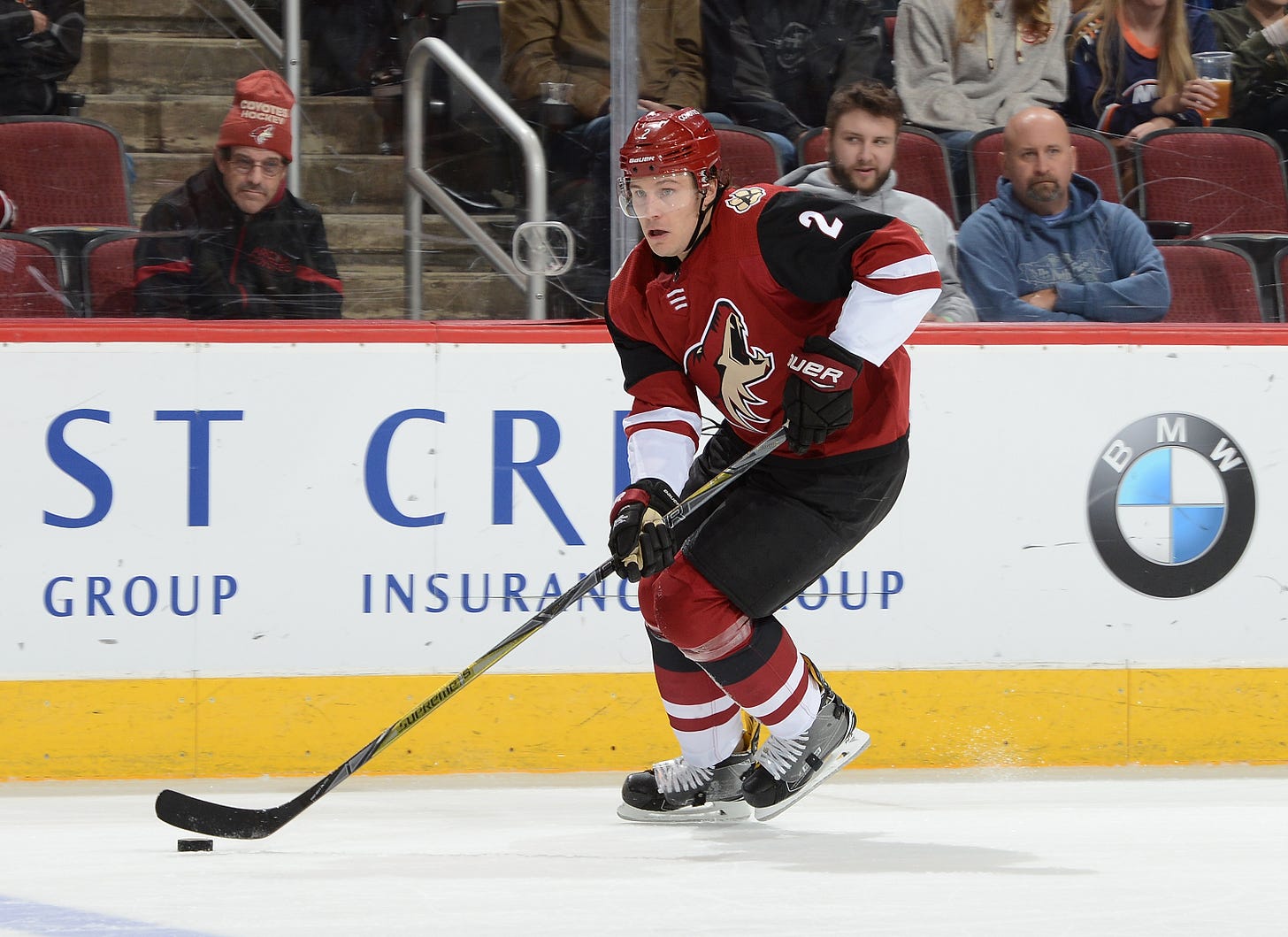 Photo courtesy of Arizona Coyotes
---
Every player wants to raise the Cup, but Schenn's hunger may have been a little greater than most after watching his brother, Brayden, raise it with the St. Louis Blues in 2019. Toronto selected Schenn with the No. 5 overall pick in 2008, and when your career achievements don't match that lofty draft status in the hockey mecca of Toronto, life can be rough. He lasted four seasons in Toronto, and about 3½ in Philadelphia, but since the middle of the 2015-16 season, he has played for five NHL franchises (Los Angeles, Arizona, Anaheim, Vancouver and Tampa).
"The expectations are so high, being the fifth pick overall and playing in big hockey markets," Schenn's agent, Ben Hankinson said. "It's almost impossible to live up to that. Everyone expects you to be a Hall of Famer, but everywhere he's gone he's been such a good team guy and that's especially amazing considering how hard he has been battling to find that role and identity with new teams the past few seasons. It's easy to be selfish when you're fighting for yourself and you want to play this game as long as you can. He's had to be a cheerleader and a prick at the same time.
"The thing about Luke is he's always been self-motivated and his self-awareness has kept him in a spot to keep playing and now hold a Cup over his head because he's been willing to do all the little things that maybe the doubters said he couldn't do to stay in the league, including working on his skating and his skill."
Schenn's career reached its low point when Anaheim waived him in the 2018-19 season, and then he cleared waivers. He found himself playing for the Ducks' AHL affiliate in San Diego, marking the first time he had been in the NHL's primary developmental league. He took that development opportunity to heart, working privately with former NHL player Adam Oates to shore up the weaker parts of his game. All the while, he wondered if there would be a payoff. The Athletic's Joe Smith detailed that struggle in this terrific story from July.
"There were times when you think maybe this is the end of your NHL career and you start thinking about what your post-hockey career looks like," Schenn said. "Especially last year when I cleared waivers for the first time and was commuting two hours each way, every day, to San Diego from Newport Beach because my family was there. There were some long drives where you're sitting in the car thinking, 'Really, what am I doing with myself right now? Going to the minors at this stage of my career and at this age with a family? Is it really worth it?'
Schenn leaned on plenty of people for support: his wife, Jessica, his parents, his brother, his sisters, his agent, and friends like Goligoski and Coyotes center Derek Stepan, both of whom he was close with while he played in Arizona.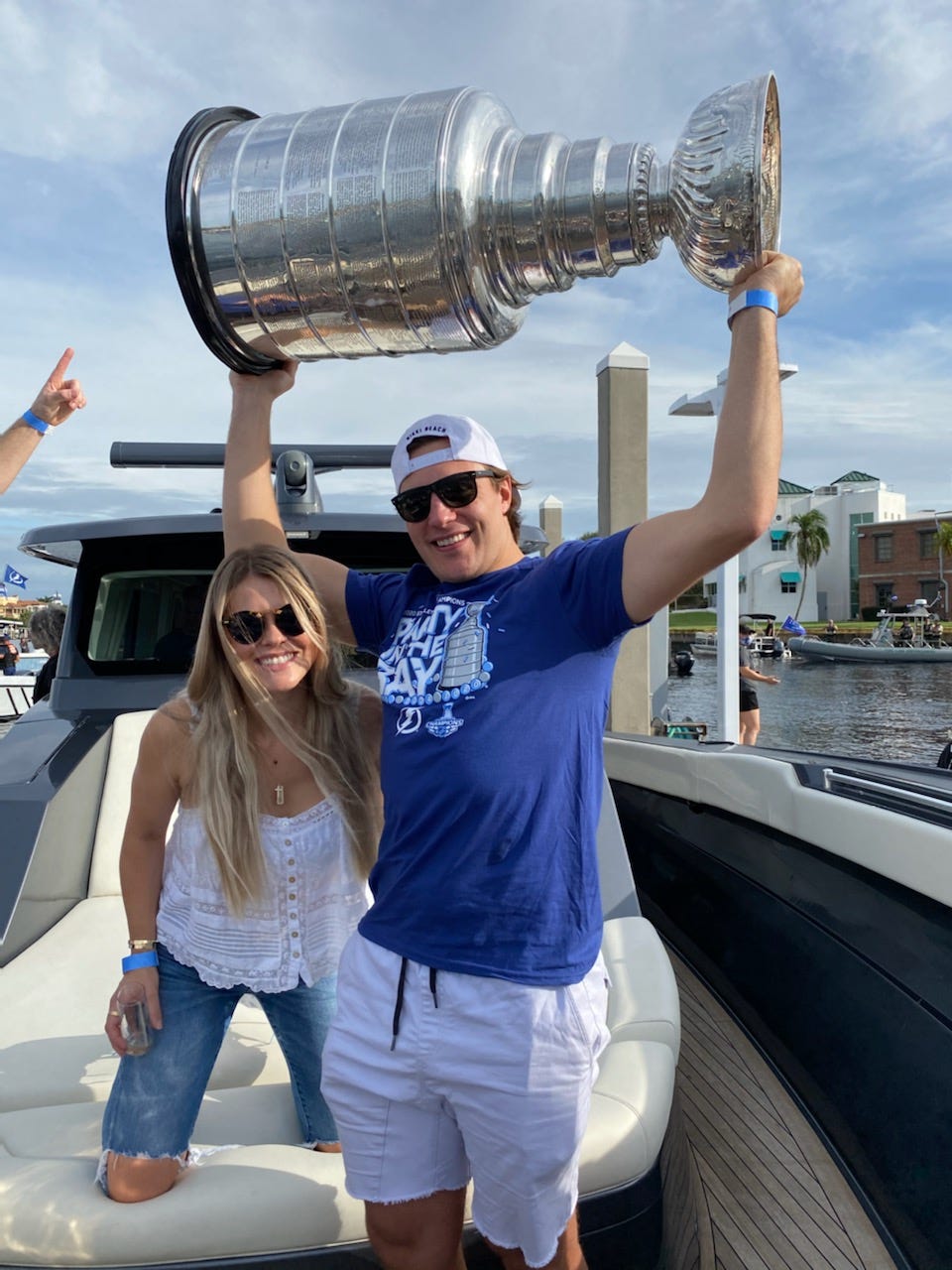 Schenn and his wife, Jessica. Photo courtesy of Luke Schenn
---
"I didn't really know what to say," Stepan said. "I have never been in that situation so for the most part, I was just trying to be supportive and let him talk and bounce stuff off of me. I tried to listen more than anything, and then offer some thoughts.
"He went through a really rough time. I had a couple of conversations with him at the beginning of this year, too, when Tampa put him in the minors and he was playing in Syracuse. He wasn't sure what was next, but he just stuck with it, he got his look and he took advantage of it."
Stepan and Schenn have a unique relationship from their playing days together in Arizona. They would often commute to games, practices or the airport for road trips with Goligoski. Stepan said Schenn is just as much of a hockey junkie as he is, so when the two got together they would hot-stove the league.
"When he was here we would always put our GM and coach's hats on and talk hockey; anything and everything," Stepan said. "At the trade deadline, we'll look at what moves a team should make, what moves it makes, who you should re-sign in free agency. Anything is on the table. We have good relationships with people in the hockey world so we can get scoops on things, too. The stove is always burning hot."
Stepan texted Schenn after the Lightning won the Cup to congratulate him, but he also wanted to know when they would be hot-stoving next.
"Me and Steps always said we were going to be working in tandem one day, running a team," Schenn said, laughing. "We love breaking down games or trades. Even on the road, we'd go back to each other's room and watch games. We'd break down every play or Step would call and say, 'Hot stove time! You coming by now?' And then we'd talk for hours and Goose (Goligoski) would just laugh at us."
As Schenn watched Brayden raise the Cup in Boston in June 2019, he doubted he would ever get a crack at it. Then Lightning GM Julien BriseBois reached out to Hankinson and Schenn's internal flame climbed higher.
"Brayden's Cup party was unbelievable and I was happy to be there with him, but I never touched it the entire time," Schenn said. "I didn't think I'd ever get the chance to hoist it but just in case, I didn't want to jinx it.
"When Tampa called last summer, I thought, 'Wow, they're going to be an angry and determined team after what happened to them last year (getting swept by Columbus in the first round). It was a decision where I thought as I was getting older, that might be my best opportunity and it ended up working out."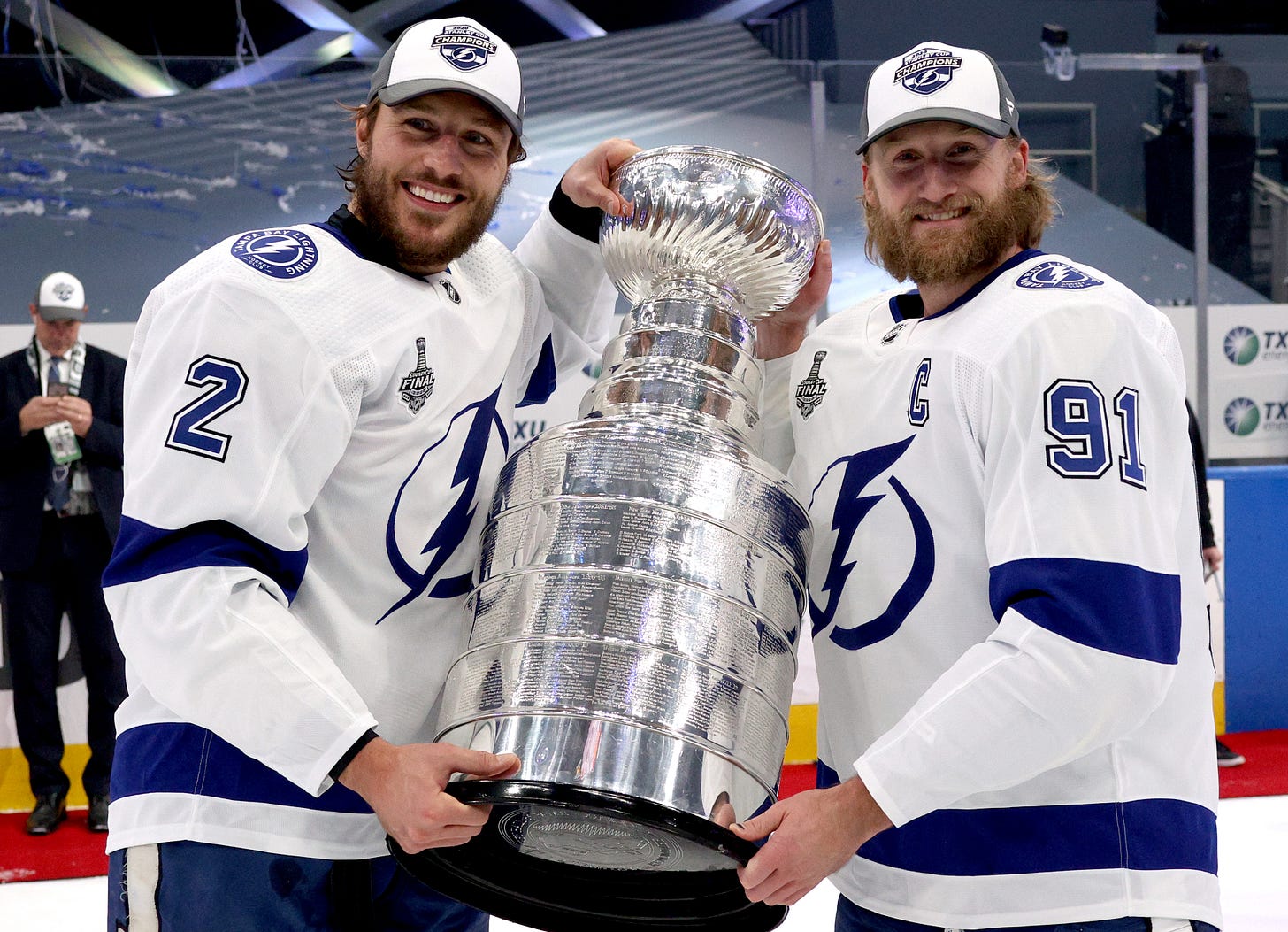 Schenn and Lightning captain Steven Stamkos with the Stanley Cup. Photo courtesy of Arizona Coyotes
---
Schenn appeared in 11 games for the banged up Lightning in the postseason. A knee injury and other factors limited him to one game in the Stanley Cup Final, but BriseBois praised his play and yet another team of players fell in love with a guy that Stepan called "one of the greatest guys you'll ever meet."
Schenn can become an unrestricted free agent next week, but Hankinson feels he has done enough to earn himself another contract.
"Julien BriseBois signed him for that grit and leadership and he wasn't willing to move Luke to another team," Hankinson said. "He stuck with him because he knew he would need him at some point. He came in at probably the most crucial time for Tampa and he provided those hard minutes and played well; showed skill and grit.
"Hopefully, it works out and he stays in Tampa but we'll see what the future holds with the world changing. He wants to keep playing and he will keep playing somewhere. If somebody wants a Stanley Cup winner, I've got one for next year."
Tampa has five right-handed defenseman who are heading into free agency: RFA Eric Cernak and UFAs Kevin Shattenkirk, Zach Bogosian, Jan Rutta and Schenn. Schenn played for the NHL minimum of $700,000 this season and his demands won't likely be much higher, making him a possibility to return to the Lightning.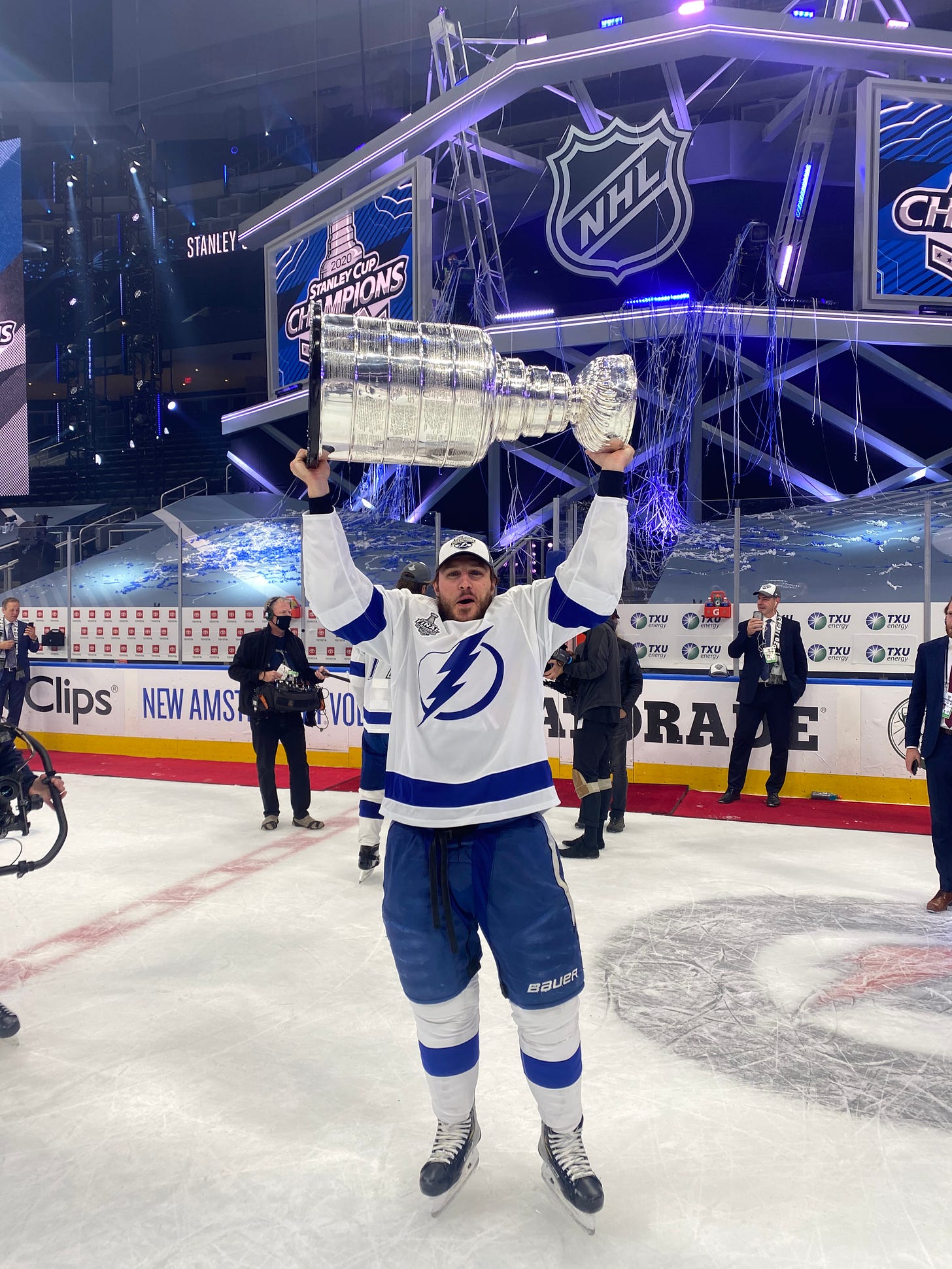 Photo courtesy of Luke Schenn
---
However it plays out, he insists that he is at peace with his career path, and he is comfortable with whatever comes next.
"When you get drafted, your dream is to be a Stanley Cup champion," he said. "You're really not sure how you'll get there but I really, really didn't think I would get there the way I did with all the twists and turns, bouncing around a few teams and fighting just to stay in the league. At the same time, I don't want to call this a storybook ending because I think I've still got a little bit left to go here so we'll see what happens next.
"I have tried to predict the future before and I was wrong, so right now, I am just living in the present, enjoying this, soaking it up and then I'm going to fly to Kelowna on Friday and reintroduce myself to my kids who I haven't seen since July 3. I am looking forward to getting home and being a dad again. As far as my hockey career, I have no idea how things are going to end up. You put a lot of time into worrying and talking about the future but nothing has turned out the way I envisioned so I may as well stop guessing."
Follow Craig Morgan on Twitter: @CraigSMorgan