Gauging league perception of Ekman-Larsson's game, his contract and the wisdom of trading him
With draft approaching, Coyotes captain is frequent subject of rumors
Welcome to the AZ Coyotes Insider newsletter. I generally publish stories four to six times per week (some of them free). By subscribing, you'll be supporting independent, accountable journalism. Subscribe now so you won't miss a story.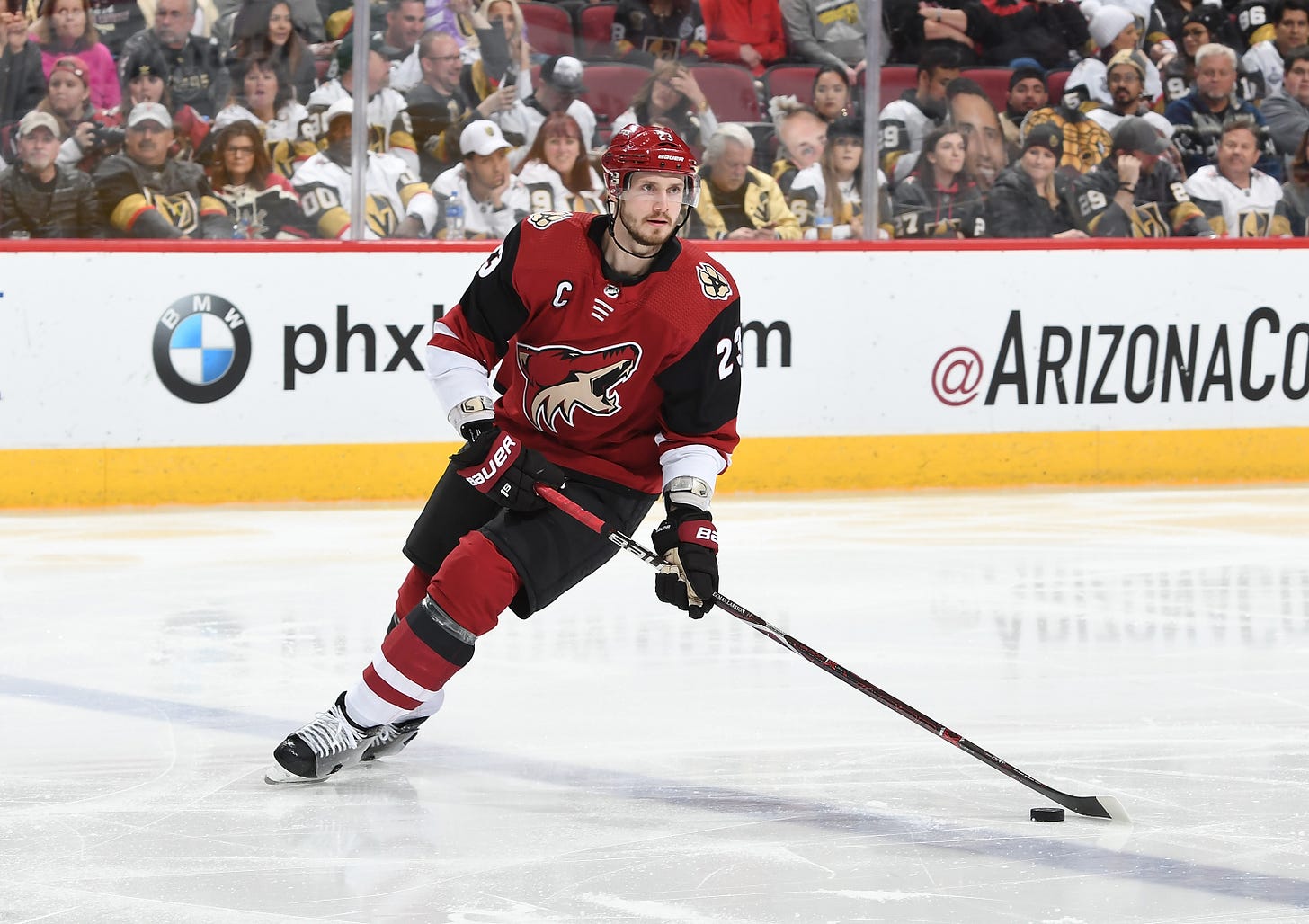 Coyotes captain Oliver Ekman-Larsson.
All photos courtesy of Arizona Coyotes
---
Oliver Ekman-Larsson's name is being mentioned with increased frequency as the trade chatter picks up less than a week before the NHL Draft. I have already written two pieces this offseason on the possibility of the Coyotes captain moving on.
Here's the story from Sept. 1 laying out the reasons why he might consider a fresh start, and why he might not.
There is another note inside this Neutral Zone from Sept. 14 that provides more context and some possible destinations, including Boston and Edmonton, where his former coach Dave Tippett now coaches.
There is a wide range of opinions on Ekman-Larsson from media sources. TSN's Travis Yost wrote a piece suggesting that teams beware of acquiring Ekman-Larsson, based on a slide in goals above replacement. It's a fair metric for use, and there are other metrics that show slippage in OEL's play the past few seasons, but they ignore a lot of context.
A lot has happened in Ekman-Larsson's life since the 2015-16 season when he had 21 goals, 55 points and absolutely should have been a Norris Trophy finalist, yet somehow finished ninth. When he left Sweden for the start of the 2016-17 training camp, he knew his mother's health had taken a turn for the worse. When he flew home to see her in January 2017, he knew it was to say goodbye.
"It was the hardest thing I've ever had to do," he told me after his mother, Annika, died that spring.
The loss rocked Ekman-Larsson more than any but the closest to him understood, and it stayed with him the following season when he returned to Arizona after her funeral. Annika was a powerful force in the family who shaped the way Oliver approaches his teammates, the game and his life. He dedicated Sweden's gold medal at IIHF World Championships to her.
One month after that inspiring victory, Ekman-Larsson watched the Coyotes unceremoniously kick captain and mentor Shane Doan to the curb. He watched another mentor, coach Dave Tippett, walk away from the franchise over irreconcilable differences with ownership, and then he got off to a rocky start with new coach Rick Tocchet when Tocchet opted not to name a captain for the 2017-18 season, despite then GM John Chayka intimating that the C was OEL's.
The player-coach relationship improved a little bit, but Ekman-Larsson is not and never will be the fiery leader that Tocchet wants, and it is clear that Ekman-Larsson, 29, has not been the same player under Tocchet that he was under Tippett. Is that due to a presumed slip in his game as he ages? Is it due to an inability to mesh with his new coach and his playing style? Is it due to the inevitable drag that comes from too many years spent living in the chaotic Coyotes experience, which most recently included a late payment on his $4 million signing bonus and the notice, per multiple sources, that ownership wanted to trade him?
Plenty of fans and media voices have weighed in on OEL, but what do real talent evaluators and decisions-makers around the league think of the Coyotes captain? I reached out to eight independent voices at every level of the game to gauge their opinions on three main topics: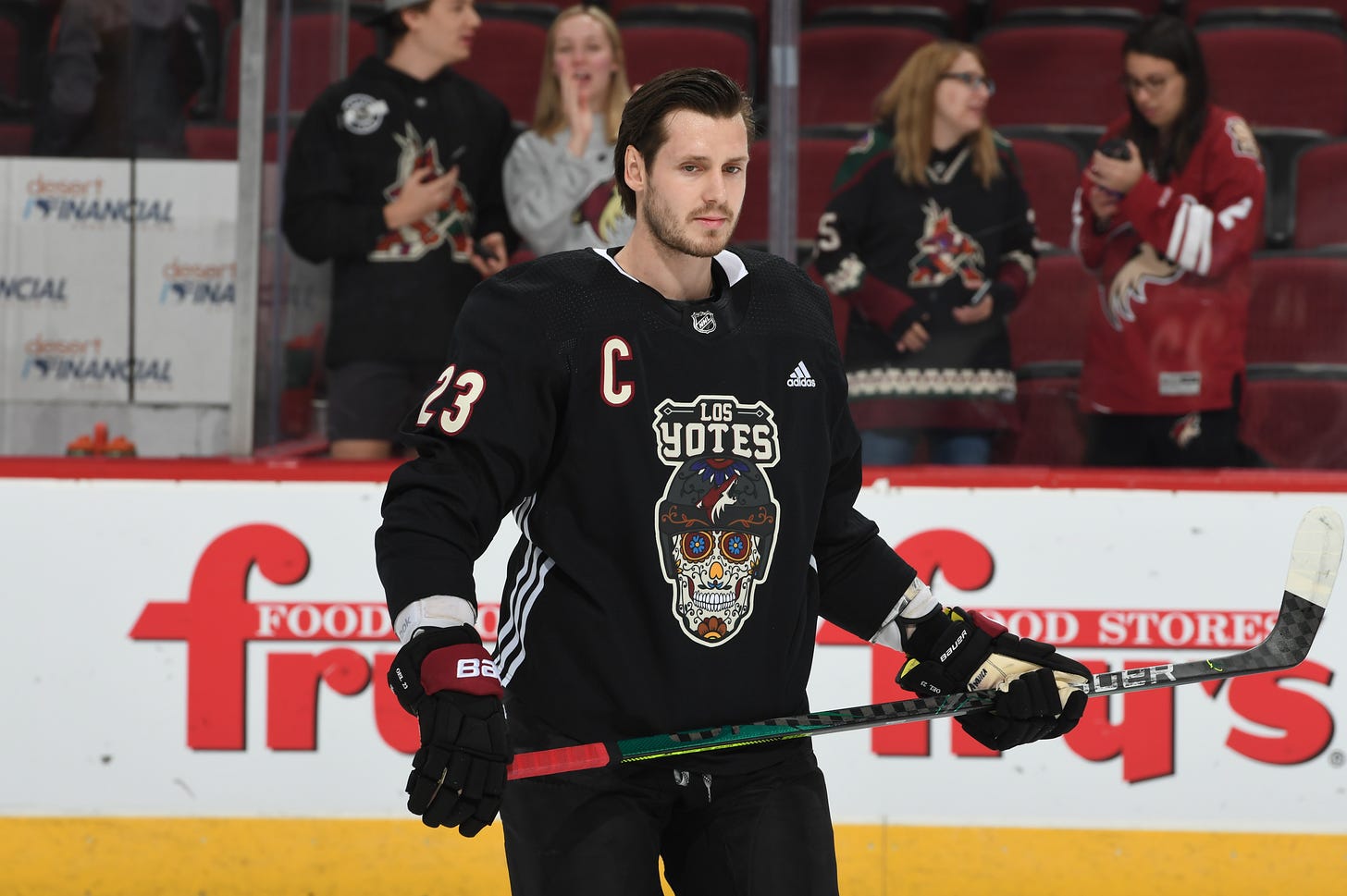 On OEL's current ability
From a scout: "Every player goes through some lulls in their career, even the great ones. He may be going through a lull but he's 29 years old and he's got a lot of good years left in him so I think they'd be crazy to trade him. I don't think it's buyer beware. I think teams would be lining up to get him."
From another scout: "He's got the classic traits that scouts look for: the size, the skating, the range, the long stick. He is an excellent one-on-one defender and that's such an important part of the game. I think his play away from the puck is underrated, which people don't always pay a lot of attention to because it seems to be all about points and what you do with the puck even though a defenseman doesn't have the puck 90 percent of the time."
From another scout: "What makes him elite is his ability to move the puck. That's the way the game is today. When he's at his best, he's calm and poised with the puck and he finds guys and he has the ability to thread the needle with passes or when he's on the power play he can be dangerous because he has the ability to get pucks through to the net."
From another scout: "Who knows how putting a C on the guy affected him. Some guys can handle that, others can't and it's almost like since the C went on him his game has changed. The offensive part of it doesn't seem as high end. Maybe he's focused on trying to do the right things all the time as a leader and maybe that takes away from some of the dynamic parts of his game that made him so good. With a fresh start and without the C, you might see him take right off because there's no questioning his talent."
From a player: "I wonder if the style that he is so good at playing doesn't match up with the way the Coyotes have been playing. He's not declining as a player. With the age he's at, his skill isn't diminishing at all."
From a league source: "I believe that Oliver is still a top-end defenseman in the league. You have to look at what he has gone through over the course of the last few years. The team hasn't played a lot of meaningful games and the team has struggled. I think players sense that and there's a drop-off. He looks like a player who has lost some hope and has grown a little bit stale.
"I don't think his talent or his skill or his ability has diminished. He hasn't aged out, he hasn't been beset by injuries, he hasn't been worn down because he hasn't gone on deep playoff runs. You look at Drew Doughty in L.A. who at a young age has played a lot of hockey when you add up regular season games, playoff games and international competition. Oliver doesn't have that high mileage.
"I don't think life stops at 29 and 30. We've got this narrative that once you're 27 you're on the downside of your career. Not everybody is the same. It depends how much hockey you have played, what's your injury history and how hard have the miles been, but I don't necessarily subscribe to theory that once you turn 30 the hourglass starts on the end of your career. I still think there's lot of hockey left in Oliver."
From another league source: "He isn't as effective as he's capable of being right now, and yet in the right situation, I'd put him in with any defenseman in the league because his skillset is incredible. He seems to fit better when he is not the face of the defense or the face of the team. I think it wouldn't hurt him to go to another situation and then, whoever gets him is going to see how impressive he is."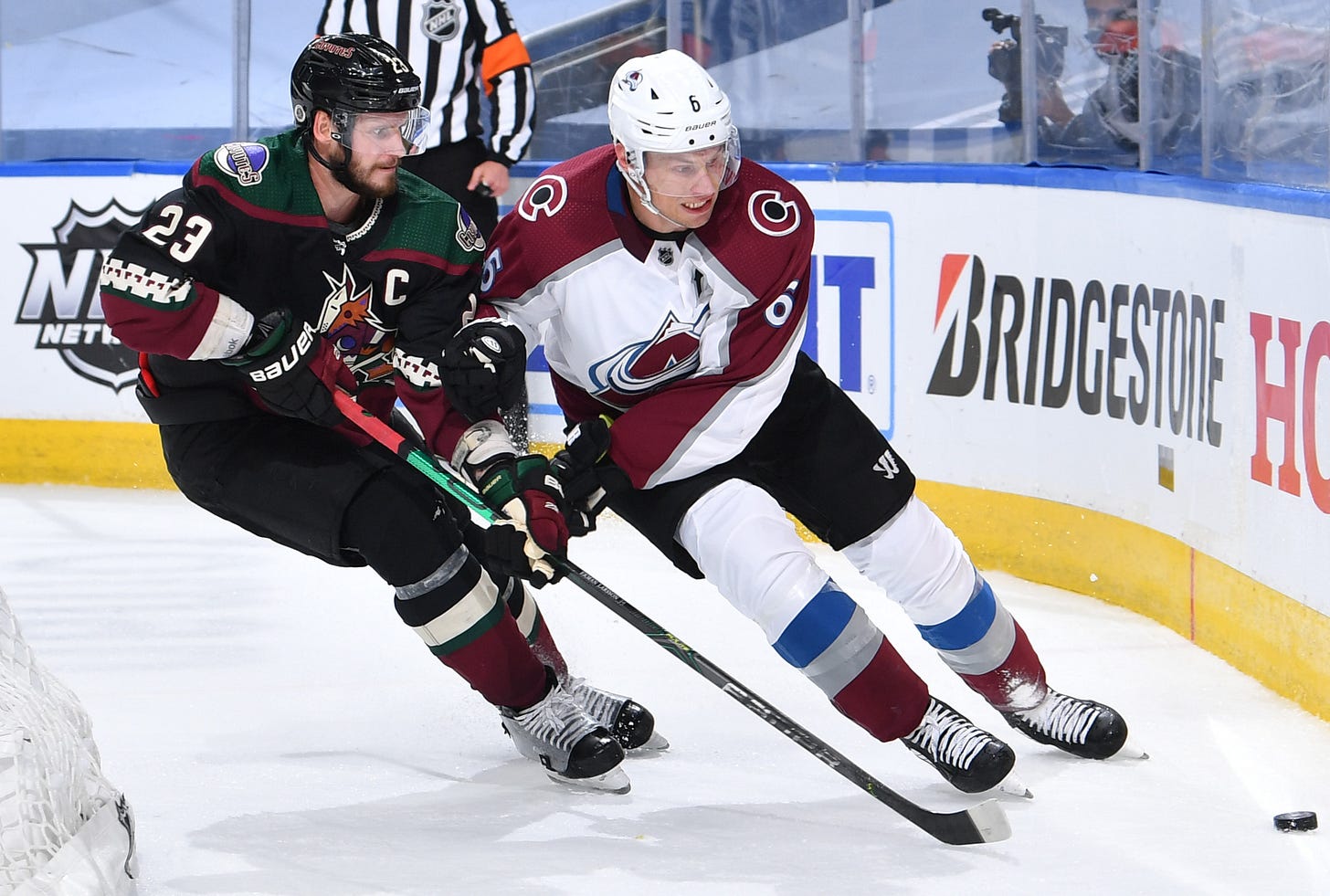 On his contract
From a scout: "He's on a pretty friendly contract. When you think about it, $8 million is not that much for a top-pair defenseman. It may be a year or two too long where you might have to suck it up a little bit, but I think the next five years are going to be good, productive years for him."
From another scout: "His value should be very high on the market and there is nothing wrong with the contract as far as I am concerned. He would be, at worst, a No. 2 D-man on a team, and a No. 1 on a lot of teams. That's such a valuable piece and that's the market. That's what you pay for that position and you want the length. You want a top-two defenseman locked up for seven years. So many elite defensemen are better in that 30-35 range. Nick Lidström won all of his Norris trophies in his 30s and the last one at 40. I think the older you get, the smarter you get. It's a learning position, and you're just hitting your stride as a complete NHL defenseman when you are 29 or 30."
From a league source: "He's not playing for $3.5 million or $4 million. There's a difference between being a good defenseman and one that's making more than $8 million, but I don't think that is going to be a roadblock in terms of being able to move him. There will be some friction. It won't be easy and I don't think you're going to have 30 teams able to swallow it, but I don't think you're completely stuck there."
From another league source: "For what he's capable of being, that contract is very fair. Right now, it feels a little heavy for the Coyotes but it's fair for his abilities. He scored 20 goals two seasons in a row. There was a time when he was arguably the Coyotes' best offensive and defensive player."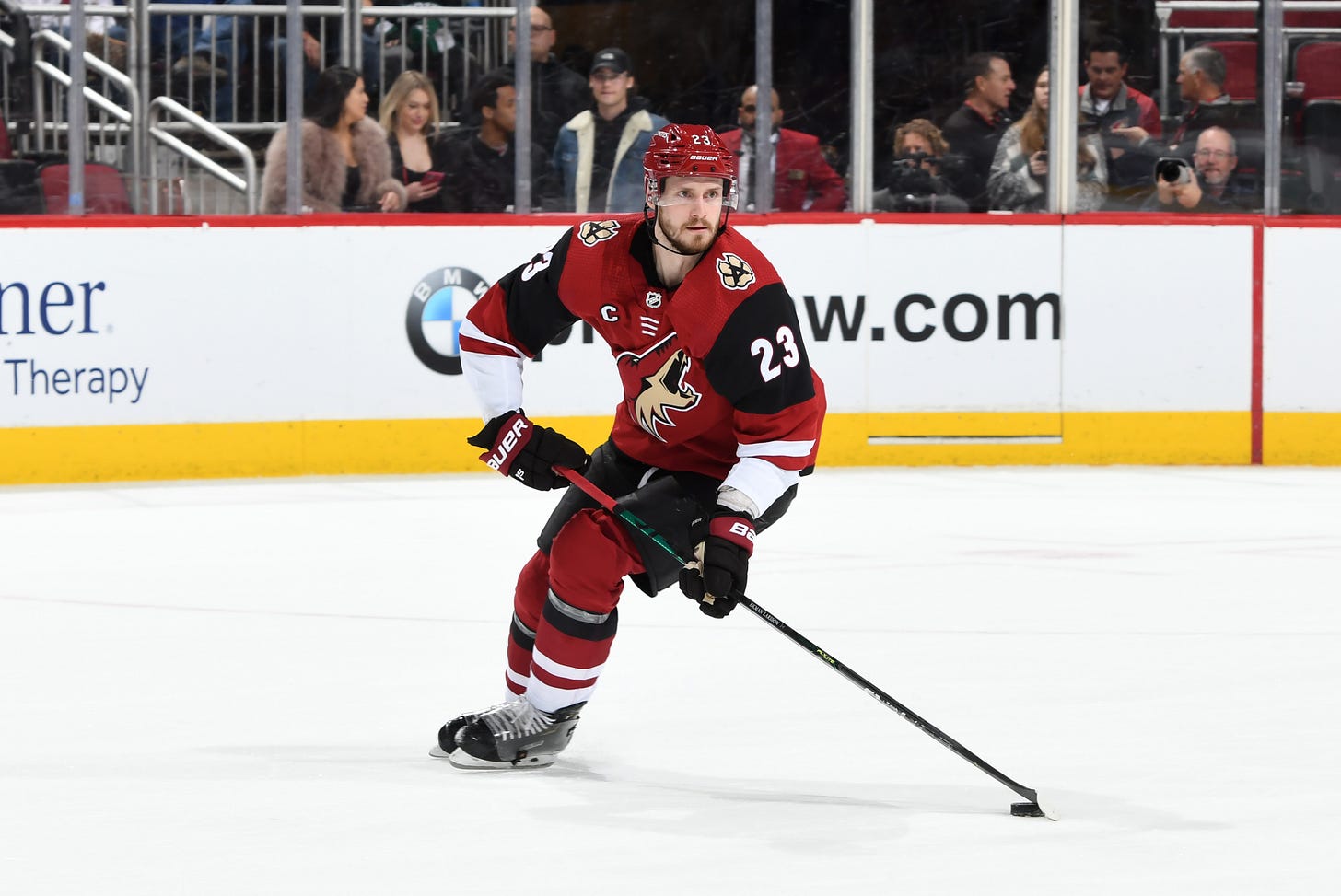 On the wisdom of moving a top-pair defenseman
From a scout: "Top D are just as tough to find as top centers so you'd better think long and hard about that. Usually, elite defenseman stay elite well into their 30s and OEL is going to be a great skater when he's 50."
From another scout: "Don't discount the impact that the loss of picks has when he looks at things. He may think, 'Man, this is going to be a tough situation.' They have the ability to get back to where they want to be, but it's going to take time to get this team turned around and whether he wants to be a part of that again is probably something that is weighing on him.
"But in this (flat-cap) market, you're potentially selling him at a discount. If he wants out and people know he wants out, that doesn't help, and he's going to control where he goes, but if you can't see much of a light at the end of the tunnel and you can control where you want to go, why wouldn't he leave? It's unfortunate for the franchise, though, because I don't know that you're going to get back really what he's worth and he might get his game back pretty quickly once he's out of there."
From another scout: "Maybe he's not captain material but I don't know if trading him is the way to reverse that, just to alleviate the mistake that you made by making him captain. If they move him, they'd better get a boatload because I think he could find his game somewhere else. Look at John Klingberg, who has always been a good defenseman but took another step when (Miro) Heiskanen got there; when he had other elite players around him. They don't play together but it gives you another pair to draw focus away. Everybody is always keying on Oliver. It has been that way his whole career. If he gets on a team that has some other really good, top-four defensemen, then he could really flourish.
From another scout: "Maybe it's the style of play that's holding him back. If I have one criticism of Rick Tocchet, to me he has come in with one way to coach. Good coaches are able to take a player and fit them in. Instead of figuring out how to fit a player into the system, it's, 'You don't fit my style of play. You're out.' That's a fault. Good coaches find a way to make good players fit."
From another scout: "I think (Coyotes GM) Bill Armstrong said this himself when they introduced him. You want as many homegrown players as you can get because those are the guys where the crest just feels a little stronger and more important to them. Being a Coyote probably means more to Oliver than most players."
From a player: "I have no doubt that for Oliver, change would be huge. I think him being able to go to a new situation and a new environment around him where he can just go and play hockey, I think it could happen just like that and he'd immediately return to this elite, goal-scoring defenseman."
From a league source: At the end of the day, it's difficult to replace players of that level. Those players aren't in excess. He's highly regarded and he's a top-level player. His game has been down, no question, so the question right now is, 'Can he get back to the level we have seen in the past?' There's real money and term on that deal so you've got to be sure of that. It's a move where you had better be right, but certainly those are hard players to find or replace."
From another league source: "You see both sides. You see the reason why they would want to move him and you can see the reason why he would want to go, but it's really hard to find people who are as good as him and as capable as him."
Follow Craig Morgan on Twitter: @CraigSMorgan