Welcome to the AZ Coyotes Insider newsletter. My plan is to publish stories four to six times per week. By subscribing, you'll be supporting independent, accountable journalism. Subscribe now so you won't miss a story.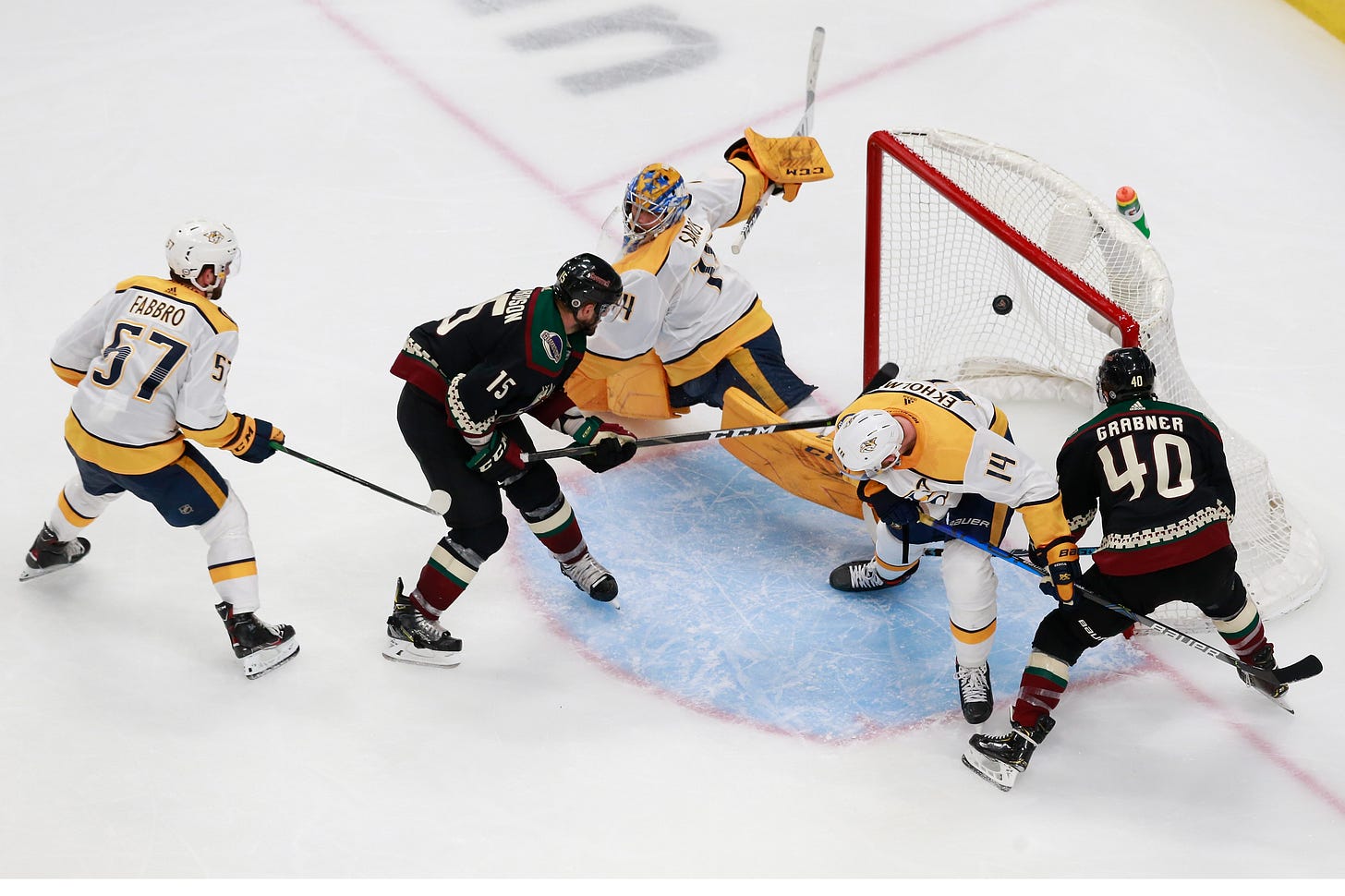 Brad Richardson's overtime goal against the Nashville Predators on Friday gave the Coyotes their first postseason win in eight years. All photos courtesy of Arizona Coyotes
---
There are two qualities that Rick Tocchet will never be able to hide: his competitive fire and his blunt-force candor.
Tough times in Tampa and championship years in Pittsburgh have taught him to manage those personality traits, but he refused to sugarcoat the state of the Coyotes when he arrived in 2017 to replace a weary Dave Tippett as coach.
"Look, the situation here sucked when I got here," he told me two years ago. "Nobody gives a fuck about the Coyotes.
"I don't want to walk into a building and have people think, 'Here come the shitty Coyotes.' I want swagger. I have played on teams and coached on teams where we had swagger. Guys walk in with a suit and tie on, a coffee in their hand, and they know, 'We've got a chance to win this game.'"
Tocchet chased out some players whom he didn't think fit his mold. He cajoled others to embrace his approach, but the playoffs were always the measuring stick for success.
It took Tocchet nearly three seasons to climb that hill, with some agonizing tumbles along the way. In his first month behind the bench, the Coyotes lost their first 11 games and went 1-11-1 in October, effectively torching their playoff hopes before the Valley weather had cooled down. In his second season, injuries ravaged the Coyotes like no other team in the NHL, and just when it looked like Arizona had turned the corner this season, its Vezina Trophy contending goalie went down with a groin injury and the Coyotes sank from first place to also-ran in the standings.
Even before this unprecedented qualifying round series with the Nashville Predators began in the Edmonton bubble, a public and nasty breakup with GM John Chayka stole the focus from what should have been an exciting moment for the franchise.
"One week before our first game," Tocchet said in subdued disbelief.
Not to be deterred, Tocchet gave his team the "us against the world speech," delivered with his usual passion and honesty. Wasn't it fitting then that a player who so fully embodies those two qualities finally delivered the goods on Friday?
Center Brad Richardson took a feed from a rejuvenated Vinnie Hinostroza at the doorstep and banged in his own rebound at 5:27 of overtime to lift the Coyotes to a 4-3 victory and a 3-1 series win in a game in which they blew a 2-0 lead and 3-2 lead with 32 seconds remaining in regulation.
The goal gave the Coyotes their first postseason series win since 2012, when they also beat the Predators in the Western Conference semifinals. It was a long time coming to Richardson, once a hated member of the 2012 Cup-winning Los Angeles Kings, who signed a three-year free-agent contract with the Coyotes in 2015 and then re-upped for two more years on a deal that will expire at the end of this season.
"We've had no lack of controversy and things going on but I think all the guys did a great job of homing in and being really focused," said Richardson, who is back in the playoffs for the first time in five seasons. "We obviously had a discussion. Any of the guys in the room and the coaches really can't control anything going on behind the scenes. We just knew we had to go out and do our job and play. Everyone just wanted to play. I think we're all sick and tired of the Coyotes being out of the conversation and I think now at least we put ourselves in that (conversation)."
There was so much to chronicle in this important win. There were so many familiar storylines for everyone who has followed this team this season. The Coyotes played their trademark brand of bend-don't-break defense in the first half of the first period while Nashville outshot them 10-1.
They relied heavily on goalie Darcy Kuemper to keep them afloat and he answered the bell once again, stopping a whopping 49 shots to raise his postseason save percentage to .933 and his goals saved above average to 3.33; the second best mark in the playoffs.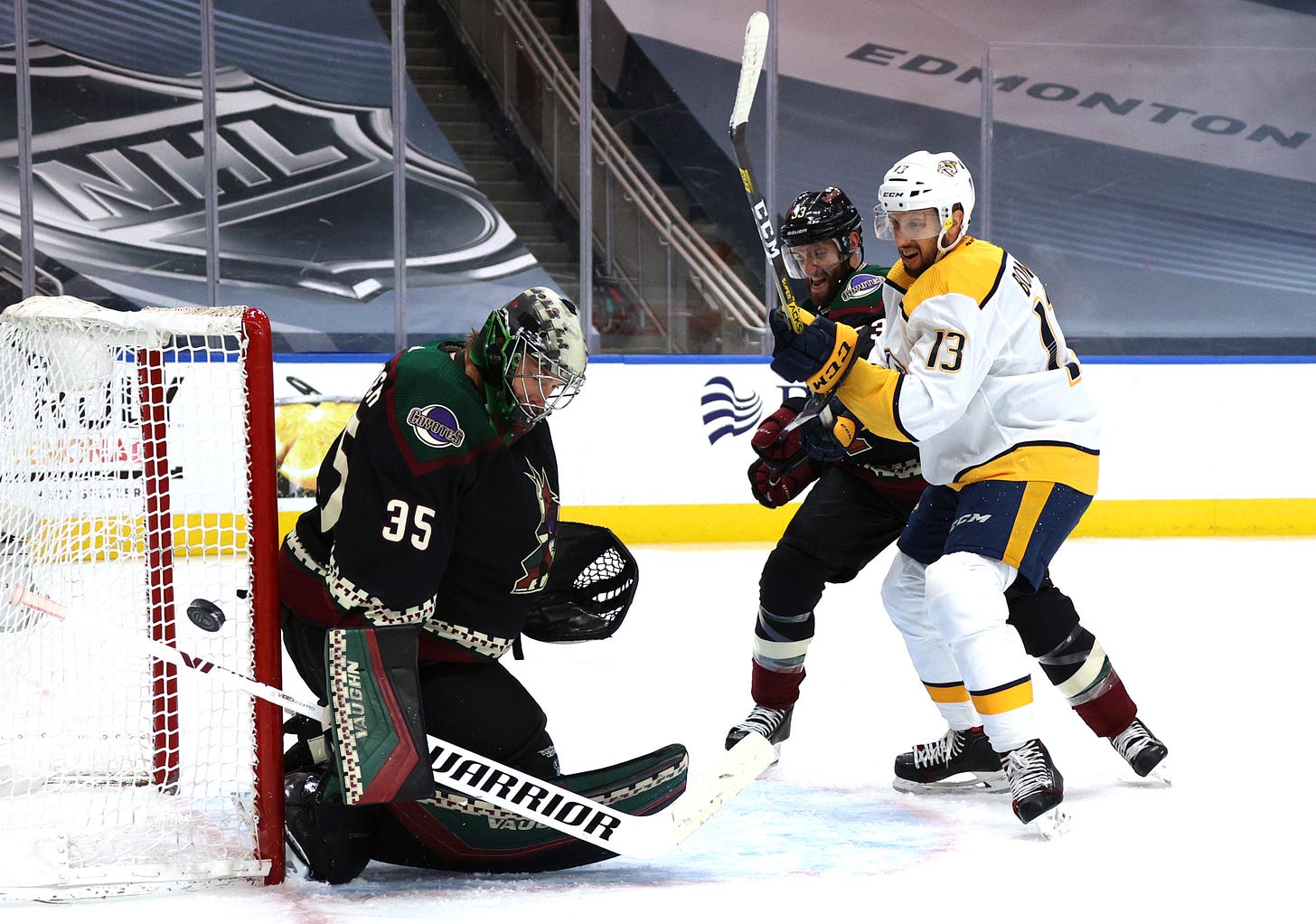 Darcy Kuemper
---
They relied on that familiar, all-for-one pack mentality to cross the finish line, getting goals from unlikely sources in forward Michael Grabner (his second of the series), defenseman Jordan Oesterle and Richardson.

But the Coyotes also displayed some new tendencies in this character building win. For the third time in four games, they squeezed a little more offense out of their unit (a training camp focus), to finish with 14 goals in the four-game series for an average of 3.5 per game that ranks sixth in the postseason. They also got consistent contributions from their erstwhile underperforming stars. Defenseman Oliver Ekman-Larsson had two assists on Friday, forward Phil Kessel had a goal and forward Clayton Keller had an assist. Along with forward Taylor Hall, all three are averaging a point per game in this postseason, making a prophet out of assistant coach John MacLean.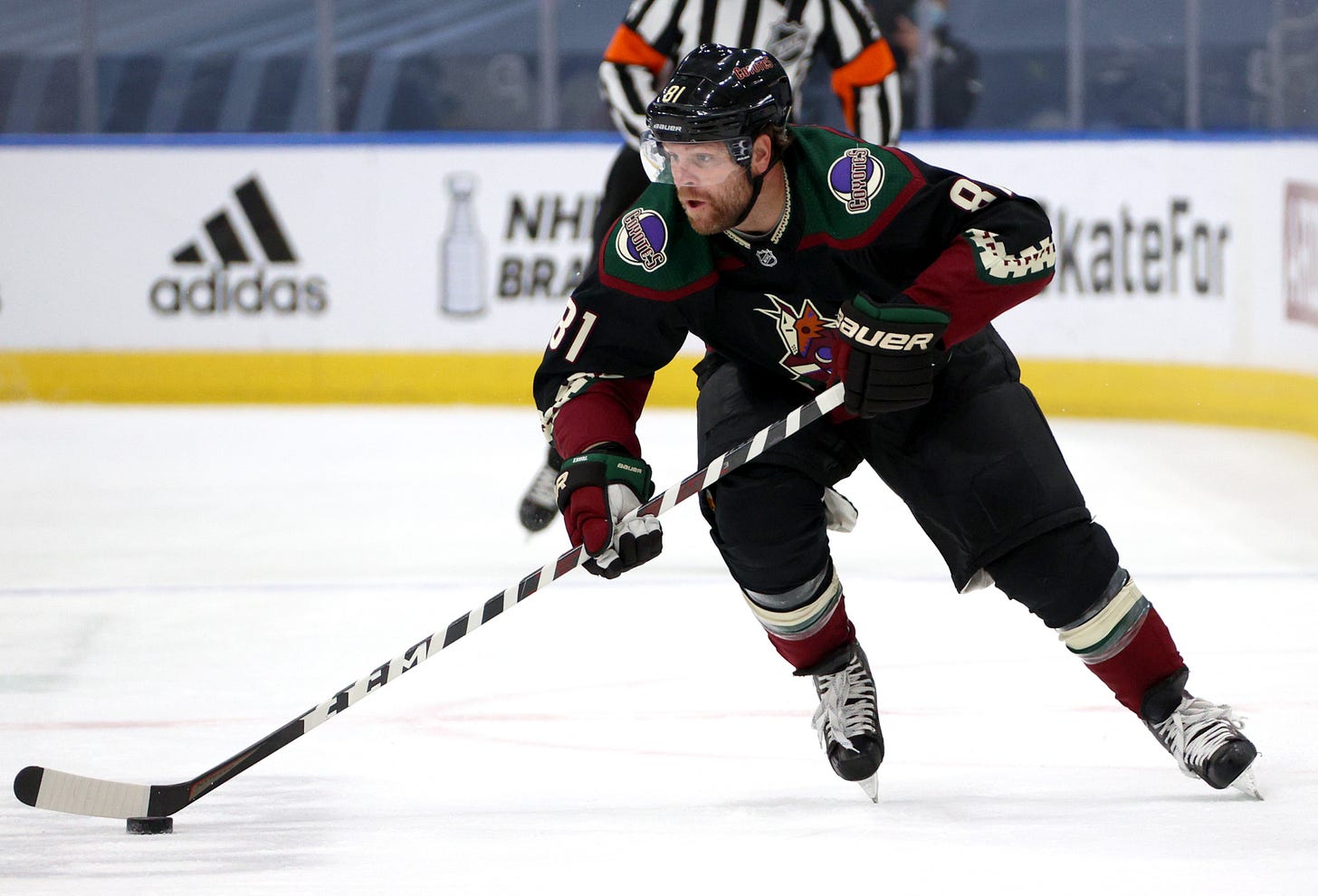 Phil Kessel
---
"We have a clean slate coming up," he said at the start of camp. "If you had a terrible regular season but you're on the dance floor, you can make any narrative you want going forward. I think there's opportunities for guys like that on this stage. If you had an off-year but then people say, 'Wow, what a playoff performer he was,' they forget about whatever happened in the regular season. They could change their year around in three games."
It took four, but the Coyotes were up to the test. When adversity struck on Filip Forsberg's game-tying goal just 32 ticks before the final horn, they didn't fold like the team we saw in January, February and early March. They regrouped. Maybe this John Chayka constructed roster has some potential after all.
"We were down. I could tell," said Tocchet, whose team will face the Colorado Avalanche in the first round of the playoffs. "But then in between periods, guys started chirping again, which is good. We needed to get some energy back in that room because, you know, you're 30 seconds from clinching the series and all of the sudden you've got to get your mind back again."
About 1,700 miles away, new team president Xavier Gutierrez was watching the game with wife, Jericca, and his son, Xavi, at his home in Paradise Valley. Even the newest member of the organization understood the magnitude of this win for a long-suffering, much maligned franchise that is looking to alter its narrative.
"This is incredible and I couldn't be more excited for Alex Meruelo and the Meruelo family and ownership -- for everybody who worked so hard all year: the coaches, the players, the staff, the trainers," Gutierrez said between breaths after a raucous, in-house celebration. "This is what you live for. This is what you work for. This is what all the sacrifice of all those guys up in Edmonton is for.
"I couldn't be happier for them and for this community and its fans. This is thrilling. It means a lot to us as an organization to be able to bring something for them to celebrate and embrace in light of these challenging times. We hope this whole community understands how much this means to us, and how much they mean to us."

Follow Craig Morgan on Twitter: @CraigSMorgan