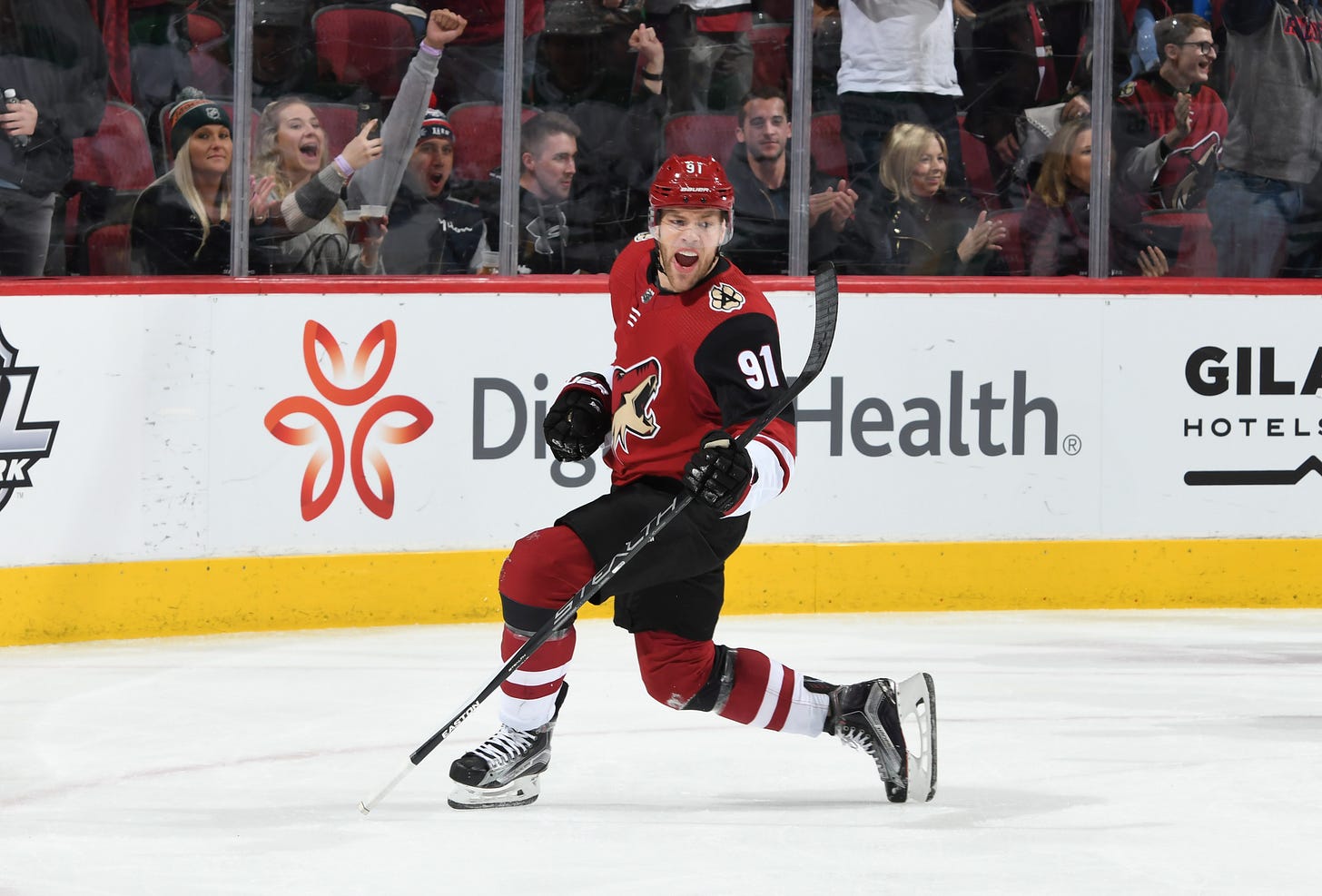 Taylor Hall, photo courtesy of Arizona Coyotes

The Coyotes coaching staff has not been idle in the nearly four months since the NHL paused its season due to concerns over COVID-19. Head coach Rick Tocchet, assistants John MacLean, Phil Housley, Corey Schwab, Steve Peters and the AHL staff have watched an estimated 350-400 hours of video.
While the AHL staff was tasked with special projects such as highlighting other teams' best practices, the NHL staff has focused both on scouting their play-in round opponent, the Nashville Predators, and on getting their own house in order. One key to accomplishing the latter is figuring how to generate more offense: 0.3 more goals per game, to be exact.
"I watched a lot of video the last three months, especially our last 20 games," Tocchet said. "The conclusion to me is that we were right there. We just couldn't get that extra goal to put us over the top so the question is: How do we get that extra .3 goals that would have made a big difference?
You'll hear a lot of coaches and players tell you that the NHL is a 3-2 league. It has become a league-wide cliché. It's no coincidence that if the Coyotes had averaged 0.3 more goals per game in the 70 games they played this season, they would have averaged 3.01 per game. That would have vaulted them from 23rd in the NHL to 17th, right behind their play-in round opponent. Couple that total with the NHL's third-best goals against per game (2.61) and the Coyotes would be sitting several points and a several rungs higher in the Western Conference standings.
"We might need to tweak some things in our offense and maybe be a little more aggressive to get there, but here's the balance," Tocchet said. "I don't want us to compromise the way we defend the puck or the way we play defense because I don't believe to win a Stanley Cup you can play river hockey. We're just trying to squeeze a little more juice out of our offense without sacrificing our defense."
In their exhaustive review of the 70 games to date, the coaching staff identified at least five key areas that could help augment the offense if the Coyotes were to improve those areas. Here they are.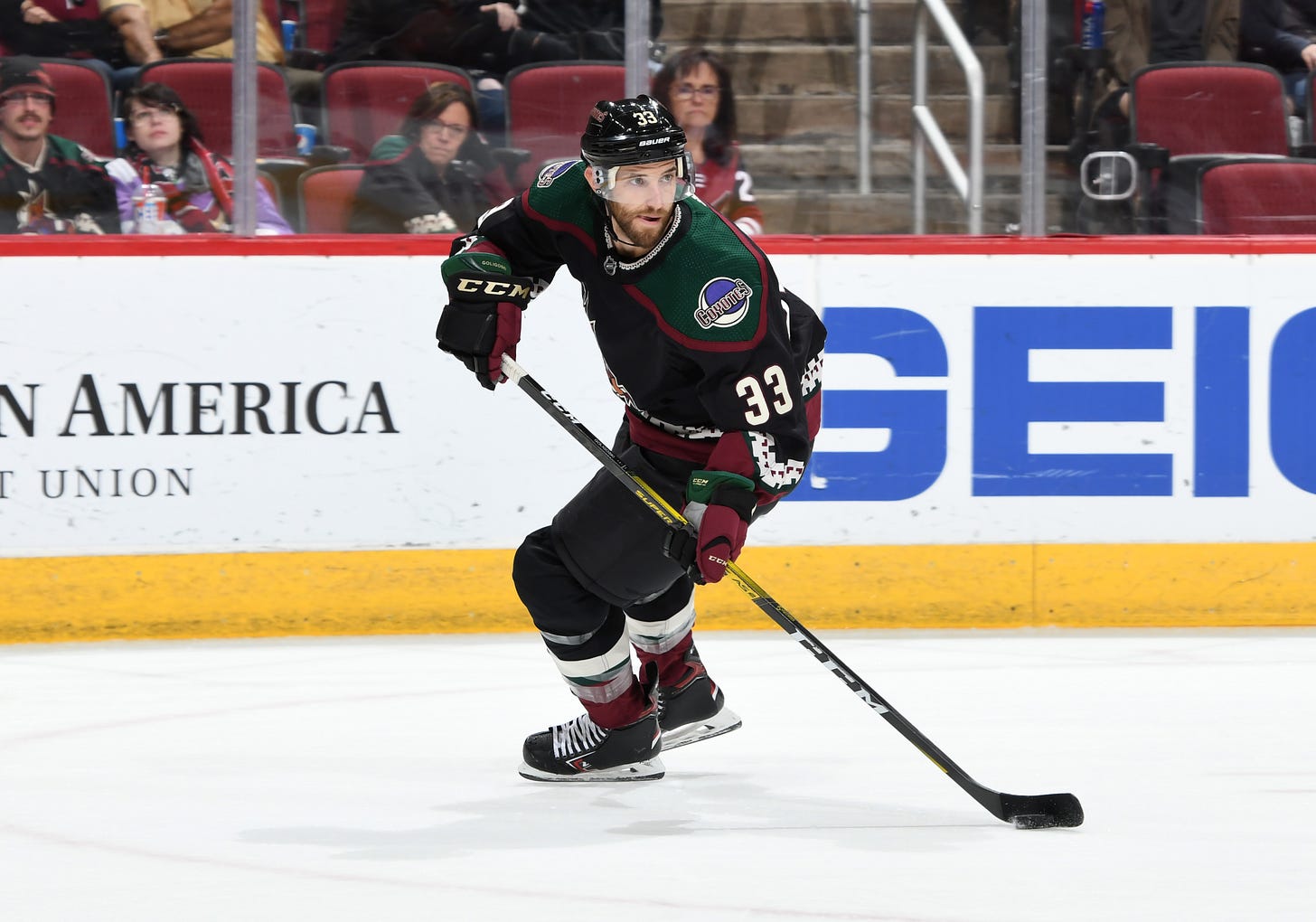 Alex Goligoski, photo courtesy of Arizona Coyotes
Activating the weak-side defenseman
When the Coyotes hired Housley at the start of the 2019-20 season, one of the first things he identified through video analysis was the need to get the weak-side (the side away from the puck) defenseman more involved in the offense. As Housley noted, this was not a reinvention of the wheel. Most NHL teams are trying to do this to create odd-man rushes and more scoring opportunities when they have full possession of the puck.
"We have been preaching this a lot throughout the year, particularly me, about picking your spots and trying to add to the rush," Housley said Tuesday. "That doesn't change, but we're just trying to be more conscious of it, whether it's a D-to-D play and the puck goes up the strong side, having that weak-side D just trying to support the play. Even when there's a centerman down low or a first forward down low on a breakout and he gets that first touch on the puck, how can we activate that D in a support role, whether it's being part of the breakout or trying to add to the rush and finding a spot or hole to try to create?"
Housley liked what he saw from the Coyotes' blue line for the first half of the season, but injuries to Niklas Hjalmarsson (53 games missed), Jason Demers (20 games), Jordan Oesterle (eight games in addition to his healthy scratches), Jakob Chychrun (seven games) and Oliver Ekman-Larsson (four games) eventually took their toll on the entire group through added ice time.
"Don't kid yourself. Our guys did a great job," Housley said. "We climbed up to first place in January, but there came a point where you could see the wear and tear and we just didn't have that pop. I thought we were retreating too much with the puck instead of turning it up when maybe they (other teams) line-changed. We were settling for a controlled breakout when we could have just turned the puck up and played north. That happens when your body and brain get tired. You're trying to settle things down instead of thinking, 'attack.'
"If we had 30 or less breakouts it made a huge difference in the success rate of our team. You could see it in the video later in the season. We were a fast team. We wanted to turn that puck up and we were on teams and we created a lot of three-quarter-ice game, but when we got tired and we did slow it down, there was a disconnect with our forwards. Our D were at the top of the circles and our forwards were at the far blue line. We're trying to correct that. The D would say, 'Well, the forwards weren't open' and the forwards would say, 'Well, the D didn't get us the puck fast enough.' We have to connect that bridge."
Housley also thinks the weak-side defenseman can do more in the offensive zone.
"It's about trying to have a five-man cycle; not only the weak-side D but our strong-side D trying to get more movement within our system to make the other team make decisions or put them in a situation where we create some space with some movement up top," he said. "We focused on that a lot in the season, too, but I think it's going to be a greater point of emphasis moving into this play-in round; trying to activate our D even more but not being reckless or being a liability where we're giving up something."
Despite the long layoff and the tight schedule, Housley believes the Coyotes have enough time to re-emphasize these points in training camp, which begins on Monday at Gila River Arena.
"We have talked about it as a coaching staff throughout this whole time off and we have mentioned it to the players as well," he said. "We're going to put together some short video sessions and send it to them to plant some seeds as we enter camp and then we'll do it in camp; work on it.
"I thought we had it going after those first five games of the season where we started to find ourselves and there were some great examples of what we wanted to do. Even after we took a dip, we started getting our game back but you have to just keep hammering those details and ideas on a daily basis because when we do it we're a very effective team."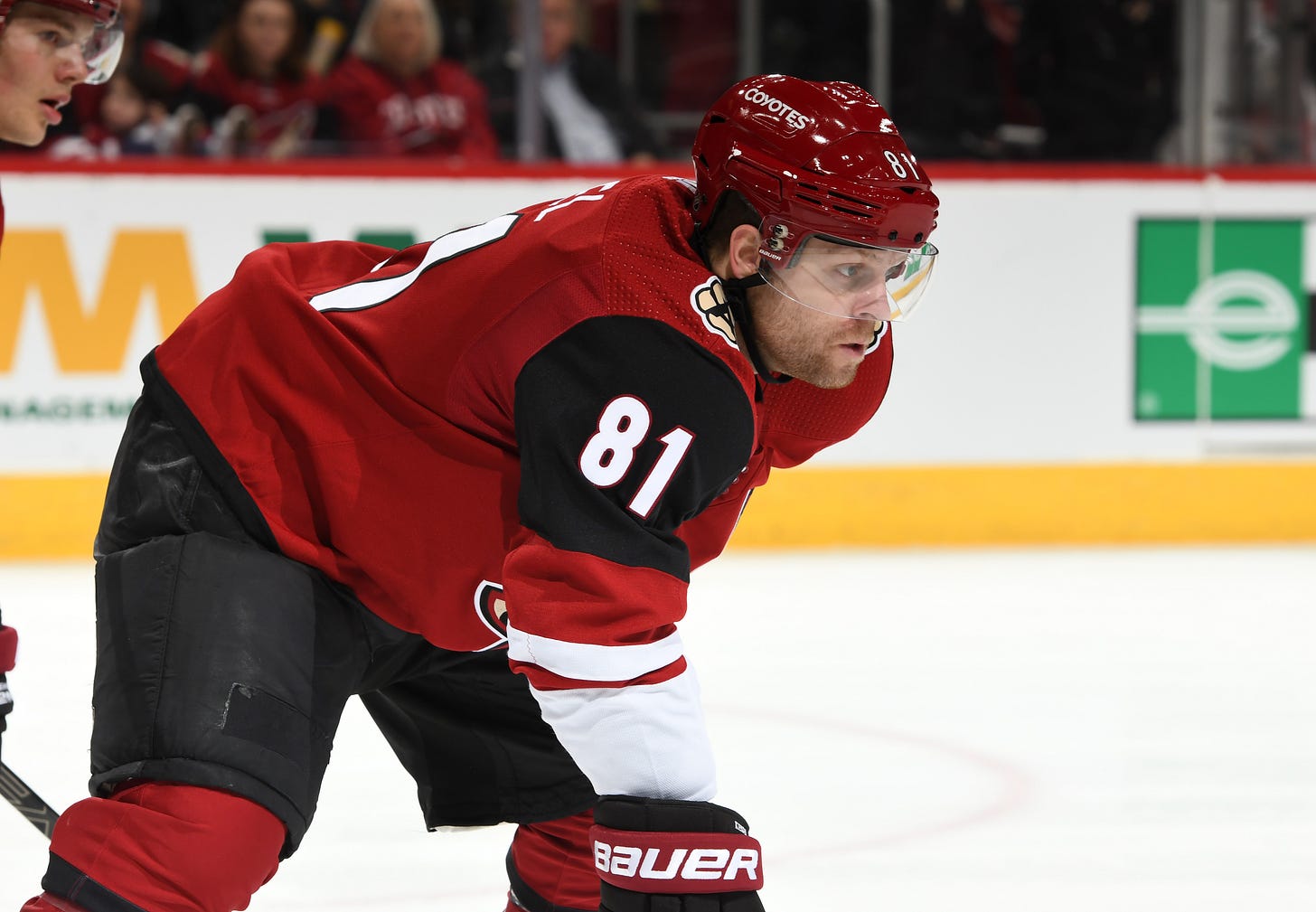 Phil Kessel, photo courtesy of Arizona Coyotes
Power-play cohesion
Let's get this out of the way. The Coyotes' power play wasn't as bad as some outsiders think it was. In truth, for stretches of the season, it was good and despite the late dip, it still ranks 18th in the NHL at 19.2 percent. The problem for the Coyotes was that when the unit wasn't good, it was often dreadful through a combination of poor or no zone entries, lost face-offs, over-passing and little offensive zone time.
That probably shouldn't come as a major surprise because two of the principle parts of the first unit (Phil Kessel and Taylor Hall) were new to the team this season and Hall didn't arrive until mid-December. The staff generally liked the play of the second unit with Nick Schmaltz, Carl Söderberg, Conor Garland, Jakob Chychrun and Alex Goligoski, but the team will need more cohesion from its first unit, which is still going to log the lion's share of minutes.
"The best power plays have been together a long time so they know how to play together," Tocchet said. "But what we also need is when a player goes to a different spot and the other guy fills in for him, that other guy has to be willing to play that spot for however many seconds it is. You might have to stick around the net even if it's not something you do very often.
"Sidney Crosby is one of the best in the league at net front. He could play outside all day and just get shots or make plays but he's willing to play any spot at any time."
Comfort is one thing, but the key Coyotes players must do a few things better. Tocchet and Housley want to see the defenseman at the top (Ekman-Larsson, Goligoski, Chychrun, etc.) get more pucks through to the net, both to create a threat and to create space for Kessel and Hall on the half walls. The Coyotes were not good at this on the power play, ranking as one of the bottom five teams in the league.
Ekman-Larsson had one of the highest percentages on the team of getting pucks through to the net, but when the lanes are open, Tocchet would like to see his captain use a slapshot more than the wrist shot he often uses from the point. If he can do that, it might coax Kessel into shooting more because of the space and time he is afforded, instead of over-passing, as he often did -- often with poor results.
"I do think he was looking to pass too much sometimes," Housley said. "Phil has a terrific shot. If he can round it and get his body around it and he has a good lane, he can score from that half-wall position. Maybe we find a right hander at the net front or just get better net front so he has an outlet, or just have him pounding pucks. I know some will be blocked but he has to keep delivering them. He has a knack for scoring power-play goals.
"The other thing is, Phil is going to attract attention because of his past and the success he has had. That should give somebody else room. If they're going to leave somebody else open, we're going to take what's given and he can make those plays. If he starts shooting, though, he'll create even more attention and then he can make those other plays."
The staff wants to see Hall continue to work on his chemistry with the other two, keep going to the net like he was, and instead of over-passing, keep taking the shots he took despite a run of poor puck luck this season.
"Taylor is a bull in a China shop," Tocchet said. "He's not scared. He's willing to go to hard areas. We have to utilize him better and utilize him going to the net more. I think Taylor can almost be like Crosby down low. I really believe that."
Net-front presence
It's no secret that many of the goals in the NHL come from the tight areas in front of the net. That reality gets accentuated in the postseason when teams batten down the defensive hatches even more.
"We have to get better at it," Tocchet said. "We have to have a willingness to go to the front of the net. It can't just be one or two guys. It has to be everybody participating. I call it playing through the middle of the box. It takes courage to continue to do that and when you have a team that does that you're going to get more goals eventually."
Christian Dvorak started to develop a knack for that area of the game. The Coyotes acquired Söderberg for that same skill. Hall can seemingly do it at will and Lawson Crouse has displayed a willingness to go those areas. On the flip side, Garland, one of the smallest players on the team, has also shown a consistent willingness to drive to the net.
"You don't always have to be a big guy," Tocchet said. "I'm not asking Clayton Keller to go to the net and just stand there the whole game. Those guys are darters. They have to arrive when the puck gets there and then they can get out of there. He's got to use his reads and hockey IQ to get there and be effective.
"Conor Garland is a very courageous kid. A lot of his goals are in front of the net. There is definitely a reward if you're willing to go there."
MacLean, who coaches the forwards, believes a big part of net-front presence is mindset.
"First off, I think it's more about funneling to the net," he said. "There's not a lot of beating on guys anymore. You can hang in there, but there's no bullfighting allowed, or olé-ing it. Sometimes, you have to stay in there and work on your timing of it like a slide screen or being cognizant of where the puck is going so you know whether to hold out or go to the net at the same time as the puck and it bounces out and you're there to pick it up.
"We're getting better at it, but at times we tend to stay on the perimeter. Sometimes we move the puck around and make great passes but we accomplish nothing. Everything, whether it's power play, 5-on-5, neutral zone transition or O-zone, is about a guy opening space for another guy. Unless a guy goes through that house with a middle drive or a low play where you bump into somebody accidentally on purpose, you won't have that space, but if you do, you might give your buddy that extra second and we know what these guys can do with an extra second. It can be in the back of the net. They can make one play and that's all they needed. We're learning to value the small play to get the end result."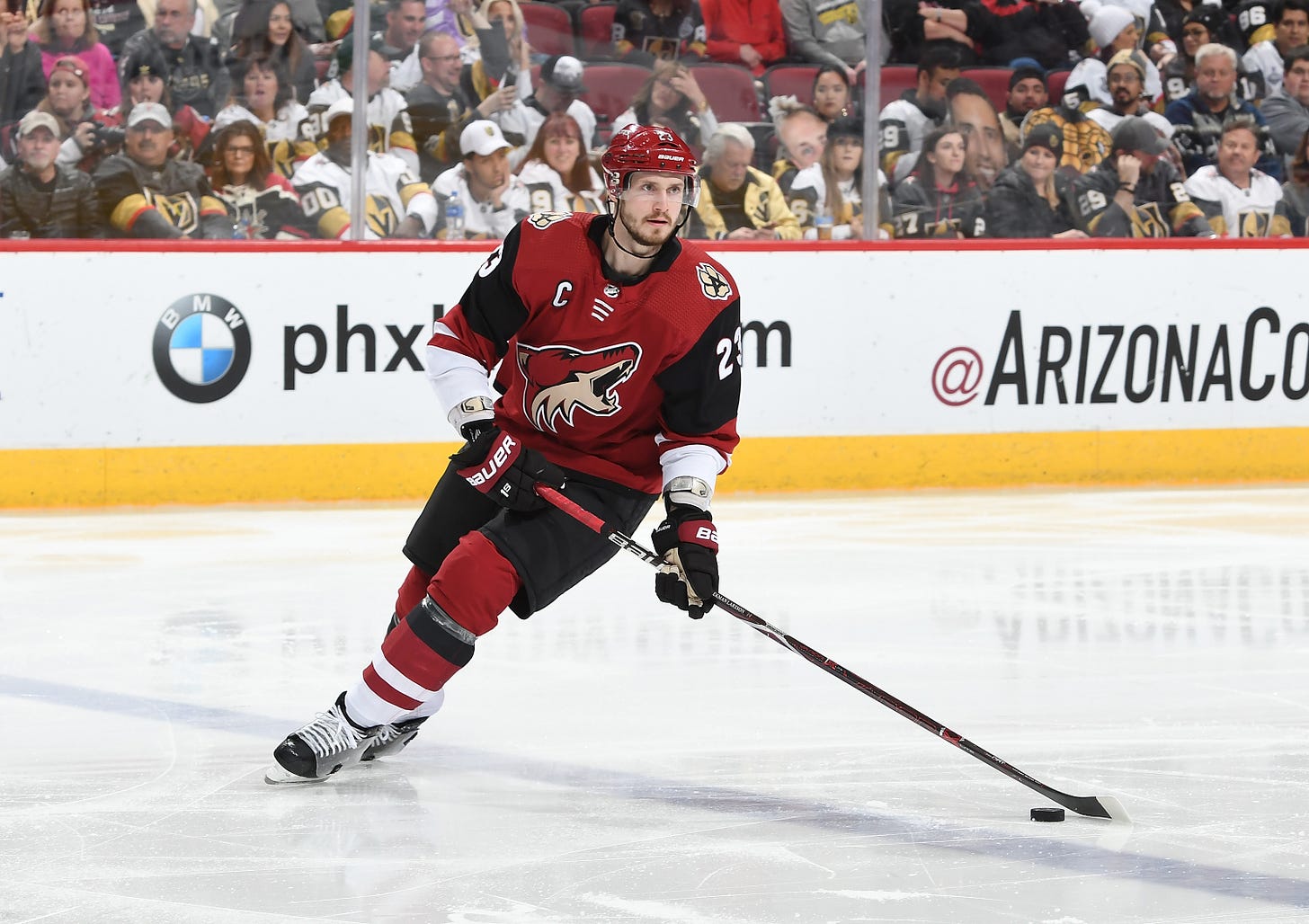 Oliver Ekman-Larsson, photo courtesy of Arizona Coyotes
Play fast
On numerous occasions this season, Tocchet expressed frustration with his team's deliberate play out of its own zone and in transition. The Coyotes have a lot of team speed and when they get moving north, they can put a lot of pressure on teams off the rush and on the forecheck.
Conversely, when they get hemmed in their own zone or play slowly through the neutral zone, they are susceptible, due to a lack of speed and maybe a lack of great playmaking through the middle of the ice.
"We're a quick team with some quick players," Tocchet said. "When we defend the puck and transition the puck as quick as we can, whether it's a flip or a space play, that's when we're at our best. If we slow the game down and we've got to defend or muck and grind all night, the scales tip to the other side. For our offense, we have to play a quick style of game. We have to play like a fast-break team. That's who we are and you can definitely win that way. We just have to do it more consistently."
MacLean said the forwards can help the defense in that regard.
"I think sometimes we're spectators and we wait to see what the D are going to do with the puck first instead of forcing the issue by saying, 'Hey, I'm coming, I'm cutting, I'm stretching it just a little more.' And you've got to accept that the guy who is pushing the play may not always be the guy who gets the puck but he may open up space for his buddy."
Odd-man rushes
If you examine the stats over the final 10 games of the season, you'll find that the Coyotes were at the top of the league in generating scoring chances.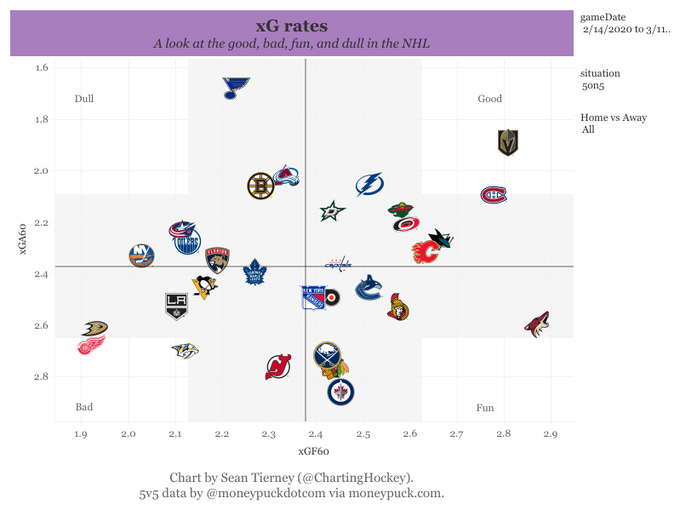 If you look at the final game before the pause, a 4-2 loss in Winnipeg on March 9, you'll remember a handful of odd-man rushes that the Coyotes failed to convert after taking a 2-0 lead – opportunities that could have salted the game away. It was a recurring nightmare for the coaches and players, who watched golden opportunities slip away, game after game.
"It's just execution," Tocchet said. "It's hitting the net. It's passing the puck. It's finding that lane for you to receive that pass, it's about making reads, it's about practicing, but at the end of the day, it's about execution. If you're coming down the right side and the goalie moves over, you've got to be able to hit that right side, top shelf.
"We have some guys who can definitely shoot the puck and have the skill. Now it's about applying it under pressure."
MacLean saw different factors in the Coyotes' inability to finish those high-percentage scoring chances.
"Execution is a part of it, but sometimes it's youth where they realize later, 'Aw geez, if I had made that play I could have scored,'" he said. "Sometimes, they don't take advantage of the play that is right in front of them and that is a learning process.
"That's why going into this play-in round, every possession is so valuable and execution so is valuable. You hear it all the time about the playoffs, it's not always the cute play, it's the play where you kick it out to the winger, center net drive, shoot the puck, the puck bounces off somebody and it's in the back of the net."
MacLean agrees that the Coyotes have enough skill, but that comes with its own set of issues.
"I think because we have a lot of creative guys their creativity is both an asset and a liability at different times," he said. "As things get ramped up here in this play-in round, things close down quicker than you realize so you need to get the temperature of the game and execute off of that. Learn that this is your best play. The simplicity of the plays is more important and then the execution comes along with it."

Follow Craig Morgan on Twitter: @CraigSMorgan