Welcome to the AZ Coyotes Insider newsletter. I generally publish stories four to six times per week (some of them free). By subscribing, you'll be supporting independent, accountable journalism. Subscribe now so you won't miss a story.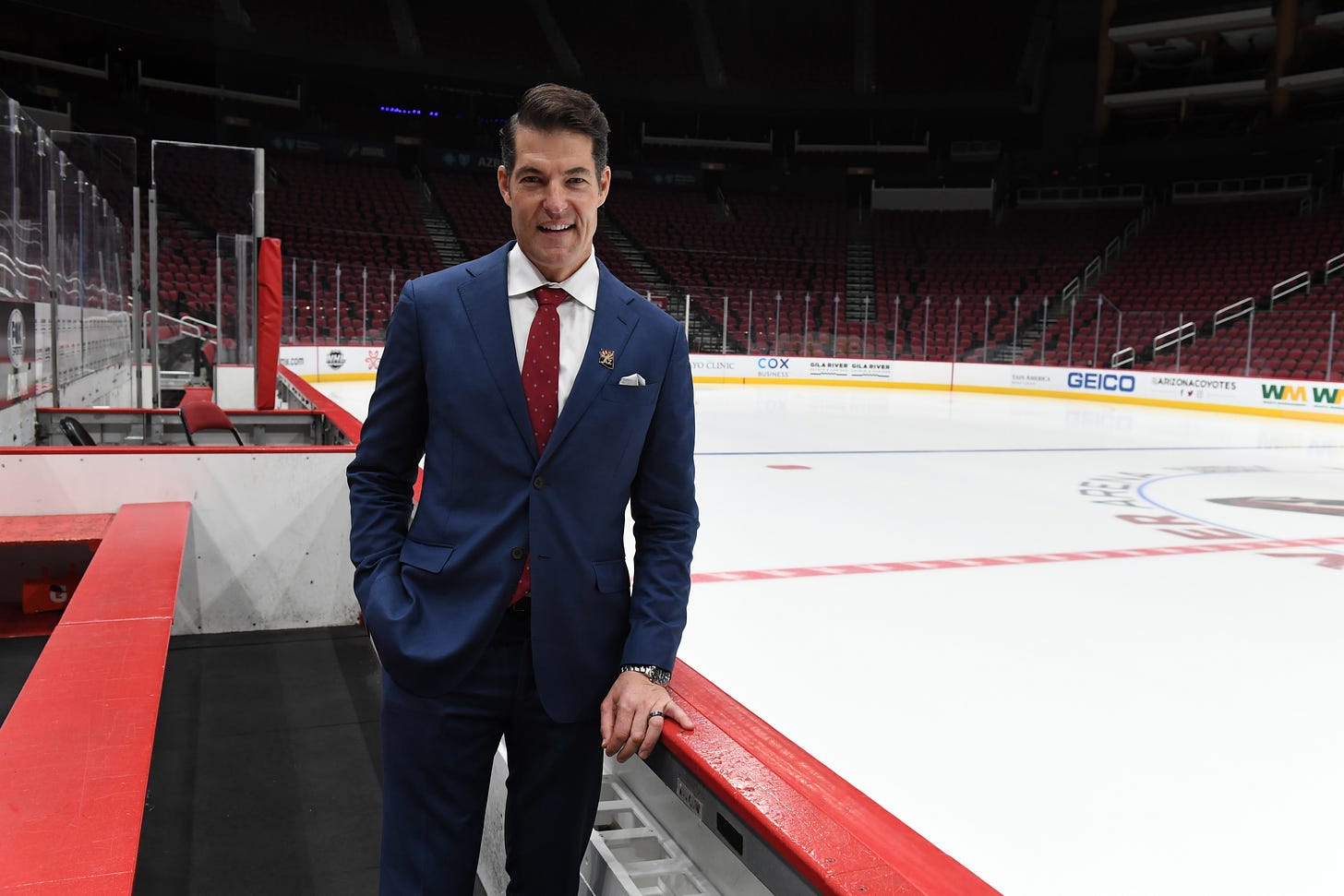 Coyotes GM Bill Armstrong. Photo courtesy of Arizona Coyotes
---
Ever since the Coyotes introduced Bill Armstrong as their new general manager on Sept. 22, he has been working from sunrise to well past sunset. There are more tasks ahead, but every day, he checks a few more items off of his lengthy offseason to-do list.
With the hiring of director of amateur scouting Darryl Plandowski (on whom I'll take a deeper look on Monday), associate director of amateur scouting Ryan Jankowski and special assistant to the GM/director of goaltending operations Brian Daccord, Armstrong has the key pieces in place to oversee the lifeblood of any organization: drafting.
"It has been a good week," Armstrong said Saturday night. "We have put together a behind-the-scenes team that I am extremely excited about. One thing I do know is scouting and I know scouts and I can tell you we have put together, in my eyes, a very good scouting staff in a short amount of time.
"Like I said at the (introductory) press conference, this job is very complex and very difficult, but it's also very simple. Find the right people to find the right players and then you just stack one good player on the next and soon enough, you're a winning team. I think we've got the guys who can do that."
Armstrong, Plandowski and Daccord are not allowed to take part in the NHL Draft on Tuesday and Wednesday, per proprietary agreements with their previous teams (St. Louis, Tampa Bay and Toronto), but Armstrong provided some clarity on how the Coyotes will operate at the draft.
"We have the information from the previous people who built a list and we're not picking until the fourth round so some of the new people we have added into the draft team are having some meetings now with our staff and producing a list that will carry us through the fourth, fifth, sixth and seventh round," Armstrong said. "Ryan Jankowski will be running the amateur meetings. He will run things, but (assistant GM Steve Sullivan) is in there and (special assistant to the GM) Scott Walker are also involved in building the list."
Coyotes 2020 draft picks
Fourth round: No. 111
Fifth round: No. 142
Sixth round: No. 173
Seventh round: No. 204
Armstrong admitted that this year's draft set-up is unusual. Three men who will guide the future of hockey operations are not allowed to take part in an event where pieces of that future will be selected.
"It is a little weird but (Blues GM) Doug Armstrong and I have a really strong relationship from our time in St. Louis and that was part of the agreement," he said. "I can go in and build the structure of our organization, which I thought was really important and something we couldn't wait on. Also, I can have an impact in trades, free agency and which guys to sign, so with not picking until the fourth round, I thought that it was the right thing to do while providing Doug security on the (scouting) knowledge the St. Louis Blues have. The same goes for Darryl and Brian."
I asked Bill Armstrong how things would proceed if the Coyotes were to acquire picks in the first three rounds of this year's draft through trades.
"I would acquire them and then pass the picks on to Ryan to handle it from there," he said. "It's a bit unusual, but I feel good that Ryan is in there and can set this up properly. He has run drafts. I am very happy and satisfied that he has the ability to run this one."
In addition to hiring Plandowski, Jankowski and Daccord, Armstrong said he also hired scout Cory Banika last week. Banika worked most recently with Jankowski for the Buffalo Sabres, but he also worked as an area scout under Armstrong in St. Louis where he identified some high-profile picks.
"From his area (OHL), we got (forward) Robby Fabbri, (defenseman) Vince Dunn and (forward) Robert Thomas," Armstrong said.
Check out Grant McCagg's 2020 NHL Draft Guide: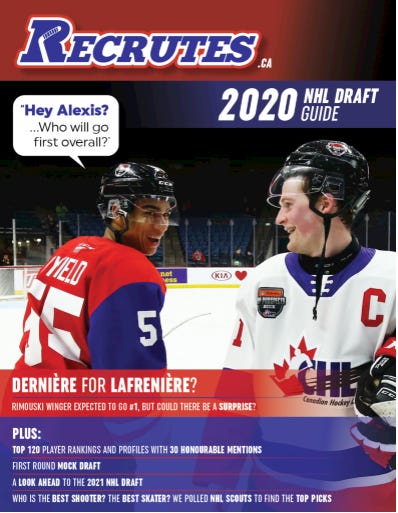 I touched quickly on a variety of other topics with Armstrong while trying to be respectful on a Saturday night when wanted to spend some rare time with his wife, Kyla, who is in town to support him.
Michael Grabner buyout
I asked Armstrong about the decision to waive Michael Grabner on Saturday for the purpose of buying out the final year of his contract, rather than hanging onto him and trying to trade him for a pick at the trade deadline.
"You have a good feel of what the worth is when you try to trade someone and talk to the other NHL GMs," Armstrong said. "With this particular asset that we had, it was just a business decision. There's so many moving pieces right now, but that was one thing that came back again and again. Unfortunately, that was the decision we had to make. It's always a tough decision and that was one of them."
Grabner cleared waivers on Sunday. His agent, Jerry Buckley, made it clear to me that Grabner wants to keep playing despite the scary eye injury that he suffered in a game against the Blues in December 2018, and some hesitation to return to play this postseason inside the Edmonton bubble. Grabner felt he regained some of his form in the postseason, where he scored three goals in nine games.

With the financial security of the buyout, I wouldn't be surprised to see Grabner be a bit more selective with his next team choice. He can help a team in a bottom-six role with his world-class speed and unique penalty-killing skill set, but he can now afford to take a lesser deal with a contender.
Earlier in the day, Armstrong released a statement through the Coyotes on the buyout of Grabner, who has been a popular player during his time in the desert.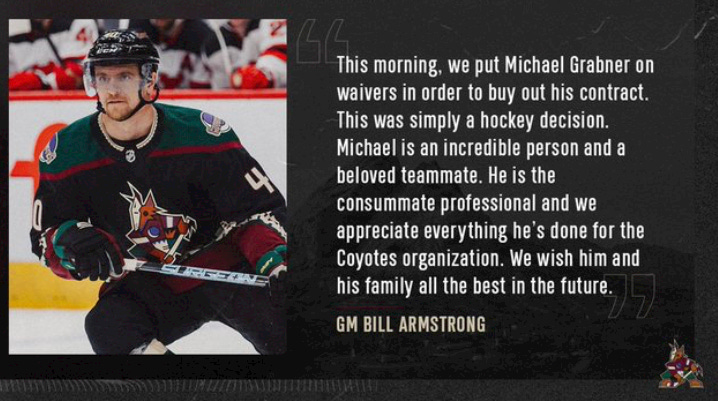 Oliver Ekman-Larsson trade talks
Per sources, the Coyotes captain has limited his potential trade destinations to Boston and Vancouver, and has no plans to expand that list. I asked Armstrong if he could provide any insight on those trade talks.
"I think I can answer in a broad perspective," Armstrong said. "We're going to make moves that are the best moves for the organization at all times. That's why they hired me. They're not easy moves. There's some really tough stuff, but every move that we make is going to be for the betterment of this organization and push ahead. We're going to explore every option."
Armstrong said the sense from other GMs is that this is a trade market like none they have ever seen, due to the financial fallout of the global pandemic.
"People are just staring each other in the face," he said. "As soon as one falls, they're all going to fall."
The Bruins' group of prospects probably interests the Coyotes more than the Canucks' group, but Vancouver may be pressing a little harder for the deal, per league sources. Boston has long been a favorite spot for Ekman-Larsson. Had he opted for free agency in 2019, rather than signing an eight-year contract extension (AAV of $8.25 million) with the Coyotes in 2018, Boston was a likely landing spot.
Taylor Hall
The sense I get is that Hall is open to a wide range of contract proposals and won't limit anything to begin with. Both Hall and his agent, Darren Ferris, have said previously that they will keep an open mind, particularly with the impact that COVID-19 has had on the market.
It is highly unlikely that Hall will return to the Coyotes. He has stressed the importance of winning and competing in the playoffs right now, and with the Coyotes in a rebuild of sorts, those desires are at odds.
Armstrong said he has "put it out" around the league that the Coyotes are open to trading Hall's negotiating rights, which normally comes at the price of a mid-to-late round pick.
RFAs
Qualifying offers for restricted free agents are due by Wednesday at 2 p.m. Arizona time. Here is a list of the Coyotes' and (AHL) Tucson Roadrunners' RFAs. Armstrong said there are too many moving pieces to comment on his RFA plans right now. This may be something that goes right up to the deadline.
Coyotes
Forward Vinnie Hinostroza (has arbitration rights)
Forward Christian Fischer
Defenseman Ilya Lyubushkin (has arbitration rights)
Roadrunners
Defenseman Jordan Gross (has arbitration rights)
Defenseman Kyle Capobianco
Defenseman Dane Birks (has arbitration rights)
*Defenseman Jalen Smereck
Defenseman Vili Saarijärvi
* — Smereck is a 10.2(c) player
UPDATE:
Darcy Kuemper
The goalie market is flooded with free agents and trade options. With that in mind, I asked Armstrong if the Coyotes were leaning toward keeping goalie Darcy Kuemper, despite recent trade rumors.

"It's a unique situation for the Coyotes because they moved their (2020) first pick for Taylor Hall while the NHL took another one (2021)," he said. "You're trying to move the franchise ahead in any way that you can with the assets that you have, while at the same time trying to keep a competitive team. There's a balance there, but we're going to explore every option to make sure that we find the best solution and the best way to move forward as an organization."
Follow Craig Morgan on Twitter: @CraigSMorgan