Welcome to the AZ Coyotes Insider newsletter. I generally publish stories four to six times per week (some of them free). By subscribing, you'll be supporting independent, accountable journalism. Subscribe now so you won't miss a story.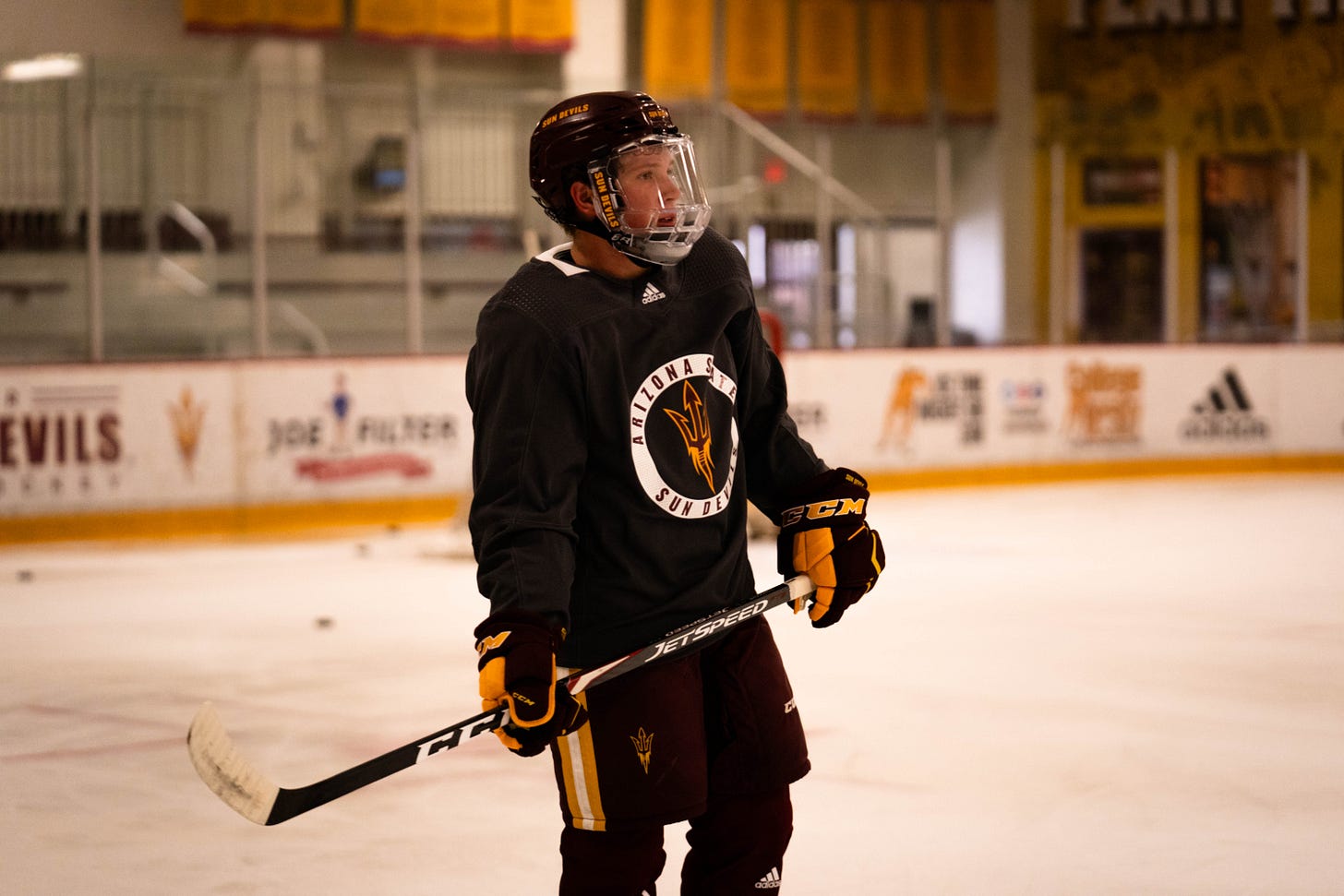 ASU forward Sean Dhooghe. Photo courtesy of Sun Devil Athletics
---
It's not like Greg Powers was refreshing the NCAA's transfer portal every five minutes with the hope of finding impact players. The ASU men's hockey coach wasn't even planning to check that space. He was just bored. It was mid-March and COVID-19 had just shut down NCAA sports for the remainder of the school year.
What's a hockey coach supposed to do?
"I actually had to ask for my login info to the portal," Powers said, laughing. "That's how little I had used it. We just didn't need anything and I didn't want a transfer, but when I logged in into it I saw Sean Dhooghe's name and I was like, 'Oh, my God!'
Dhooghe, who had led the Badgers in scoring one season earlier, had decided to leave Wisconsin after his junior season for a fresh start. Sun Devils defenseman Josh Maniscalco (now in the Pittsburgh Penguins' system) had played with Dhooghe for the United States National Team Development Program, so Maniscalco texted Dhooghe to see what was up and then reported back to Powers that Dhooghe was indeed on the market.
"I contacted him the next day," Powers said.
Dhooghe answered that call just as he answered calls from several other programs.
"When I was in the portal I was completely open to everything," he said. "I talked to anyone that showed interest. I really had no idea what I wanted or where I wanted to go. I just wanted to hear what everybody had to say and then I was going to talk to my family and friends before making a decision."
The Sun Devils had a couple of things working in their favor beyond that warm winter weather that no other Division I program could offer. Dhooghe's eyes had already been opened to Arizona after a positive experience at the Coyotes' development camp in 2019 with assistant GM Steve Sullivan, the coaching staff and the prospects.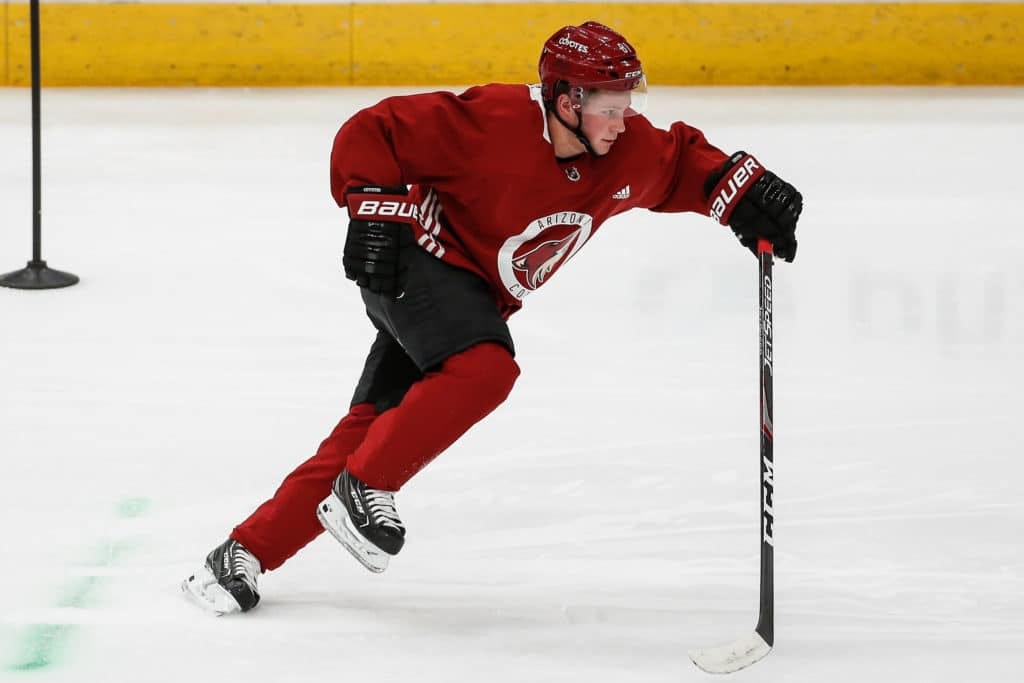 Dhooghe at 2019 Coyotes development camp. Photo courtesy of Arizona Coyotes
---
"That was one of the better experiences I have had in my hockey career and it was my first time in Arizona," he said. "I loved their philosophy, I loved their messaging, I loved their culture and I loved the draft picks that were there. They treated me as an equal, not like an invite."
Dhooghe also knew that former Miami (Ohio) forward Willie Knierim and former Michigan forward James Sanchez — Illinois products with whom he had played when he was younger — were flourishing in Tempe.
"There was a comfort factor of having relationships with those guys already," Dhooghe said. "Those guys transferred and found great success and really blossomed here so I thought, 'Why can't that be me?'"
Before the deal was closed, however, Powers laid out some expectations about Sun Devil culture and commitment.
"With transfers, you are always brutally honest," Powers said. "It's their second life and they need to make the most of it. The last thing you want to do is pull in a transfer and not have it work and set the wrong precedent for the program."
Dhooghe's former Wisconsin teammate, Wyatt Kalynuk, is certain that ASU's newest talent will fit in.
"He has always been a leader and a guy that other guys look up to," said Kalynuk, who signed an entry-level deal with the Chicago Blackhawks in July. "Even with what he went through last year as one of our captains, I thought he handled it really well."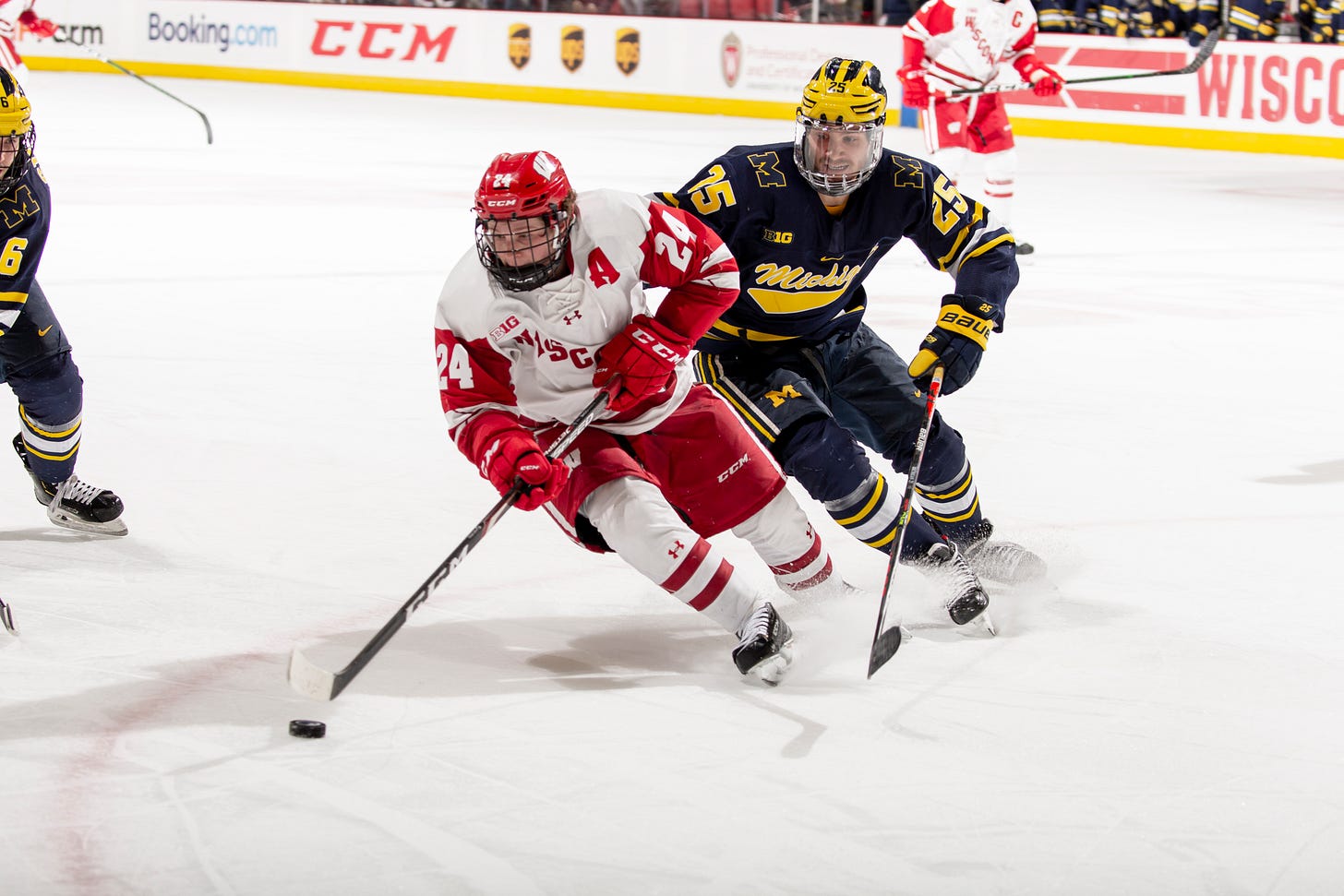 Dhooghe with Wisconsin. Photo courtesy of Sun Devil Athletics
---
Dhooghe suffered an injury in a game at Michigan in February; one month before the postseason began. He missed the next two series, including a weekend sweep of ASU at the Kohl Center in Madison, but he was ready to return for the final series of the season against Ohio State. The coaching staff elected not to alter a lineup that won three of its past four games. The Badgers won that series with the Buckeyes, but Ohio State swept Wisconsin in the first round of the Big Ten Tournament, ending the Badgers' season.
With his role now in question, Dhooghe decided to clear the slate. That meant leaving the only region of the nation in which he had ever lived, and it meant leaving behind his brother, Jason, now a senior for the Badgers.
"I was just looking for a change of scenery and to see if I could thrive in a better environment," he said. "It wasn't an easy choice or anything like that. It's something I really considered and thought about for a long time. I talked to family and friends and eventually that led to me entering the transfer portal.
"It was tough at the beginning telling my brother, but he was behind it and he understood it. He has always been one of my biggest supporters."
When Dhooghe chose ASU, he figured it would be for one season, but the NCAA recently added a year of eligibility for all winter athletes in response to the ongoing coronavirus pandemic. Whether it takes one season or two, Dhooghe is hoping to prove to naysayers that he can do what he has done at every previous step of the ladder: succeed as a 5-feet-3 player. It's the same knock he has heard since he was 10 years old, playing for the powerhouse Chicago Mission youth program that produced current Coyotes Nick Schmaltz, Christian Dvorak, Christian Fischer and former Coyote Vinnie Hinostroza.
"Players and parents and fans have always said, 'He's never going to make it at the next level,'" Dhooghe said.
"You become a Pee Wee and they say it. Then you become a Bantam and they say, 'He's never going make it with body checking,' and then it's Midget minors, and then it was juniors and college. It absolutely fueled me. I think I wanted to prove those people wrong more than I wanted to prove myself right. I'm not stopping now."
Dhooghe understands that there are challenges to being 5-3, and they will be magnified if he ends up playing pro hockey, whether in the ECHL, AHL, Europe or his dream of the NHL. But Kalynuk, a defenseman, said Dhooghe's size provides distinct advantages.
"He's a lot different from most players in college, so there's an adjustment right there because he's small," said Kalynuk, who is living with Dhooghe's parents outside Chicago while he trains with the Blackhawks. "But for how tall he is, he's really not much lighter than other guys. He's 150, 155 pounds. There are some guys in college who are 6-foot that are only 170 pounds, so he surprises people when he goes into battles, and when he comes out with the puck, they realize he knows how to use his size and create an advantage.
"It's really hard to get the puck off of him. He protects it so well and especially down low when you're trying to contain him, you can't really cross-check him in the back or on the hips because he's so small you're taking penalties because you're cross-checking him on the shoulders or the neck so it's tough to know how to defend him. He knows that so he gets to the dirty areas, he takes advantage of it and he can always put the puck in the back of the net."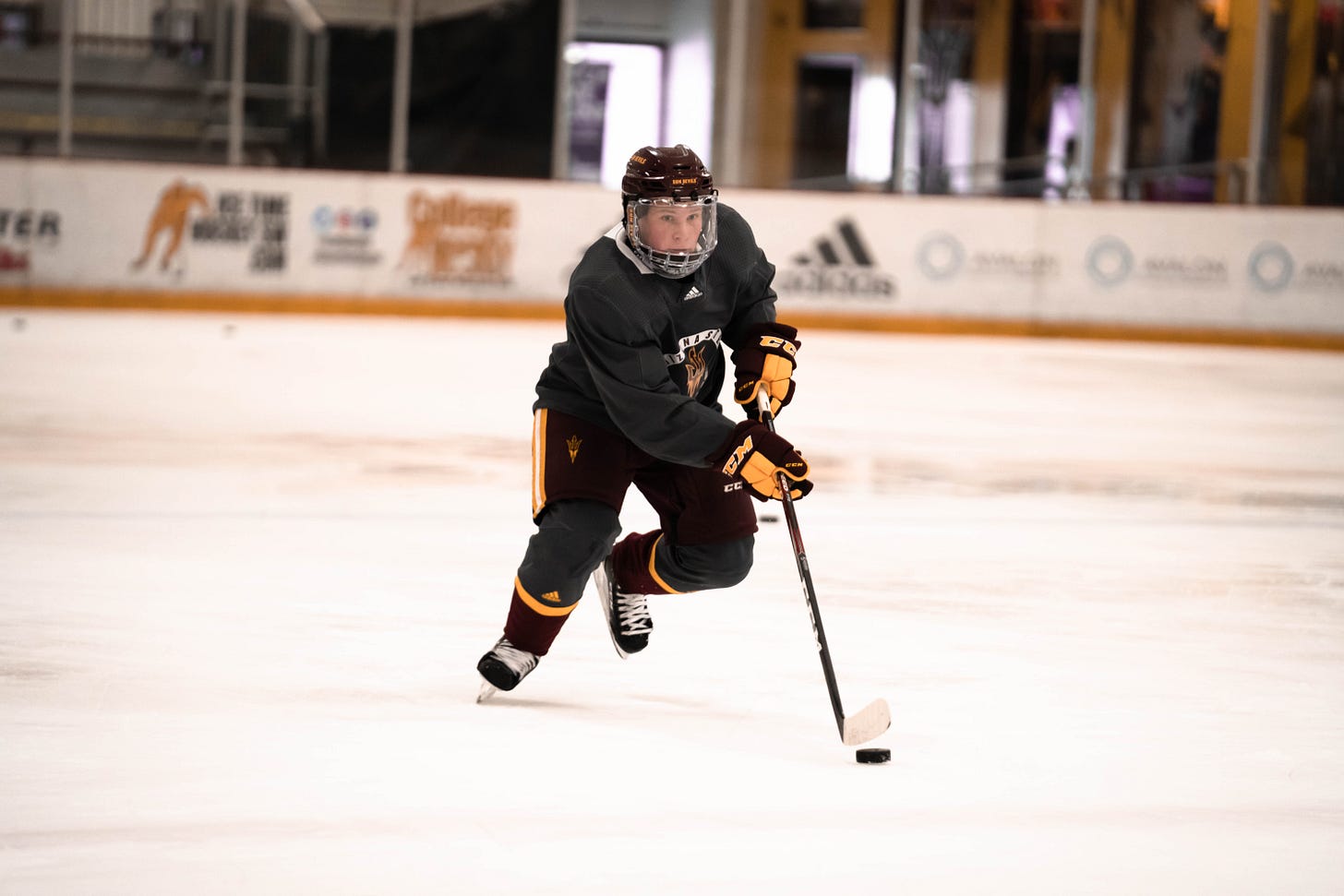 Photo courtesy of Sun Devil Athletics
---
Powers has been watching Dhooghe play since he led the Mission's U16 team in the national championships in Buffalo. Powers played against him when ASU met the national development team in Plymouth, Michigan. ASU's coach has seen enough of Dhooghe in Sun Devil practices this fall to envision several roles.
"He's going to be on the top power play and right now, he will be our second-line center but I wouldn't be shocked if I move him up," Powers said. "He's a first-line talent but he gives us such depth down the middle. He's a natural center who is great on draws and he opens up the ice. He's going to get PK time, too. He is going to get more ice time than he can handle."
Powers expects Dhooghe to play between left wing P.J. Marrocco (13 goals in 35 games) and Knierim (15 goals in 36 games), giving the Suns Devils' second line speed to burn and "a brick house" in Knierim "that just goes to the net and wreaks havoc.
"Sean will open things up for both guys," Powers said. "They should complement each other really well."
Powers isn't concerned about the Dhooghe's dip in production (five goals, 14 points in 28 games) last season after a 15-goal, 26-point sophomore year.
"The upside and the truth of who he is his body of work over the course of his career since he was with the top player on the best team in the country with Chicago Mission," Powers said. "When you go and lead the best first-year team in the country at the NTDP in points that's no fluke, and then as a sophomore he leads Wisconsin. Last year was just a down year. He battled an injury and they have a talented roster. When you lose your spot it's tough to get it back."
Dhooge's hometown of Aurora, Illinois is probably best known as the birthplace of novelist Clive Cussler, NFL coach Brad Childress, Lakers Hall of Fame broadcaster Chick Hearn and the fictional Stan Mikita's Donuts in the movie Wayne's World.
Dhooghe would like to add another name to the list.
"I want to have fun and I want to have an impact; be a good player and be a good teammate," he said. "I want to continue to grow as a player in a whole new environment and a whole new system; to learn under three fantastic coaches so I'm just trying to soak up the information and apply it as fast as possible.
"Ever since I came out of high school I realized I wanted to make something out of this because I had invested so much time. You're looking to play junior hockey or college hockey and yeah, you dream of playing pro hockey. It's not just a hobby anymore. You're investing in a lifestyle."
For the immediate future, that lifestyle includes some perks.
"I have never liked the cold," said Dhooghe, who arrived in Arizona during the hottest summer on record. "I was that guy out there playing golf in 115 degrees and thinking it was the best life ever. But now that it's getting a little cooler back home, I'm starting to send pictures to all my buddies letting them know that I'm still in 80 degrees."
Follow Craig Morgan on Twitter: @CraigSMorgan