The Big Read: Steve Sullivan eyes opportunity as Coyotes' next general manager
Former player has been with organization for past six seasons in variety of roles
Welcome to the AZ Coyotes Insider newsletter. My plan is to publish stories four to six times per week. By subscribing, you'll be supporting independent, accountable journalism. Subscribe now so you won't miss a story.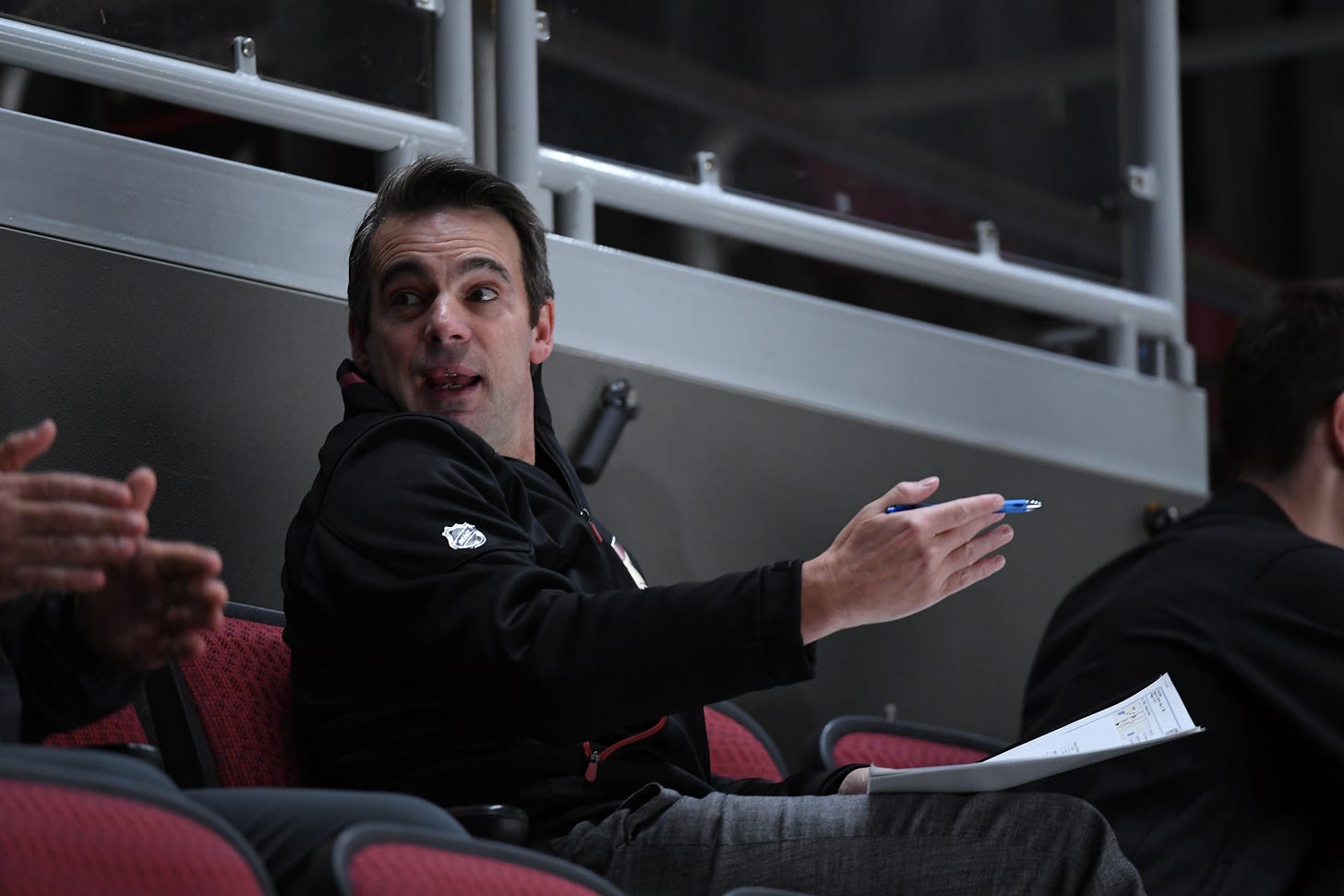 Steve Sullivan was named interim GM after the Coyotes and John Chayka parted ways.

Photo courtesy of Arizona Coyotes
---
Steve Sullivan showed up for the Sault Ste. Marie Greyhounds' 1992 training camp, fresh off a 66-goal, 121-point season with the Timmins Golden Bears of the Northern Ontario Junior Hockey League. His numbers had been just as eye-popping the year before as a Midget, but the eyeball test still presented a hard truth.
"In those days, with all the clutching and grabbing and physical play that used to go on, size was significant all of the time," said Sherry Bassin, who was the Greyhounds' GM at the time.
Sullivan stood 5-feet-9, but Bassin had always put a premium on skill so he put Sullivan through the same wringer that every other player had to endure. Bassin was testing how well the players had prepared over the summer, what they could do for the team, and how much they could handle.
"In our training camp, we had two scrimmages per day, an off-ice workout and a practice in the morning so it was a pretty full day," Bassin said. "The reason we did that was we were making decisions on a certain number of players within 48 hours. Some of that was because of the NCAA's 48-hour rule, but if you are going to make decisions on kids that quickly, you want them to have as full an opportunity as possible."
Sullivan made the most of his.
"I remember this like it was 10 minutes ago," Bassin said. "Steve goes out and gets 19 points in four scrimmages. He had always been questioned because his size was such a factor, but he went out there and showed what he could do so I said, 'Tell the Sullivans to come to my office.'
"He showers and comes up. They're sitting on a couch in front of me, Steve is in the middle, his mother is on one side and dad is on the other. I have some sarcasm to me at times, so after seeing how he did and being so damn impressed, I said, 'What are you doing here? We don't have a racetrack for jockeys.' He glared at me like he wanted to say something and I could see the old man wanted to smack me."
Even so, Bassin didn't play his hand just yet.
"I said 'How many points have you got?' He said, 'I don't know.' I said, 'You're a liar! Everybody that scores knows how many points they have.' He was just so humble, but he said, 'Around 18.' I said 'You're damn right it's around 18! It's 19!'
"And then I said, 'Are you bloody kidding me? Not only are we signing you, we're giving you a full school boy contract.' In those days it was optional. Well, his mother started crying. Steve looks at me and his eyes got misty and his dad stood up and gave a fist pump and said, 'We finally proved everyone wrong!' It was so emotional in there that I got choked up, as tough as I like to sound. So I went over and hugged them and then I asked my assistant GM to put the contract together because I was so choked up I couldn't do it."
Sullivan, 46, has encountered doubters at every rung of his hockey career. Despite leading the Soo to the Memorial Cup championship in 1993 and posting 113 points the following season, he was a late, ninth-round draft pick of the New Jersey Devils. Despite eight seasons of 20 or more goals, he played for six NHL teams. And as he looks to shed the interim tag and assume full duties as the Coyotes next GM, Sullivan will face competition from candidates with more bullet points and more notable credentials on their résumés. While he awaits that decision, he has been doing all that he can to take advantage of the head start he has been granted, and he is every bit as confident in his ability to meet this challenge as that Timmins school boy was 28 years ago.
"I have been fortunate to be around and involved in the decisions that needed to be made for this club on a daily basis for the last four years," said Sullivan, who served as John Chayka's assistant GM for the past three years. "With John being a young, first-time general manager, he was willing to lean on me quite a bit and I had a lot of projects put on my plate.
"We didn't always agree, but John doesn't get enough credit for how he saw the game. Everyone thought it was just analytics but he had a good sense and feel for the game, too, so it worked well for us as a tandem. With this roster, a lot of its construction was team oriented because John liked to lean on the people around him. He took in a lot of information, so I know our roster. I know the changes we would like to make and I know this organization inside and out.
"As far as right now is concerned, it's about where are we going, how do we get there and what does the critical calendar look like? What does our development plan look like with our prospects? What are we doing with our amateur scouting and since we are still scouting these playoffs, how are we building that out to make sure we are maximizing our views on all of those players and collecting information on a lot of free agents? Just because we haven't named a GM doesn't mean there isn't work that can be done. We have to continue to move forward."
The Coyotes hired Sullivan as their development coach before the 2014-15 season. After an impressive two seasons in that role that earned praise from former GM Don Maloney and former coach Dave Tippett, he was elevated to director of player development. He was elevated to assistant general manager in May 2017 — one month before Tippett left the organization — which included the additional duties of serving as the Tucson Roadrunners assistant GM. The Roadrunners have captured the Pacific Division title in two of the past three seasons.
"When you look at Tucson now, that really is his vision," said Mike Van Ryn, who served one year as the organization's player development coach and one year as the Roadrunners' coach before leaving in 2018 to become an assistant coach with the St. Louis Blues. "He took a bad team, an expansion team and made them conference champs in one year as the youngest team in the league. It's harder to do stuff like that in the NHL because it's the pinnacle of the sport so you've got the cream of the crop, but you have seen Tucson get better and better and Steve had a major hand in that."
Player development is a common path for ex-players to choose. Some branch off into coaching, others go the manager route, but there are clear benefits to Sullivan's steady rise through the organizational ranks.
"Look across the league and you have new GMs like (New Jersey's) Tommy Fitzgerald and (Minnesota's) Billy Guerin that have come from player development roles," said Scott Nichol, the director of player development for the Nashville Predators and the GM of the team's AHL affiliate in Milwaukee. "It's a way to touch every part of your organization from how you build the draft and pick your players to how you develop your prospects and how you keep in touch with them during that development by flying to colleges and junior and all the way to Europe.
"But you also have an understanding of the pro side of things because you're newly out of the game so you have that understanding of chemistry and connection with the guys and how things work in the dressing room. That gives you confidence and the ability to communicate with the younger guys coming up in the game. It's so valuable. I think being in player development really helps build the skills to become a GM."
As Sullivan's teammate in Chicago and in Nashville, Nichol saw another attribute in the plus column for Sullivan: an ability to bring people together.
"His house was always open to all the Halloween and Christmas parties," Nichol said, laughing. "That was the type of teammate Sully was. He'd open his house up to 23 hockey players in the prime of their life, looking to blow off a little steam. I can't get into the details of some of the parties he had, but it cost him thousands of dollars to remodel the house and some of the walls. He had one really nice painting that didn't make it."
Like most players, coaches or executives that have been in the game a while, Sullivan has an impressive list of mentors who have shaped his attitudes and understanding of the league, including Bassin and Sullivan's AHL coach in Albany, Robbie Ftorek. None of his mentors has accomplished more than Hall-of-Famer Lou Lamoriello, who was the Devils GM when New Jersey drafted Sullivan, and is now the New York Islanders President of Hockey Operations and GM.
"The biggest piece of advice I would give Steve is just be himself; don't try and emulate anyone else," Lamoriello said. "Take all of the things that you learned through your good fortune of working with other people, but put them in your own voice and personality and not try to be someone else. That's what allowed you to get where you are. That's what got you this opportunity so don't change now.
"It's not an easy job. You have to make hard decisions that affect people, but you have to make decisions with your head and not your heart. People might think sometimes they are cruel and harsh. Unfortunately, that's the profession we decided to be in. You have to be careful, of course. There's such a fine line, but you have to be honest with yourself and understand what your job description is. If you want this type of position and this type of role, it's not going to be easy."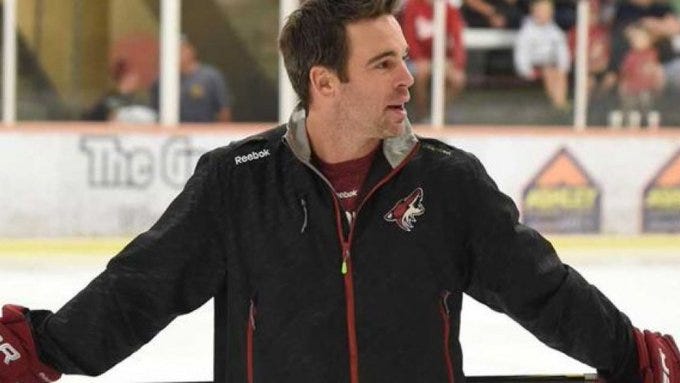 Photo courtesy of Arizona Coyotes
---
Sullivan never imagined that he would be chasing a GM job. From the time he was a kid, his goal was always to play in the NHL. But after 16 seasons (and nearly two seasons missed due to a major back injury and multiple surgeries), Sullivan got his first break in Arizona, where he played part of his final season in 2012-13.
"When I retired, I didn't know what I would do," he said. "I wanted to stay in the game but I didn't know if it would be as a coach or in the front office. Even when I was asked to do development, I still believed that from that development role would come coaching. That's a path that a lot of players take and then move onto the bench afterward, and for the first couple of years I thought that was what I was going to do.
"Then things started to change. All of the sudden, I became director of player development and then you have more say in the direction of the big club and the direction of the American League staff and the players. You are managing people and you are thinking differently than a coach behind the bench who is trying to win every single night. You're looking through a different lens and I enjoyed it. It just evolved from there. The doors just kind of opened up this way and I kept going through them."
While working with Chayka, Sullivan touched countless areas of the organization including pro scouting, some amateur scouting (particularly for the players the team had targeted with its first-round pick) and contract negotiations.
"On a smaller scale, running the American League team for the past three years as the general manger prepares you for this job," he said. "There's less zeroes in the salaries but at the end of the day you're still trying to build a team to have success, the same way we do in the NHL."
Sullivan also remains a vital voice in the organization's development process.
"Development is a good training ground because you learn that every player is different and their paths are unique," he said. "There is no easy, one-size-fits-all plan for every player. You have to be creative to make sure that we are maximizing their potential, but the way the game is trending with younger players coming in, you have to develop them and put them in a position to have success. I feel we did that in Tucson. By winning a couple division championships and a Western Conference championship, I was able to show ownership that I could put a winning product on the ice consistently."
Sullivan has plenty of thoughts on how the Coyotes can take the next step after their first playoff berth in eight seasons, and it starts with one that has eluded the organization for most of its time in Arizona.
"If we want to become a team that is going to be a playoff contender for years to come, then having some players that are homegrown draft picks is going to be crucial to that," he said. "We have to make sure we continue to draft well, which will be a challenge in the short term without a first- or third-round pick this year.
"To me, that's the fun part. What is my vision? How do we get there? How are we going to have success and what changes can we make to take the team to the next level? We have made a lot of changes in the last little while and we're in the playoffs for the first time in a long time. That's the first step, but what is needed going forward?"
League sources have indicated that Sullivan could draw interest from other teams if he is not the Coyotes' GM choice, but Sullivan hopes he gets the opportunity to guide the franchise that gave him his first crack; one in which he is deeply invested.
"What excites me is the idea of having two hands on the wheel and trying to put together a team on and off the ice that is going to pull the same direction toward the goal," he said. "Obviously, the end goal is to win a Stanley Cup but you have to put yourself in that position on multiple occasions by creating a sustainable plan and then executing it. You have to make your club is a playoff performing team every year and if you can get to that point then you're always in the conversation.
"My goal has always been to win a Stanley Cup but I wasn't able to accomplish that goal as a player. That's why I do what I do every day and why I still want to be a part of the game. I'm still chasing that Cup. That's what drives me when I get up every single morning."
GM Search
The Coyotes are expected to meet this week to formulate a plan and identify candidates to fill the vacant GM position. Sullivan is one of several candidates the Coyotes will consider. Here are some other potential candidates whom I listed in a previous story on July 30.
Shane Doan
Doan's ties to the organization are obvious. He played his entire 21-year career with the Jets/Coyotes franchise (the final 20 in Arizona) and he served as the team's captain from 2003 until his retirement in 2017. He is without question the most iconic Coyote in franchise history.
Doan has never served as a team executive, but he has been working for the league in a variety of capacities. He has worked in the situation room, he has learned the nuances of game production and league sponsorships, he has helped set up the GM and Board of Governors meetings, and he helped set the agendas for those meetings. He is well versed in the daily operations of the league after helping organize outdoor games, All-Star Games and the draft. He helped set up the COVID-19 playoff bubbles in Edmonton and Toronto, and he has countless relationships at every level of the league, from owners and executives, to players and staff.
"Shane should be in the same position as (Brendan) Shanahan in Toronto (as president and alternate governor), and then they should bring in a GM," one league source suggested. "First, he's the most recognizable figure in franchise history. People trust him and for good reason. He gives fans, sponsors, media, all stakeholders comfort and most importantly he gives the franchise credibility. He would be a huge asset from the business side just for that reason.
"Then, he's also a terrific hockey mind. He's able to identify talent in every asset of the organization and would surround himself with the best people. To me, this is so easy and is such a slam dunk. It's what Shanahan did in Toronto and Trevor Linden did in Vancouver, and Shane is the only face of the franchise they've ever had."
Sean Burke
Burke makes sense on a number of fronts. He served a combined 12 years in the Coyotes organization as a player, assistant coach, in various development roles and as an assistant to the GM. As a player, coach or executive, Burke was with the Coyotes organization for five of its nine combined playoff berths.
Burke still lives in the Valley and has deep ties to the youth hockey programs because his oldest son, Brendan, played here. Burke is also a frequent face at Coyotes games. The Coyotes are one of the teams that he has scouted frequently for the Montreal Canadiens for the past four years, giving him an extensive knowledge of the team's players and prospects.
Burke has significant managerial experience, having served as Hockey Canada's GM from 2016-2019 where he oversaw the processes for the 2018 Winter Olympics, four Spengler cups (2016-2019) and the 2016 Deutschland Cup. He has managed a number of current Coyote players with Team Canada, including Taylor Hall and Darcy Kuemper.
Burke brought Doan, his former Coyotes teammate, on as a member of Canada's management group for the 2019 Spengler Cup, at which Canada won gold. Burke was recently a finalist for the GM job in Edmonton, he was one of a handful who interviewed for the Seattle job and he recently interviewed for the Florida job, per a league source.
Ray Shero
Shero is immensely respected around the league, and with good reason. The son of legendary Flyers (and Rangers) coach Fred Shero, Ray Shero was the main architect of Pittsburgh's 2009, 2016 and 2017 Stanley Cups, even though he was fired before the final two. Sidney Crosby, Evgeni Malkin and Kris Letang were already in place when Shero arrived in Pittsburgh, but he drafted Bryan Rust, Jake Guentzel, Matt Murray and Tristan Jarry, all after the first round, and he engineered trades or the free-agent signings of key players such as Chris Kunitz, James Neal, Matt Niskanen and Marian Hossa.
Shero's tenure as the New Jersey Devils GM (2015-20) included the acquisition or drafting of key players such as Will Butcher, Jesper Bratt, Kyle Palmieri, Sami Vatanen, P.K. Subban, Wayne Simmonds, Jack Hughes, Nico Hischier and Taylor Hall, whom he acquired from Edmonton.
Shero is widely respected around the league, and the feeling among multiple league sources is that he was being undermined in New Jersey, where he was fired in January. Hall won the Hart Trophy as league MVP in 2018 under Shero and the two have an excellent relationship. Shero's hiring could give the Coyotes an interesting trump card when it comes time to negotiate with the pending unrestricted free agent later this summer.
Ron Hextall
The general consensus on Hextall is that he is a passionate, excellent hockey mind who did a credible job building the Flyers in his three-plus years as Philadelphia's GM, drafting such players as Ivan Provorov, Travis Konecny, Carter Hart, Nolan Patrick and Morgan Frost. Hextall has experience at multiple ranks of an organization, joining the Flyers as a scout in 1999, serving as assistant GM for the L.A. Kings (and GM of the team's AHL affiliate) and serving as assistant general manager and director of hockey operations for the Flyers before his promotion to GM.
The perceived issue with Hextall is his people skills. There were reports of poor treatment of alumni and others. Has he learned from past mistakes?
Peter Chiarelli
Chiarelli's name has surfaced multiple times in conversations with NHL sources. There is a belief that league officials, particularly top brass, is trying to land Chiarelli another opportunity as a GM despite a checkered past in Boston and Edmonton.
This would be an odd choice for the Coyotes, particularly if they hope to re-sign Hall. It was Chiarelli who infamously traded Hall from Edmonton to New Jersey for defenseman Adam Larsson, precipitating one of Bob McKenzie's most famous tweets. Can you imagine contract negotiations between Chiarelli and Hall's camp?
While Chiarelli's worst trades (Hall, Tyler Seguin) tend to overshadow some good work and his extensive experience, more than a few NHL sources questioned the wisdom of this decision for the Coyotes.
Other names to consider
Scott Mellanby: Currently the Montreal Canadiens assistant GM, Mellanby worked for three years in the Vancouver Canucks organization as a special consultant to GM Mike Gillis and the hockey operations department. He also spent two years as an assistant coach with the St. Louis Blues. The Canadiens hired Mellanby in 2012 as director of player personnel. Mellanby has had GM interviews in Edmonton and Minnesota.
Jason Botterill: Botterill was the Buffalo Sabres GM from 2017 to 2020. He was fired in June over a disconnect with ownership, which wanted to cut costs in the hockey operations department. Prior to his Buffalo tenure, Botterill served as the Penguins assistant GM and associate GM from 2009-2017 (he served one month as interim GM before Jim Rutherford was hired).
Mike Futa: Futa is leaving the Kings organization at the expiration of his contract this season. He has served 13 years with the organization, beginning as a co-director of amateur scouting in 2007 (with Mark Yannetti) in charge of the drafts that produced players such as Drew Doughty, Kyle Clifford, Alec Martinez, Tyler Toffoli, Tanner Pearson and Wayne Simmonds, most of whom were key pieces on the Kings' two Stanley Cup championship teams (2012, 2014). Futa was named vice president of hockey operations and director of player personnel in 2014, and was named assistant GM in 2017. He interviewed for vacant GM jobs in Buffalo (2017) and Carolina (2018).
Laurence Gilman: Gilman is currently an assistant GM with the Toronto Maple Leafs, but he spent 13 years as the Jets/Coyotes assistant general manager and general manager of the team's AHL affiliate in San Antonio. He also served a stint as assistant GM of the Vancouver Canucks.
Follow Craig Morgan on Twitter: @CraigSMorgan