The Big Read: Flat-cap planning
NHL's new financial reality could restrict Coyotes in short term, create opportunity after 2020-2021 season
Welcome to the AZ Coyotes Insider newsletter. My plan is to publish stories four to six times per week. By subscribing, you'll be supporting independent journalism that is accountable to you, the reader. Subscribe now so you won't miss a story.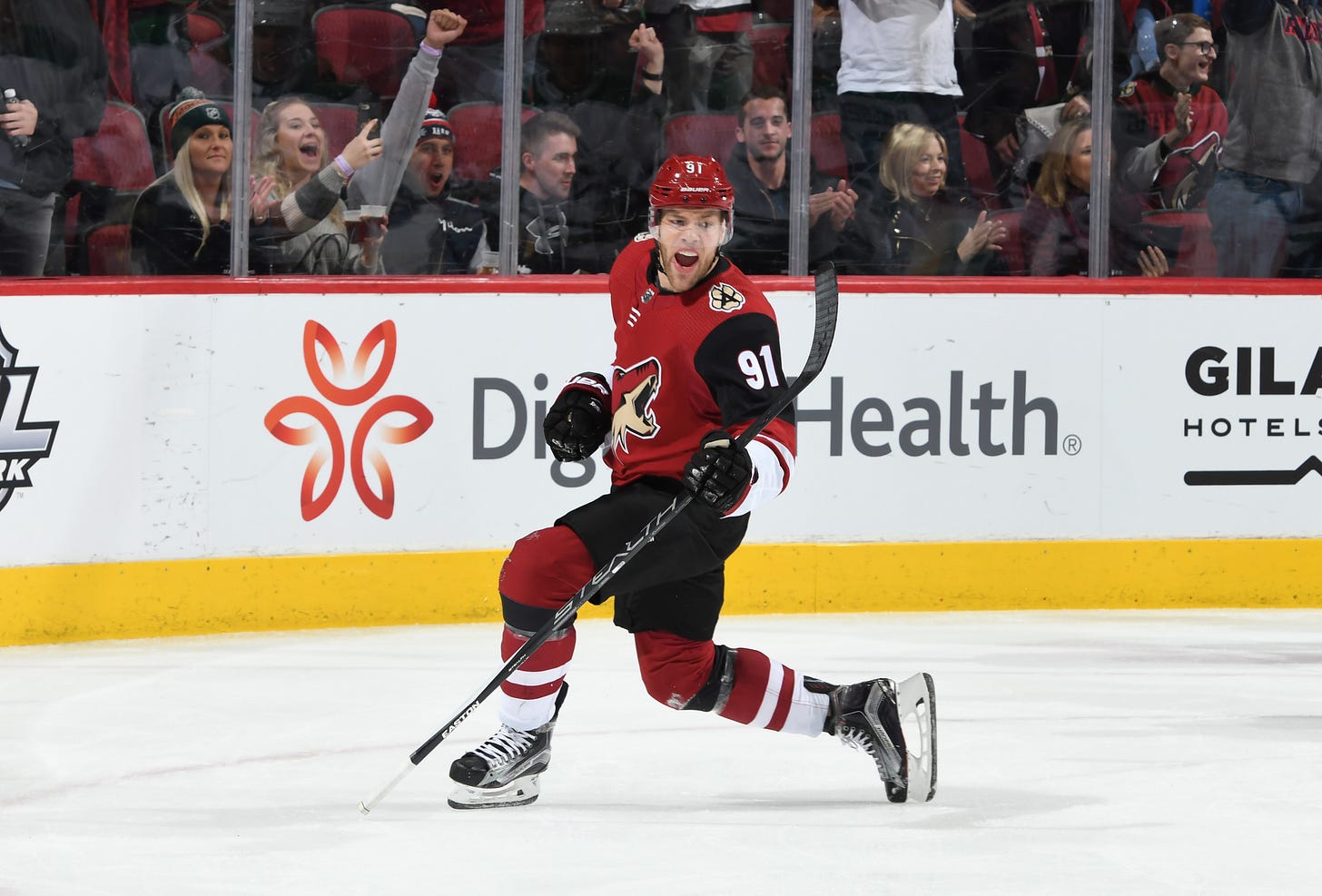 Re-signing Taylor Hall will be the Coyotes' biggest offseason challenge, photo courtesy of Arizona Coyotes
---
John Chayka's initial reaction to the recently approved NHL collective bargaining agreement was more of a macro-level judgment.
"Anyone can debate the mechanics of the deal and the nuances of it, but looking at the history of labor negotiations and seeing some of the unrest in MLB and knowing some people in that industry, I think it's a huge win for the league and the sport as a whole to be able to have some long-term stability and planning," the Coyotes president of hockey operations said. "Obviously, there is a lot of key milestones ahead but the league is in the best spot it has ever been and with labor peace, it's going to be able to break even greater thresholds. Amidst all the uncertainty of COVID, to have the certainty of labor peace is a home run."
The fact that the NHL and NHLPA achieved labor peace until 2025-26 was overshadowed by both sides' approval of a return-to-play format, but to those who have been around the game a while, the CBA was the more significant news. The NHL has had three work stoppages on commissioner Gary Bettman's watch, but with the world facing so many greater concerns, the sides did the right thing and forged an agreement.
As The Athletic's James Mirtle noted in this essential read, however, "this is, very much, a pandemic-induced CBA, one designed to deal with potentially dramatic revenue shortfalls due to COVID-19." In 2020-21, the salary cap will be flat at $81.5 million. In the ensuing seasons, the cap will rise based on revenue, remaining at $81.5 million until NHL revenue reaches the $3.3 billion threshold, with escrow further eating into real dollars earned, at least in the short term.
Couple that with the dramatic losses that Coyotes owner Alex Meruelo has absorbed in some of his other businesses and it could lead to some belt-tightening for the Coyotes in the short term. On the flip side, the flat cap could create some advantages for the Coyotes in the long term if league and team revenues begin to rise.
"COVID has impacted every business," Chayka said. "It's going to have its impact on us. The plan pre-COVID is probably different than the plan post-COVID, realistically, but we have gone through the different planning processes here and we'll make adjustments. We've got all the rules in place, we understand all the mechanics, what we're dealing with and what are the tools that are available to us to manage that.
"For 12 months, the Coyotes are certainly in a tighter situation, but also looking long-term and realizing that the cap is not going to be rising significantly for at least a few years, when you look at the number of players that we do have under contract long-term, and then you look at the amount of space we will have moving forward, I would say we're situated extremely well for the next number of years beyond that."
Let's take a look at both the short term and long term that Chayka referenced, but with the clear caveat that the following analysis contains a fair amount of speculation. Much can and likely will change between now and the start of the NHL's new (and delayed) fiscal year.
2020-21
Per capfriendly.com, the Coyotes will have $79.99 million committed to 17 players in 2020-21. Although the estimated salary expenditure is only $61.45 million, which is just above the salary cap floor of $60.2 million, the cap hit is an obvious problem. Given the flat cap ceiling of $81.5 million, the Coyotes would have to find a way to add six players with just $1.51 million available to spend. That's not going to happen.
"We have had the ultimate flexibility approach in the past, which realistically probably meant that you didn't have as many good players as you wanted," Chayka said. "Now we've got more good players and that limits our flexibility for a short period of time so we'll have to make some moves, but we're no different than a lot of teams. That comes with the territory of having a number of players that you like and feel strongly about and want to keep as part of your team for a long time."
The Coyotes have decisions to make on three soon-to-be restricted free agents (forwards Vinnie Hinostroza, Christian Fischer and defenseman Ilya Lybushkin). Any two of those players would eat up the remaining cap space and more, but that's not the greatest concern. If the Coyotes hope to re-sign Taylor Hall, they must free up far more cap space. Rest assured, the Coyotes still hope to re-sign Hall.
"Of course," Chayka said. "Taylor is a difference maker, a special player. Realistically, there was the chance we'd have to make some moves regardless. Those moves we make we might have to make differently now, or make more of them."
Early projections on Hall's average annual value in a new contract ranged between $8 and $11 million. It's difficult to say how much the COVID-19 fallout has impacted his market value, but let's use that range in our calculations.
Let's say for the ease of discussion that in a COVID-19 impacted market, Hall, whose production has dipped the past two seasons, gets an AAV of $9 million. That would push the Coyotes' cap hit to $88.99 million. Arizona still has Marian Hossa under contract for one more season but he will certainly be placed on long term injured reserve again, allowing Arizona to use the full amount of his $5.275 million salary in cap relief and giving them $6.776 million to spend. Let's say the Coyotes choose to keep Lyubushkin, Hinostroza and Fischer, and they can do so for a combined $3.3 million cap hit, based on cap friendly's qualifying offer calculator. That would give them a little more than $3.1 million to fill out their roster and sign Hall.
The Coyotes could easily squeeze two players in for less than $2 million. They would likely have to replace unrestricted free agent center Brad Richardson with a younger, cheaper option, and this scenario also precludes them from re-signing unrestricted free agent forward Carl Söderberg, who carried a cap hit of $4.75 million this season. The Coyotes could elevate minor league forwards such as Brayden Burke, Hudson Fasching, Michael Chaput, Michael Bunting or Lane Pederson to fill out the roster (Jan Jenik likely won't be ready for that leap).
The problem then becomes how to free up the additional space (roughly between $7.5 million and $8 million) to sign Hall. The solution would likely come from a handful of veterans who carry significant cap hits heading into the final seasons of their contracts. In most cases, including another asset in a trade involving these players, and/or retaining some salary, could be a part of the transaction.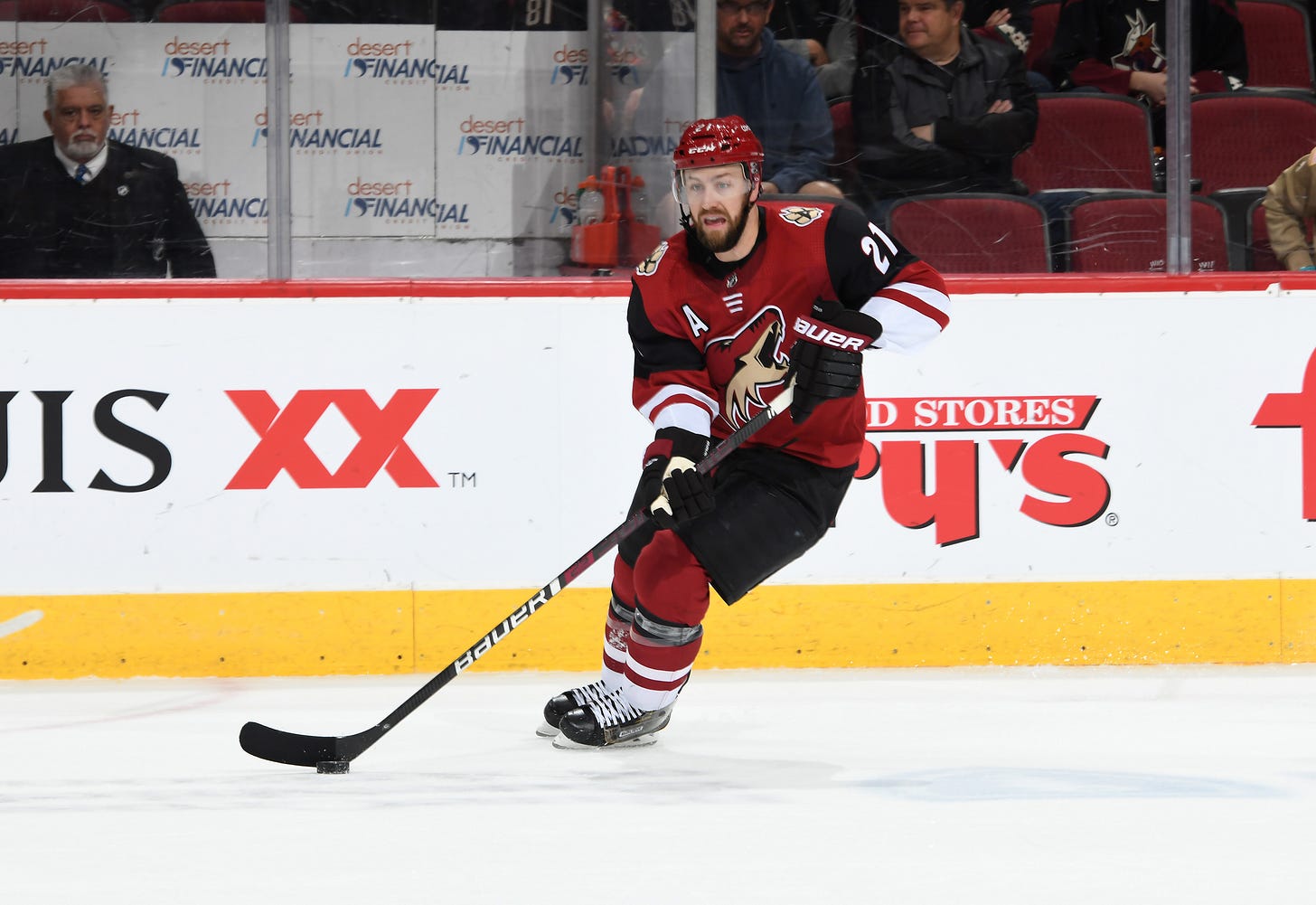 Derek Stepan, photo courtesy of Arizona Coyotes
---
Center Derek Stepan
Signed through: 2020-2021
Age at start of next season: 30
Cap hit: $6.5 million
Actual salary: $5 million
Clauses: None.
Thoughts: Stepan's offensive production has dropped dramatically the past two seasons. He had 15 goals and 35 points in 72 games last season; 10 goals and 28 points in 70 games this season. The fact that Stepan will only make $5 million next season may help trade him, but his cap hit is still significant for a multitude of teams that are experiencing cap constraints and his production is a concern. Even if the Coyotes wanted to buy out Stepan (Chayka has said previously that the team would not consider buyouts), Stepan's $3 million signing bonus would make this move unlikely. On the flip side, he is only 30 and is still an effective, smart player in many areas of the game.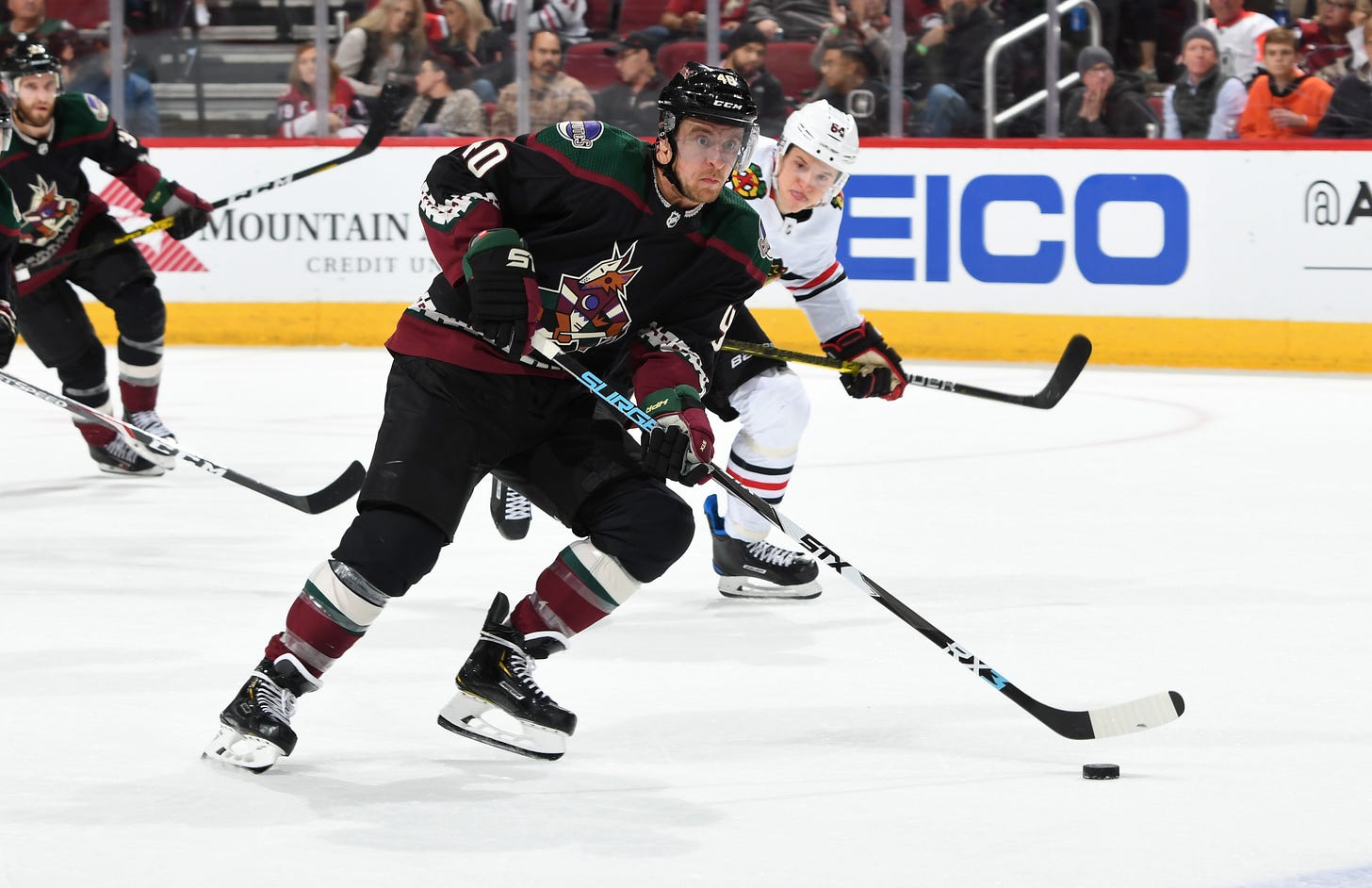 Michael Grabner, photo courtesy of Arizona Coyotes
---
Forward Michael Grabner
Signed through: 2020-2021
Age at start of next season: 33
Cap hit: $3.35 million
Actual salary: $3.775 million
Clauses: Modified no-trade (player submits an eight-team list)
Thoughts: Grabner fell out of the regular rotation through a combination of missed offensive opportunities, some defensive lapses and the push to use younger players. Grabner's vision is likely altered for good after a scary eye injury suffered in the 2018-19 season, but he still possesses elite speed and could be an enticing short-term option for some teams. One thing is clear: It makes no sense to keep a $3.775 million part-time player. If Grabner isn't going to play, the Coyotes must move him.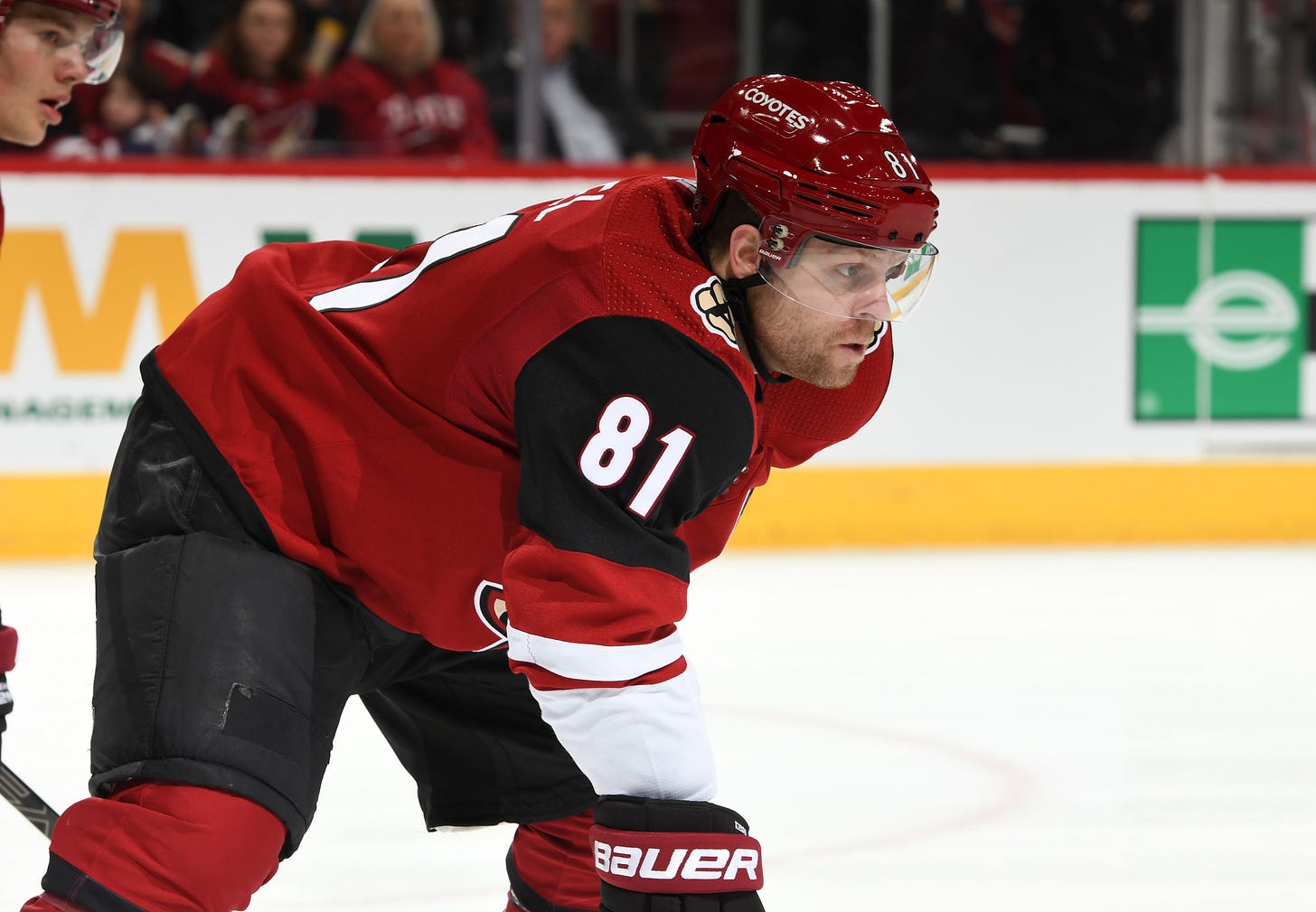 Phil Kessel, photo courtesy of Arizona Coyotes
---
Forward Phil Kessel
Signed through: 2021-2022
Age at start of next season: 33
Cap hit: $6.85 million (Pittsburgh retained $1.2 million)
Actual salary: $6 million ($5 million in signing bonus each season)
Clauses: Modified no-trade, No-move.
Thoughts: Unless Kessel alters the alarming turn that his career has taken in Arizona, most fans would support this move. Kessel had just 14 goals and 38 points in 70 games of a disappointing season, but he has a lot of protection in his contract in the form of clauses and buyout-proof signing bonuses. The Coyotes would have to find a contending team that really wanted Kessel, and one to which Kessel would be willing to go.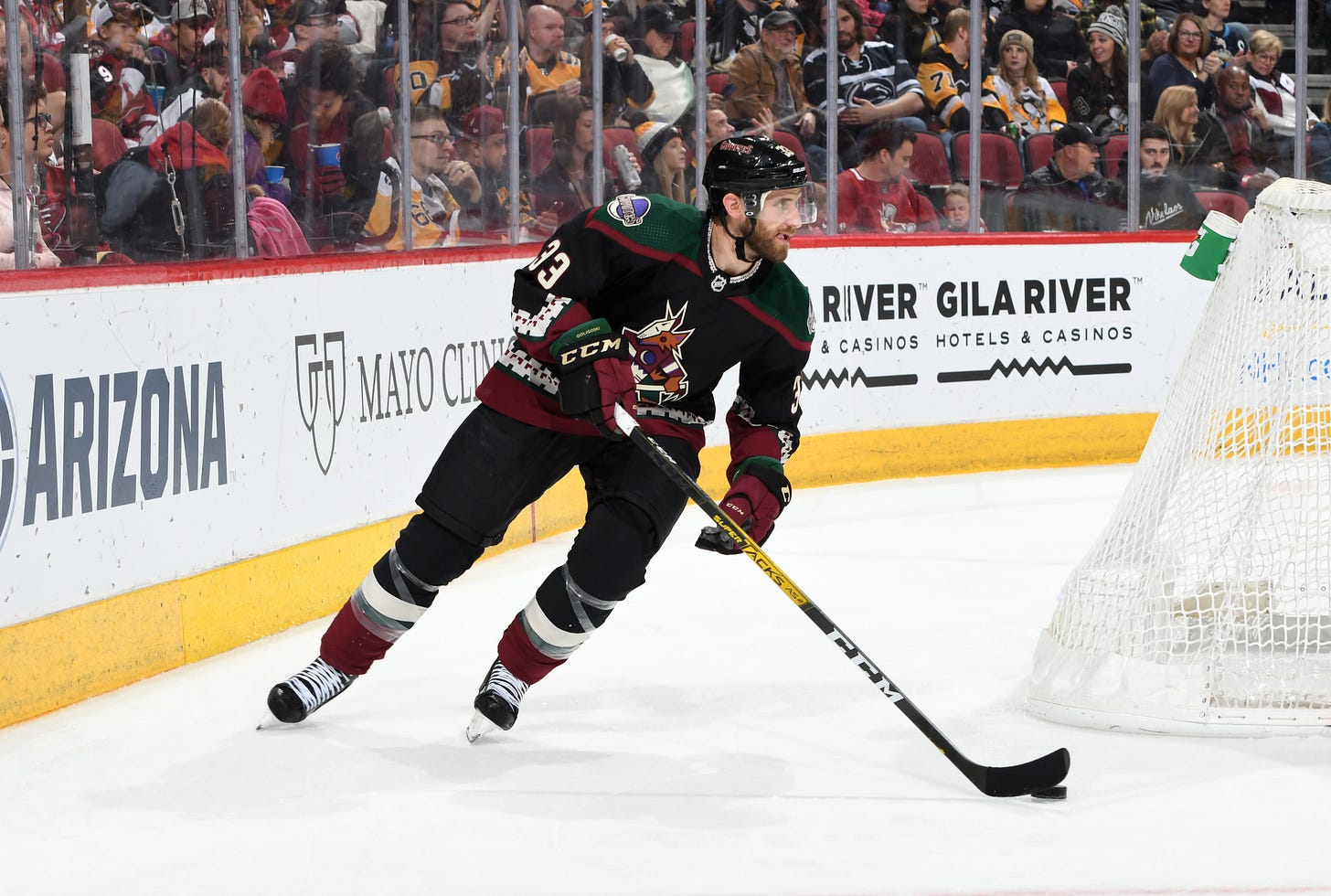 Alex Goligoski, photo courtesy of Arizona Coyotes
---
Defenseman Alex Goligoski
Signed through: 2020-2021
Age at start of next season: 35
Cap hit: $5.475 million
Actual salary: $4 million
Clauses: Modified no-trade
Thoughts: This move makes a lot of sense. Goligoski had a productive and renaissance season with four goals and 32 points in 70 games. He teamed up with Jakob Chychrun to form the Coyotes' most reliable defensive pair this season. His cap hit is not prohibitive for a top-four defenseman, his salary is even more enticing and he can still help a team. If the Coyotes do move Goligoski, they could still have a top four blue line of Oliver Ekman-Larsson, Jason Demers, Jakob Chychrun and Niklas Hjalmarsson, with Victor Söderström waiting in the wings.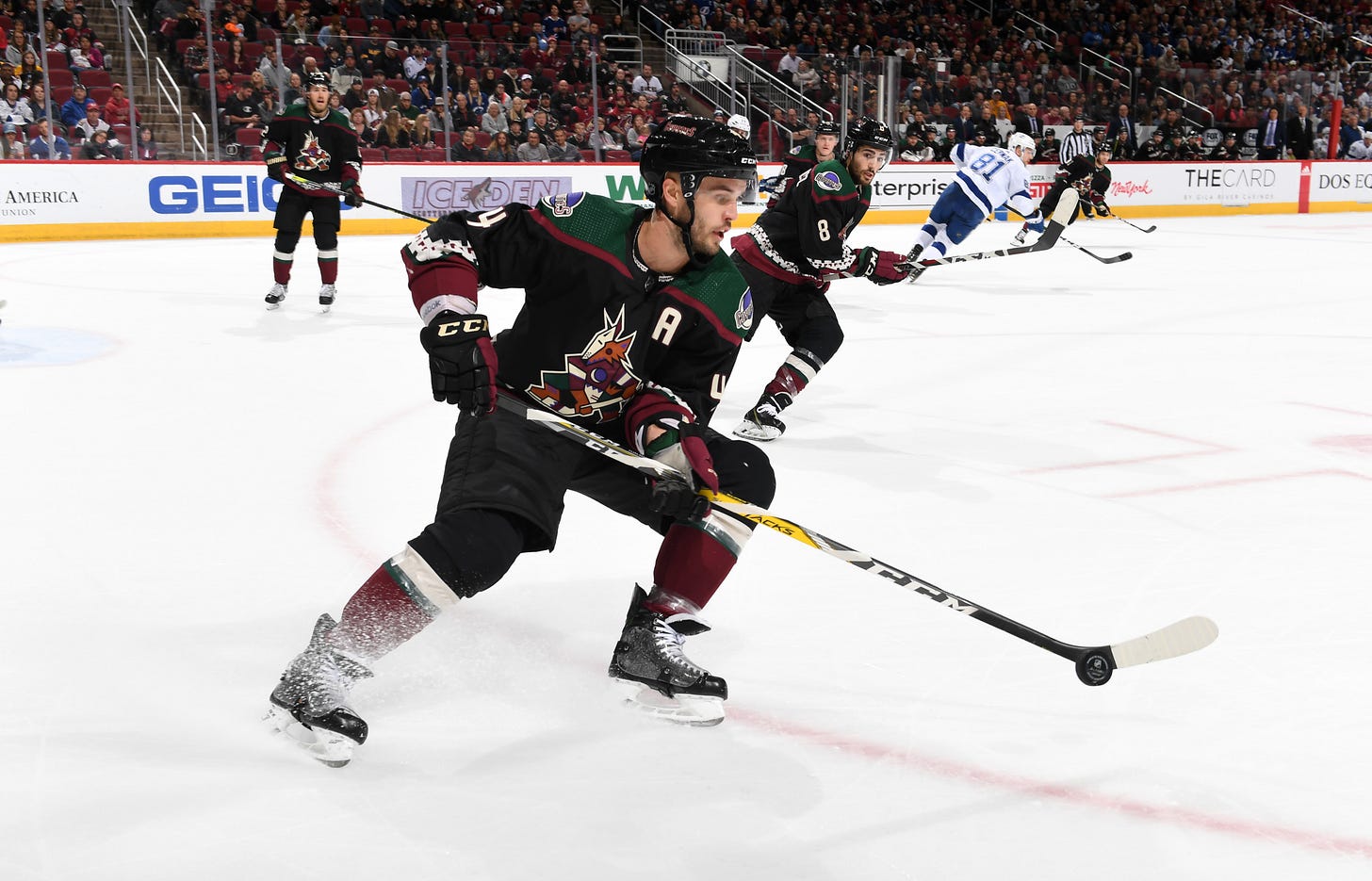 Niklas Hjalmarsson, photo courtesy of Arizona Coyotes
---
Defenseman Niklas Hjalmarsson
Signed through: 2020-2021
Age at start of next season: 33
Cap hit: $5 million
Actual salary: $4 million
Clauses: No-move
Thoughts: There would be plenty of teams interested in acquiring Hjalmarsson. His combination of elite defensive skills, elite professional habits and Stanley Cup experience would improve most teams. This shouldn't be the first move the Coyotes consider, however. Rick Tocchet and his staff love Hjalmarsson for all of the aforementioned qualities. He is an invaluable presence on the team for those reasons. If the Coyotes go this route (and if they can convince Hjalmarsson to waive his no-move clause) it should be because they run out of options.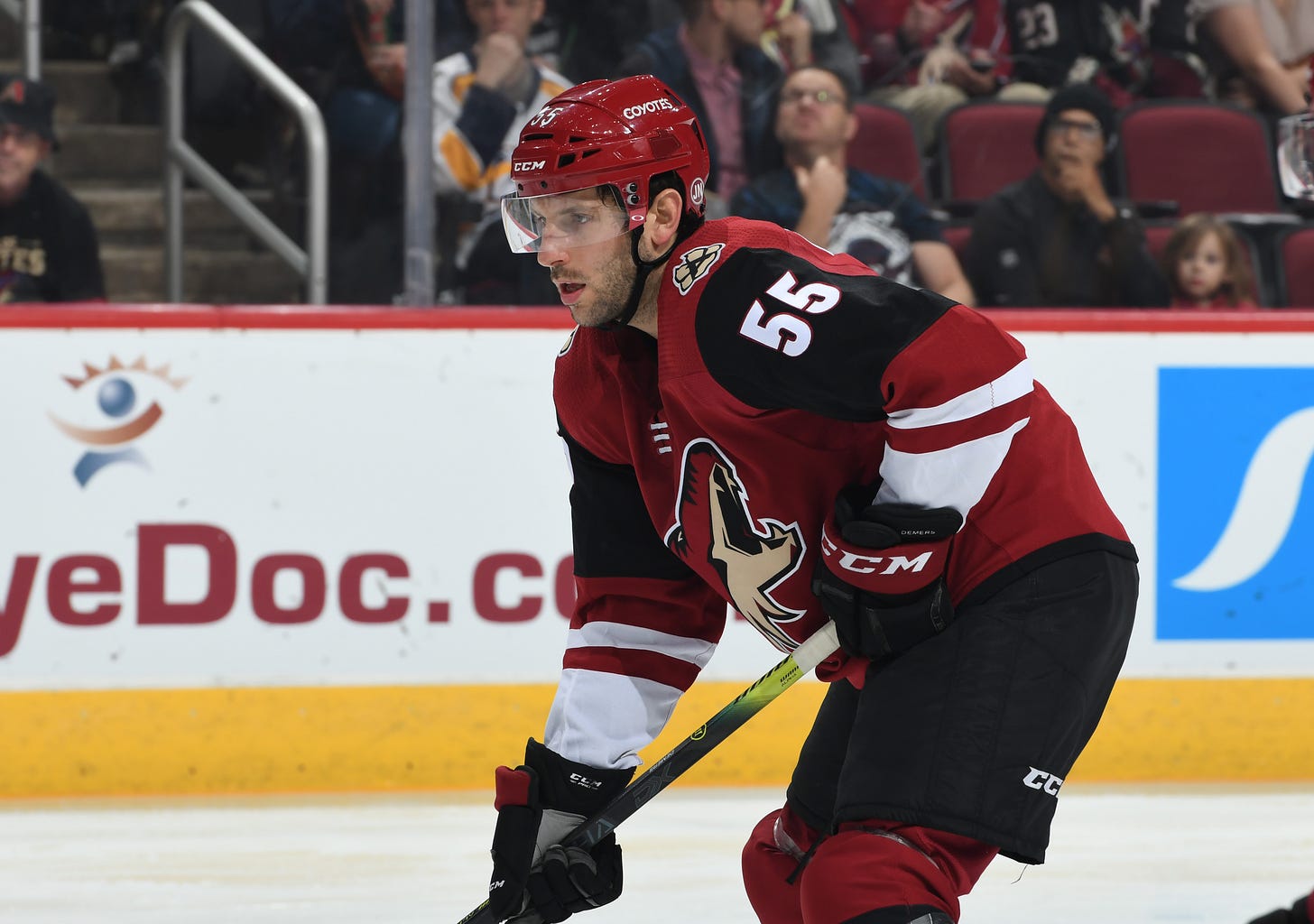 Jason Demers, photo courtesy of Arizona Coyotes
---
Defenseman Jason Demers
Signed through: 2020-2021
Age at start of next season: 32
Cap hit: $4.5 million
Actual salary: $3.6 million
Clauses: None
Thoughts: Demers is a right-handed veteran defenseman with top-four ability so he will have value on the market. His 2020-21 salary is also manageable. It's pretty clear that he would bring life and levity to any locker room he joined.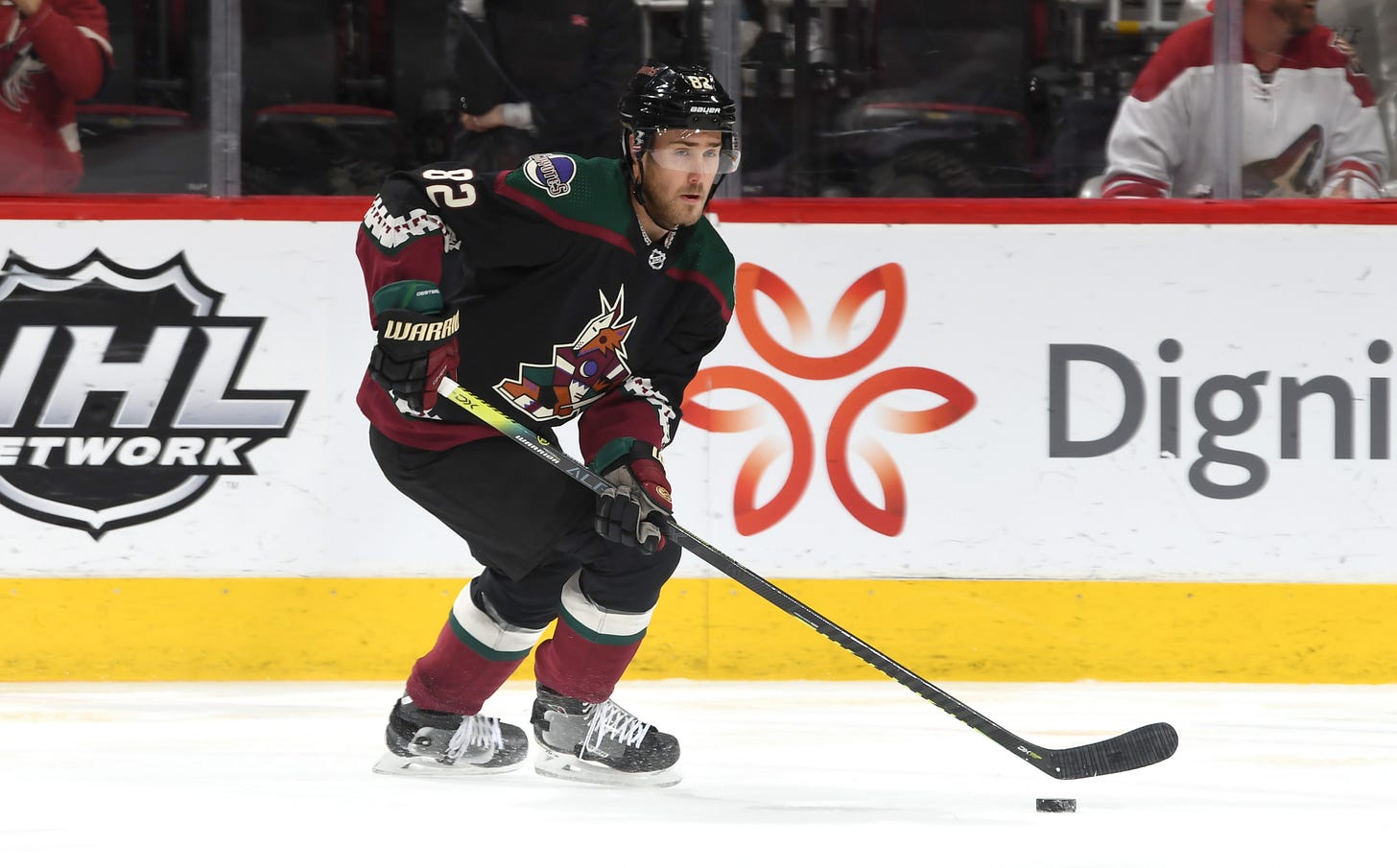 Jordan Oesterle, photo courtesy of Arizona Coyotes
---
Defenseman Jordan Oesterle
Signed through: 2020-2021
Age at start of next season: 28
Cap hit: $1.4 million
Actual salary: $1.6 million
Clauses: None
Thoughts: Oesterle is a good depth option for teams and his salary is easily managed. Moving Oesterle would help the Coyotes chip away at the necessary cap space they would need for Hall. It would also free up space for players such as Kyle Capobianco, Jordan Gross, Aaron Ness and maybe even Söderström if he wows the coaches in camp.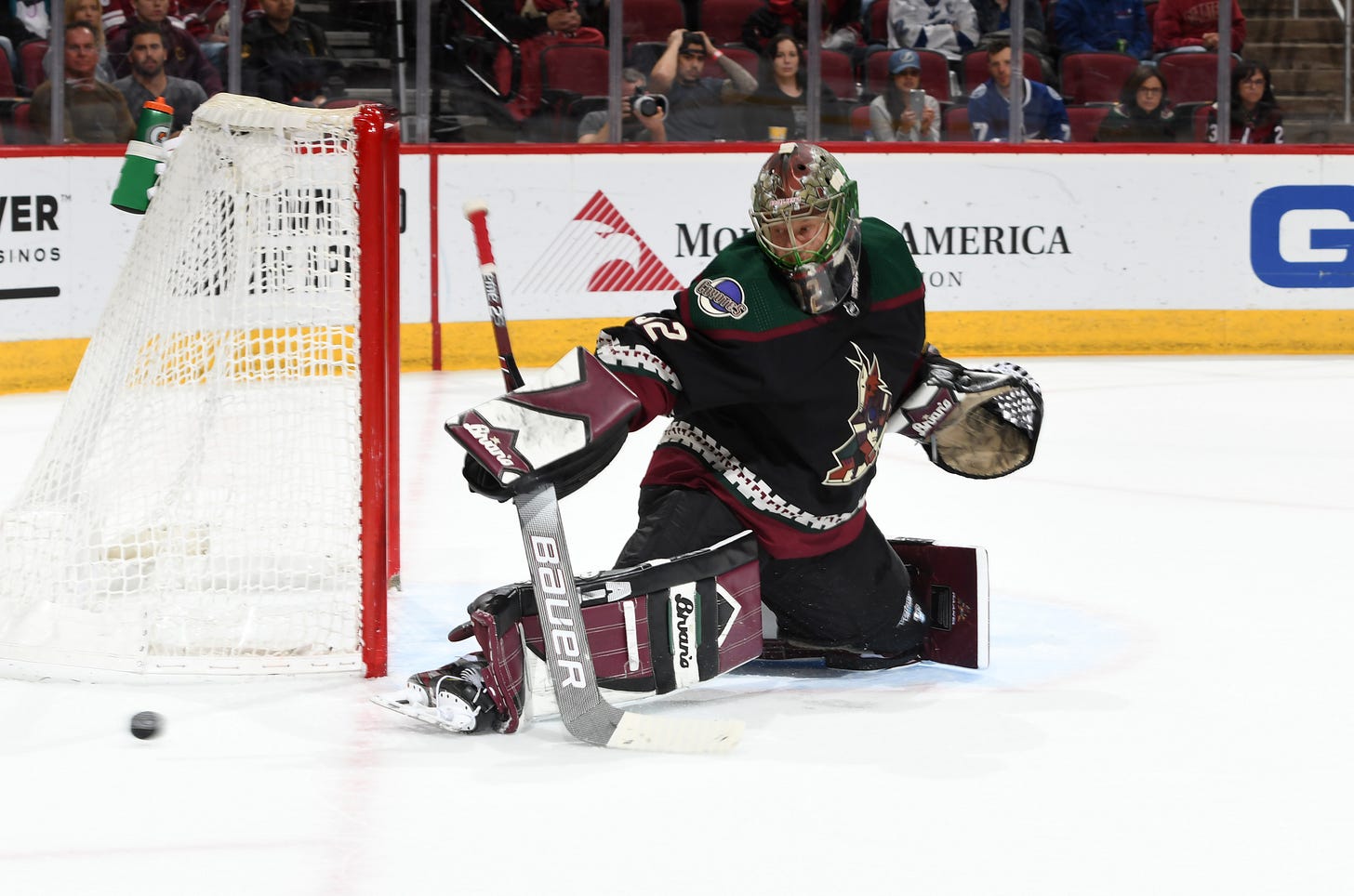 Antti Raanta, photo courtesy of Arizona Coyotes
---
Goaltender Antti Raanta
Signed through: 2020-2021
Age at start of next season: 31
Cap hit: $4.25 million
Actual salary: $4 million
Clauses: None
Thoughts: Raanta would also draw plenty of interest despite a rash of injuries that have plagued him the past three seasons. When he plays, Raanta is an elite NHL goaltender. Therein lies the conundrum for the Coyotes. The past few seasons have underscored the importance of having two elite goalies as insurance in case one gets hurt. Adin Hill has performed above average as a backup, but trading away Raanta should still be a fallback option when others fail.
2021-2022 and beyond
While the short-term cap situation is bleak, the picture changes dramatically with the start of the 2021-22 season. The Coyotes only have nine NHL players currently under contract for the start of that season, with a cap hit of $44,027,500. There was a clear plan at play here.
"With our young group early on, it was a lot to ask of 18-, 19- and 20-year-olds to carry our team, but as they get into the 23, 24, 25 plus range, now you've got guys that can take on a little bit more responsibility," Chayka said. "I'm sure some veterans will move out because that is how it organically occurs in the National Hockey League, but a part of our plan in terms of sustained success is to have these things coming in waves. On the one hand, you've got maybe some veterans whose contracts are expiring but on the other hand, you've got a wave of good young talent coming in with Jenik and (Matias) Maccelli and (Ivan) Prosvetov and (Victor) Söderström."
For the sake of argument (again, this is speculation), let's say the Coyotes keep Hall, this summer's three restricted free agents (Hinostroza, Fischer and Lyubushkin), and then add a new contract for Conor Garland (which could be cost-controlled because he'll be an RFA after the 2020-21 season), plus Jenik, Söderström, Maccelli and either Adin Hill or Prosvetov. That would give them a roster of 18 players with an enormous amount of flexibility to fill out the roster, even adding big-ticket free agents or trade targets if Meruelo is in the mood to spend. Don't forget that the expansion draft to welcome Seattle into the NHL will also occur in June 2021.
"The key is when we look at our core of young players of (Clayton) Keller, (Jakob) Chychrun, (Christian) Dvorak, (Nick) Schmaltz, (Barrett) Hayton, (Lawson) Crouse, (Conor) Garland and the list goes on, that group is going to continue to need to be supported by good veterans," Chayka said. "They are a very good young group that we believe has the ability to carry us to the highest level but ultimately any core is going to need good veteran players.
"Ekman-Larsson is a good veteran player. Taylor Hall we would like to keep as a good veteran player, but we're going to need more to supplement that group. The key with the flexibility at that stage is it's flexible but we've got a good core at that stage. That's what I was focused on. Again, some teams can champion having flexibility as we have in the past, but often times, that's just an indication of not having good players. I don't think that will be the case as we move forward."
Follow Craig Morgan on Twitter: @CraigSMorgan