Discover more from AZ Coyotes Insider, LLC
The most complete, independent coverage of the Arizona Coyotes. Sign up to sample free content. Want full access? The cost: $5 per month, $60 per year or the founding member option (any amount above annual sub rate). Twitter: @CraigSMorgan
Over 2,000 subscribers
The Big Read: As former Coyote Martin Hanzal retires, a look back at an underappreciated career
First-round pick's greatest strength was ability to match up with Pacific's elite centers
Welcome to the AZ Coyotes Insider newsletter. I generally publish stories four to six times per week (some of them free). By subscribing, you'll be supporting independent, accountable journalism. Subscribe now so you won't miss a story.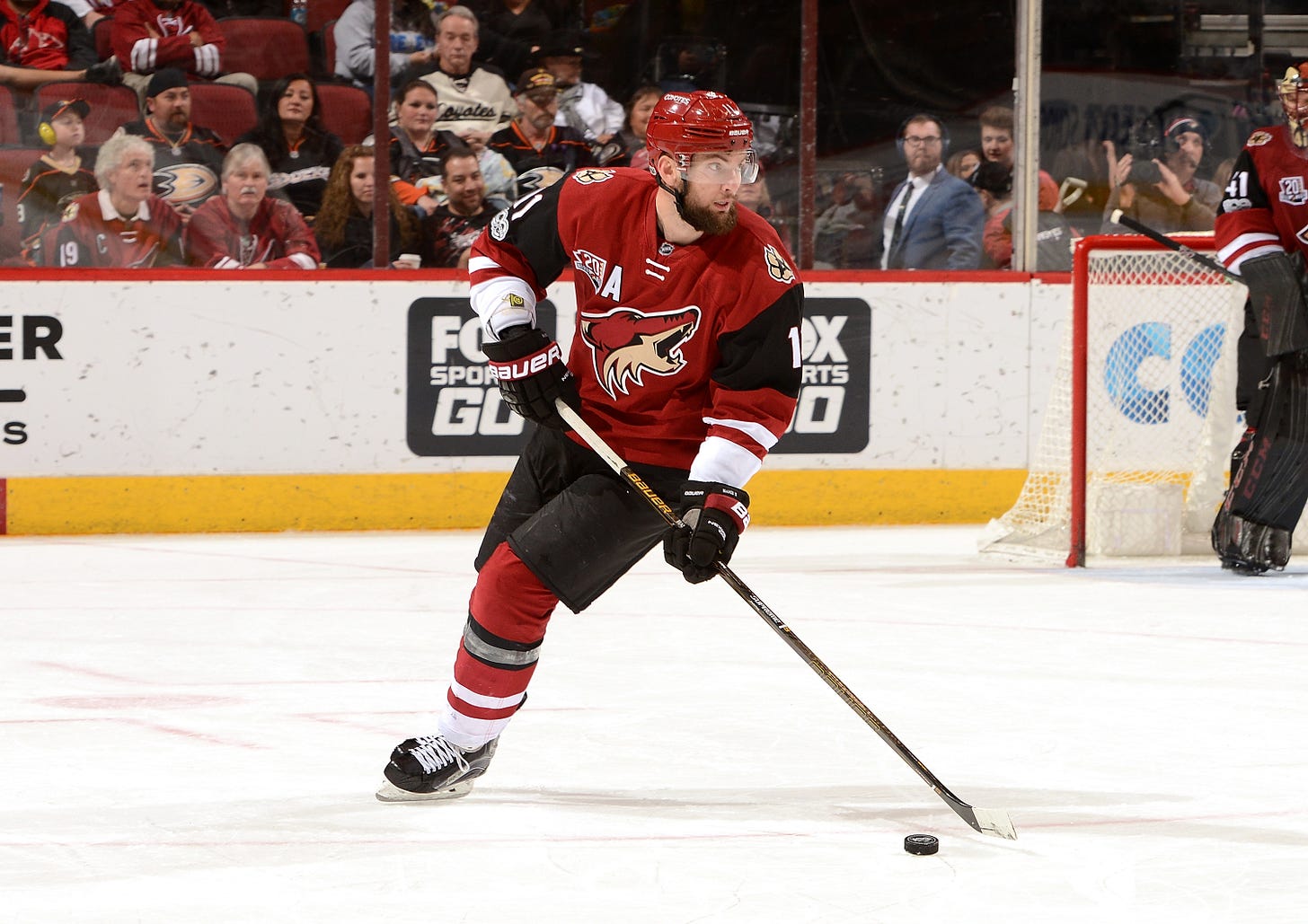 Former Coyotes center Martin Hanzal.
Photo courtesy of Arizona Coyotes
---
The NHL's virtual 2020 draft looked familiar to Martin Hanzal. The last time the draft had veered so wildly off its annual script was in 2005, Hanzal's draft year.
The Ottawa Senators were scheduled to host that draft at the Corel Centre on June 25, but the season-long lockout was still in progress so the draft was postponed. When the lockout ended on July 22, a new draft date was set for July 30. The Corel Centre could not accommodate the new date on such short notice so the NHL held the event at the Westin Hotel in Ottawa. Just as in 2020, the draft was not open to the public and only NHL Central Scouting's 20 highest ranked prospects attended.
Hanzal was coming off a four-goal, seven point performance (seven games) at the 2005 IIHF World U18 Championships that were held in his hometown of České Budějovice, as well as Plzeň, Czech Republic. He suspected that he would hear his name called early on draft day because the NHL had invited him to Ottawa, but when the Coyotes took him with the 17th overall pick, that was the only piece of information that he understood.
"I had literally zero English skills," Hanzal said. "I couldn't speak one word. I was reading people's faces to try to figure out what they might be telling me. I didn't know anything about the Coyotes other than Zbyněk Michálek was already playing there and that was nice to have somebody who is from close by my hometown.
"(Soon-to-be-first-year-Coyotes-coach) Wayne Gretzky called me after the draft and I didn't know what he was telling me or what he was talking about, but it was cool to hear the name 'Wayne Gretzky.'"
Hanzal took an unconventional approach to language learning that sped up the process while he played for the Omaha Lancers (USHL) in 2005-06, and for the Red Deer Rebels (WHL) in 2006-07.
"I was watching movies while I was living in the basement with my billet family with two dogs," Hanzal said, laughing. "The Rundown and Road Trip and American Pie. I would just watch them with English subtitles and then I would go back and watch the same movies with Czech subtitles and I figured it out."
Hanzal's NHL ascension was just as quick. After watching his 26-goal, 85-point season (60 games) under coach Brent Sutter in Red Deer in 2006-07, the Coyotes opted to keep Hanzal on their 2007-08 roster. He never played a game in the AHL.
"I don't think he understood how rare that was; how lucky he was," said longtime teammate Radim Vrbata.
Fifteen years after he left home in order to launch his pro career, Hanzal is back in České Budějovice, and he's feeling fortunate once again. He remodeled his old home, he has another home on a lake that he uses as a family retreat, he is coaching his son, Marty Jr. (8), and he has no plans to leave ever again. Hanzal is just 33 years old, but the wear-and-tear of his playing style forced him to make a hard decision; one that he hopes will help him maintain a high quality of life.
"It's a little bit of a relief because the last couple of years I wasn't sure if I'd play another NHL game or be healthy again so now it's official: I am retired from the NHL," Hanzal said by phone. "If I was healthy, I would probably still be playing, but after three back surgeries and especially after the last one, I just can't do it anymore. I was doing everything I could after this last one and it took me a year to get back on the ice.
"When I went to see the doctor again, it was either do another surgery or be done playing. Even the doctor said, 'We're not sure another surgery will help.' I still have a long life ahead of me. I don't want to do another surgery when it's not 100 percent sure it will even help."
In 673 NHL games (608 of them with the Coyotes), Hanzal had 127 goals and 338 points, but it's not the offensive production for which he will be remembered.
"Most teams have a No. 1 center, a No. 2 and a No. 3," former Coyotes and current Edmonton Oilers coach Dave Tippett said. "We asked him to be No. 1 and No. 3 both and that's a hard job to do.
"We asked him to play against top players every night -- be hard, physical and shut them down -- but also we needed him to be an effective offensive player and be a net-front guy on the power play. He didn't have an easy part of the game. All of his parts were the hard parts of the game, but he relished those challenges. It was a unique ability but he was a big, strong player that in the end had a huge impact on the game every night."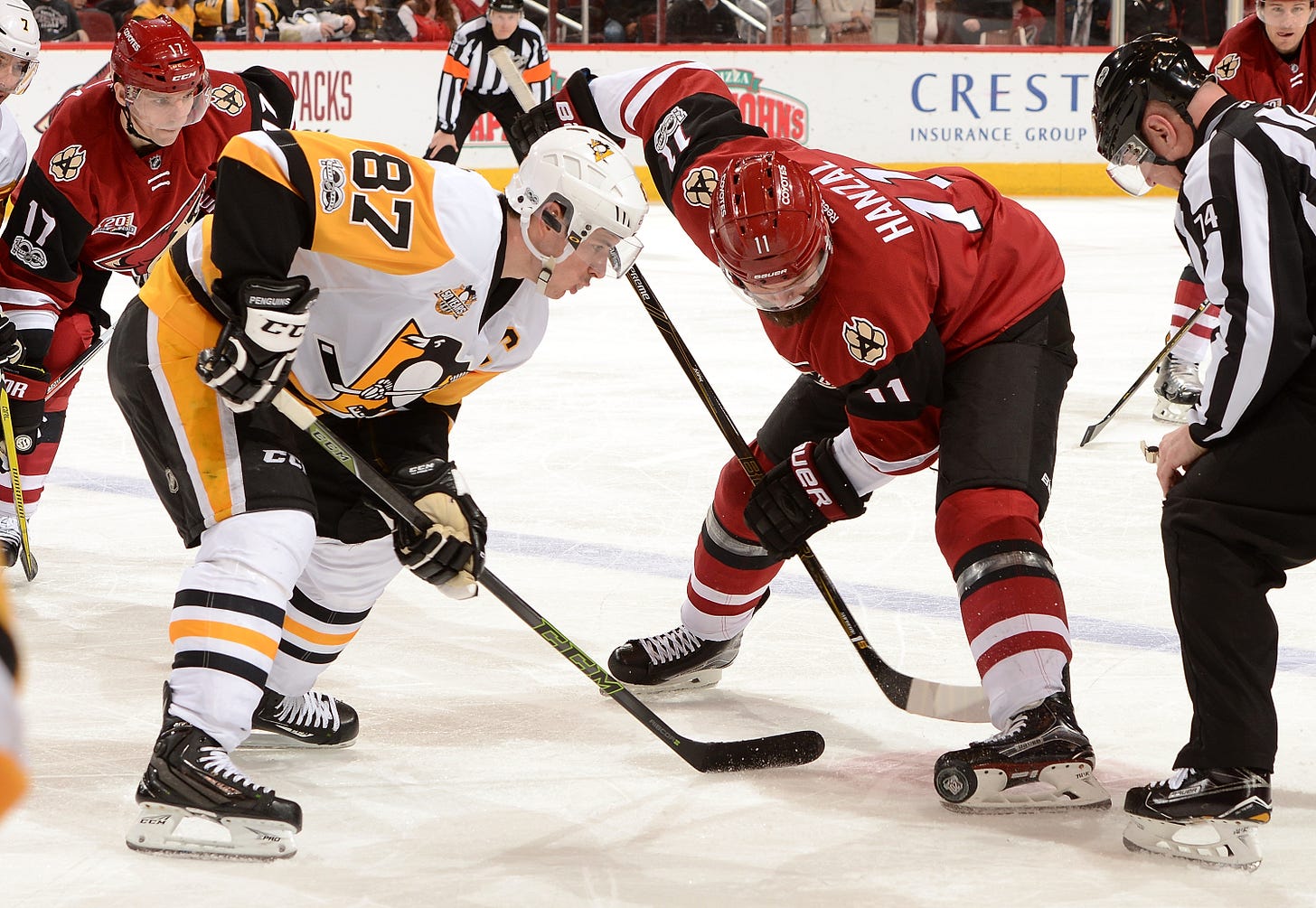 Hanzal faces off with the Penguins' Sidney Crosby.
Photo courtesy of Arizona Coyotes
---
Learning curve
Hanzal learned the value and importance of a strong two-way game under Sutter in Red Deer, but he didn't cement the identity of his game in his first two seasons under Gretzky. That didn't happen until Tippett arrived mere days before the 2009-10 season.
"It was fun playing for Wayne but it was more about having fun than playing hockey," Hanzal said. "With Tip, there were rules and you had a role. He always gave you simple points that he would show you on the video. 'This is what you need to do.' He would tell Vrby, 'You are a shooter and a goal scorer. You need to score goals.' He would tell me what I needed to do to be a good player and he was always right. He would see what kind of player you were and he made sure that everything you did was in those directions.
"When Tip told me what was going to be my role, if I said, 'I don't want to play this way' he would have said, 'Alright, I'll find another player who will do it.' That's the NHL. You have to adjust your game. I wanted to play in the NHL. It was always my dream so when the coach comes to you and says he wants you to play this way, you do it because you want to stay in the league. Maybe I took some beatings and that's probably how my injuries to my back kept happening, but I liked the way I played and I am very happy with my career so I can't say one bad word about that style."
While he was learning the style that would define his game, Hanzal was also learning how to act like a pro. Fortunately for him, he had a couple of Czechs there to shepherd him. In his first season in Arizona, he lived in Zbyněk Michálek's guest room for a few months until he had saved enough money to rent his own place.
"He was totally lost," Michálek said, laughing. "But he was a young kid and I knew how that was. I went through it myself and would have been happy to have someone older giving me help and letting me stay at their place."
Vrbata had been in the league since 2001, but he arrived in Arizona for Hanzal's first season and took him under his wing. Hanzal and Vrbata roomed together on the road so the nest wasn't always harmonious. Vrbata is a light sleeper. Hanzal is a heavy and loud sleeper.
"I hate when somebody is snoring," Vrbata said. "I hear everything during the night so it was tough."
Tough was a two-way street.
"He was really tough on me, too," Hanzal said with mock victimization in his voice. "He was always throwing pillows on me and there was always a mess everywhere in my part of the room so he was giving me shit for that, too."
Few of Vrbata's roommate ploys had the intended impact.
"Throwing pillows didn't wake him," Vrbata said. "It just calmed him down for a couple of seconds and then it was right back to snoring after that. He slept a lot, too."
Some of Vrbata's lessons weren't as soft as pillows. He wanted Hanzal to understand how hard it was to get to the NHL and then stay there.
"I vividly remember this game in New Jersey (Dec. 15, 2007), an afternoon game on Saturday," Vrbata said. "You could already see in the warm-up that he was half asleep and his first period was a disaster. I was giving him a lot of shit during the first intermission, and after that he really turned it on."
Hanzal had a shorthanded goal and three assists in a 4-1 victory. All of his points came in the final two periods.
"He said, 'Hey, thank you for waking me up' and I was like, 'Yeah, but from now on you have to do it on your own,'" Vrbata said.
Hanzal had eight goals and 35 points in his rookie season. It was a promising start for a 20-year-old. Unfortunately, that season also marked the start of his chronic back issues.
"I went to play in the World Championship in Quebec and Halifax and then I went back home to Czech Republic and started doing summer training and I started feeling a sharp pain in the left leg," he said. "I talked to doctors and flew to Phoenix in the summer and they said I needed surgery right away for a herniated disc."
That injury gave birth to Hanzal's now infamous, every-day routine to manage his back; one that included stretching, strengthening, massages, ice and heat.
"Anybody who has ever dealt with a bad back can appreciate what he was going through," said former Coyotes assistant GM and current Calgary Flames GM Brad Treliving. "In a couple of our playoff series, there were days where he could barely walk and there were nights when he was in so much pain. He fought that for almost his whole career. We would just lube him up and get him on the ice, but he played a game that wasn't conducive to getting healthy.
"He wasn't playing on the outside. He was in the guts of the game and it was hard lifting. When you have that big of a body you're a target. He took a lot pf punishment and it took its toll, especially when you get it early on and you're just fighting it as it continually gets worse. I know near the end of my time there, when you have a mental picture of somebody, the image I always have is Marty in his long johns with the heat pad strapped to his back. He always had that on there, trying to get his back better. We got him on programs to try to strengthen it but there was only so much you could do."
Hanzal missed a fair amount of practices and after his third NHL season, he never played more than 65 games. It was a fact that opened him up to criticism from fans, who never fully understood what was happening behind the scenes. The team members knew, however, and they were more than willing to sign off on that approach.
"Tip knew how valuable he was to us. Everyone did," Michálek said. "Tip gave him so many days off. I always joked with him that he never practiced. It was always a maintenance day. We always gave him a hard time about it because while he was on the trainer's table getting a massage we'd all be going to go practice, but we knew what he was going through and we knew we needed him on the ice."
Hanzal's heyday
Hanzal has plenty of individual memories. He remembers his first career goal in his fourth career game at Nashville on Oct. 11, 2007. He remembers both of his career hat tricks (Dec. 4, 2008 vs. Toronto; Nov. 11, 2014 at Vancouver) and he remembers the overtime goal he scored in Game 1 of a playoff series against the Chicago Blackhawks in 2012 that ignited the franchise's best postseason run.
"I have hockey camps for kids back home and one of the kids asked me what was my most unforgettable goal and I said this one," Hanzal said. "I won the face-off in the left circle, (Rusty) Klesla shot it, it went around to Adrian Aucoin, he kept it in and shot it and I tipped it right in front of the goalie. I remember every step of the goal."
"I saw Oaky (Aucoin) was going to shoot it. I didn't see the puck all the way. I just kind of predicted where the puck was going to go so I was kind of lucky there, too. Sometimes when you go in front of the net you just want to screen the goalie, but this time I wasn't there right away so the goalie could see everything. I was lucky to get the puck with my stick."
As Hanzal spoke with reporters after that win, he waxed about the impact this goal might have on Marty Jr., then a baby.
"I'll tell him but he won't get it," said Hanzal, who finished the game with a goal, eight hits, six shots on goal and three blocked shots. "He can watch it on YouTube in five years."
Hanzal's statistics during that 2011-12 season were no different than what he averaged on a yearly basis, but it was clear that he made an impact on his linemates, Ray Whitney and Vrbata. Whitney had 77 points and a career-high 53 assists that season while Vrbata scored a career-high 35 goals.
"He just made my life on the ice so much easier," Vrbata said. "He was big, he could make room and he could pass the puck at the right time. Everything that was missing in my game he had. He could play physical so I could focus on my things. The more we played together, the more we learned how we could complement each other and when you put that third guy there who could bring something else like Ray with his playmaking, we were even better."
While Hanzal was emerging as an elite shutdown center, his personality was also blossoming behind the scenes. He was named an alternate captain for the 2011-12 season and he kept that letter until he was traded in 2017. Hanzal was generally subdued with media, but as he got to know you a little more, he'd let you in on his dry and offhand brand of humor.
Captain Shane Doan was one of his favorite targets and the two developed a tighter bond than most outsiders realized. Hanzal loved to ride horses so he would often head up to Doan's and equipment manager Stan Wilson's barn and ride. Sometimes, he did it alone for the solitude. Doan remembers the striking sight of the 6-feet-6 Hanzal in the saddle. Hanzal remembers the feeling of belonging that he gained once Doan "upgraded" him to play cards at the veterans table alongside the captain on the team flights to and from road games.
"I said it before, but he was like my second father to me," Hanzal said. "I was really young when I came to Phoenix and I was still learning new things every practice and game. Shane was always so nice to me. Even if he had a bad day he was always smiling and nice to everyone. When you have a captain who wants to help everyone, even the young players, it helps. I can't say one bad word against Shane. Well, maybe just one. He could get better at playing cards on the plane."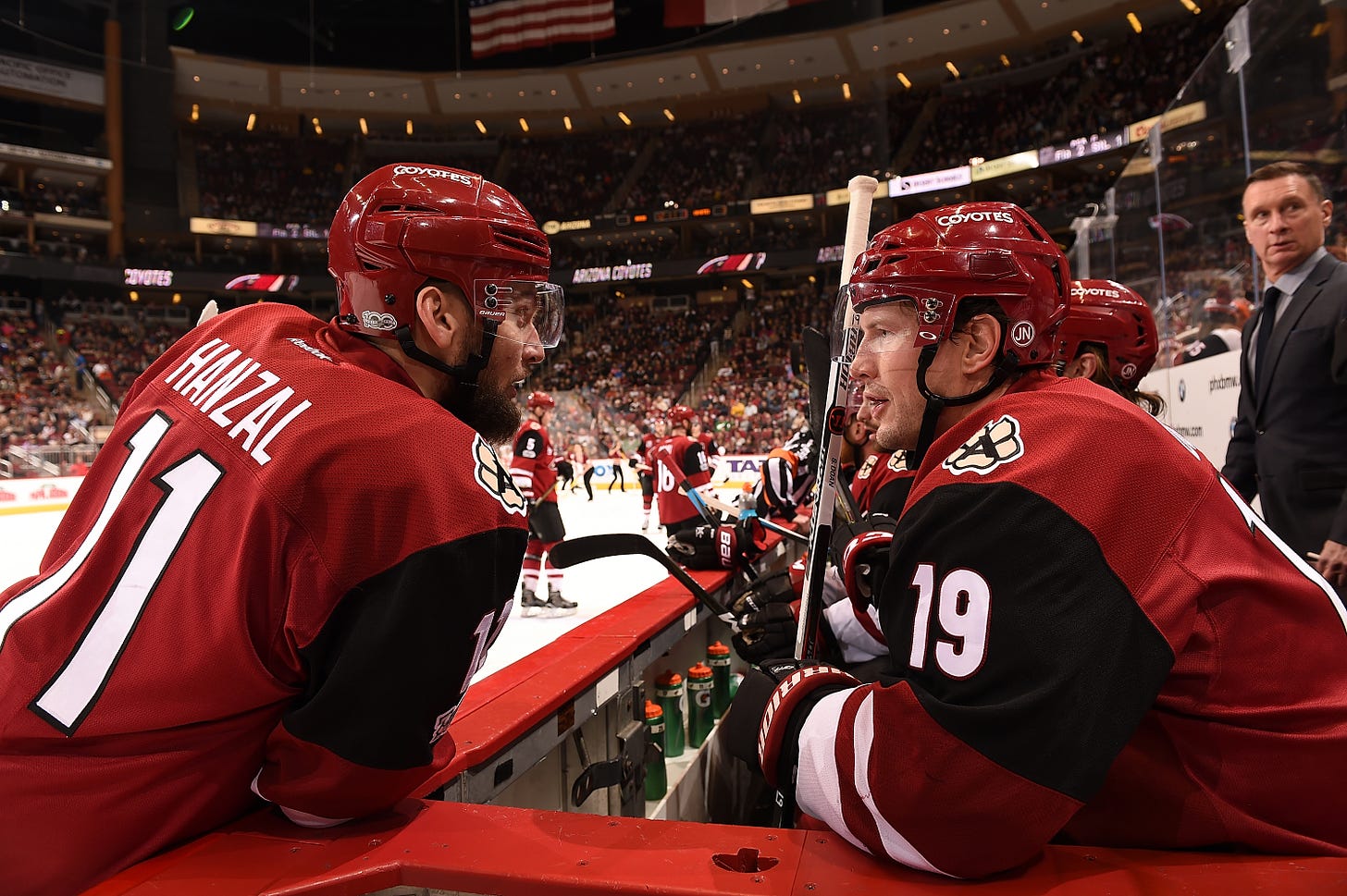 Hanzal and Doan chat during a game.
Photo courtesy of Arizona Coyotes
---
Doan laughed at the notion that Hanzal carried him, but the duo was deadliest while playing spades. Doan wasn't surprised. He had done enough scouting to choose his teammate wisely.
"If you're going to play cards with someone, you probably want your partner to be the guy who has cards tattooed onto his wrist because he loves to play so much," Doan said, laughing. "That's just a good selection by me."
Hanzal's legacy
Hanzal wasn't surprised when the Coyotes traded him to the Minnesota Wild at the 2017 trade deadline. His contract was set to expire at the end of the season. Talks with ownership and management had stalled so he had resigned himself to the possibility of moving on. The team appeared focused on building around a younger core and acquiring future assets.
Hanzal was in the midst of his best goal scoring season (20), and the Coyotes landed a significant haul, sending Hanzal, forward Ryan White and a fourth-round pick to the Wild for a 2017 first-rounder, a second-round choice in 2018, a conditional fourth-rounder in 2019 and minor-leaguer Grayson Downing. Still, Doan was not happy.
"My negative reaction to both him and (Keith Yandle) getting traded was both because of how talented and amazing they both were and what great people they were," Doan said. "Marty's value to the organization and to our team was so much bigger than people realized. We had all these great centers in our division and they didn't like playing against him. (Anaheim's Ryan) Getzlaf, (San Jose's Joe) Thornton and (L.A.'s Anže) Kopitar were all in our division and yet we had a good run there, even won the division. Marty was a big reason for that."
The most difficult part of the trade for Hanzal was the lack of time afforded him to say goodbye. The trade was made just before the Coyotes faced the Buffalo Sabres at Gila River Arena.
"Everything happened so fast," he said. "Tip told me right away that things were happening and 'you might not play tonight,' but then I think they went straight to the power play meetings. I tried to say goodbye and shake everyone's hands but I was flying out the next morning.
"When you get traded, especially when you have only played for one team, it's tough but you have to transfer everything, all your feelings, to your new team or you might lose your job. The biggest problem is overthinking things so I told myself, 'Just play your game and you'll be fine.'"
Hanzal felt good in Minnesota. He had four goals and 13 points in 20 games for the playoff bound Wild, but he ended up signing a three-year, $14.25 million contract with the Dallas Stars as a free agent that summer. An ankle issue hampered him in training camp, but he felt good until an old problem resurfaced later in the season
"I started feeling pain in my back again and I started thinking, 'Oh, no. Not another surgery,'" he said. "The worst part was I had a sharp pain my left leg shooting from my butt straight to my heel on my backside and my leg was going numb. Sometimes, I was taking pills or getting shots for the pain and after pretty much every other game I was hurting so much I couldn't even walk. I couldn't sleep, I couldn't get out of my bed, I couldn't drive in my car for more than 20 minutes."
Hanzal's final surgery was fusion surgery, which involved the surgical removal of the L5/S1disc and the fusing of the L5 and S1 spinal bones, with screws inserted to hold everything in place. He played just seven games in the 2018-19 season, and it was clear that his back still was not right. The Stars elected to place him on long term injured reserve for the 2019-20 season, the final season of his contract, and he returned home to the Czech Republic, knowing that his career was likely over.
"I knew I wasn't going to play," he said. "I was already home when they put me on long term injured reserve. I was watching the guys in the playoffs and they had a great run all the way to the (Stanley Cup) finals. I was hoping they would go all the way but unfortunately they were one step away, which is probably the worst feeling. It was hard watching. I really wished I could be out there or just be in the locker room and be part of the team."
That separation may have helped with his transition into life after the NHL, however. He did some upgrades on his home, he adopted a less rigorous training regimen that focused on keeping his back healthy, and he started coaching his son's team.
"He's more of a skill player than me with a good shot and good techniques," Hanzal quipped. "He's more like Vrby. He stays in one place waiting for somebody to pass him the puck so he can score. It's fun to play like that. Look at Vrby. He didn't have one hit in his entire career."
When he had made up his mind to call it a career, he started a fourth-division (regional) team in his hometown (HC Samson) that Vrbata describes as "basically a beer league team." Hanzal reached out to fellow Czechs and former Coyotes Vrbata, Rusty Klesla to join him for one game on the ice. Vrbata lives about two hours away; Klesla lives about four and half hours away, but both drove in for the game, which included NHL-like pre-game introductions and merchandise that Hanzal had bought to give to the fans.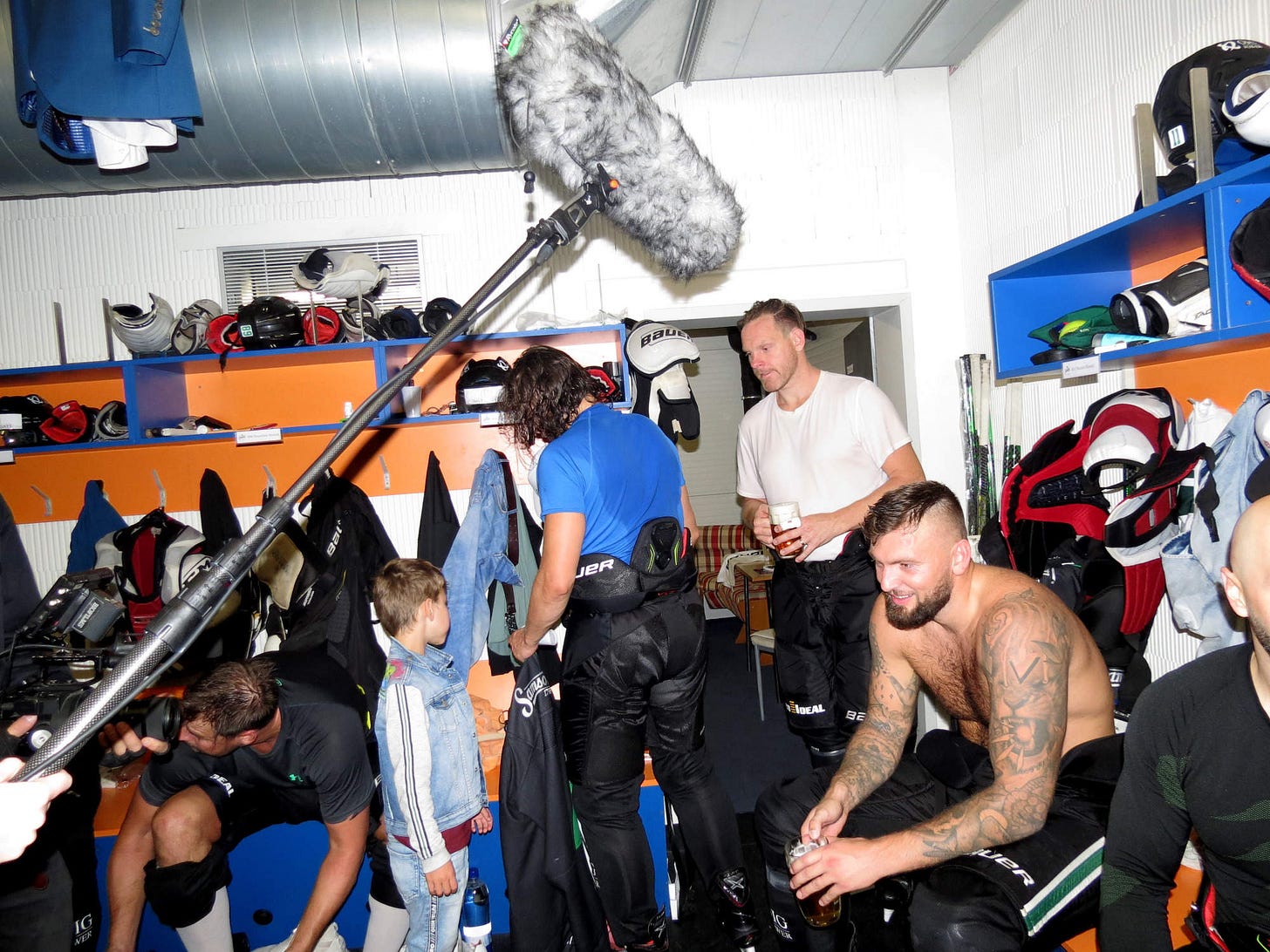 Hanzal chats with media after his "retirement game." Photo courtesy of Radim Vrbata
---
"I was thinking that we were just going to do some golf or a tennis match or something fun but Marty said, 'Do you guys want to play a game?' which kind of surprised us all," Klesla said. "Those guys that we played know how to play and if you are not in shape, which we mostly are not, it's tough. Halfway through the game, we were really not outmatching them but in the second half of the game they couldn't keep up their tempo and our line scored five goals."
Playing on a line with Vrbata and former NHL player Václav Nedorost, Hanzal had three of those goals to go out in style. He hopes to play occasionally with the team and he still gets on the ice with his son and at other times, but the rigors of the NHL are behind him, and he is at peace with that new reality.
"I feel fine," he said. "It's nice that I don't have people cross-checking me in my back in front of the net.
"Of course if I wasn't hurt, I would love to play a few more years so my kids could watch me play, but I believe that's part of life. I'm retired because of my injuries and I'm happy with my career and everything I did."
Hanzal still gets together with Vrbata, Klesla, and former Coyote Michal Rozsíval. The four of them had dinner and spent time together recently at Chateau Mcely, southeast of Vrbata's hometown of Mlada Boleslav. Michálek, who lives in Arizona, normally goes back each summer and looks up his former teammates, who collectively became known as The Czech Mafia during their time in Arizona.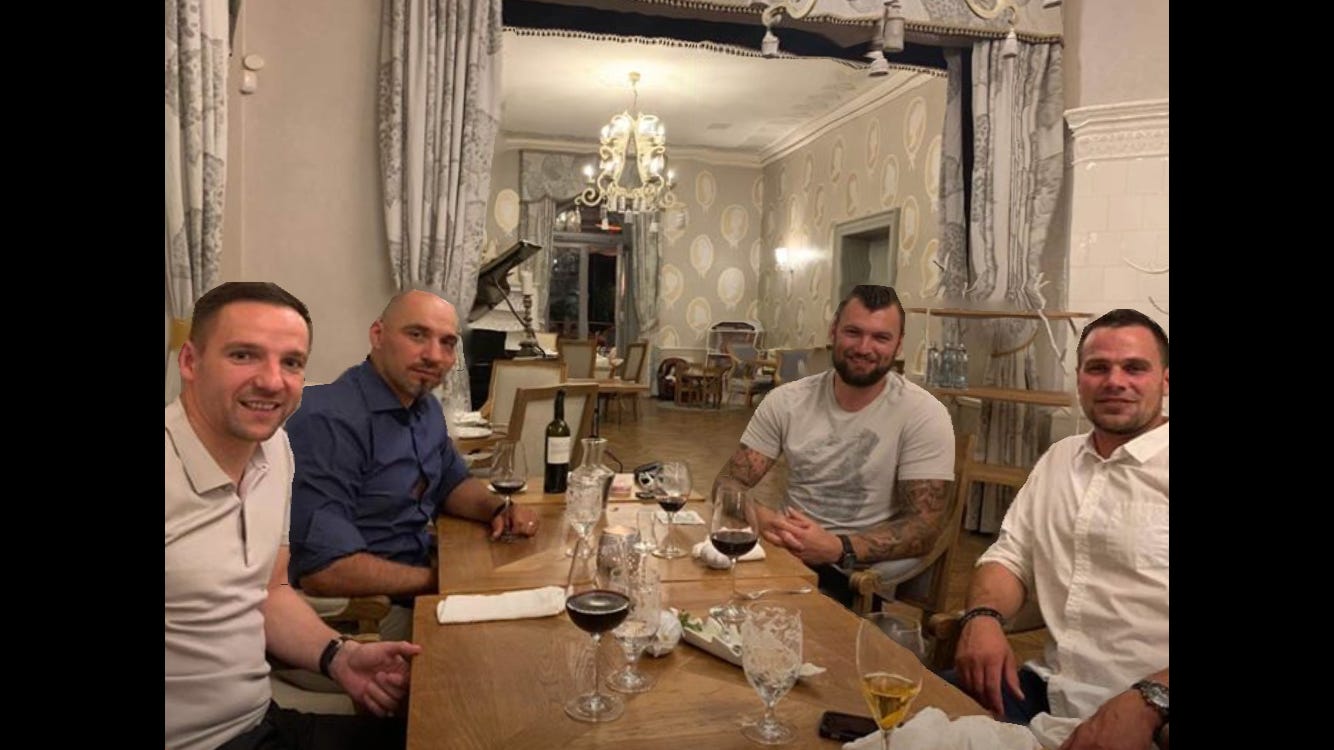 From left, Vrbata, Rozsíval, Hanzal and Klesla at Chateau Mcely.
Photo courtesy of Radim Vrbata
---
"It's not like if there was no Czechs on the team we would have felt Czech sick, but it is always nice when you can talk about the home stuff because you have things in common and it's nice when the wives can hang out together and the kids can hang out together," Klesla said.
With Hanzal riding off into the sunset, Vrbata took a long moment to reflect on just how much his good friend meant to the organization during its most successful run this millennium.
"I hope they understand that if he wasn't there, we would have been in trouble, especially all of those years with Tip when we had to defend well and play close games," Vrbata said. "When you think about it, besides the goalie and Doaner, who kept us all together, Marty was probably the most important player on the team. He was taking those big face-offs. He was shutting down the best players. He was playing PK. He was also contributing on offense.
"I was with him for probably 90 percent of my time with Phoenix so I know it better than most. I couldn't do what he did. If I tried, I would have been done after 10 games. Marty did so much. If the fans didn't appreciate him enough during those years when he played, I hope they realize it now."
Follow Craig Morgan on Twitter: @CraigSMorgan