Welcome to the AZ Coyotes Insider newsletter. My plan is to publish stories four to six times per week. By subscribing, you'll be supporting independent, accountable journalism. Subscribe now so you won't miss a story.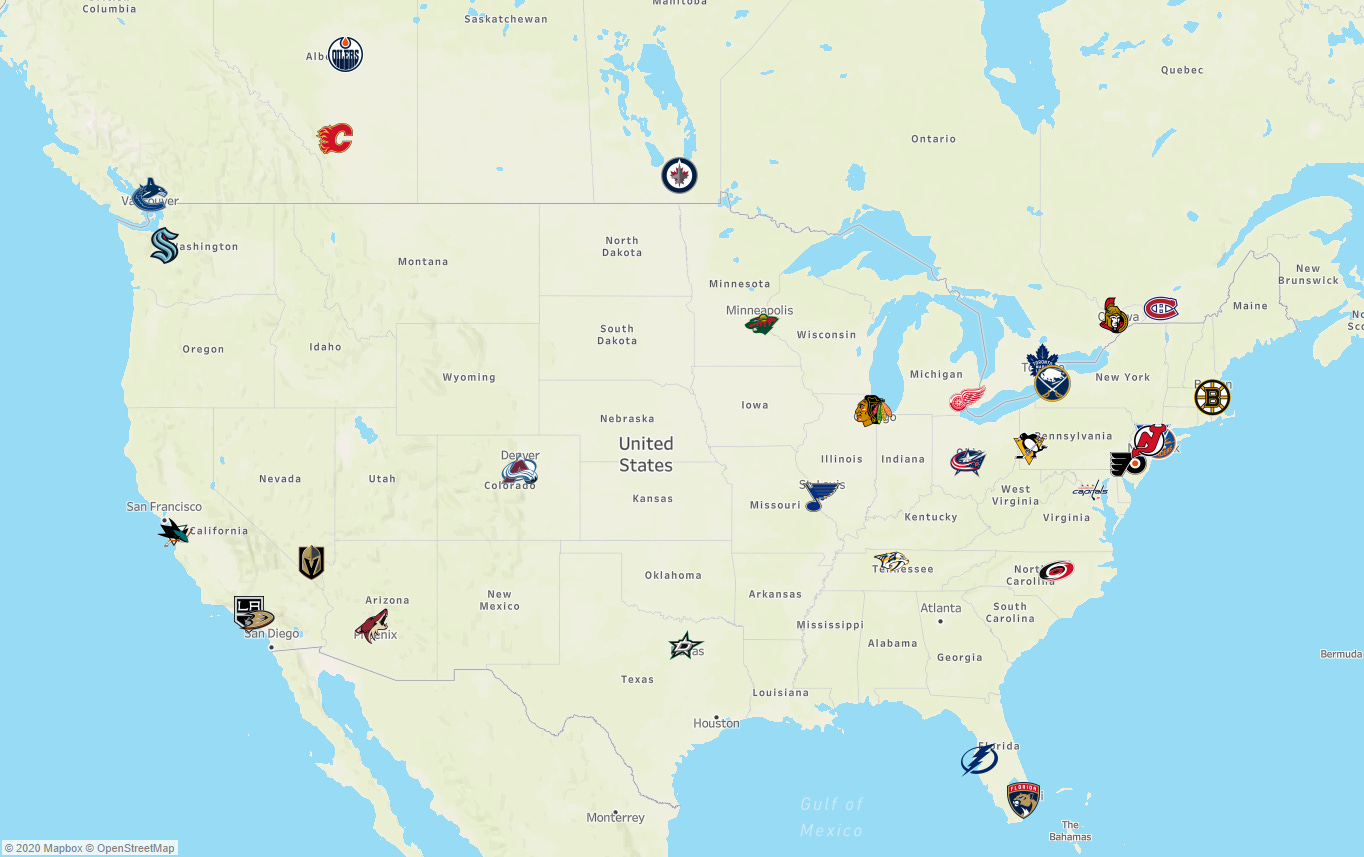 The NHL map. All illustrations by Clay Collins (@Clay_C10)
---
With great fanfare, the NHL's newest team unveiled its nickname, mascot, color scheme and uniform on July 23. Lost in the excitement of the Seattle Kraken's well-choreographed announcement was the bad news that it portends for the Arizona Coyotes (as if, there's not enough of that around here).
I reached out to NHL deputy commissioner Bill Daly via email on Friday to ask if the previously announced plan of putting the Kraken in the Pacific Division and moving the Coyotes to the Central Division was still in place.
"Yes, that is still the plan," Daly wrote.
When I asked if that plan was set in stone, here was the exchange.
Daly: "Not really sure what that means. Why would it change?"
Me: "If there were another plan that worked. Obviously, the Coyotes aren't thrilled with the move, but what if there were an alternate realignment proposal that worked? Would the NHL even consider other proposals or does that simply create too much of headache?"
Daly: "We are not considering changing what has been approved by the Board."
On one hand, I understand the NHL's unwillingness to re-open a matter it considers closed. Moving the Coyotes to the Central Division is an easy solution, even if conspiracy theorists/Coyotes haters who believe that the team is moving to Houston will once again be disappointed with the team's steadfast refusal to relocate to the rumored city du jour.
But is the NHL's plan the best plan, or is it simply the most expedient? I don't think it is the best plan, but I'm just a guy. The greater question here is this: Why wouldn't the NHL consider every alternative in the interest of best serving all of its teams?
Look, I don't believe the NHL is out to hammer the Coyotes at every turn. Commissioner Gary Bettman has repeatedly bent over backward to make this franchise work in Arizona, despite a never-ending string of headaches. But aside from the dramatic impact the current realignment plan will have on Arizona's travel schedule (maybe you've heard how bad the Coyotes schedule is on an annual basis), the four division alignment doesn't address geographical proximity well enough, and it certainly doesn't address the travel bugaboo that concerns almost every player and coach in the Western Conference. The NHL may address the latter in other ways next season (hopefully by visiting all cities in a geographic location on one road trip, rather than making two treks across the country/countries), but with 32 teams balancing the conferences and giving the NHL the same amount of teams as the NFL, why not consider the NFL model of eight, four-division teams?
In the vast majority of cases, it would group teams by much tighter geographic regions, and it would help forge and intensify rivalries by cutting down on the number of division opponents on which fans and players could focus their ire. It has worked well in the NFL, which has used this model since 2002. The Cardinals have absolutely benefitted from being in the NFC West rather than the NFC East, the Tampa Bay Buccaneers have benefitted from being in the NFC South far more than being in the NFC Central, and putting the Indianapolis Colts in the AFC South (instead of the AFC East) makes far more sense, allowing them to develop rivalries with the Houston Texans, Tennessee Titans and Jacksonville Jaguars.
As much as the NHL likes to tout its rivalries, there simply aren't many left in a league that split up the Chicago Blackhawks and Detroit Red Wings. Again, this proposal could help foment those rivalries.

I reached out to four people I trust in various positions around the league to get their thoughts on this proposal and identify any weaknesses. I also reached out to a pair of trusted colleagues. No plan is perfect. If you correct for time-zone challenges, you still have travel challenges and vice versa. It's also difficult to pair all rivalries or perceived rivalries, some of which are less compelling to me than others.
Some of the proposal's strengths:
It cuts down significantly on travel for all teams.

It does a better job of grouping teams by geographical location than the current format.

It may forge new rivalries.

It creates a balanced schedule against division opponents and conference opponents, which is important for playoff seeding.

It still allows teams in one conference to play every team in the other conference.

It keeps the Detroit Red Wings in the Eastern Conference which is really important to them.
Some potential flaws:
Vancouver and Seattle are not in the same division. I'm not sure that really matters beyond proximity because there is no actual rivalry between those cities in any major pro sport. Besides, they'd still play each other four times per year.

Philadelphia and Pittsburgh are not in the same division, but again, they would still play each four times per year.

Each season, fans won't see eight teams from the other conference in their home city. That's a potential drawback at the box office, but it would be a major gain in travel miles logged.

The Pacific Division and Southwest Division encompass three time zones.
Here is my realignment proposal.
WESTERN CONFERENCE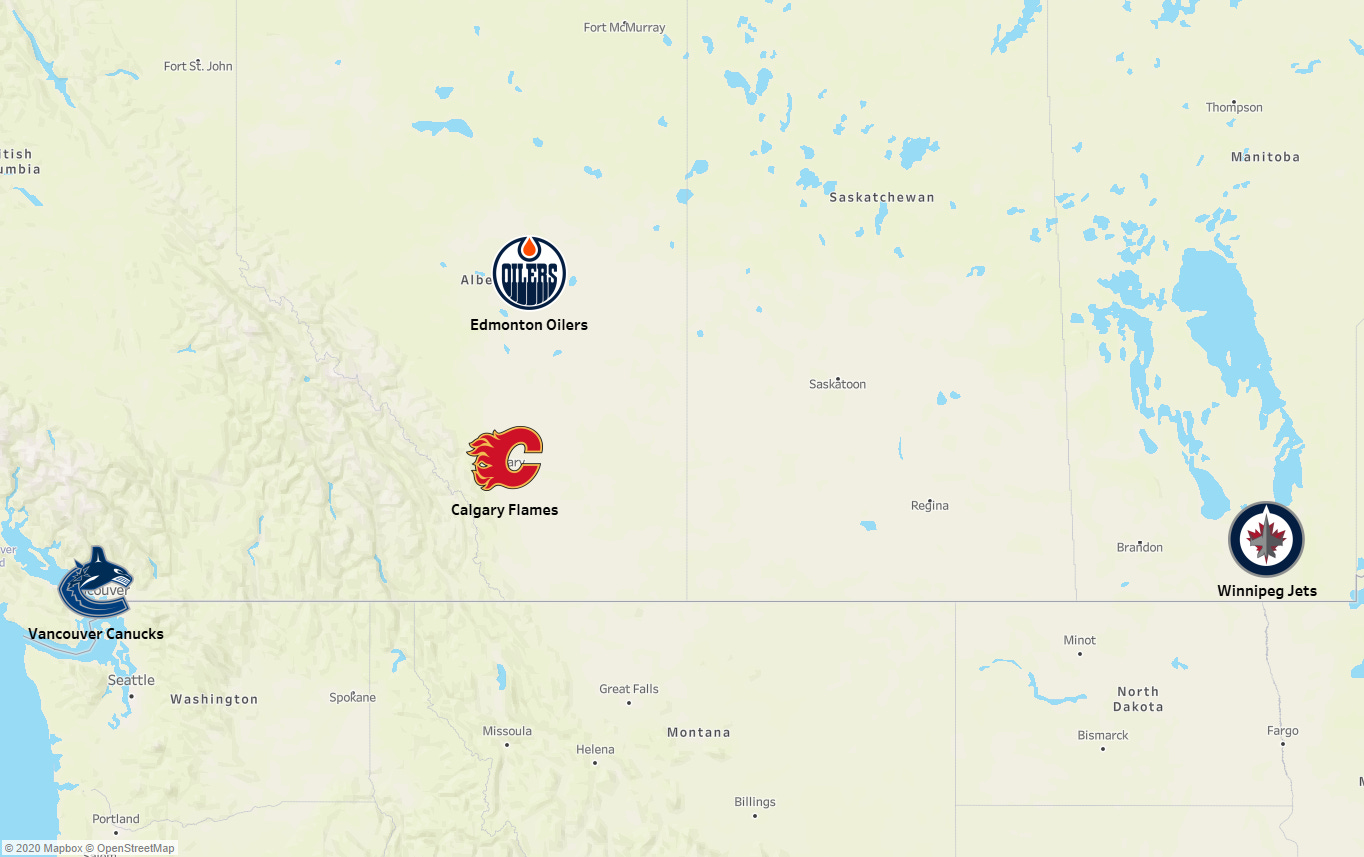 Canadian Division
Calgary Flames
Edmonton Oilers
Vancouver Canucks
Winnipeg Jets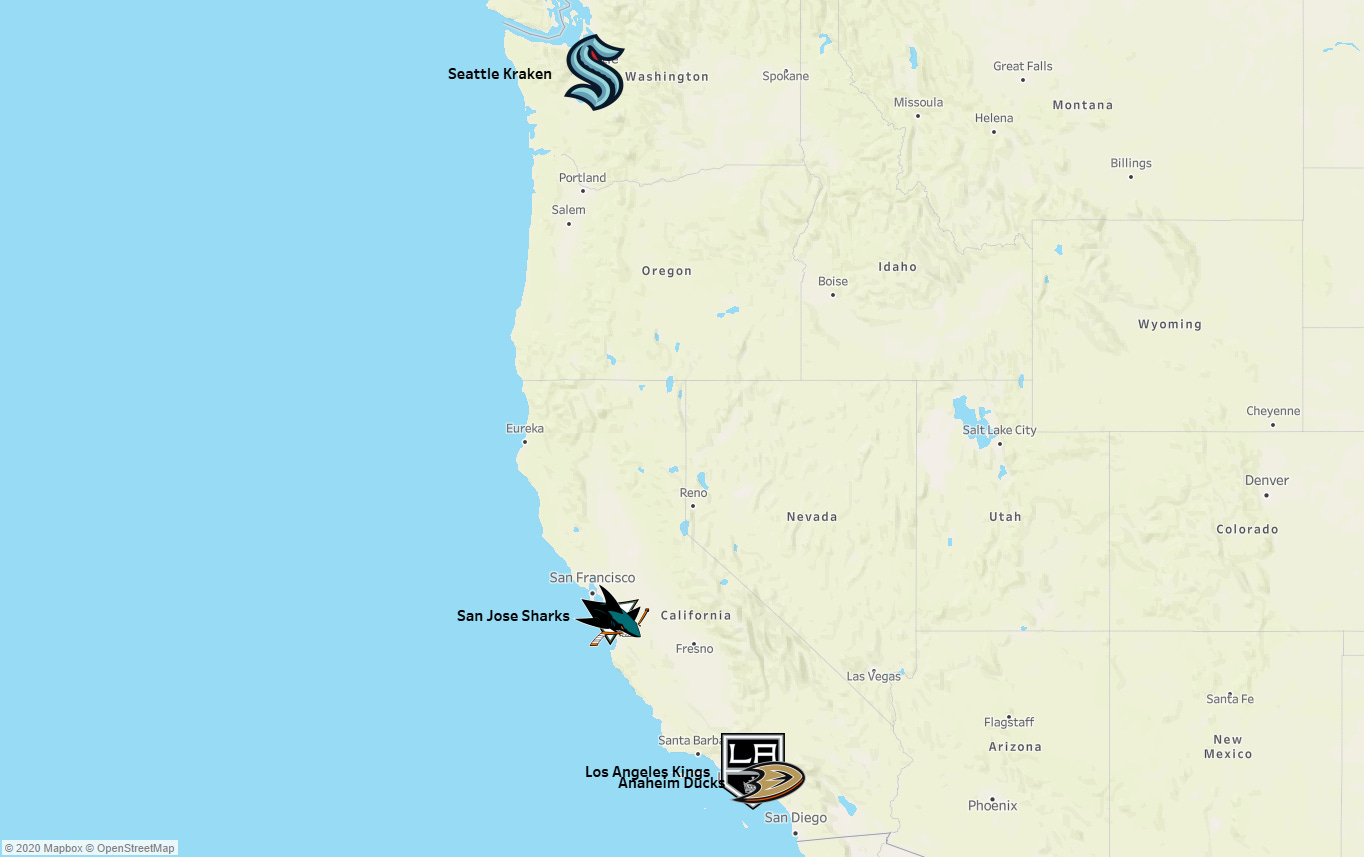 Pacific Division
Anaheim Ducks
Los Angeles Kings
San Jose Sharks
Seattle Kraken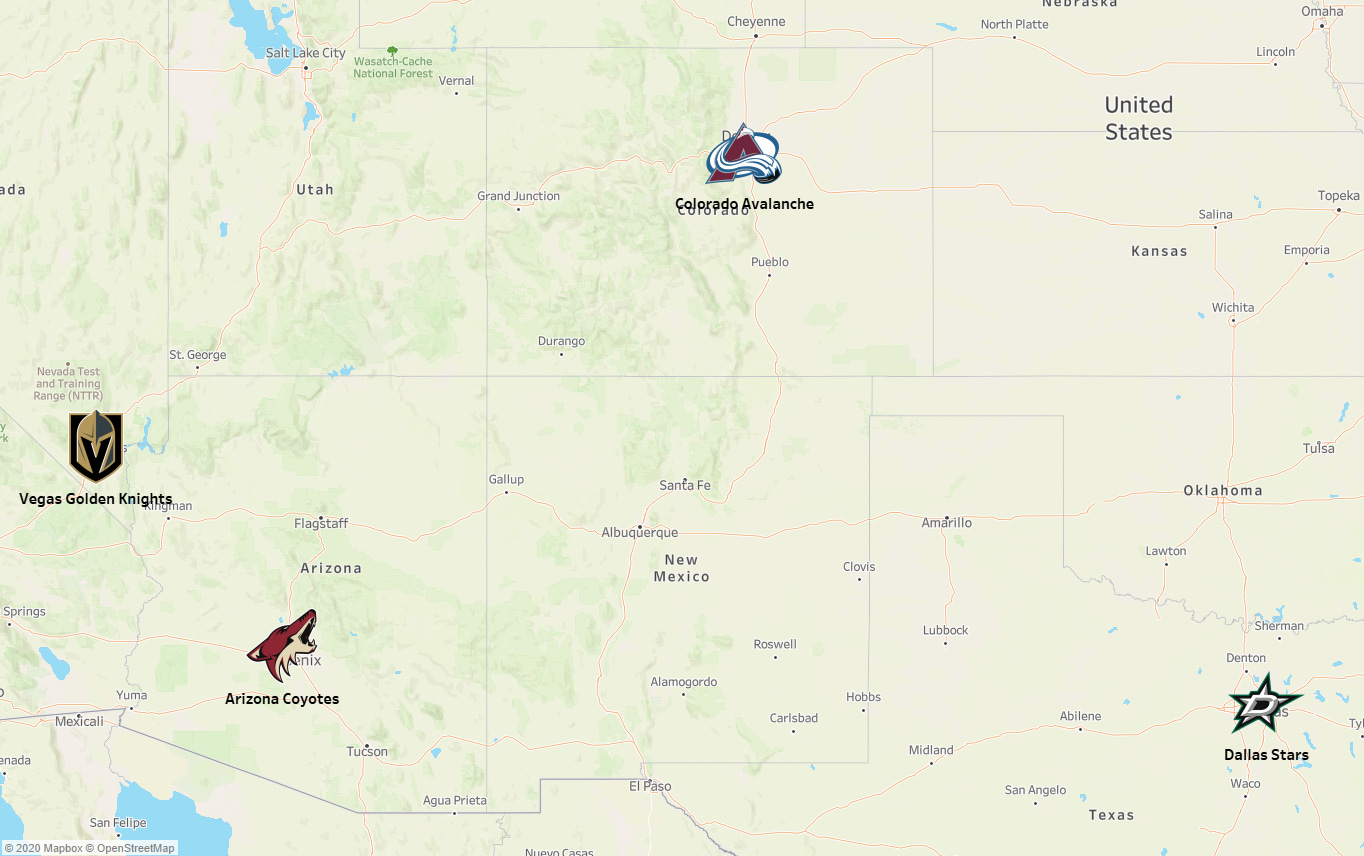 Southwest Division
Arizona Coyotes
Colorado Avalanche
Dallas Stars
Vegas Golden Knights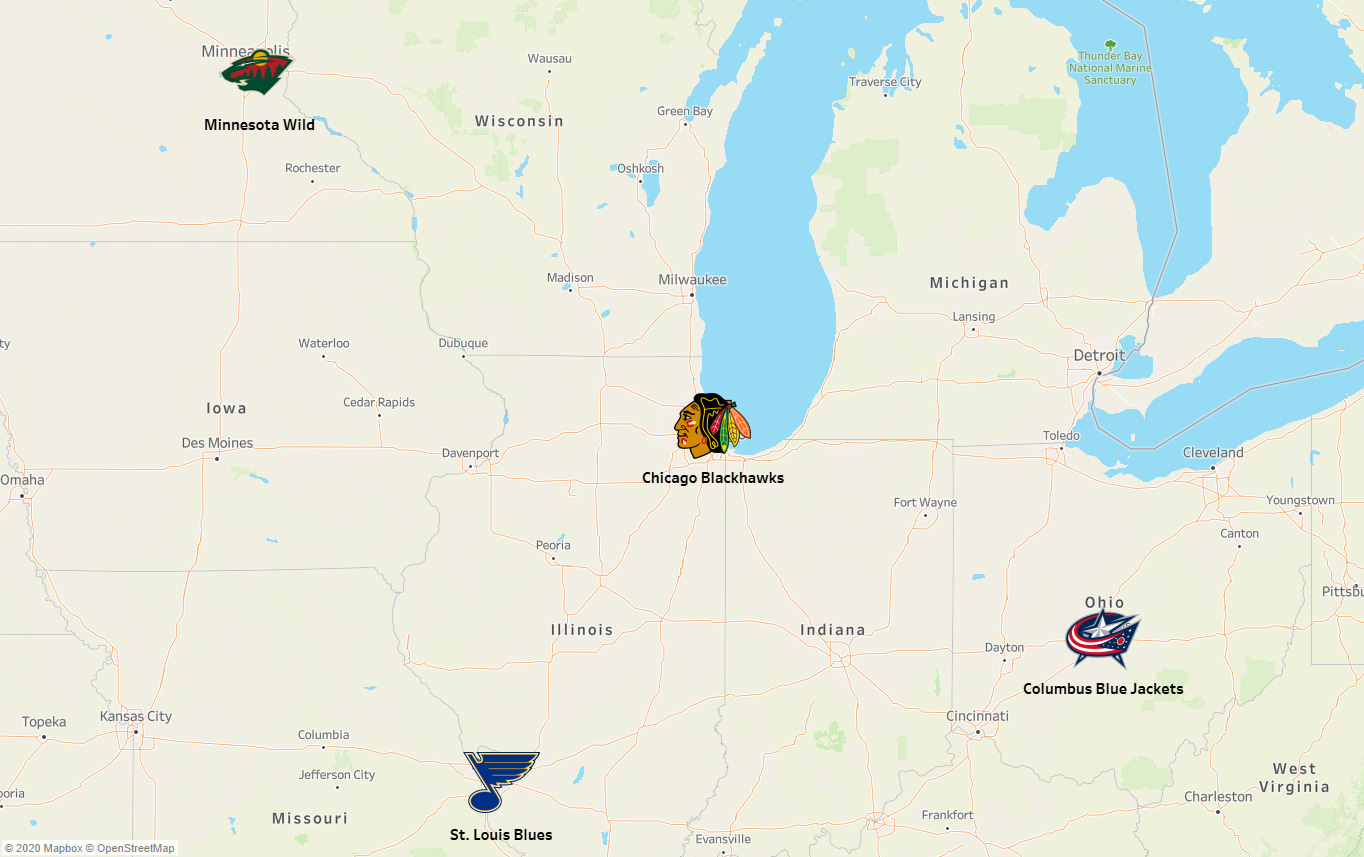 Central Division
Chicago Blackhawks
Columbus Blue Jackets
Minnesota Wild
St. Louis Blues

EASTERN CONFERENCE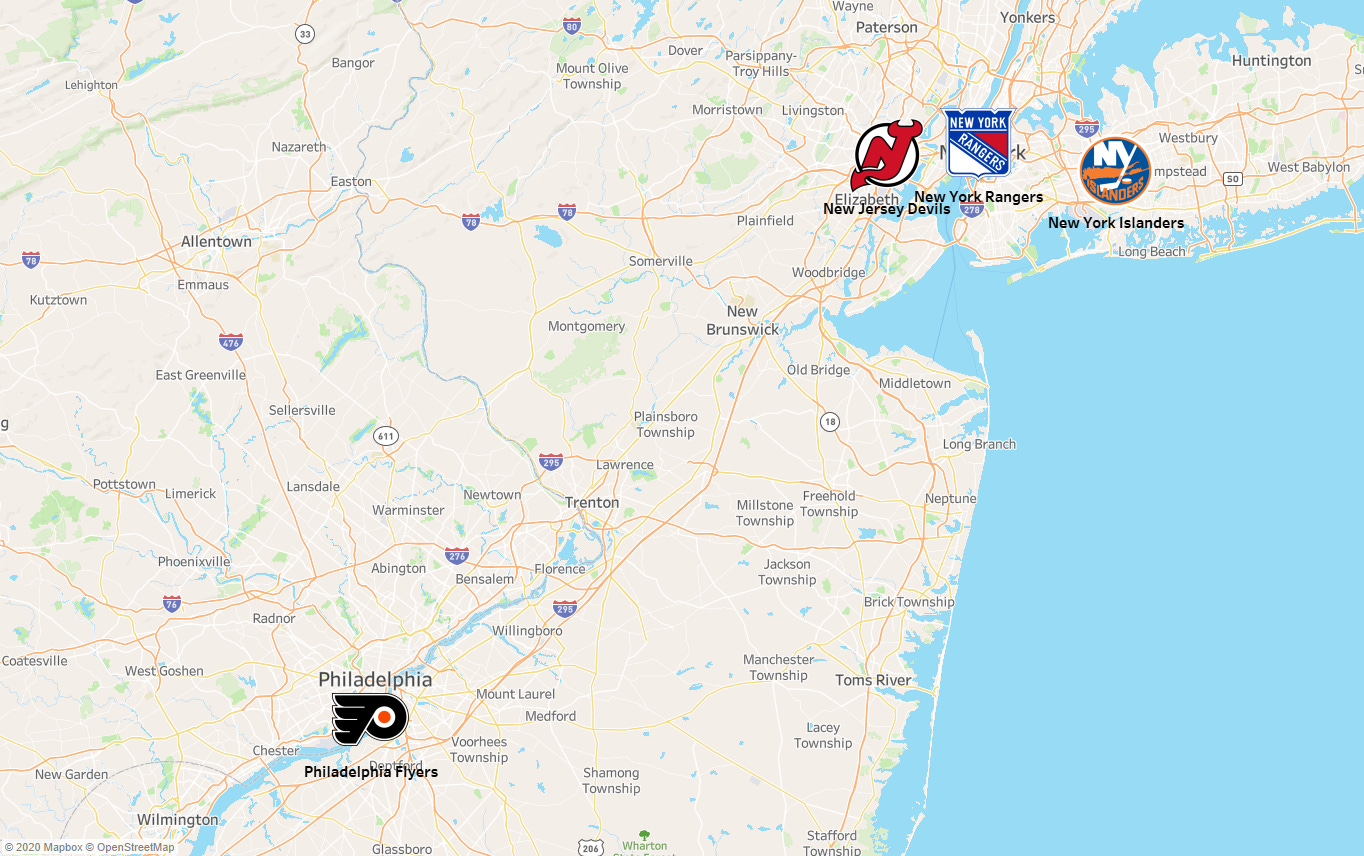 Metropolitan Division
New Jersey Devils
New York Islanders
New York Rangers
Philadelphia Flyers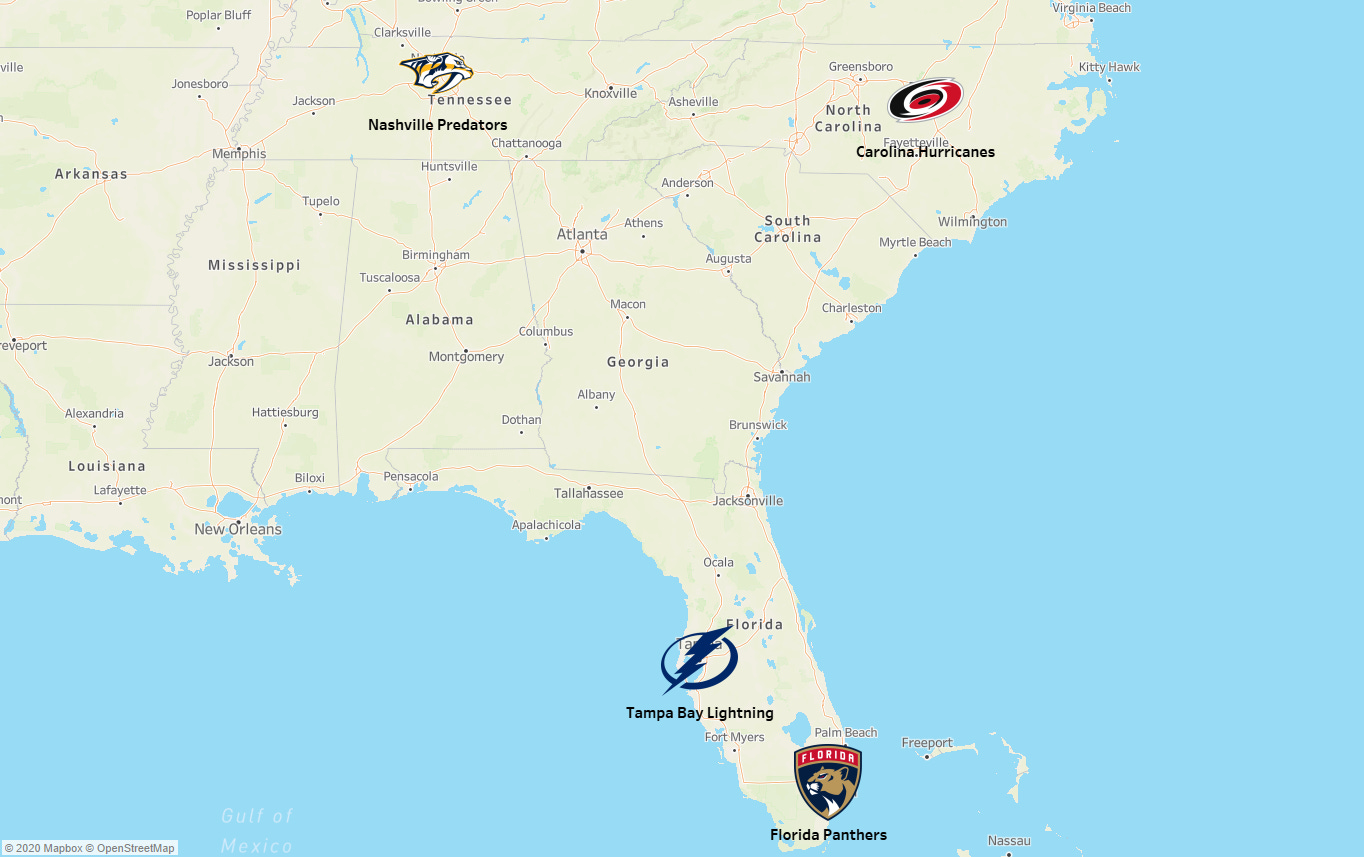 Southeast Division
Carolina Hurricanes
Florida Panthers
Nashville Predators
Tampa Bay Lightning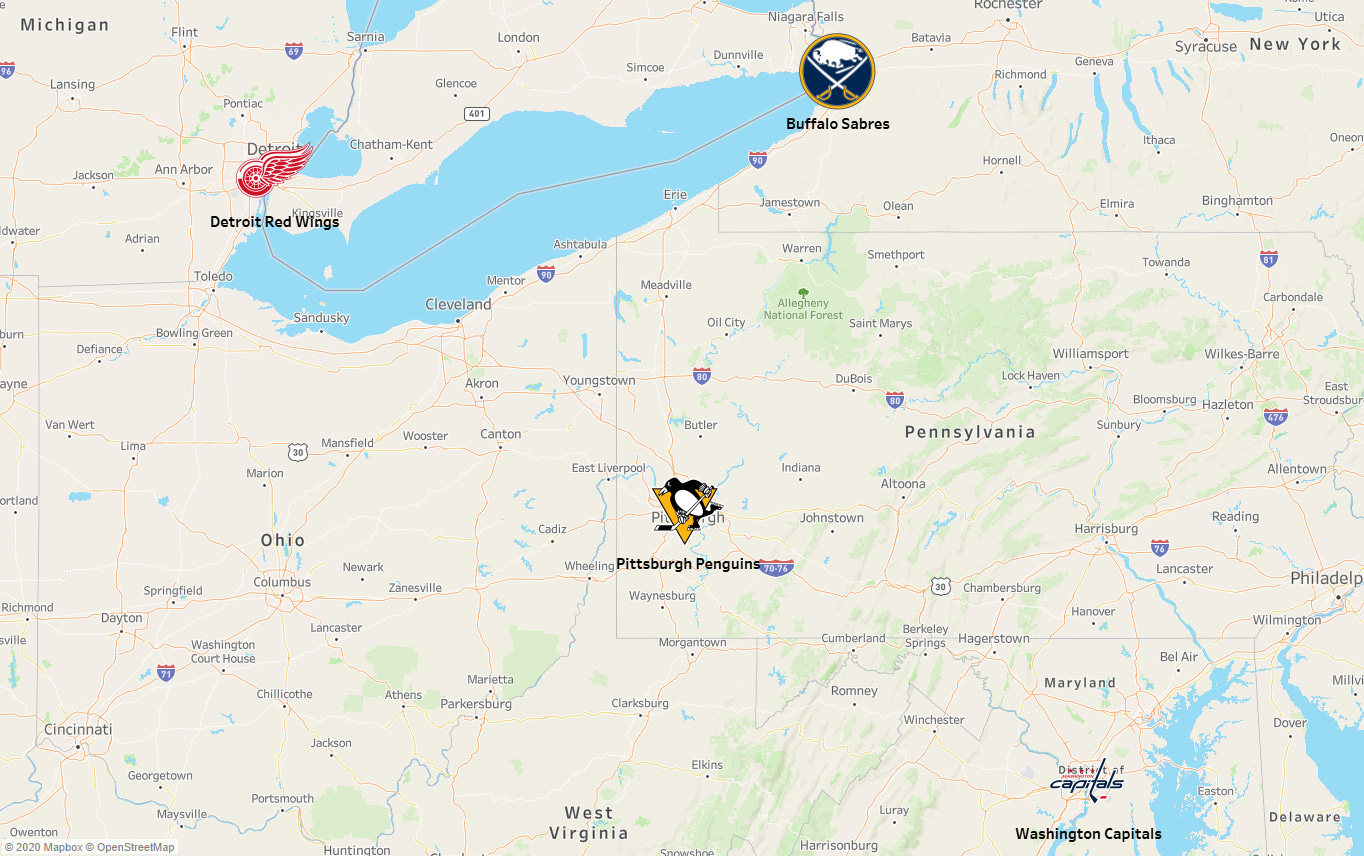 Mideast Division
Buffalo Sabres
Detroit Red Wings
Pittsburgh Penguins
Washington Capitals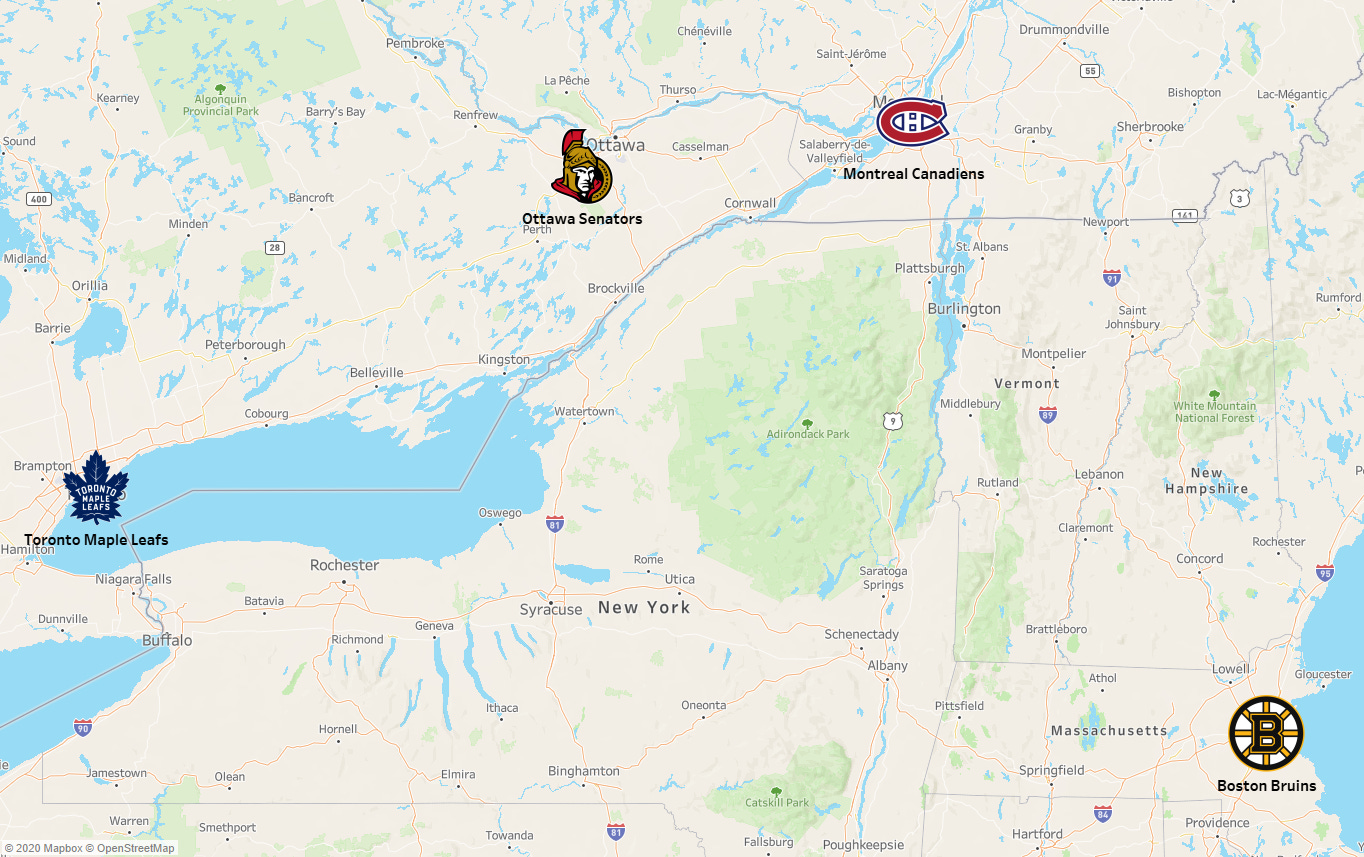 Northeast Division
Boston Bruins
Montreal Canadiens
Ottawa Senators
Toronto Maple Leafs
Regular season & postseason
Season length: 82 games
Intradivision games: 18 total: (3 home, 3 away vs. each of the three division opponents)
Intraconference games: 48 total (2 home, 2 away vs. each of the remaining 12 teams in a team's conference)
Interconference games: 16 total (8 home and 8 away vs. the 16 teams in the other conference, playing each team once). Eight of those games would be at home. Eight would be on the road. The schedule would rotate on an annual basis between home and away sites. Example: If the Coyotes played the Penguins in Pittsburgh in 2021-22, they would meet in Arizona in 2022-2023. If the Coyotes played the Boston Bruins in Arizona in 2021-22, they would meet in Boston in 2022-2023.
Playoffs:
Each conference's four division winners earn automatic postseason spots, seeded 1-4 by record.

The next four best records in each conference earn the remaining spots, seeded 5-8 by record.

If the NHL wants to continue the qualifying round idea it has introduced this season, it would be easy to do. Just add the four next best records in each conference, seed them 9-12, and give the four division winners a bye while the lower eight seeds square off just as they will this season. Once the qualifying round ends, teams would be re-seeded by record.
Sadly, I don't think this or any other proposal will see the light of day, but here's hoping the NHL gives this a little more thought than it has to date. It owes its teams that sort of diligence.


Follow Craig Morgan on Twitter: @CraigSMorgan