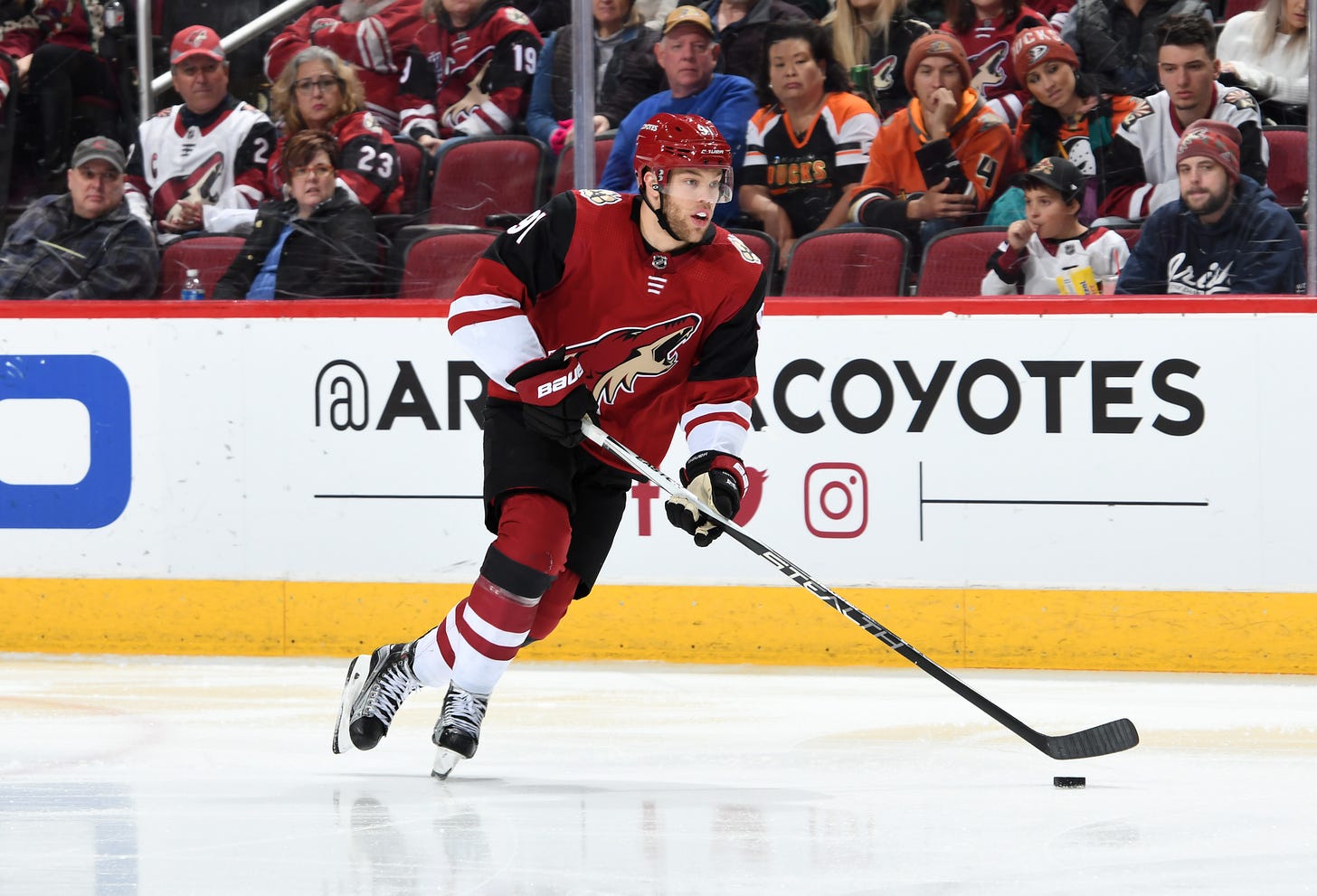 Taylor Hall, photos courtesy of Arizona Coyotes
---
Three years ago, Taylor Hall made light of his influential powers when his New Jersey Devils won the 2017 NHL Draft Lottery and the right to select center Nico Hischier with the top pick.
When Hall turned the trick again in 2019, affording the Devils the right to draft center Jack Hughes at No. 1 overall, the 2018 Hart Trophy winner put his achievements in perspective.
Few hockey observers expected Arizona to be in the running for the first overall pick in 2020. The Coyotes' odds were long when Phase 1 of the lottery took place on June 26, and their lack of lottery luck is rivaled perhaps only by the Vancouver Canucks' dreadful showing. But when placeholder Team E (with a 2.5 percent chance of winning) was assigned the No. 1 pick, the Coyotes' chances of claiming the top pick climbed to 12.5 percent, provided they lose their play-in round series to the Nashville Predators.
If you were hoping for another witty response from Hall, however, you'll be disappointed. He has lost his sense of humor when it comes to the lottery.
"It's a dubious record and it's something that I have tried to make light of before, but it's getting a little bit old," he said. "I don't really know what to make of it. It has been weird for sure, but I think we'd rather win the series and get a chance to play for the Stanley Cup than get that pick. I want to be in the playoffs every year for the rest of my career and not have to worry about it ever again."
Every player wants to be in the playoffs every year, but a 10-year NHL veteran and a one-time MVP probably deserves to taste the postseason more than once. Hall's only playoff experience came in 2018 when the Devils earned the Eastern Conference's final wild card and a date with top-seeded Tampa Bay. Hall had two goals and six points in that series, but the Lightning eliminated the Devils in five games.
"It was pretty quick," he said. "I think the whole series was 10 days so it wasn't as long as I wanted it to be, but the pressure, the fans and the atmosphere are what I remember most. The fans in Jersey were awesome and the atmosphere they created in the playoffs was something that I didn't expect. Obviously, that's not going to be the case this time around with no fans, but the pressure and the magnitude of the games is something that has stayed with me. It's something I want to experience again and that was just the first round. I can't imagine what a Cup Final would feel like.
"Every goal meant so much. Even an empty-net goal felt huge to put away a game. When you look around the room, everything mattered, every period mattered and when you lost a game, whether it was 6-2 or 3-2 in overtime, it felt the same. It felt awful."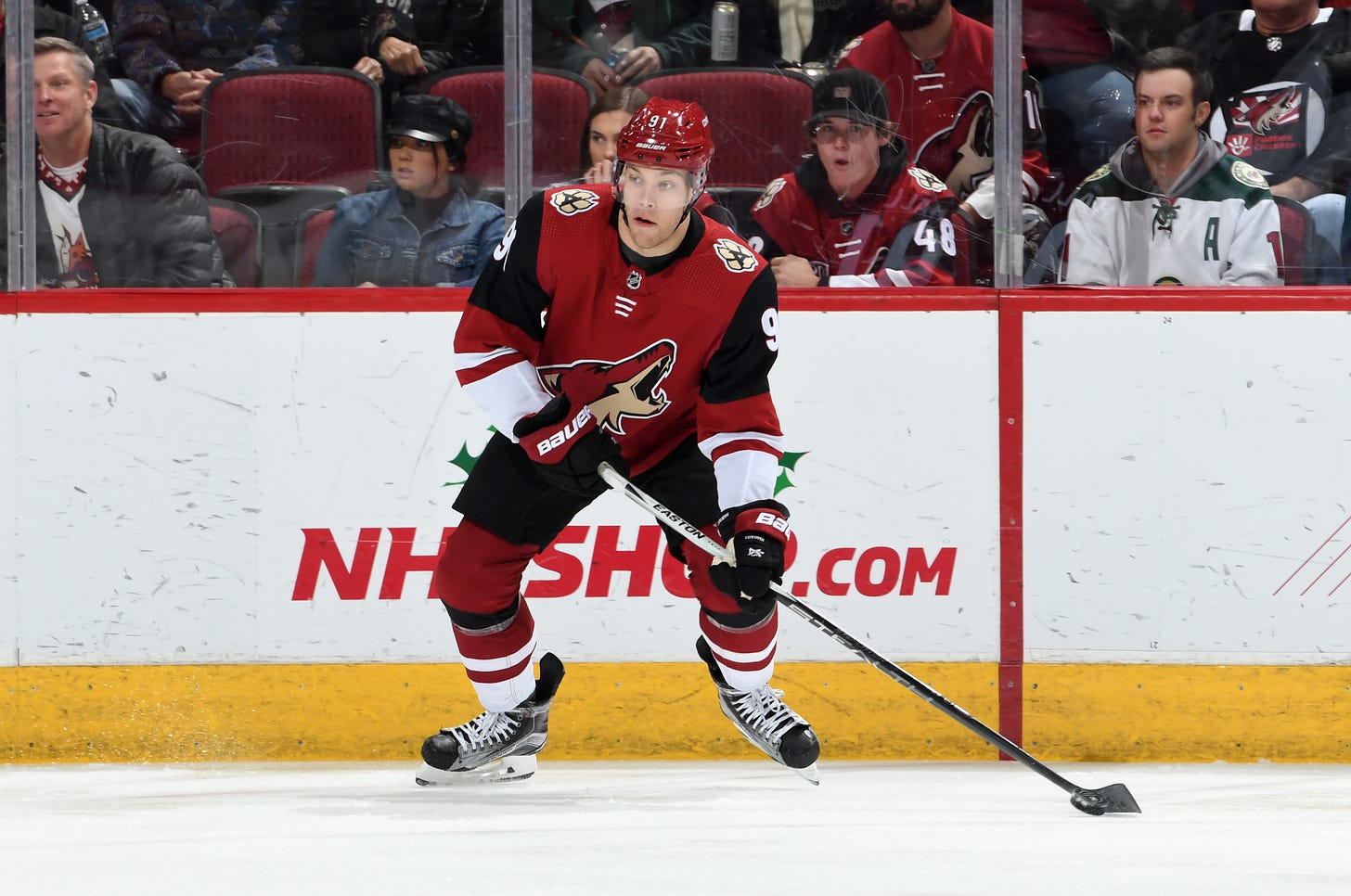 A little postseason run would do wonders for the Coyotes franchise as it tries to build some momentum with a new owner and renewed arena hopes after a seven-year playoff drought. A postseason run might also convince Hall to re-sign with the Coyotes instead of opting for unrestricted free agency, but the postseason is just as important for Hall in these unusual circumstances. The new collective bargaining agreement has not yet been ratified but it is expected to be. When it is, the Coyotes and every other team will be dealing with a flat cap for the next two seasons, limiting most teams' flexibility and limiting Hall's options on the open market.
"It's about what I expected," said Hall after perusing the details of the proposed CBA. "Everybody is going to pay the price with this pandemic. I haven't lost sleep over it at all."
Coyotes general manager John Chayka has steadfastly insisted that he wants to re-sign Hall. Hall and his agent, Darren Ferris, have steadfastly insisted that they are open to re-signing in Arizona, but all sides have deferred further comment in order to focus on the games.
"That's all I can really do," Hall said. "I doubt there will be contract talks this close to the games anyways. Just go play.
"It's obviously a different situation than normal and everyone knows we were on the outside of the playoffs looking in when the season paused, but it's an opportunity nonetheless and we know that anything can really happen. For myself, just to play games of this magnitude is what I wanted coming into this season."
Hall isn't wasting much thought on the unique variables present in this postseason, including a long layoff, healthy rosters, no home-ice advantage for 22 teams, playing in the city (Edmonton) where his NHL career began, and no fans in the stands.
"I think you can overthink it a little bit," he said. "I just skated for a month and a half back home in Toronto and there were no fans there and I didn't have a problem playing hockey and getting up for the ice time. I know everyone is making a big deal about that. I think the first one or two games will feel different but after that, I think it's going to be feel normal.
"We practice in away rinks on the road and there's no one in the seats except you guys (media). It will be like that with a game. I think everyone is going to be fresh, well rested and have a lot of juice for the games. Maybe it will be different for the type of player that thrives off that energy and that excitement in the building, but if you can create your own enthusiasm and energy in the dressing room, I think it'll be fine. Most of all, I'm just excited to play hockey again. I'll worry about all that other that stuff afterward."
Follow Craig Morgan on Twitter: @CraigSMorgan