Welcome to the AZ Coyotes Insider newsletter. My plan is to publish stories four to six times per week. By subscribing, you'll be supporting independent, accountable journalism. Subscribe now so you won't miss a story.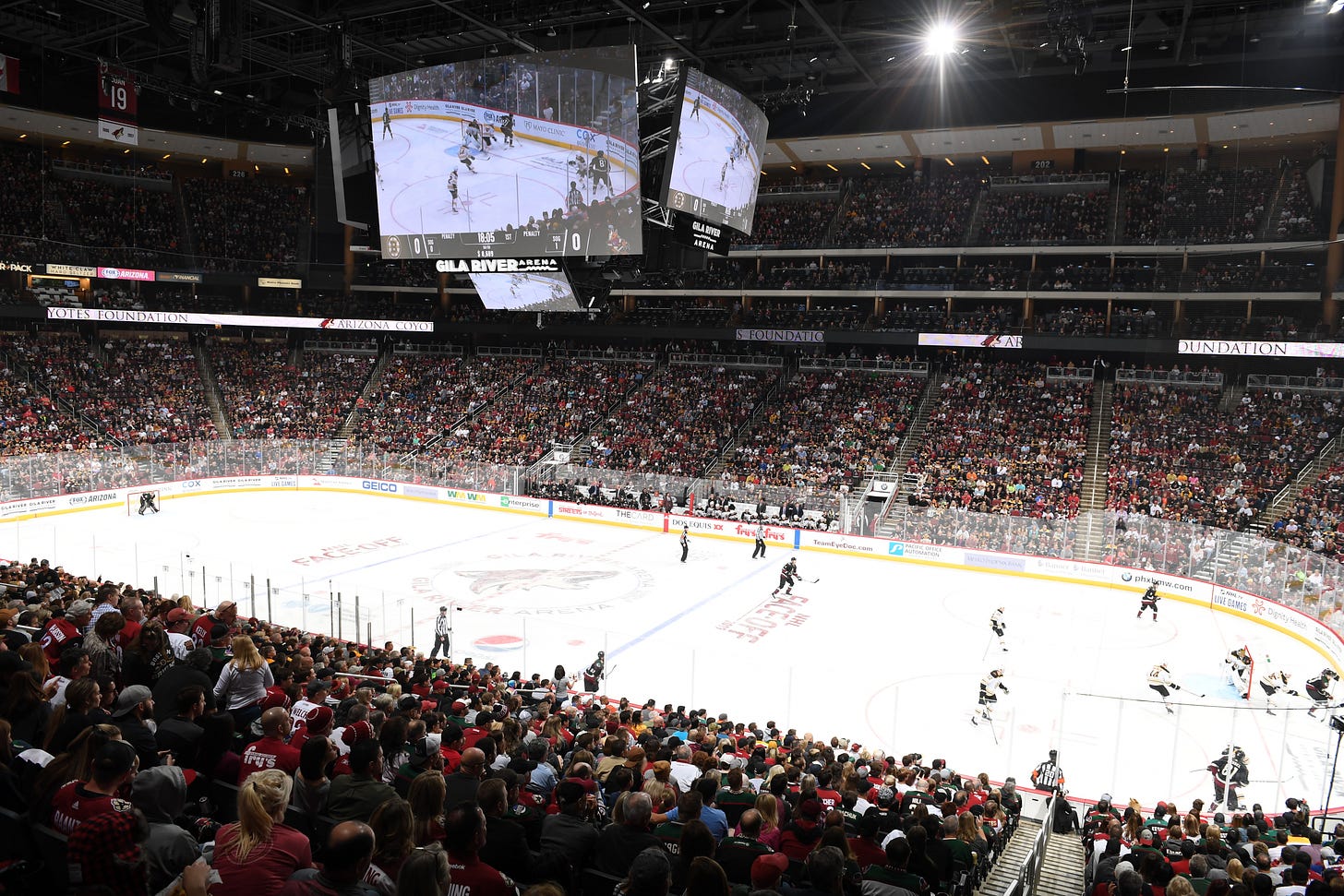 Gila River Arena. Photos courtesy of Arizona Coyotes
---
When Rosalind and Rick Condrashoff departed Sun City for their summer home in West Kelowna, British Columbia, the two snowbirds wondered what would become of all that money they had paid for their 2020-2021 Coyotes season tickets. While Canadian citizens are still allowed to cross the U.S. border, British Columbia ordered the closure of all nightclubs this week with Canada experiencing a spike in COVID-19 cases. Even if the Condrashoffs are able to return to Arizona in the fall, a delayed start to the season could impact their ability to use their tickets.
"I did ask (the Coyotes) when we got back to Canada, 'What are you going to do if we can't come back over the border?' Rosalind said. "They said they would worry about that when it happened, and then my rep was furloughed for a while so I really don't know what's happening.
"One of my concerns is that I paid for a season running from September through April. I come for the winter and I am only able to stay for 180 days. If they change the season a lot, I cannot be there as we come for the winter season for the weather and our health."
Condrashoff was one of six season ticket holders who reached out to AZ Coyotes Insider to voice a handful of concerns. Jeff Keck, Terry Johnson, Steve Irwin, Kevin Elliott and Joy Griggs are the others. All six cited a lack communication from the Coyotes over the past five or six months as their greatest concern. While some have reached out to their ticket representatives to acquire information, all of them felt it should have been the other way around.
"I feel like they should have reached out to all of us and said, 'We're coming up with a plan,' or 'We know you have concerns while we're taking your money but we can assure you that we will either credit you or we'll do something if it doesn't work out that you can attend games,'" said Griggs, a Surprise resident who owns a weekender package. "We shouldn't have to reach out to them. They should contact us. They're taking our money. They owe us that kind of communication."
UPDATE: The Coyotes responded to the concerns of the six specific season ticket holders mentioned in this story (and one other in the comments below the story) by confirming that they have had numerous communications with all of these individuals (based on customer interaction data) and have worked with most on deferring payments and customizing payment options if necessary.
It has been a tough stretch for the Coyotes. Furloughs, layoffs and non-renewed contracts have decimated staff in all areas of the organization, including ticketing. Compounding the Coyotes' difficulties is the fact that they simply don't know what is going to happen to the 2020-21 schedule. They are awaiting direction from the league. When contacted about the season ticket holders' concerns, the Coyotes issued a series of responses in the form of statements.
"The (ticketing) staff has had contact with their accounts close to once a month throughout this entire pandemic. Whether it has been wellness checks to see how fans are coping with the pandemic, to providing playoff updates, to sharing articles of interest on what the team is up to. Unfortunately we don't always have the answers they are looking for because of the fluid and unprecedented situation we are in.
"The Canadian border question is fluid as well, as a lot can change by the time the NHL season begins. We have asked these fans to remain patient and let them know that we will work with these accounts as we have answers regarding this situation."
The six season tickets holders who reached out know that the league has not released a formal plan for next season. They know that the Coyotes are operating with a skeleton crew, but they have specific concerns that they believe warrant more attention than they have received.
"What I'm looking for is some type of proactive communication from the Coyotes that recognizes all of this uncertainty," said Keck, who owns a weekender package. "They've got a lot of my money right now. Let's take a breath. I don't want to pay anything until we know definitively how the season is going to go. They don't need to be charging my account when we don't even know if we're going to be sitting in those seats.
"Think about this in the long term. Even if they have contract language that can stick it to the fans right now, OK, so you may take my money this season but you'll never take another dime from me again."
Irwin's wife is being furloughed and his job as a nurse recruiter took a major hit over the past several months, creating financial concerns for the couple, who own a full season ticket package. Irwin has another concern.
"I'm actually high risk for COVID," he said. "I have a family history of high cholesterol, high blood pressure and I have a history of asthma and lung issues. I'm one of these targets that this virus just loves so I have been a hermit. I don't see anybody. I work from home and my kids are home-schooled right now.
"I voiced my concern that I wasn't going to be able to go the games and I didn't like the tone I got back. It was basically, 'Well, you made a commitment to us so we expect you to honor that commitment.' I said, 'Well, you guys didn't deliver your product last year. You owe me money for games that I didn't get to go see.' And (my rep) said, 'Well, that will just be credited to your account.'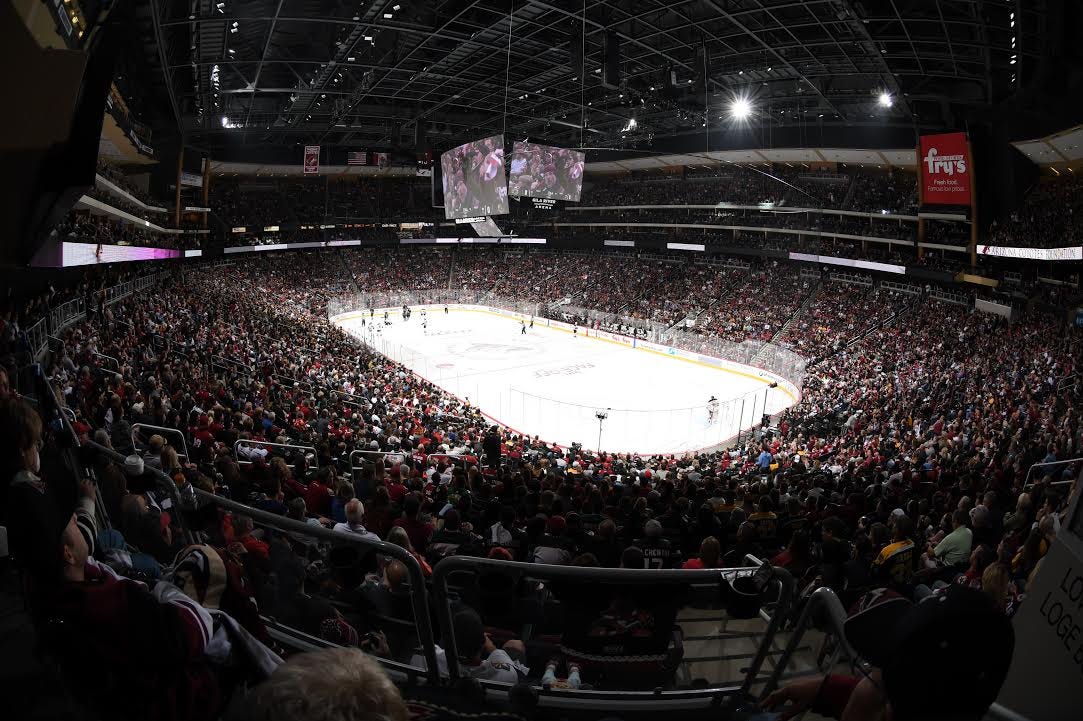 Irwin understands that he signed a legal contract, but he feels his extenuating circumstances warrant special consideration in unprecedented times.
"I can't go to games and I can't send my family because if they're in a stadium with even 5,000 people, the chance of them contracting something and bringing it back to me is much greater," he said. "It's not worth me getting sick or dying to go watch hockey. I love hockey, I got married in a hockey jersey but come on. And then when you add in everything that keeps happening to this team including poor decisions, a bad on-ice product and these missed bonus payments — it all keeps adding up. They just need to take better care of their fans in my opinion.
"I agreed to keep paying for now and I moved the location of my seats, but I won't be attending any games until there is a vaccine and proven treatment. I won't be setting foot in that building and it really rubbed me wrong the way (my rep) handled it. My wife and I are losing money, we're in the middle of a pandemic and you want to hold my feet to the fire when you have delivered a subpar product for the past six seasons?"
The Coyotes said they have addressed individual concerns.
"We have had fans at high risk come to us and we have worked with them on a per account basis," the team said in its series of statements.
Irwin wishes the Coyotes had waited on season ticket renewals until they had more clarity on the upcoming season. Johnson and Elliott believe the Coyotes should provide more options for what to do with their money.
"I just feel like the Coyotes have decided where and when to spend our money without any kind of feedback -- especially with the COVID-19 situation – about delays in the season and then also the most recent changes in team management and the league reprimands which affect their future draft choices and which affects, in my mind, the quality of the product," Johnson said. "I basically haven't gotten any alternatives as to how we can either recoup our money or do anything of that nature other than have them hold onto it."
"They didn't offer any alternative but to put the payments on pause," Elliott added. "It was, 'You will be paying.' I just asked that it be paused until we get some clarity. I guess I probably should have held off renewing altogether until I found out more so it's my own fault, but I would consider a refund right now if it was offered because another thing to consider is the Coyotes' ability to put a contender on the ice with all of the changes."
Here is the Coyotes' response.
"A ticket member does have to accept our terms and conditions when they log in and complete their invoice for their ticket package. We have been working with accounts who have brought to our attention their concerns on COVID and working with them so they feel comfortable committing to the season. We are still working on plans with regards to reduced capacity which will mirror the NHL stance. For fans that purchased and are now uncertain with things or have suffered financial hardships due to the pandemic, we have offered to defer payments on their accounts until we have more answers for them.
"When the time comes, we plan to release options for fans that may feel uncomfortable attending games. These plans will outline options for them to use their credit for the 2020-21 or even apply it to the 2021-22 season."
The Coyotes hope the league will provide more clarity on the schedule soon, and they are planning for the possibility of fans returning to Gila River Arena next season.
"When fans ask, we have been mirroring the league's stance on looking to begin the season when teams will be able to safely welcome back fans. With this being a fluid situation, we have updated our fans as much as we can, but with the season still going on, it is tough to give an exact timeline.
"We have begun planning many different scenarios for the possibility of a reduced capacity arena for next season. ASM Global (the arena manager) has launched Venue Shield which will make sure fans feel comfortable coming to Gila River Arena once we can welcome them back."
Are you a Coyotes season ticket holder? If so, what has been your experience since the COVID-19 induced pause? Use the comments section below to reply.
Follow Craig Morgan on Twitter: @CraigSMorgan