Discover more from AZ Coyotes Insider, LLC
The most complete, independent coverage of the Arizona Coyotes. Sign up to sample free content. Want full access? The cost: $5 per month, $60 per year or the founding member option (any amount above annual sub rate). Twitter: @CraigSMorgan
Over 2,000 subscribers
On The Couch With Craig: Randy Exelby
The third in a series of profiles of AZ Coyotes Insider founding members
Welcome to the AZ Coyotes Insider newsletter. I generally publish stories four to six times per week (some of them free). By subscribing, you'll be supporting independent, accountable journalism. Subscribe now so you won't miss a story.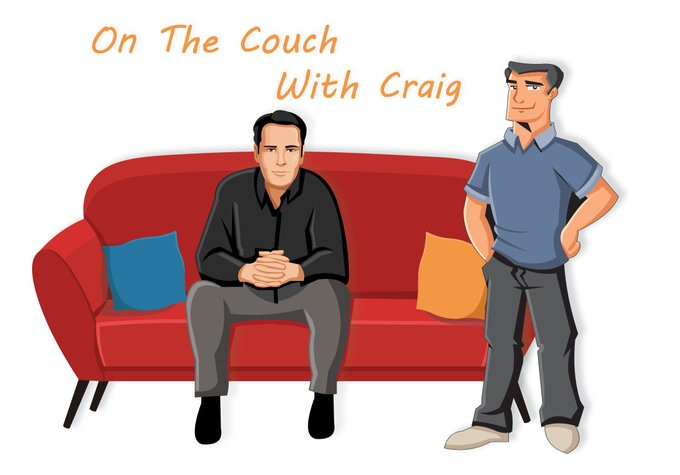 Illustration by Bea Wyatt
---
If you have played hockey in Arizona, if you have kids who play hockey in Arizona, or even if you have relatives or friends who play hockey in Arizona, you probably know who Randy Exelby is. His three Behind The Mask Hockey Shops locations have been outfitting hockey players of all ages for the past 26 years.

Exelby's connection to Valley hockey runs even deeper than the Coyotes' connection. Exelby played a season for the Phoenix Roadrunners (the IHL version) in 1989-90 during a four-year minor-league career that also saw him appear in two NHL games for Montreal and Edmonton. He is also related to an up-and-coming Coyote pictured below.
Exelby is the latest AZ Coyotes Insider founding member to take the couch and tell AZCI readers his life story to readers. Randy, your session begins now.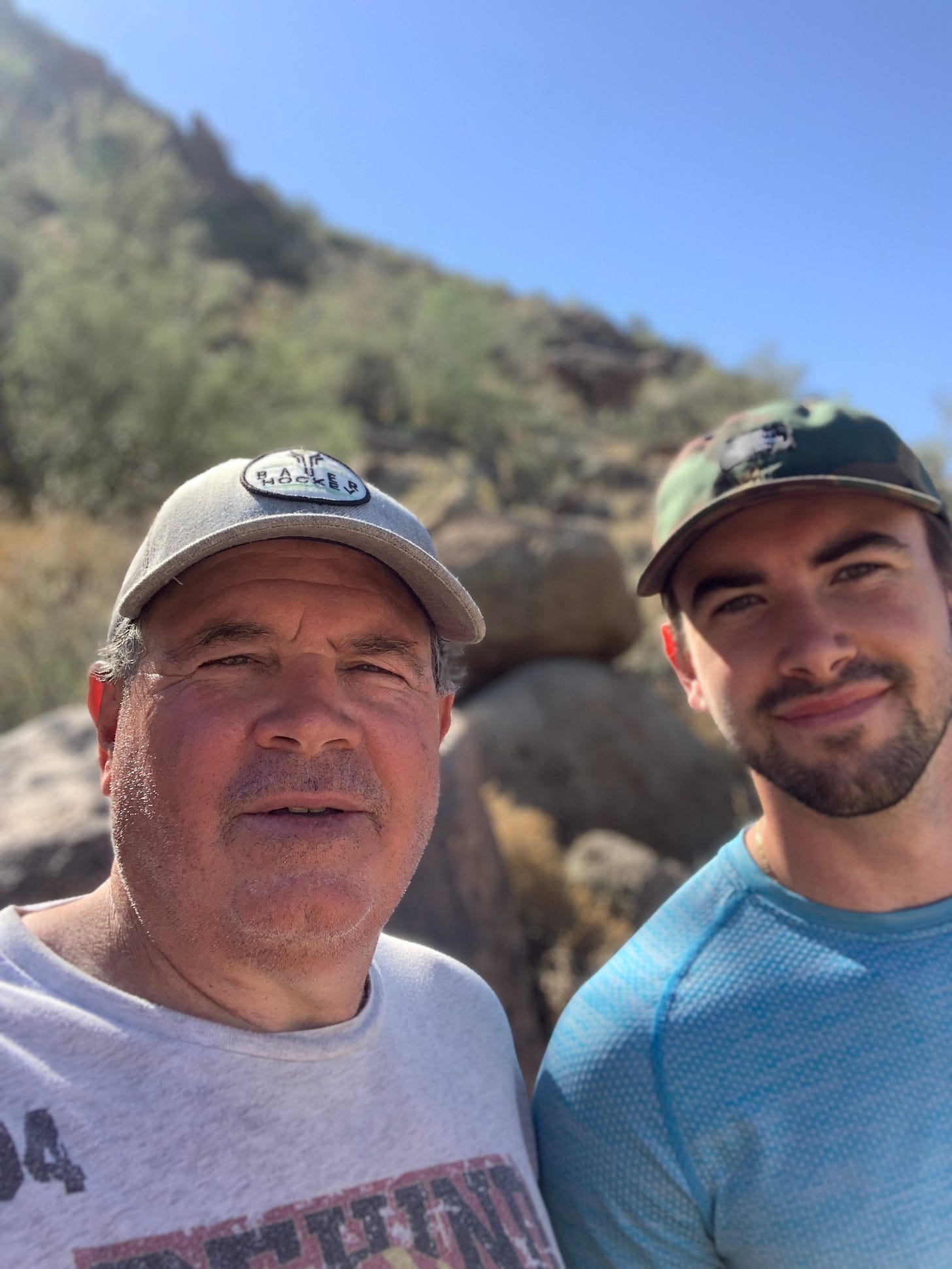 Randy Exelby with his nephew, Coyotes/Roadrunners defenseman Kyle Capobianco (right).
Photo courtesy of Randy Exelby
---
Full name: Randy Exelby
Twitter handle: @BTMhockey
Birthplace: Montreal, Canada
Current city of residence: Scottsdale
Arizona history: Traded from Montreal Canadiens to Edmonton Oilers in September 1989, sent to the minor league IHL affiliate Phoenix Roadrunners. Loved it here and made it my home after my playing career.
Age: 55
Occupation: Owner, Behind the Mask Hockey Shops
Hobbies: Racehorse owner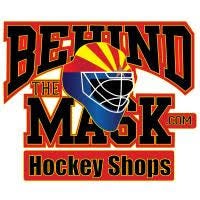 Describe how you became a Coyotes fan and your involvement with/connection to the team over the years?
Starting Behind the Mask (BTM) in March 1994, the biggest boost to my business was hearing that the Coyotes were moving to Phoenix from Winnipeg for the start of the 1996-97 season. It instantly made hockey mainstream. Once people starting going to NHL games it made more hockey fans and players. With this, more ice rinks opened. Over the years, BTM has purchased and continues to purchase used and new gear from the Coyotes.
I spoke at the City of Glendale city council meeting to determine the fate of the team; speaking on how important them staying was to the growth of hockey in the state. But I was upstaged that night by my good friend and Coyotes season ticket holder Ronda Pearson unloading on Mayor Weiers. That video went viral.
Tell AZ Coyotes Insider readers more about BTM, how you got into this business, what is unique about your product and how BTM has helped keep you in touch with the hockey community?
Growing up in Toronto, there was a local hockey shop I bought my gear from and got my skates sharpened at for many years. They knew you when you walked in the door and always took great care of me. During my college playing career at Lake Superior State University, and riding the buses in the minors, I was always drawing designs for a hockey store. I originally thought I would open a goalie-only store in Toronto, but because I played in Phoenix and loved the area, when I retired I moved here full time, so I wondered what I was going to do.
I took a huge leap of faith in 1994, opening a 400-square foot store in Peoria. When the store first opened we sold trading cards, pogs and a little hockey equipment. Our only hockey vendor was Rollerblade, who at the time ventured into inline hockey skates and protective gear. It took years to establish accounts with the major vendors Bauer and CCM. Our first month in March 1994, we did $900 in sales. Looking back, it was a crazy business venture to open a hockey store 30 miles from the closest ice rink in the desert. At the time there were two full-time sheets of ice in greater Phoenix.
As hockey grew, BTM expanded to three stores. The retail hockey stores have allowed me to build many great friendships. It brings me joy to see our long-time customers now coming in with their kids or grandchildren. The hockey community is a big family. Plus, my employees are like family to me. I am honored to see them grow up and either stay with BTM or venture out on their own. BTM travels the state to promote and help grow hockey. On Oct. 6, we will be in Yuma with a bunch of donation equipment and to help outfit kids for their fall inline rec season needs.
You have a greater sense of Arizona hockey history than most. Can you take us way back to your pro days and tell us some stories about the early days of hockey in Arizona?
I had never been to Phoenix prior to stepping off the plane after I was traded. My first thoughts were, 'Wow, the weather is beautiful.' It was 1989 and it was the first year back for the Phoenix Roadrunners of the IHL. At the home opener, 10,000-plus fans packed Arizona Veterans Memorial Coliseum. I loved the energy of the fans when I played here. You could stop a shot from center ice and the crowd would cheer.
There was quite a group of characters on the team that year. ur head coach was NHL ironman Gary Unger, who was still better than most of the players on our team at the time. Longtime NHL coach Bruce Boudreau led the team in scoring. What people now don't understand was there was a large hockey base of passionate fans. These fans were carryovers for the WHA days. I heard stories of back in those WHA days when the Roadrunners had more of a fan base than the new NBA Suns team.
I'm not sure if you are a mascot and logo guy, but which team has the coolest mascot/logo combination in the history of hockey and why is it the Roadrunners?
I had played for many teams but my favorite logo was always the Roadrunner. I was glad to see the new Tucson AHL team decide to use the logo and name, with the updated Coyotes colors, although the team has had some throwback, old-school Roadrunner blue jerseys games. My first year with the Roadrunners, our mascot Rocky did some amazing on-ice stunts: jumping over barrels on the ice, riding motorized vehicles on the ice and more. I believe the Coyotes mascot Howler is the best in the league.
We know a little about Taco Tuesdays with Kyle Capobianco. Tell us some more stuff we don't know about the future Coyotes defenseman.
Kyle starting coming to Arizona when he was five, being a shooter at the BTM Goalie School each year. He made many friendships with the BTM Goalie School goalies and BTM staff. He has spent parts of the summers staying with me the past four years, as well as when he has been called up by the Coyotes.
Everything we do seems to be a contest with lots of trash talk for bragging rights. It doesn't matter who wins, it seems I always pay for dinner. I am hoping he signs a good contract soon so he can start paying the dinner tab and chipping in for groceries. For now, I am stuck with selling any sticks or gear he leaves around the house as payment. Fun fact: Kyle hates cheese.
I am a proud uncle and look forward to watching him progress as a player and more important, as a young man.
Follow Craig Morgan on Twitter: @CraigSMorgan