Discover more from AZ Coyotes Insider, LLC
The most complete, independent coverage of the Arizona Coyotes. Sign up to sample free content. Want full access? The cost: $5 per month, $60 per year or the founding member option (any amount above annual sub rate). Twitter: @CraigSMorgan
Over 2,000 subscribers
Welcome to the AZ Coyotes Insider newsletter. My plan is to publish stories four to six times per week. By subscribing, you'll be supporting independent, accountable journalism. Subscribe now so you won't miss a story.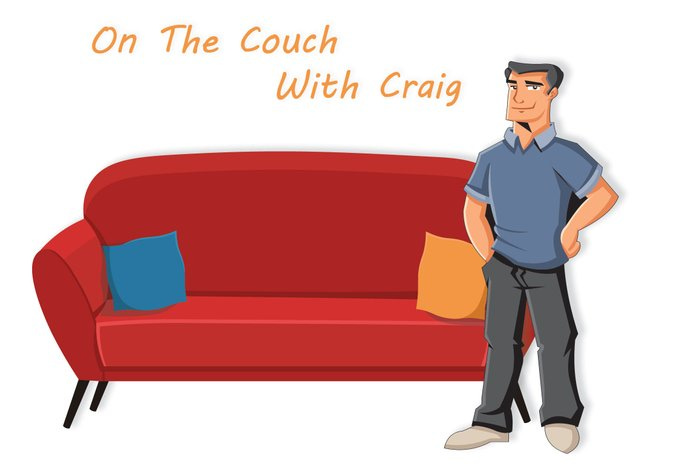 Illustration by Bea Wyatt
---
Almost two months ago, I took a professional trust fall with you, hoping that you would catch me by supporting my new Coyotes-centric website/newsletter. You did and you have. While the Coyotes' season has ended, I can report that I have achieved sustainability with this venture. I still hope for more growth (and a home in Saint-Tropez), but that will be as much on me as it is on you.

On that note, when I launched AZCI, some of you asked: '"Craig, what are the benefits of becoming a founding member instead of simply paying the annual subscription fee?" I gave you a vague, "to be announced later" brush-off and you probably wondered if I had skipped town for The Maldives with your hard-earned cash.

Fear no more. With the Coyotes offseason in full flower, I am rolling out the first of several planned benefits. It's called On The Couch With Craig. But you already knew that because the title is in the headline. It's also in Bea Wyatt's illustration that makes me look far more handsome and charming than I am. Although, I wonder if she has put me in gray Crocs.

Anyway, many of you already know the wacky and capital-letter loving Twitter personality that is Greg Dunaway. Well, he's first up on the couch, but I hope to conduct these interviews every couple of weeks to shed a spotlight on these generous folks who have paid more for my content than I have asked.

Basic bios will be a part of each profile, but I am also asking my subjects/clients/patients for a photo, an illustration or an abstract representation of themselves. Here is Greg's whiteboard drawing, which affirmed for me that my drawing skills are not, in fact, the worst in the world.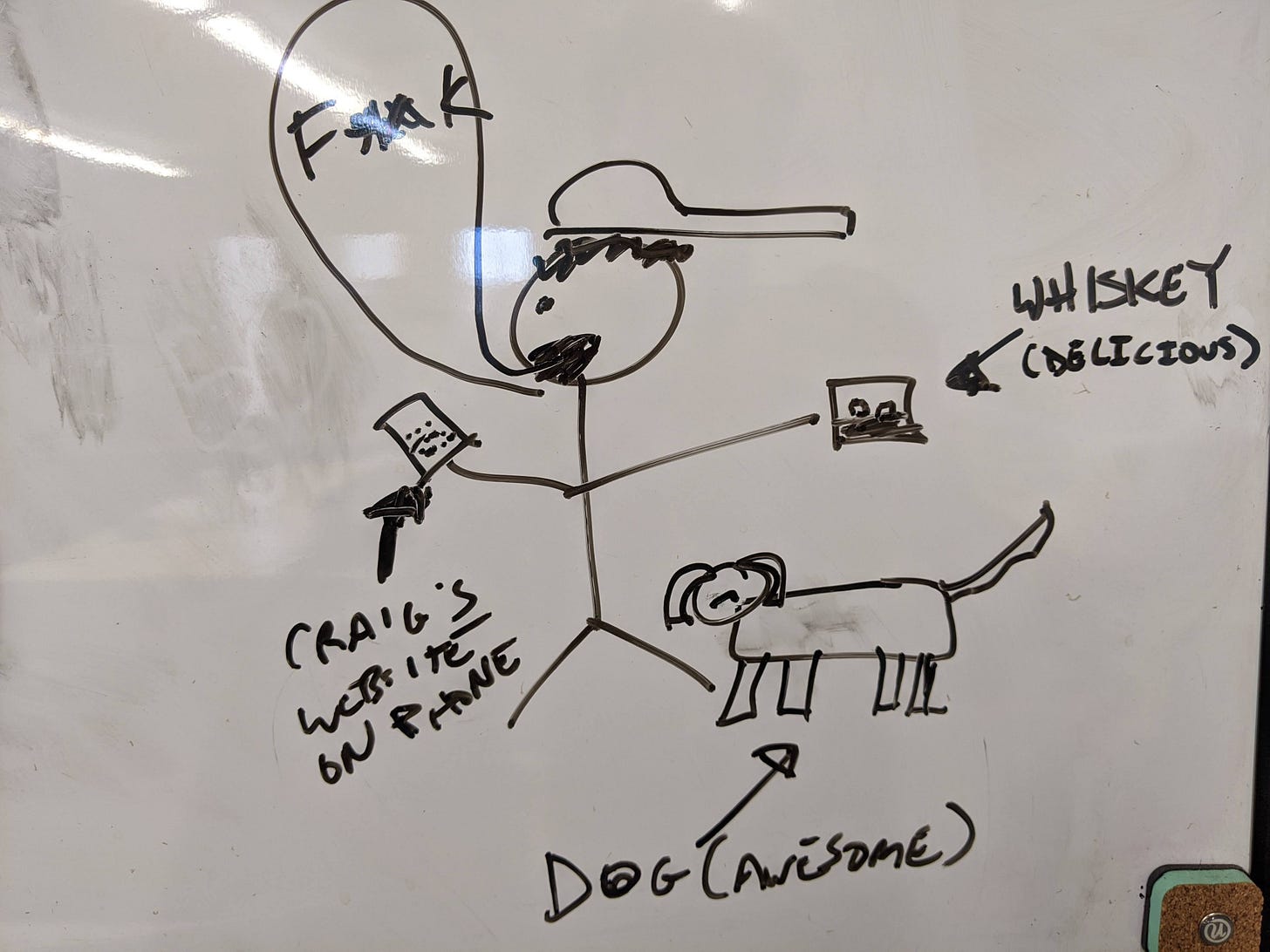 And now, here's Greg. I tried to edit his content. After a while, I just gave up.
Full name: Greg Dunaway
Twitter: @gregdunaway
Birthplace: Woah there, back off, Craig, we're just getting to know each other. San Jose, CA. Los Gatos, if we want to get specific here, before it got all annoying and full of "innovators" and big tech people.
Arizona history: Moved here from the Bay Area. Grew up with the Sharks at the Cow Palace and then jumped over to the Coyotes when they arrived back at America West Arena. I attended both the Coyotes' and Sharks' first home games. It's probably my fault neither team has won a Cup. My early fandom is like the reverse of burying a coin at center ice. Whoopsies.
Age: 34
Occupation: I run marketing for a premium cannabis company in Arizona called Grow Sciences. I've done MANY other jobs. Here's a small sampling: worked on music videos with DMC (of Run DMC fame), traveled/recorded video with a third-party Presidential candidate on the campaign trail, worked for a best-selling author and, once upon a time, I even pitched a couple of television shows.
Hobbies: If it weren't federally illegal, I'd say something about distilling my own whiskey, which for the record, I DO NOT DO. I like Scandinavian soap operas, obscure rhythmic poetry and the music of Bruce Willis. The early Return of Bruno stuff, not that later junk.
Also, I serve on the board of Arizona Animal Rescue Mission. Phoenix is a really rough place to be a dog. We have way too many of them in shelters. AARM is trying to help fix that problem. I encourage everyone reading this to support Maricopa County Animal Care and share homeless pups on Facebook/Twitter. It's literally the LEAST we can do to help save homeless pups in our county. And follow Kim Schulze online. She's a legit local hero.
Little known fact about you: I was supposed to be on TWA Flight 800, but my mom hated JFK (the airport for those keeping track at home) so we changed planes. The person picking us up in France had a dream our plane went down that night and I vividly remember him greeting us with tears in his eyes. Ever since then, I've had a litany of weird shit happen on planes: emergency landings (NOT FUN), aborted takeoffs, accelerated landings, medical emergencies etc.
CUE X FILES MUSIC.
Describe how you became a Coyotes fan and your involvement with the team over the years?
My dad played baseball and football and is from Humboldt County which has zero sheets of ice. He got into hockey after agreeing to attend a hockey tournament in person with a friend. The live experience as a fan for him changed everything. So when I was growing up in California, I played with roller skates, watched the Sharks and generally developed my passion for the game. I became a fan when we moved to AZ and the Coyotes arrived. My dad was a season ticket holder for the Sharks and then became a STH for the Coyotes in 1996. Yes, I do remember Cliff Ronning and Mike Gartner.
The second part of your question I don't really know if I've ever described in detail and I still won't do a blow-by-blow because it's dumb and boring, but the long and short of it is the following: I grew sick and tired of shitty opinion pieces originating in Canada ripping on Coyotes fans, desert hockey, etc. So I started writing parody articles of these hockey elitist writers, usually in FJM-style pieces making fun of their lazy prose, snooty attitudes and flat out rumor mongering about the Coyotes.
Stay with me, there's an important lesson coming up for your children.
Out of the blue, I received a Facebook message from a member of an ownership group that, at the time, was looking to purchase the Coyotes. Turns out, he was following me on Twitter and my blog (RIP) and thought the articles were pretty humorous. I offered to help him and his group as much as I could. And I did so. Even though the bid was unsuccessful, it was a peek behind a curtain that very few fans will ever see. Sobering and sad mostly, the venture ended up damaging relationships, turning people against each other, pushing ugly politics — generally a precursor to our current national nightmare!
But I watched a Coyotes/Kings playoff game with (NHL deputy commissioner) Bill Daly. How crazy is that?
So kids, if you're reading this, never change. Write whatever you want on the internet. That's the key lesson. Nothing you write will ever come back to haunt you or cancel you and you'll instead get caught up in an endless, pointless city vs. NHL franchise saga that will still be going on as the universe implodes on itself. Fun!
Tell AZ Coyotes Insider readers more about your current job.
As I briefly mentioned above, I work for Grow Sciences, a licensed cannabis cultivation here in Arizona. We focus on elite genetics (strains) and delivering quality flower and extracts to the patients in the AZ MMJ program. If you're an entry-level cannabis user or cannabis curious, I'd recommend hitting up our website GrowSciences.com or our Instagram/Facebook and taking a gander. We design our communication with education in mind. Our all natural Live Hash Rosin cartridge is pretty innovative and my favorite product right now.
Sidebar: Some of Craig's more erudite readers may be aware that there is an election coming (ba dum cheeshhhh). Before Cthulhu comes to finally put us out of our misery, I'd encourage you to consider voting yes on marijuana legalization. Jobs are tough to come by, but the cannabis industry is luckily doing very well right now and employing thousands of people across the state. I'd encourage anyone to take a look at a job in cannabis right now, before the boom.
What is the best vacation you can imagine, centered around whiskey?
SLAMMING RED LABEL IN FRONT OF CRAIG'S HOUSE SCREAMING ABOUT SOME MILQUETOAST CRAIG-TAKE THAT SAYS THE COYOTES SHOULD MAYBE KINDA DO SOMETHING IF THEY FEEL LIKE IT AND THE STARS ALIGN AND NO ONE'S FEELINGS GET HURT.
Actual idea:
I wanna go to Scotland and pay someone to drive me from distillery to distillery along the jutting coastline as I warm myself in the delights of fresh scotch and crisp, cold Scottish air.
Does your keyboard include lowercase letters?
NO. AND ANOTHER THING CRAIG - IF YOUR NEW WEBSITE IS SOOOOO FANCY, WHY ARE THERE NO IMAGE GALLERIES WITH BRIEF DESCRIPTIONS OF LISTS AND STUFF? HOW DO I KNOW WHO THE BEST COYOTES PLAYERS OF ALL TIME WERE IF THERE AREN'T ANY LISTS? ELEMENTARY STUFF, CRAIG.
ALSO, I WANT A CALL-IN NUMBER. WHO DO YOU REPORT TO? IF I CAN'T REGISTER COMPLAINTS AND DEMAND THINGS TO MAKE ME GO AWAY, THERE IS SOMETHING WRONG WITH THE ENTIRE CRAIG SYSTEM.
I HAVE THE LEVERAGE HERE SO WHO IS REALLY IN CHARGE AND HOW DO I LET THEM KNOW I WANT CRAIG TO BRING ME A BURRITO AND A BEER, APOLOGIZING TO ME AS HE PLACES THE MEAL IN FRONT OF ME AND AVERTING HIS GAZE FROM MY BLOODSHOT EYES IN ORDER FOR ME TO STOP CALLING HIS FAMILY LAND LINE AND SCARING HIS CHILDREN?
JOURNALISM 101.
What is the most embarrassing moment of your life and why don't you want to discuss it in a public forum?
There's a bajillion ways to go here, but since this is a family website I'll tell this particular story.
Once upon a time, the Coyotes did dollar-beer night or like 2 for 1 beers, something like that. The Coyotes were not good during this particular stretch. Anyway, a friend of mine and I get tickets for the game and go in early, because why not get barely drinkable beer at vastly discounted prices? So we get to the arena, get a round of beers in, chill at the seats and then decide to go back up and get another round. I have no idea what we stepped in or if there was some kind of spill, because on the way to the beer stand, I slip and spill beer. This draws the attention of a very angry looking security guard who informs me I'm being watched due to suspicion of being drunk. To which I should have said "To watch this team, ma'am, I have not even begun to defile myself." But I didn't and just apologized.
Unfortunately for me, she took her job very seriously and was hopping between columns following my friend and I around all 007-ish, probably humming her own theme music. Anyway, it being 10 minutes before puck drop, my friend and I absolutely bought another round of 2 for 1 beers. This development did not please the security guard who must have thought that when someone tells me "I'm watching you" I immediately interpret that declaration as "stop drinking or else" when in fact, I interpreted that statement as "weird flex, but cool."
So, we were not so politely asked to leave the game 10 minutes before puck drop. I've been kicked out of some places in my time, but that was the first time I'd ever been 86'ed well before the actual event started.

Editor's note: AZ Coyotes Insider does not endorse the opinions expressed above, or really anything that Greg says.
Follow Craig Morgan on Twitter: @CraigSMorgan