Offseason spotlight: Forward Lawson Crouse reflects on growth in his game, Butter's fame
Fourth-year pro set career highs in goals, average time on ice
Welcome to the AZ Coyotes Insider newsletter. My plan is to publish stories four to six times per week. By subscribing, you'll be supporting independent, accountable journalism. Subscribe now so you won't miss a story.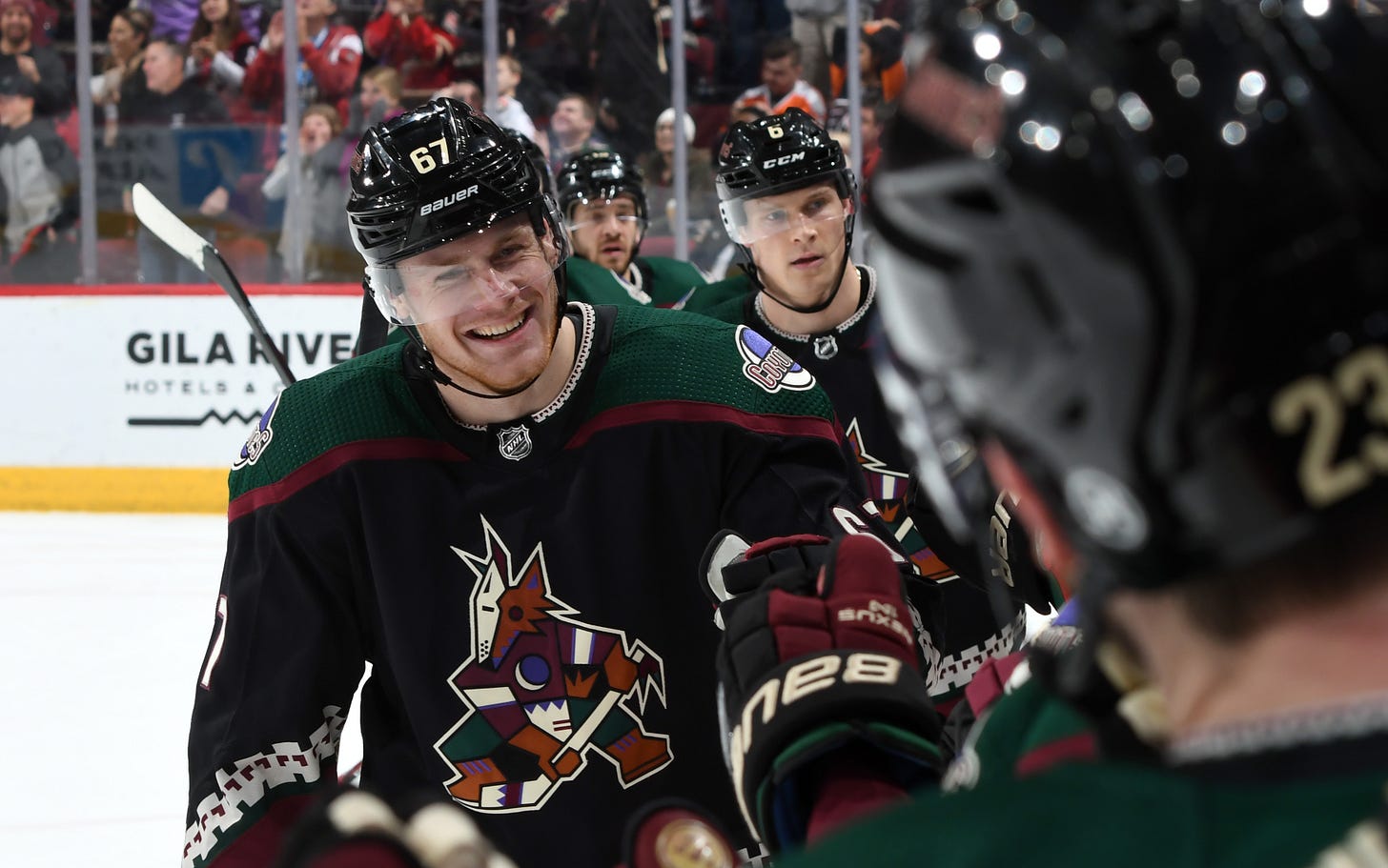 Lawson Crouse celebrates with one off his 15 goals with teammates. All photos courtesy of Arizona Coyotes
---
In his third full NHL season, forward Lawson Crouse recorded career highs in goals (15) and average ice time (13:35), showing as much progress as any Coyotes player under coach Rick Tocchet. While he was sent down to Tucson in his second pro season, Crouse looks like a success story of the Coyotes development system.
I caught up with Crouse before he headed from Port Stanley, Ontario to the Muskoka region in central Ontario for the long weekend with his girlfriend, Claire Stewart, and their celebrity dog, Butter (more on that later).
In which areas do you think you made the greatest strides this season?
Crouse: I think the biggest thing for me was holding onto pucks and playing with the confidence that I can help this team win. I just tried to approach every game with that mindset; to have that feeling and belief that you belong. That was my fourth year of playing professional hockey (one mostly in Tucson) and I have learned lots through the first three years.
You hear the term hockey IQ a lot. Mentally, my game has come so far with just seeing the ice, seeing plays develop, realizing when you have that extra second to hold onto the puck or realizing when to get to the net. Getting to the net is one of the things I think I improved on a lot. Using my big frame to cause traffic is big, whether I get a rebound or screen the goalie or tie up a defender in front to open ice up for other players.
What are the specific areas on which you plan to focus this offseason?
Crouse: The best thing I can continue to work on is my little skills, whether it's stick handling, making those 5- to 10-foot passes under cover, through sticks and skates. I don't think people realize how difficult it is, not only to make those passes but to get yourself in position, to make the read and then to make the pass. It all happens so fast. I feel like I'm a good enough skater. Not to say that I'm not going to keep working on that, but if I want to continue to improve in this league I have to improve on my hands and making those little plays.
What's the key to making those plays?
Crouse: Hockey happens at a such a high speed that I think being calm under pressure is the key. Toc and I have had conversations about keeping the heart rate calm. I'm the type of player that tries to work hard every shift and go full speed out there, but sometimes you need to calm down and you'll notice those little plays open up.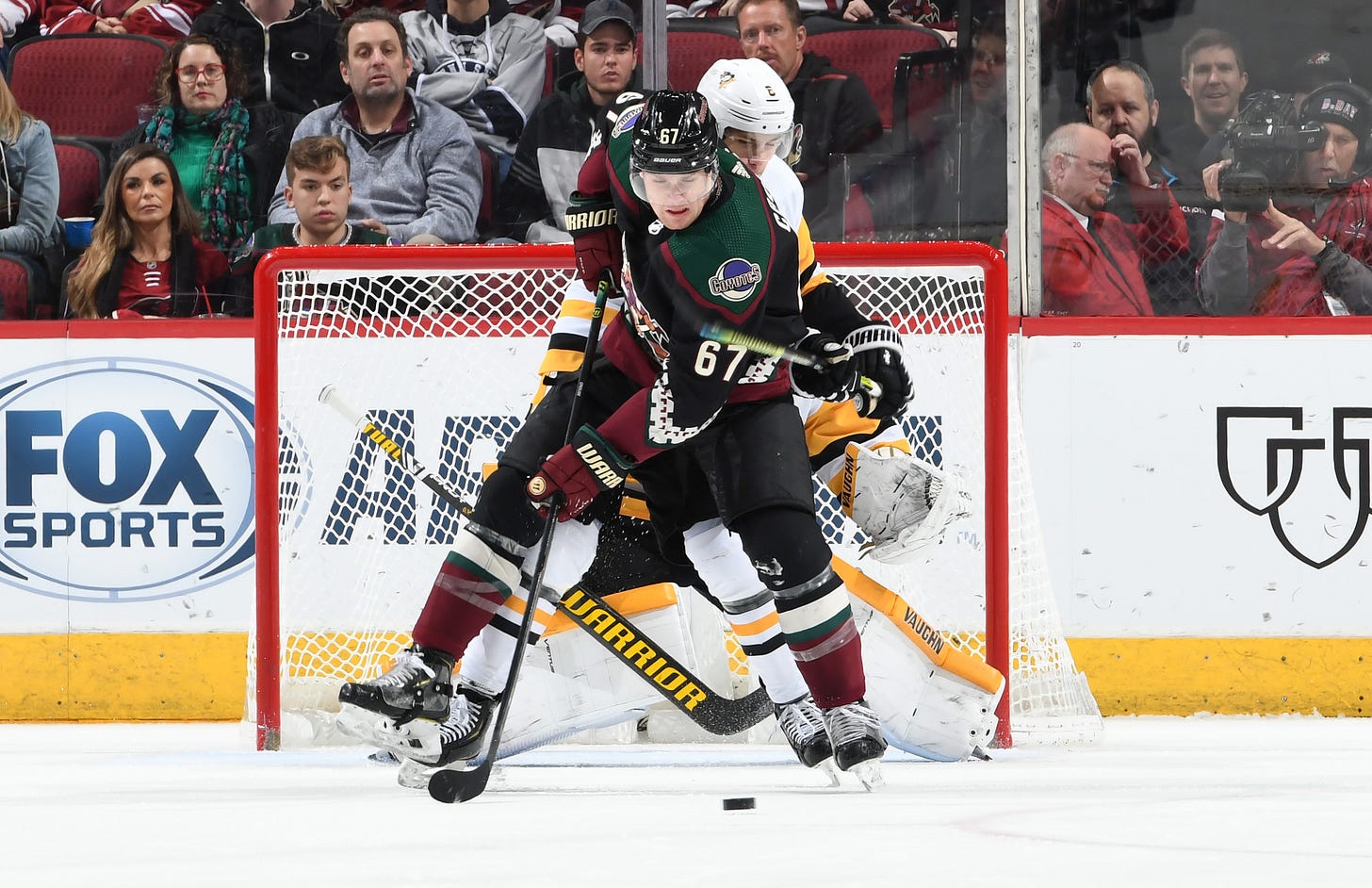 When they sent you back to Tucson in 2017-18 after one full NHL season, they asked you to work on your puck game and making plays off the wall. Was there a specific areas of focus within that goal?
Crouse: It was more or less get your feet going. With a big body you can obviously use that to protect the puck, but if you can keep your feet going at the same time it makes it so much harder for the defense to hold you and maintain coverage. Take a look at the best puck protectors in the league. They never stop their feet moving. It's not an easy thing to do and not everyone can do it but you can obviously work on it.
You have made steady progress the past two seasons. Did you have doubts after getting sent down?
Crouse: I give a lot of credit to myself for just sticking with it. Getting sent down after my first year was not easy. It was a mental grind, but I stuck with it. I didn't pout. I made the team the following year and set a career high in goals and then worked on more things and then came into this season and set another career high for goals. I have always been that way. I have always had that mindset. Being good isn't good enough because there's always someone pushing up your tail end so you have to keep working.
Were you happy with your 2019-20 season?
Crouse: Yeah, I am definitely happy with it, but I'm not satisfied. I scored 15 goals but I want to get my assist totals up now and that goes back to what we talked about with those little plays. You can never get good enough at the little things.
And I believe I can score more, be a 20-goal guy. I scored a lot of goals as a kid. It's funny though, everyone wants to be a goal scorer. Everyone comes out of college or juniors getting a lot of points, but it's how you can adapt to playing in different situations while continuing to score those goals. I'm just getting my feet wet in this league and I think I can be a very impactful player. This is just the start for me.
Is this down time still important to you after taking four months off during the pause?
Crouse: We obviously had a lot of time off when the pandemic hit, but mentally it wasn't really time off. We were still trying to figure out when we were returning to play, still staying in shape. These past couple of weeks have been nice to put hockey on the backburner and enjoy life and reset mentally. In a week or so, I'll gear back up and start skating and training, but we still don't have a definitive answer of when the season is going to start so it's a little different in that sense.
Bonus content: It's Butter Pig's birthday
I'd like to think I played a small role in Butter Pig Crouse's rise to fame. The truth is, I profiled a lot of great Coyotes' dogs in this popular piece from August 2019, all of them great supporting actors. Butter Pig simply stole the show. He was Christoph Waltz in "Django Unchained." He was Val Kilmer in "Tombstone." He was Octavia Spencer in "The Help."
Since then, well, things have spun out of control. Any time I mention Crouse, readers also ask me about Butter.
"This dog has got more attention than I probably ever have," Crouse said, laughing.
Butter was a finalist for the NHL's dog of the year, which was won by Connor McDavid's Bernedoodle, Lenny, probably because he is Connor McDavid's dog (let's be honest). The Valley is another story. Sorry, Shane Doan. You are no longer the most popular desert dog. In light of that, and because today's is Butter's second birthday, Crouse and Stewart were kind enough to share some of their plans for the special day, as well as some exclusive photos
"We'll be up at the cottage," Crouse said of the lake-riddled Muskoka region. "We'll have a little birthday song for him, probably some birthday cupcakes, probably take him for a birthday swim even though he hates swimming. I'll try to get him in the lake. I might even put him on the paddleboard but he just hates the water."
And now for those exclusive photos.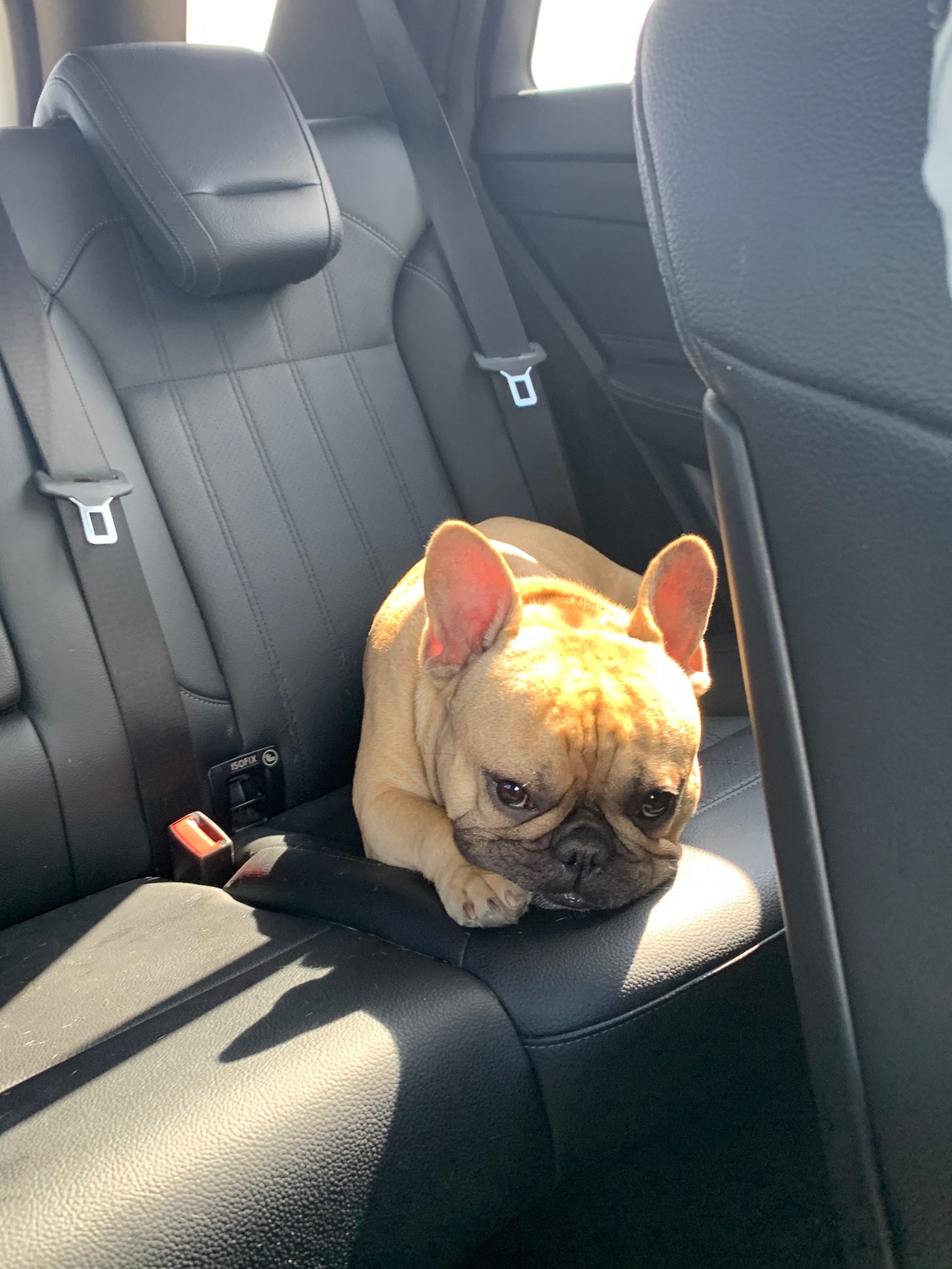 Muskoka bound
---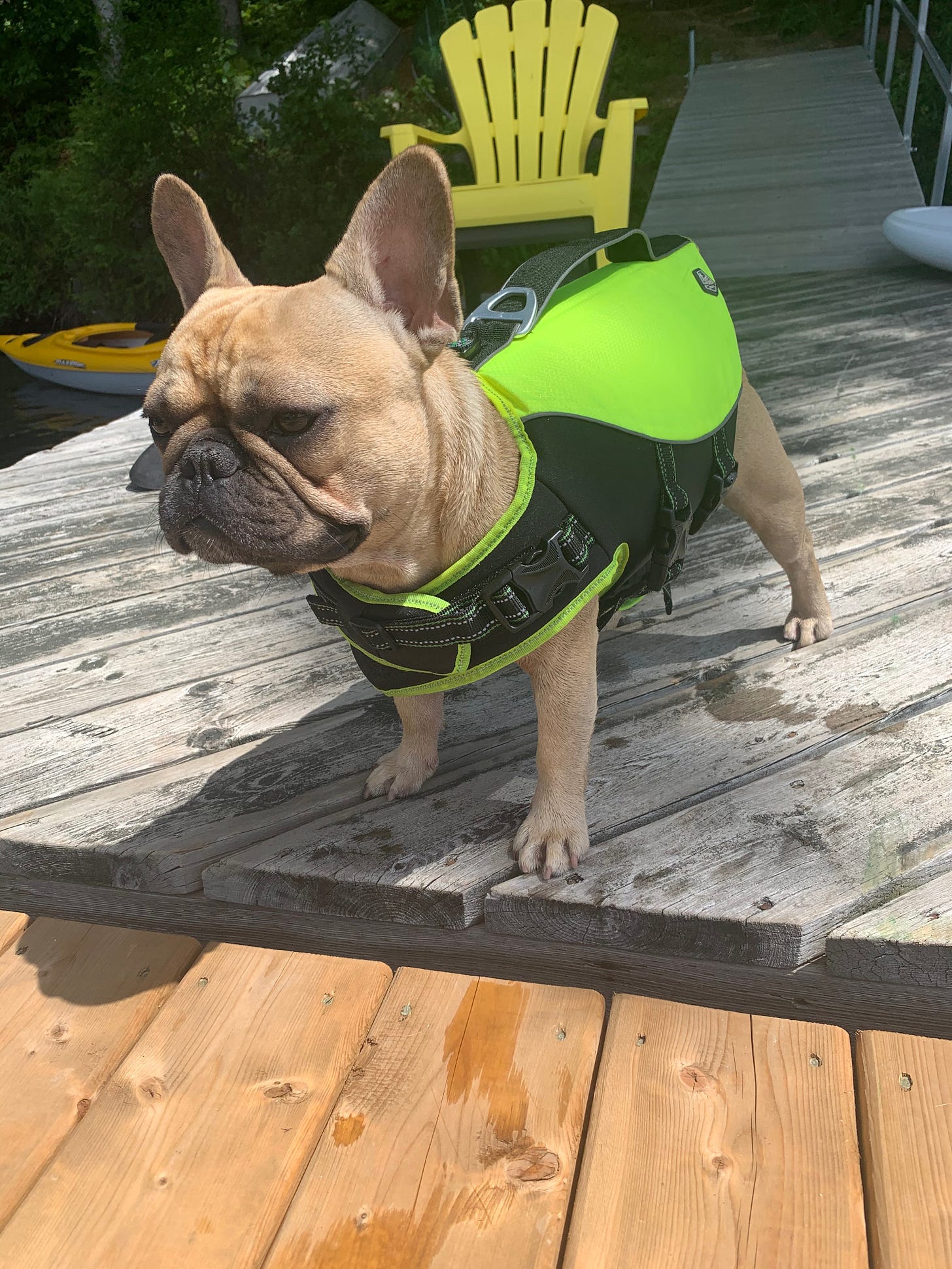 New floatie (Baywatch audition photo)
---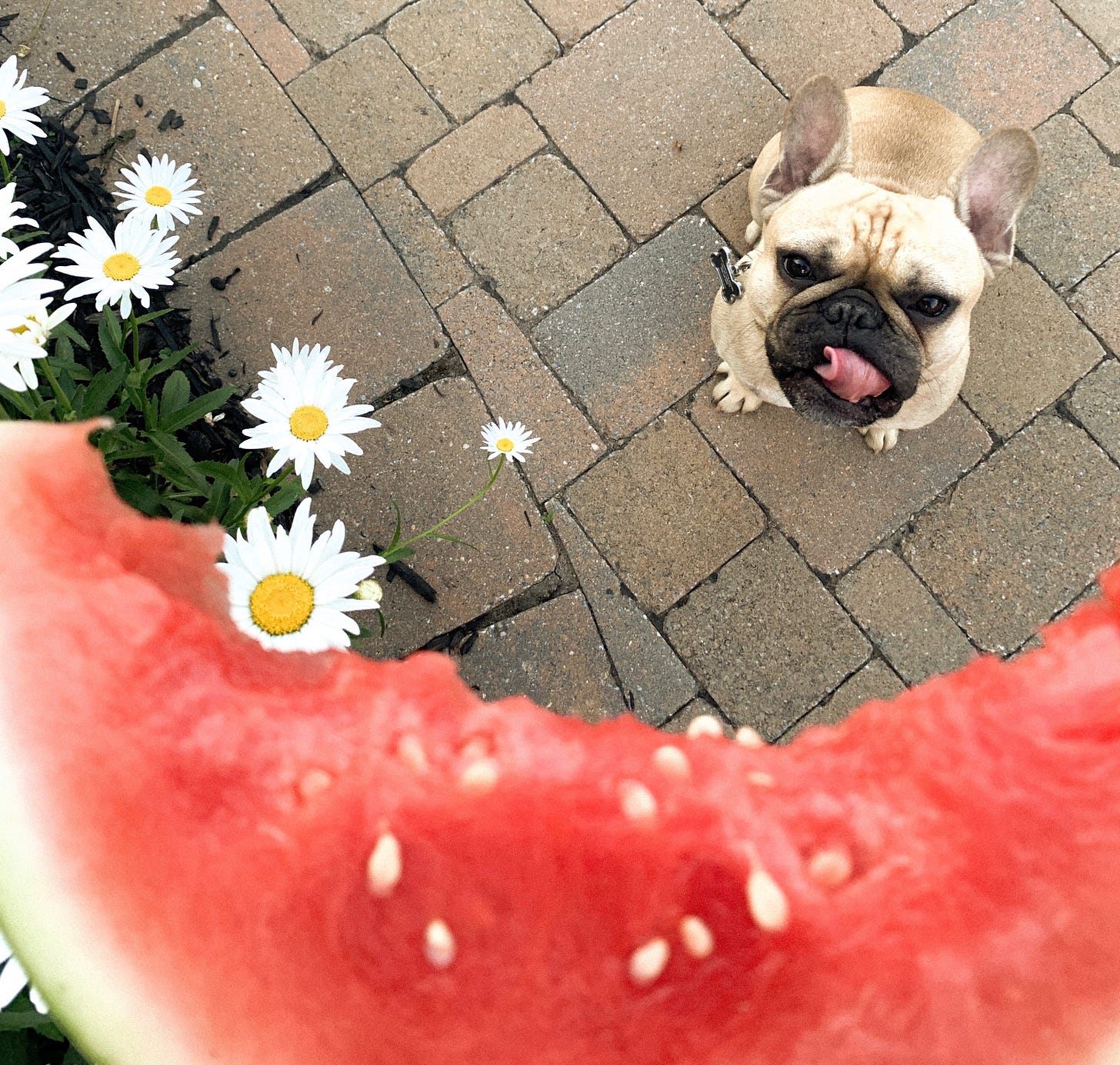 Hopeful hunger
---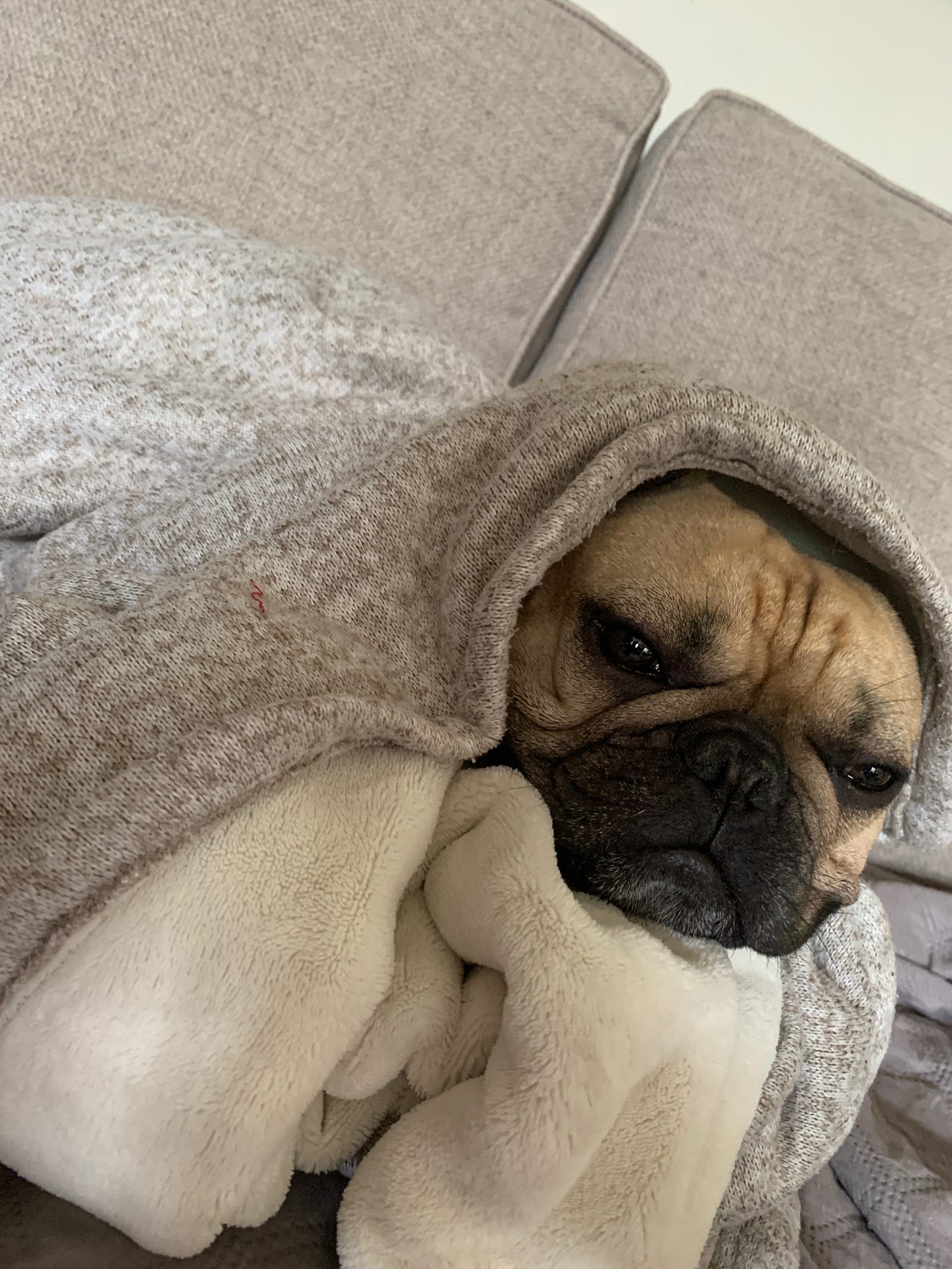 Settled in
---
Follow Craig Morgan on Twitter: @CraigSMorgan