Neutral Zone: Coyotes' current roster unlikely to change much before season opener
GM Bill Armstrong is staying patient in his search for equitable trades
Welcome to the AZ Coyotes Insider (LLC) newsletter. I generally publish stories four to six times per week (some of them free). By subscribing, you'll be supporting independent, accountable journalism. Subscribe now so you won't miss a story.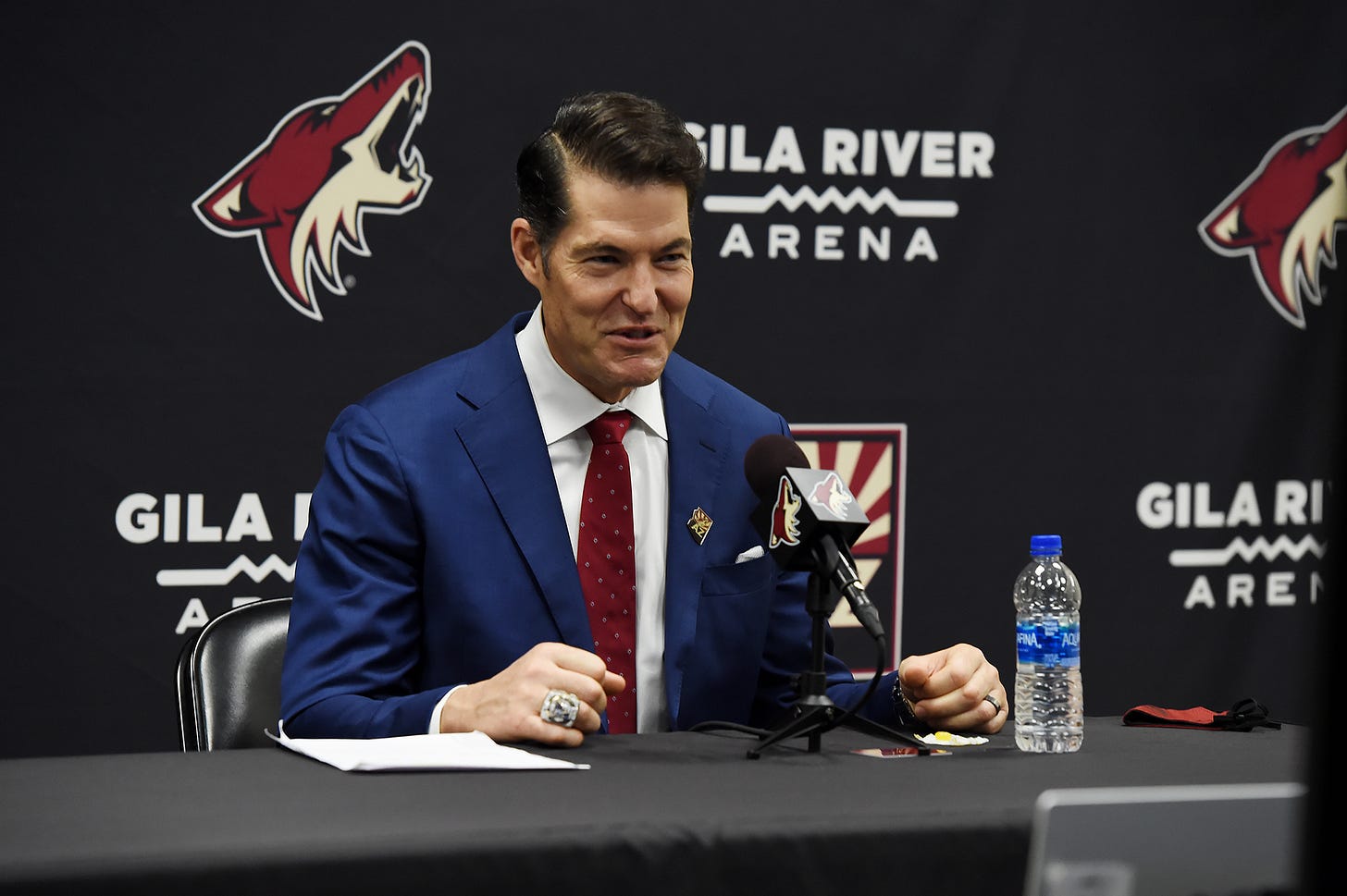 Coyotes GM Bill Armstrong.
All photos courtesy of Arizona Coyotes
---
Remember this piece from Aug. 30 when I asked the question: Where do the Coyotes go from here? After the messy departure of former GM John Chayka and an equally messy exit from the postseason, I wondered if this group of players had maxed out its potential.
One of the options that I laid out for this roster was to strip it to the studs and rebuild it. A second option was the middle ground in which new GM Bill Armstrong would trade some pieces for draft and prospect capital while keeping enough to field a competitive team. The third option was to stand pat.
After an exhaustive exploration of the flooded free-agent and trade markets, it appears that Armstrong has chosen option No. 3. For now.
"What you see right now will pretty much be how we open up on opening night," Armstrong said Friday.
Nobody stands completely pat in an NHL offseason. It was widely assumed that the Coyotes would move on from unrestricted free agents Taylor Hall (Buffalo Sabres), Brad Richardson (Nashville Predators) and Carl Söderberg (TBD) when the season ended. That has happened. The Coyotes also elected to buy out Michael Grabner and let restricted free agent Vinnie Hinostroza become unrestricted and sign with the Florida Panthers.
In spite of rampant trade rumors surrounding other players, including goalie Darcy Kuemper, forwards Nick Schmaltz and Clayton Keller, and veterans Jason Demers, Antti Raanta, Alex Goligoski and Derek Stepan, all four of whom are entering the final years of their contracts, Armstrong has elected to stay patient.
It's not an ideal situation. He had hoped to trade Oliver Ekman-Larsson for some good assets, but his options were limited by Ekman-Larsson's no-movement clause and neither Boston nor Vancouver offered what he felt was "a real try" so he walked away from those negotiations. Despite multiple talks on other fronts, the Coyotes have not been able to secure what they feel is fair market value for the other players.
That's understandable. The 2020 offseason is not a fair market. Almost every asset has depreciated in value due to massive, pandemic-related revenue losses across the league, but that depreciation likely won't last. The GM business is all about asset management. Manage them poorly and you won't be employed for very long. Manage them well and you may just build a consistent playoff team and a strong reputation.
Armstrong has his work cut out for him in Arizona. League sanctions and trades have left the Coyotes with one pick in the first three rounds of the 2020 and 2021 drafts. The system still does not have a bona fide No. 1 center and scoring is still a problem. Armstrong knew all of this before he arrived, however.
"Very rarely are you going to go into a situation where things are at their peak performance," Blues GM Doug Armstrong said of his erstwhile assistant GM. "Those jobs usually don't open up so you're going to go into a situation where they're looking for change, looking for a new direction and looking for leadership. I would say Arizona is in that grouping."
The worst thing that Armstrong could have done is to make a bunch of rash moves just to shed salary and acquire any kind of asset capital, particularly when the Coyotes had played their hand ahead of his arrival. He simply couldn't strike the deals that he had hoped to strike for the aforementioned veterans or other players, but nobody knows what needs that other teams will have between now and training camp, or the start of the regular season, or in the middle of the season due to injuries, or at the trade deadline. Things could change in an instant if another team calls him tomorrow, in December or in February, but the one thing Armstrong knows today is that he isn't getting requisite return on his offers so he has chosen to hold his cards and revisit these moves at a later date.
The future of some of the Coyotes' well-paid younger players could depend on their performance at the start of the 2020-2021 season, but the four aforementioned veterans could all be attractive in-season or trade-deadline acquisitions. Here's a refresher on each of them.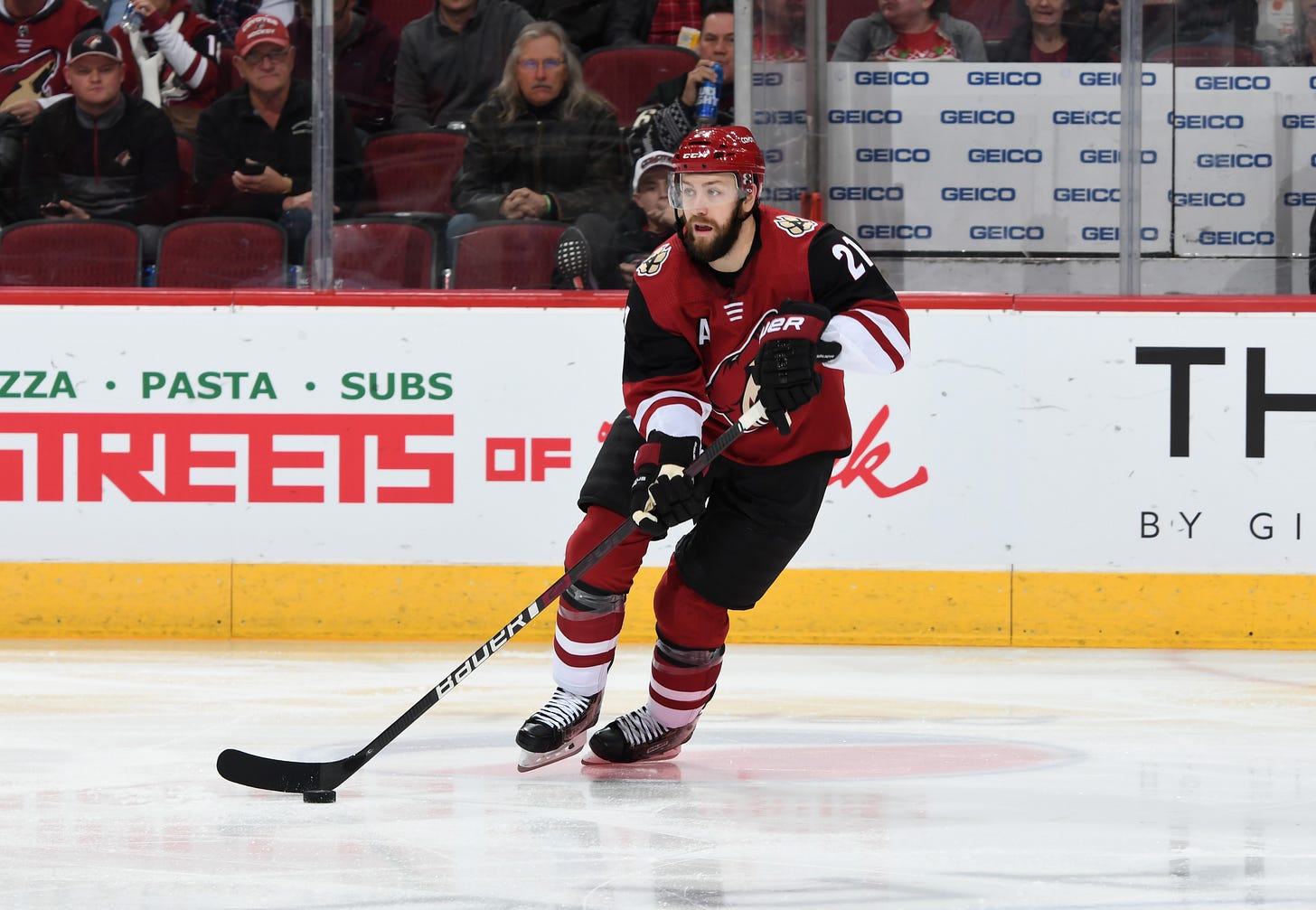 Derek Stepan
---
Center Derek Stepan
Contract details: Stepan has one year left on his contract with a cap hit of $6.5 million. His actual salary is only $5 million, however, and $3 million of that has been paid in the form of a signing bonus, making him a $2 million option for teams in need of veteran center help.
What he offers: Stepan has ample playoff experience from his years with the New York Rangers, he is a detailed and responsible defensive player, he can still chip in with offense (he has a good shot) and he is a valuable presence in the dressing room.
Defenseman Alex Goligoski
Contract details: Goligoski has one year left on his contract with a cap hit of $5.475 million. His actual salary is only $4 million.
What he offers: He is a veteran puck-moving defenseman who also has playoff experience (Pittsburgh and Dallas) and won a Cup with the Penguins. Goligoski had a renaissance year last season, forming essentially the top pair with Jakob Chychrun. Like Stepan, he is well-liked and well-respected in the dressing room.
Defenseman Jason Demers
Contract details: Demers has one year left on his contract with a cap hit of $3.9375 million. His actual salary is $3.6 million, and $1 million of that has already been paid in the form of a signing bonus.
What he offers: Demers is comic relief for any locker room, he's a valuable right-handed shot and he also has playoff experience from his many years in San Jose.
Goalie Antti Raanta
Contract details: Raanta has one year left on his contract with a cap hit of $4.25 million. His actual salary is $4 million, $2 million of which has already been paid in the form of a signing bonus.
What he offers: The key with Raanta is load management. If he plays in the 35-game range (over an 82-game season), he can be an elite 1B options for teams. His numbers are among the top five in the NHL over the past three seasons (so are Darcy Kuemper's).
Ghosts of numbers past
The Coyotes announced the uniform numbers of their three newest players in a tweet on Thursday. John Hayden will wear No. 15. Tyler Pitlick will wear No. 17. Johan Larsson will wear No. 22.
Off the top of my head, I can name multiple players who have worn those numbers previously. That probably just means that I have been covering this team for a long time, but it got me thinking that I should do a ranking of the players to have worn each of those numbers.
I am excluding the new guys because they don't have a body of work in Arizona yet, and I am only including the Arizona years (not Winnipeg or their years with other teams). Here goes.
No. 15
Craig Janney
Matthew Lombardi
Brad Richardson
Boyd Gordon
Radoslav Suchy
Jim Cummins
Boyd Devereaux
Mike Zigomanis
Jeff Hoggan
Ryan Hollweg
Henrik Samuelsson
No. 17
Radim Vrbata
Ladislav Nagy
Greg Adams
Alex Galchenyuk
Kris King
John Moore
Todd Fedoruk
Steve Downie
No. 22
Rick Tocchet
Daymond Langkow
Mike Gartner
Lee Stempniak
Claude Lemieux
Dennis Seidenberg
Mathias Tjarnqvist
Brandon McMillan
Craig Cunningham
Anders Eriksson
Brian McGrattan
Pascal Rheaume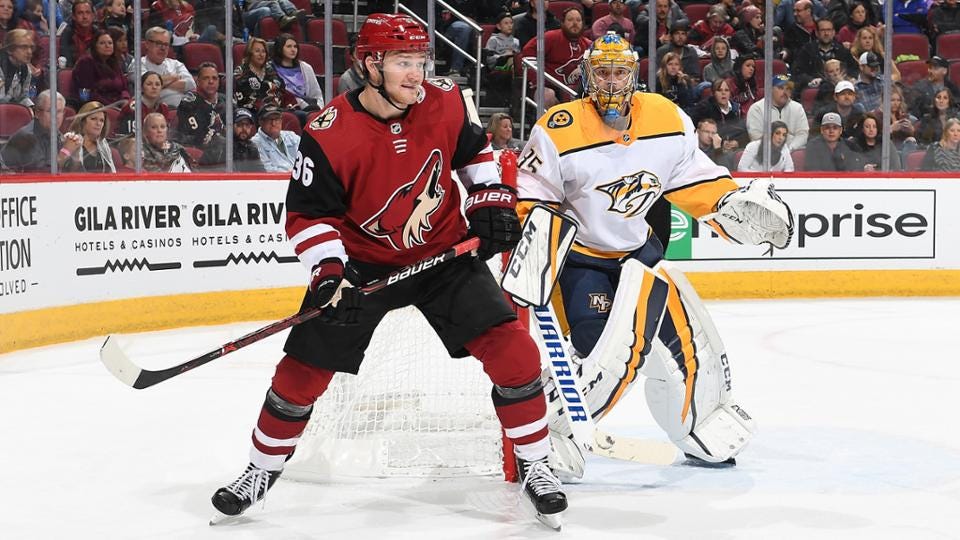 Christian Fischer
---
Christian Fischer stalemate
As of Friday, restricted free-agent forward Christian Fischer had not signed his qualifying offer. The qualifying offer is set to expire on Sunday at 2 p.m., Arizona time.
Even if a player does not sign his qualifying offer, the issuing team maintains that player's rights by making the offer. An RFA can only be signed to a new team by way of an offer sheet. Fischer's options are limited here. If he wants to play, he does have the option of playing in Europe.
It is unclear what the hold-up is. It may be over a two-way, vs. a one-way contract, it may be over money or it may stem from Fischer's inability to secure a regular place in Rick Tocchet's lineup. I will update this note as the situation progresses.
UPDATE:
Loose pucks
I have heard from sources that the Coyotes have/had interest and may have already had talks with the following people regarding hockey operations positions.
Former Dallas Stars executive Les Jackson in a potential senior advisor role

St. Louis Blues cap guru Ryan Miller, who is currently the Blues director of hockey ops

Matt Tiesling as a scout

Former Maple Leafs video coach Andrew Brewer
We'll see where these pursuits go, but a few notes. The Stars elected not to renew Jackson's contract in June. He had been employed by the franchise in various roles for 34 of the past 35 years. When the Coyotes named Chayka as GM in 2016, they were also pursuing Jackson to serve in a similar role but the two sides could not reach an agreement. Jackson worked with former Arizona coach Dave Tippett in Dallas and the two remain close.
Tiesling worked as a scout in Buffalo with new Coyotes associate director of amateur scouting Ryan Jankowski. He was part of a massive hockey operations purge in Buffalo in June that included Jankowski.
If Brewer is hired, that would likely close the door on Steve Peters' return for a 24th season with the Coyotes. Peters' contract was not renewed in August.
Finnish club Ilves reported on Sunday morning that the Coyotes had loaned it center Barrett Hayton until the NHL season begins.
The team, located in Tampere, is also where Coyotes prospect Matias Maccelli (two goals, five points in six games) is currently playing. Coincidentally, Tampere is also the hometown of former Coyotes captain and ring of honor inductee Teppo Numminen.

It's a good idea to get Hayton some playing time. Since the 2018-19 season ended with the Sault Ste. Marie Greyhounds of the OHL on April 14, 2019, Hayton has appeared in just 31 games (combined between the Coyotes, Roadrunners and Canada at the World Junior Championship) in the past 18 months.
Follow Craig Morgan on Twitter: @CraigSMorgan