Welcome to the AZ Coyotes Insider newsletter. My plan is to publish stories four to six times per week. By subscribing, you'll be supporting independent, accountable journalism. Subscribe now so you won't miss a story.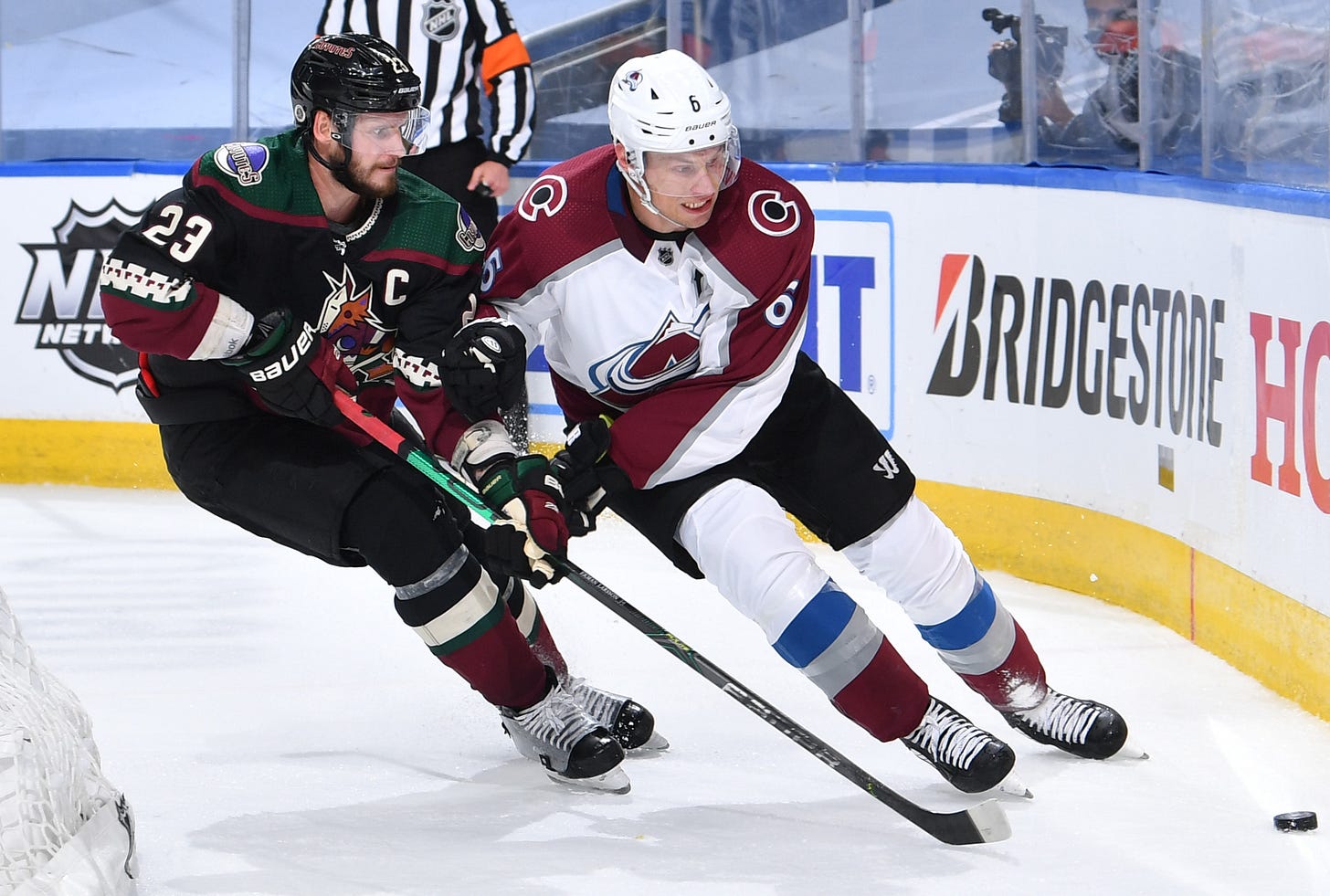 Oliver Ekman-Larsson's defensive lapse on Colorado's first goal was one in an avalanche of mistakes by Coyotes veterans in a 7-1 loss. All photos courtesy of Arizona Coyotes.

---
We have heard all season about the great leadership group the Coyotes possess — a collection of veterans who have created a harmonious and unified locker room while displaying good practice and game habits for the young core to follow.
That leadership was nonexistent in the biggest game of the season in Edmonton on Monday: an embarrassing 7-1 loss to the Colorado Avalanche that tied the most goals allowed in a playoff game since the team moved to Arizona (April 16, 2010, 7-4 loss to Detroit).
A coaching staff can preach and prod until it is blue in the face, trying to point a team toward water. Rick Tocchet thought he had his team ready after a good day on Sunday and a good video session on Monday, but the thirst has to come from the players; first and foremost from the leadership group. With an opportunity to even their first-round playoff series with the Avalanche at two games apiece, the Coyotes' veterans were a listless, mistake-prone, attack-free group of soon-to-be golfers.
"I can't tell you a guy that played well," Tocchet said. "We are embarrassed. It was men against boys today.
"It's everything: missed passes, pinching when you shouldn't, changing when you shouldn't. It was just a total debacle. We had some guys that looked like they hadn't played before and I don't have an answer right now. This whole bubble thing, it's who wants to stay, you can tell, and who wants to go home. For this game, we looked like we wanted to go home."
On Colorado's first goal, Oliver Ekman-Larsson got caught flat-footed in the neutral zone, leading to a Colorado 2-on-1 that Matt Nieto finished off a give-and-go with Matt Calvert.
With the Avs on the first of their three, first-period power plays (bad idea, huh?), Gabriel Landeskog gathered the rebound of Mikko Rantanen's bomb from the high slot and slipped it to Nazem Kadri for a tap-in and a 2-0 lead. The Coyotes are coached to front their men on the penalty kill, but neither Alex Goligoski nor Niklas Hjalmarsson got a stick or body on the puck or their men, allowing both free reign in front of goalie Darcy Kuemper.
On the third power play of the first period, Nathan MacKinnon got to the net by blowing around Jason Demers. Brad Richardson was too late to pick up Kadri, stationed at the doorstep again, for another easy tap-in and a 3-0 lead.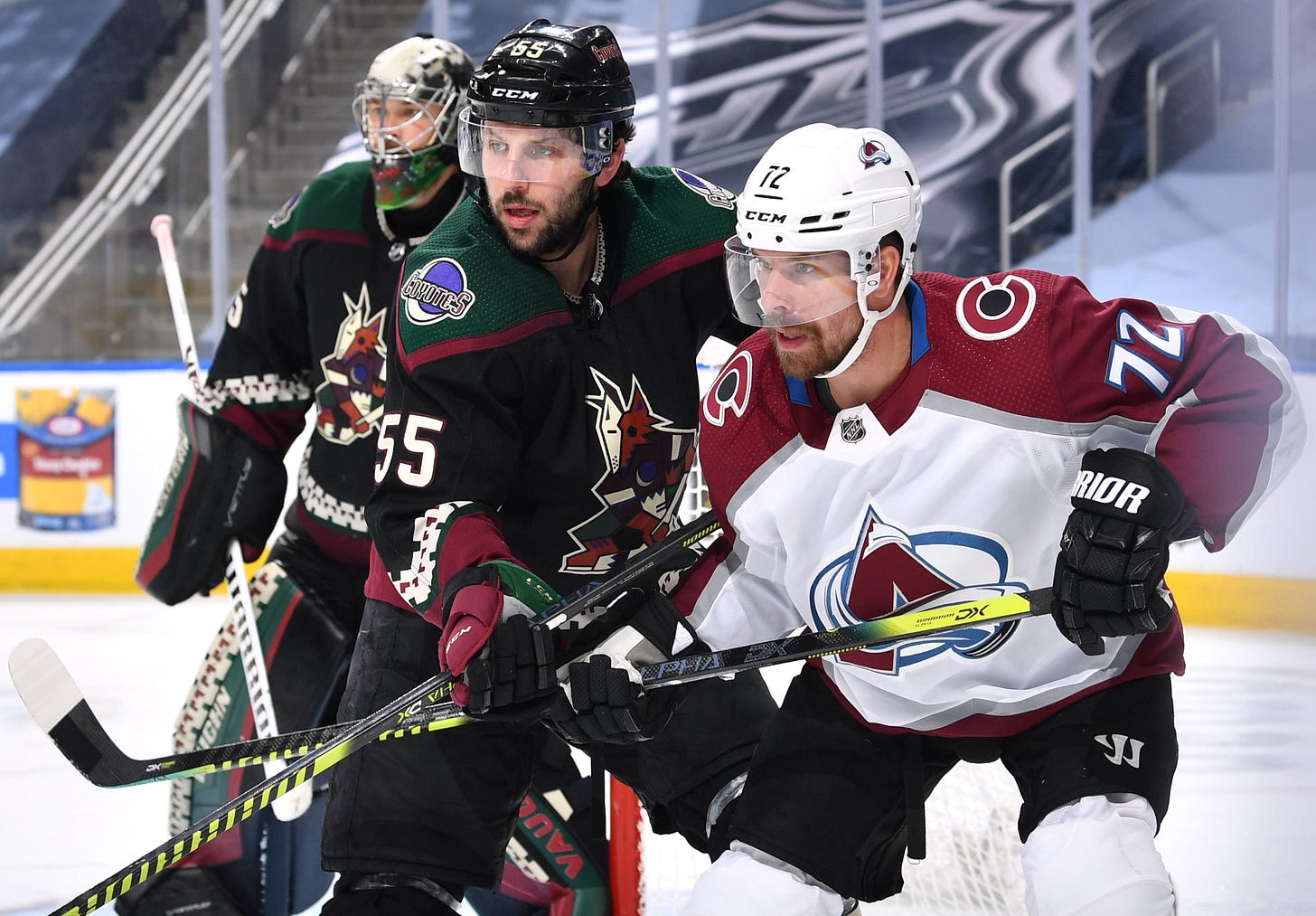 Jason Demers
---
On the fourth Colorado goal, Jordan Oesterle was slow to recognize the 2-on-1 forming behind him after his dump-in along the boards was intercepted. Joonas Donskoi buried André Burakovsky's pass for a 4-0 lead.
It didn't stop there. With Antti Raanta on in relief of Kuemper to start the third period, Calder Trophy candidate Cale Makar turned Goligoski inside out and made it 5-1 on the first shot Raanta faced. Matt Calvert made it 6-1 when Hjalmarsson inexplicably left Calvert at the last second, allowing him to receive MacKinnon's pass at the side of the crease and bang it in. Rantanen completed the carnage and an utter failure by the Coyotes' special teams with Colorado's third power play goal of the game.
Game. Set. Match point coming Wednesday.
"It's obviously not good enough to come out like that when it's a 2-1 series and we have the chance to tie the series," Ekman-Larsson said. "I don't know where to start. We started off taking a little bit too many penalties and let in some weak goals by bad defending. We've got to do a better job defending and helping our goalies out. We kind of left them out to dry."
On Sunday, Tocchet had talked about some players' perplexing lack of energy and the obvious need for them to compete in Game 4. On Monday, the Coyotes looked like they learned how to compete in a convent.
"Tonight, we got a free lesson on what playoff hockey is really like when you don't come to play and you don't get ready yourself to execute," center Derek Stepan said.
Let's be clear. It is no surprise that Colorado is leading this series. As I have written all series long, this is a deep, skilled, fast team; a legitimate Stanley Cup contender. The Coyotes are not, but the gulf that has developed between these teams during long stretches of this series is inexplicable and incongruent with the Arizona team we saw most of the season; even during its second-half slide. The Coyotes probably won't rally to win this series, but they can't let Monday's performance be the one that lingers throughout the offseason.
"I'm going to give the positive turn on it," Tocchet said. "We lost one game. I know everybody is going to say, 'You have no chance the next game,' but I'm looking for some character from some guys. I saw some stuff I didn't like but we have 36 hours to regain something."
One of the most dreaded phrases for a coach to utter is playing for pride, but that's what it has come to for the Coyotes: playing for pride and playing with professionalism. It's not a stretch to suggest that some of these veterans may not be back next season, even in a flat-cap world. Whether it's résumé building for the next stop, or one last-ditch effort to prove they should stay, the Coyotes' veterans need to lead the way on Wednesday.
They led the wrong way on Monday.
Follow Craig Morgan on Twitter: @CraigSMorgan