Darryl Plandowski created his Coyotes opportunity with persistence, hard work, a keen eye, affability
His former college coach calls Arizona's director of amateur scouting 'a hockey lifer'
Welcome to the AZ Coyotes Insider newsletter. I generally publish stories four to six times per week (some of them free). By subscribing, you'll be supporting independent, accountable journalism. Subscribe now so you won't miss a story.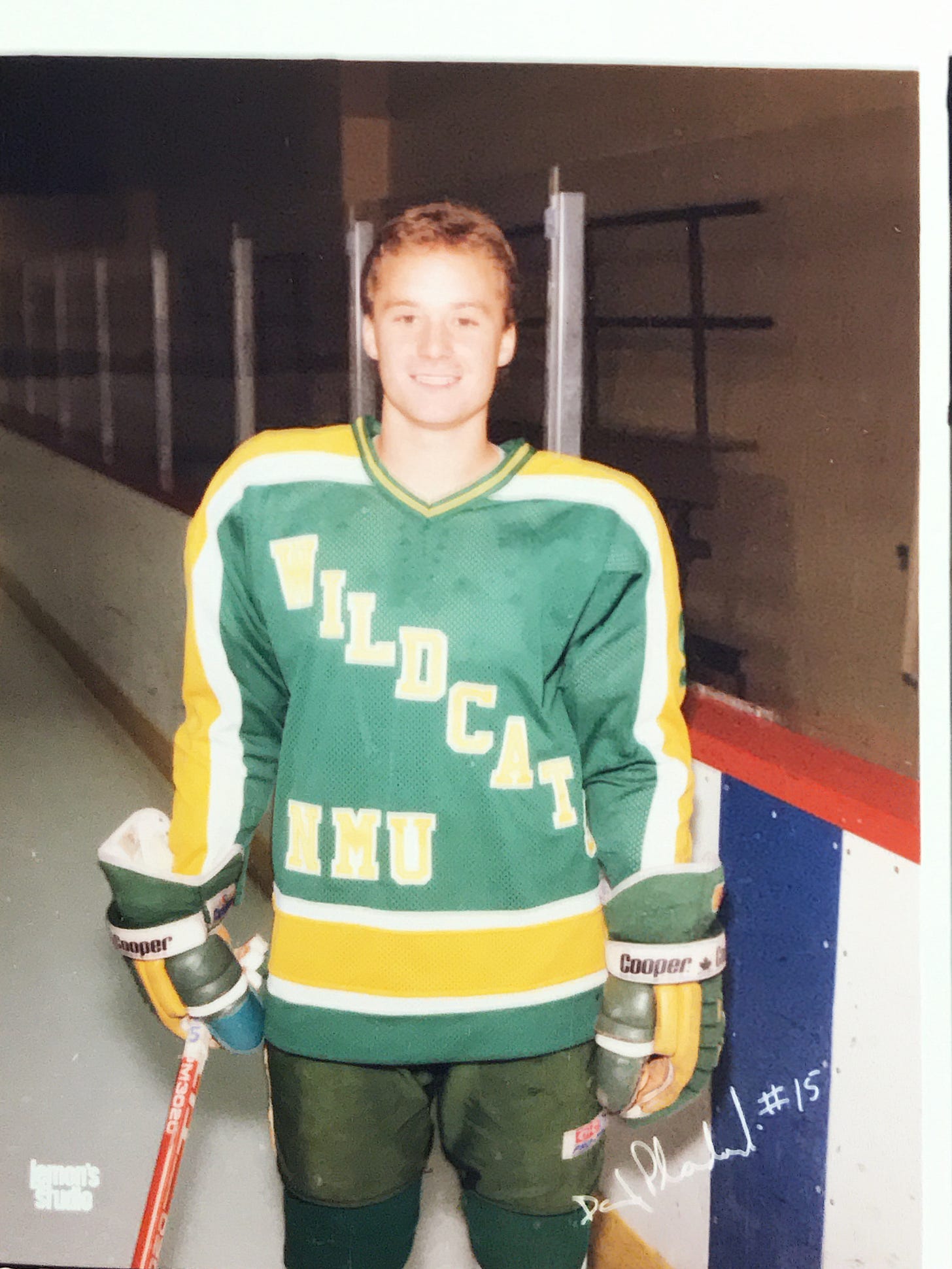 Coyotes director of amateur scouting Darryl Plandowski from his playing days at Northern Michigan University.

Photo courtesy of NMU Athletics
---
It was late November in 1990 when the Northern Michigan University hockey team traveled to Orono, Maine for a two-game set with the national powerhouse Black Bears. Wildcats coach Rick Comley had immense respect for the program that Maine coach Shawn Walsh had built; one that won two national championships, finished as runner-up another season and made the Frozen Four five times.
On this particular weekend, however, Comley was especially concerned with Maine sophomore Jean-Yves Roy, who would finish second in the nation in points that season (82 in 43 games) and become a finalist for the Hobey Baker Award as college hockey's best player. So Comley turned to his 5-feet-8 senior captain, Darryl Plandowski.
"I asked Darryl to cover him and he did a terrific job, like he always did," said Comley, whose son, Rick Jr., is a scout for the Coyotes. "After that game, typical of college hockey and our big budget, we were at McDonald's in Bangor getting food. We're in line and Jean-Yves walks in, looks at all of us and says with that great French-Canadian accent, 'Where is this Plandowski guy?'
"He wanted to meet the guy that stuck with him all night."
Maine won both games of that weekend series, but Plandowski's stick-to-itiveness paid off in the end. The Wildcats beat the Black Bears 5-3 in the national semifinals, before defeating Keith Tkachuk, Tony Amonte, Shawn MacEachern and Boston University, 8-7, in the 1991 NCAA championship game on Plandowski's game-winning goal at 1:57 of the third overtime.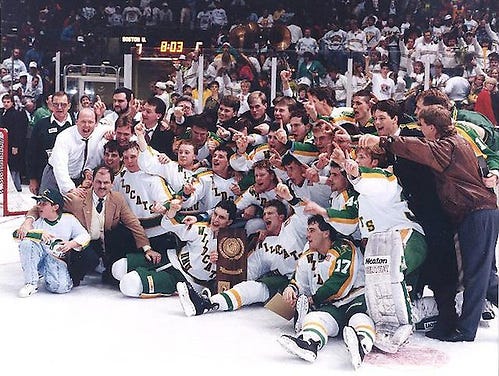 Northern Michigan celebrates its 1991 NCAA championship. Photo courtesy of NMU Athletics
---
"He and Dean Antos played together all four years and they were the line we went to when we needed a goal and they were the line we went to when we needed to shut somebody down," said Plandowski's NMU teammate, former Coyote and perpetual wisecracker Dallas Drake. "When we won the national championship against BU, they played against the Amonte-MacEachern-Tkachuk line. (Plandowski) got a hat trick in that game and he always likes to talk about that, but he was shadowing Tony Amonte who also got a hat trick in that game. I kind of questioned his defensive abilities after that game."
Drake's chirps aside, Plandowski's teammate and his coach knew that Plandowski would be "a hockey lifer" three decades ago.
"We all carry certain tendencies and traits through life and you just know as a coach the players that are meant to be pros, the players that are going to be around the game or the players that don't have any interest in it," said Comley, who recruited Plandowski out of Lloydminster, Alberta, which sits right on the border with Saskatchewan. "As a scout, Darryl had the willingness to put in the time and work, and the ability to withstand the boredom that comes with that job. It's a hard job. You have to love the game to be willing to do it and Darryl loves the game."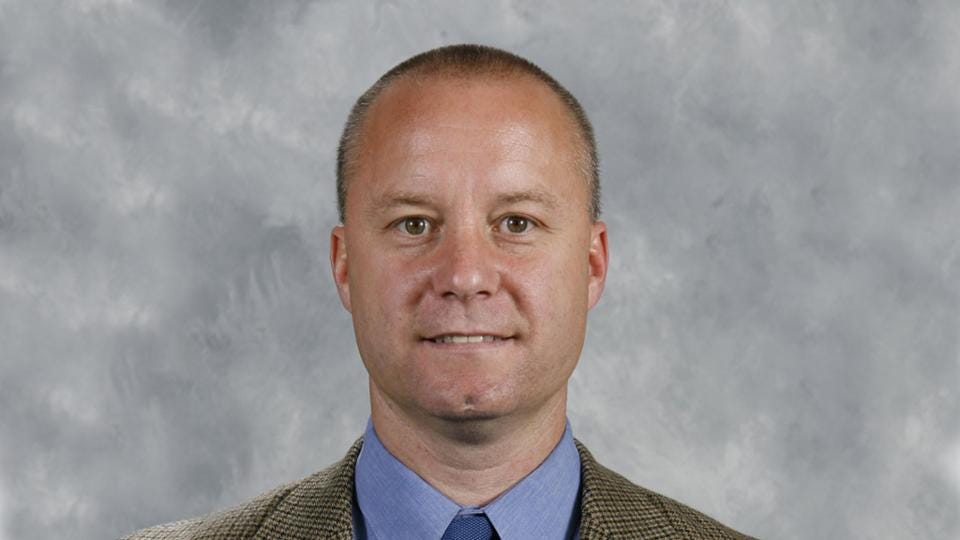 New Coyotes director of amateur scouting Darryl Plandowski. Photo courtesy of Arizona Coyotes
---
Sticking with it paid off again for Plandowski, 52, when Coyotes GM Bill Armstrong named him the team's new director of amateur scouting on Thursday, in a week that also included the hiring of Ryan Jankowski as the associate director of amateur scouting, and Brian Daccord as the director of goaltending operations.
"It has been a good week," Armstrong said. "I know scouting and I know scouts and I can tell you we have put together, in my eyes, a very good scouting staff in a short amount of time.
"Darryl is an excellent talent evaluator and his fingerprints are all over the Tampa Bay Lightning roster. We are thrilled to have him lead our amateur scouting department."
For Plandowski, the hiring capped a wild week in which he won a Stanley Cup as the Tampa Bay Lightning's assistant director of amateur scouting. He began talking to Armstrong about this job about two weeks ago, after the Coyotes sought permission to speak with him during the Stanley Cup Final.
"It all happened pretty fast," said Plandowski, who will help Tampa with its draft before taking over in Arizona. "I have known Bill for a long time and I watched how he has developed and built teams in St. Louis. I think our philosophies are a lot alike, we look for the same types of players and our personalities fit well. It was a really easy conversation when I talked to him."
Following his playing career at NMU, Plandowski followed Wildcats coach Walt Kyle to Seattle to serve as an assistant coach and scout for the Thunderbirds of the Western Hockey League for six seasons (1992-98). Plandowski was an amateur scout for the Buffalo Sabres for eight years (1998-2006) and then served two years (2006-08) with the Pittsburgh Penguins in the same capacity before his role as the head amateur scout with Tampa.
Among the players that Plandowski has played a key role in scouting and helping draft are: Derek Roy, Jason Pominville, Ryan Miller, Drew Stafford, Andrej Sekera, Clarke MacArthur, Victor Hedman, Brett Connolly, Radko Gudas, Nikita Kucherov, Andrei Vasilevskiy and Brayden Point.
Armstrong was scouting at many of the same events that Plandowski watched, so the two always seemed to be running into one another.
"You can be in the USHL, the OHL, wherever and the same guys are always at the same games," Plandowski said. "You meet a lot of people and some people you get along with better than others. Bill was always a guy that I got along with and we liked the same players. We were always kind of chumming together, talking about life and how teams should be built. We always had the same sorts of ideas of what we were looking for.
"Everybody is after talent, but there's different ideas of talent. Some teams are after more skilled guys, guys with hockey sense, and some teams are after a little more size or skating. You have to take a little bit of everything but you really have to find out about their character. There's a lot of good players playing in the National Hockey League but some are never going to win. As amateur guys, it's our job to figure out which guys have the character to develop, be good people, care about other people and really care about winning. It's not easy to win but if you have a group of guys that care about each other and care about a common goal it's a lot easier. That's the hardest part of our job is digging and finding out what a person is really like."
At every stop along the way, Plandowski impressed his bosses with his willingness to dig that extra foot. He was also an open book with knowledge that he had gleaned, or gleaned from his wife, Jill, a renowned skating instructor in The Maritimes.
"Before the 2017 Draft, I was picking his brain about Nico Hischier because Jill worked with him up in Halifax," said former New Jersey Devils GM Ray Shero, who was the Penguins GM while Plandowski was in Pittsburgh. "I asked him to talk to Jill and find out: 'Is this kid a good kid?' He did, she says he's a great kid and that's the thing about Darryl. He'll always do you those favors and he has the respect of his peers because he has done it so long, he has worked hard, he's a good guy and people trust his knowledge.
"He was always very passionate, very knowledgeable, and an easy guy to like and he always worked well with people. I only run into him occasionally now, but a couple of years ago, I remember having a beer with him at the Toronto airport while we were staying in the same hotel. We only worked together a couple years but we still had that bond and that friendship."
Plandowski marvels at how technology has changed the scouting industry, from cell phones to social media to video analysis, but the things that haven't changed are the long hours, the thousands of miles traveled every year and the largely anonymous nature of a scout's work.
"It's a grind," he said. "That's the negative part, especially when you have a family and kids. A lot of people want to scout and think they can scout but you are gone 25, 26 days a month. You're on a flight at 5 a.m. to get somewhere and then you're flying back somewhere else the next day. You're sleeping in a plane, you're trying to get your reports done and you're trying to keep it all together. It's grueling.
"That's why you need good people, tough people, hard workers, good scouts with a common direction on what you need in players to keep it all sorted out. You spend a lot of your time in rinks and in hotels and in airports and in planes. When I was young, I stayed out a little later but now that I'm a little older and a little smarter, I get to bed pretty early because I know I've got to catch a flight early the next morning."
While he is rarely home, Plandowksi will remain stationed in Halifax, but he will be in Arizona on Thursday for a series of meetings with the staff over a few days.
"Bill and I will sit down and go over what we have, where we need to add and what areas we need to focus on to maximize our coverage," he said. "There has been no year like this. Right now, we don't even know which leagues are going to play. The QHMJHL started Friday, the USHL says they will start in early November and nobody else seems to know what's going to happen. Our job is going to be hard because we don't know where players are and when they will be playing, but we'll get it sorted out and we'll have a plan."
Follow Craig Morgan on Twitter: @CraigSMorgan