Welcome to the AZ Coyotes Insider newsletter. My plan is to publish stories four to six times per week. By subscribing, you'll be supporting independent, accountable journalism. Subscribe now so you won't miss a story.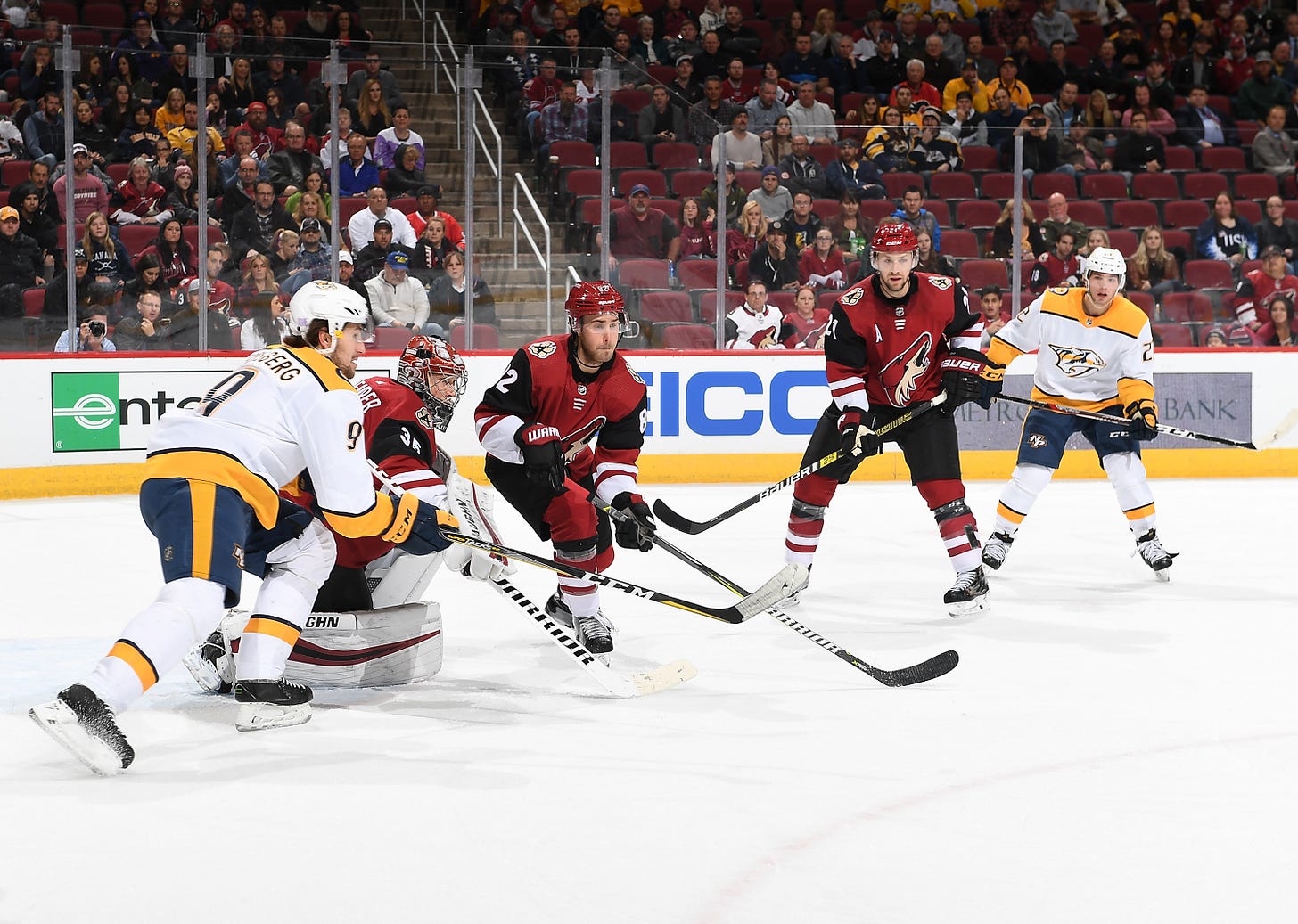 The Coyotes and Predators begin their qualifying round series in Edmonton on Sunday.
Photo courtesy of Arizona Coyotes
---
Among the notable achievements of the Coyotes' teams in the three-year span from 2009-2012 was their ability to block out the noise. There was ownership uncertainty as the league seized control of the team from owner Jerry Moyes, who had tried to place it in bankruptcy. There were acrimonious negotiations with the city of Glendale over an arena lease agreement. There were nonstop and ill-founded relocation rumors to numerous cities. There were well publicized contractual disputes with goalie Ilya Bryzgalov and center Kyle Turris.
Despite significant roster limits, the Coyotes made the playoffs in three straight seasons and advanced to the 2012 Western Conference Final.
"We used all that stuff as a galvanizing factor for our group," former coach Dave Tippett said. "It didn't matter what other people thought of us. We knew we were a good team and sure, all the talk pissed us off a little bit, so we wanted to prove it to everyone."
The 2019-2020 Coyotes would do well to follow that example. This season's team has plenty of off-ice drama. The team just endured a nasty and public breakup with president of hockey operations John Chayka. Longtime NHL executive Brian Burke told Hockey Central: "I have never seen a parting this bitter in pro sports in my life." There are multiple reports (including one from this site) that the Coyotes presented a low contract offer to impending unrestricted free agent Taylor Hall. There are reports of office staff discontent, and yeah, the team is still searching for a permanent arena solution.
Distractions? You bet, and coach Rick Tocchet is keenly aware of how they can derail a team's focus.
"I need to get the guys to worry about Nashville," he said. "Ironically, I addressed the players about this and gave them the us-against-the-world speech. Block out the noise."
In many ways, Tocchet's Coyotes are constructed in a similar fashion to Tippett's Coyotes. They are reliant on elite goaltending, they boast a veteran blue line and they still lack that elite, No. 1 center to alter the complexion and slotting of the rest of the forward group.
That said, there are enough pieces in place on this team to stage at least a short postseason run. And a run is of utmost importance to this rapidly changing franchise. There is a new owner in town. There is a new president and CEO in town. Neither is bound to the old way of doings things. And if the Coyotes bring in a new GM rather than elevate Steve Sullivan permanently, they won't be bound by the hockey operations vision that Chayka laid forth.
If the Coyotes can't manage some form of postseason success, more changes could be coming, and that could include Tocchet, who will enter the final year of his contract next season. New GMs tend to want their own guys behind the bench. New guys aren't wed to core of players that the previous GM identified. New guys like to implement their own vision, their own priorities and their own core.
Suffice to say, every member of this hockey team, including the coaching staff, is on notice. The best way for all of them to ensure their future in Arizona is to slip past the Predators and make the recognized playoff field of 16 teams. The Coyotes were outside that traditional playoff picture when the season paused, but the COVID-19 pandemic has provided them a new lease on life.
That makes this Nashville series the pivotal point of the season. Win it and the Coyotes can call the 2019-20 season a success. Lose it and the season will be failure, stretching the franchise's official postseason drought to eight seasons. It may sound dramatic, and it may sound unfair on the heels of a four-month pause, but it really is that simple.
"We have a clean slate coming up," assistant coach John MacLean said. "If you had a terrible regular season but you're on the dance floor, you can make any narrative you want going forward. I think there's opportunities for guys like that on this stage."
How can the Coyotes take advantage of those opportunities?
5 Coyotes keys
Play fast: Mike Kelly (@MikeKellyNHL) at thepointhockey.com highlighted a key facet of this series. Nashville was fifth in the NHL in shot attempts at even strength, third in shots from outside the slot and fifth in rebound chances and rebound goals. Nashville doesn't generate a lot of offense off the rush. It generates its chances through cycling, extended zone time and puck retrievals. This is a problem for the Coyotes, who struggle in their own end.
It's no revelation to say that teams that have to defend more will not be as successful, but the Coyotes are particularly susceptible to strong cycling teams, partially because they do not have that heavy defensive presence to shut down cycles.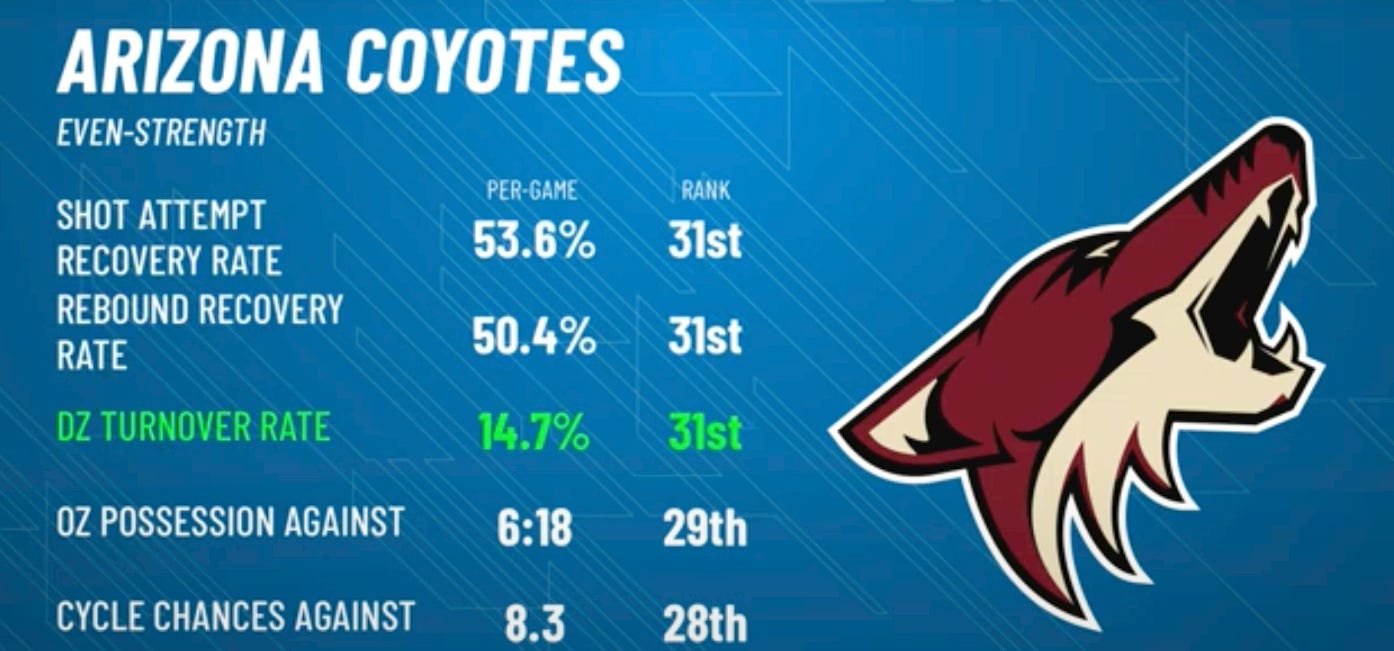 Graphic courtesy of The Point Hockey
---
Tocchet and assistant coach Phil Housley stressed the importance of quick breakouts that allow the Coyotes to play north and use their speed (they are one of the faster teams in the league) to generate chances off the rush or set up in the offensive zone. Activating the weak-side defenseman has been a point of emphasis in camp.
Finish: Well, duh, Craig. Every team must finish its scoring chances to be successful. Sure, but if you watched the second half of Kelly's video, you'll note that while the Coyotes were a top-10 team at generating chances off the rush, and at generating odd-man rushes, they were 29th in conversion rate. Nashville is excellent at defending the rush, too, so the Coyotes must convert a higher percentage of those chances.
They have the horses to do so. Taylor Hall, Phil Kessel, Conor Garland, Clayton Keller and Nick Schmaltz (if he's healthy) can all finish.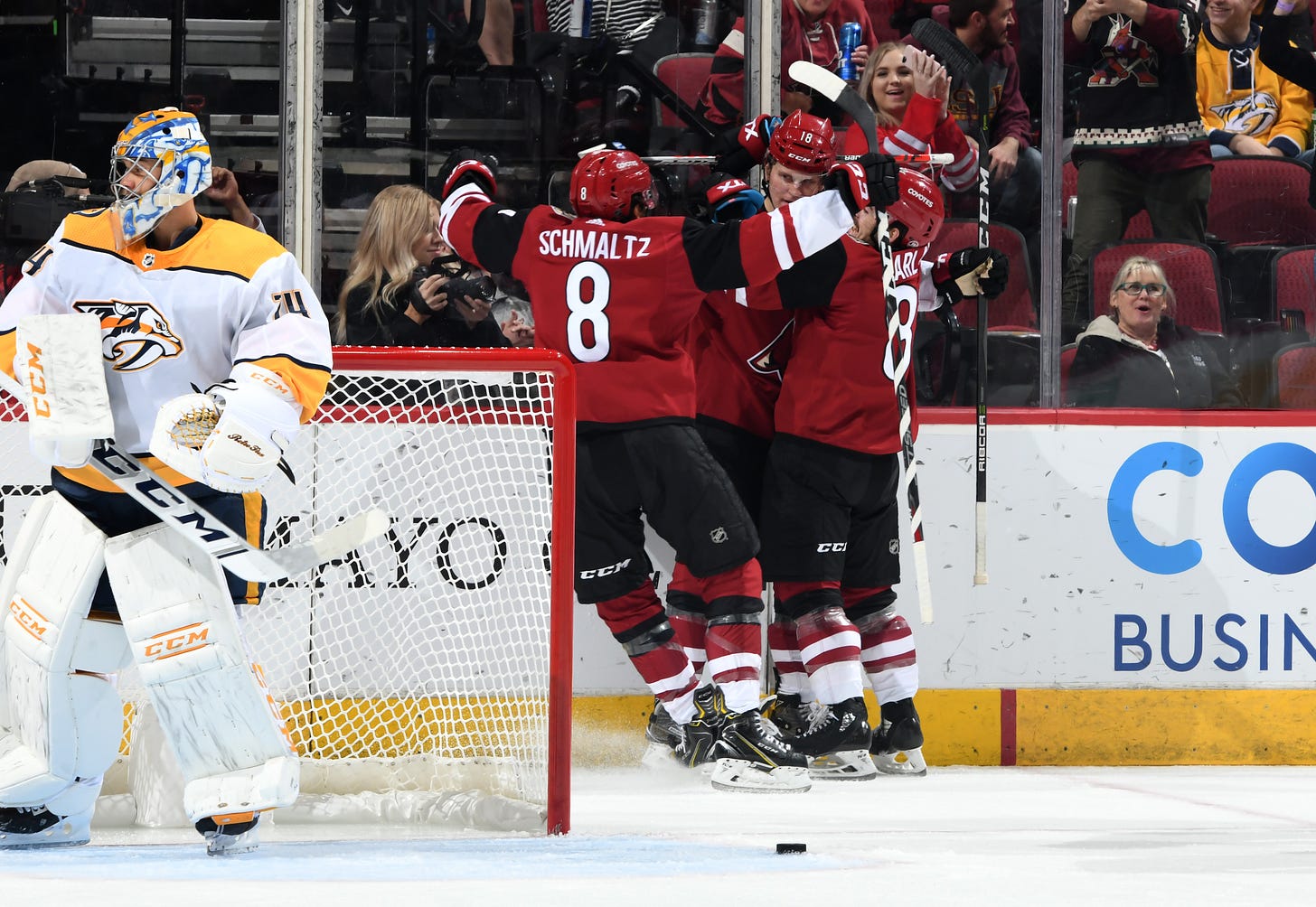 Photo courtesy of Arizona Coyotes
---
"It's just execution," Tocchet said. "It's hitting the net. It's passing the puck. It's finding that lane for you to receive that pass. It's about making reads.
"If you're coming down the right side and the goalie moves over, you've got to be able to hit that right side, top shelf. We have some guys who can definitely shoot the puck and have the skill. Now it's about applying it under pressure."
Elite goaltending: Assuming that Darcy Kuemper and Antti Raanta can quickly regain the form that they displayed this season – a big assumption given the four-month layoff – the Coyotes have a huge advantage in goal in a series format where both goaltenders will probably need to play.
Kuemper was fourth in the NHL in goals saved above average (9.84) and Raanta was 20th (3.93). Neither Pekka Rinne nor Juuse Saros was top 20 in that category and Rinne had a dreadful season. Kuemper played at a Vezina Trophy caliber level until he injured his groin, and numerous media members also mentioned him in the race for the Hart Trophy as league MVP. The Coyotes need that kind of performance from Kuemper. He can't just be solid. He has to be a goal and game stealer.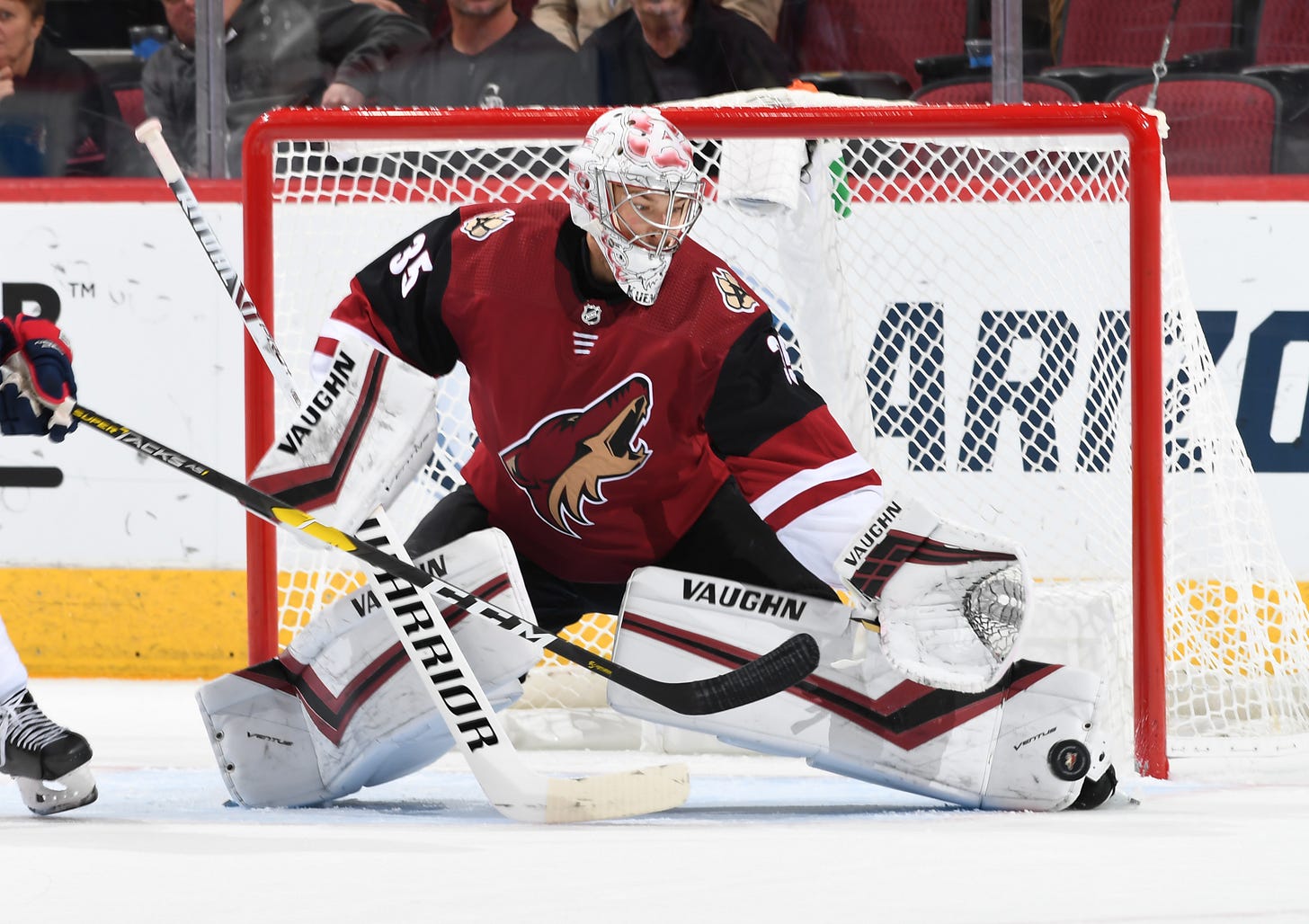 Photo courtesy of Arizona Coyotes
---
Special teams: Again this one is obvious, but special teams play tends to be magnified in the postseason. While Nashville made some progress under new coach John Hynes, their special teams were dreadful. Nashville's power play was 25th in the NHL at 17.3 percent. It's penalty-killing unit was 29th in the NHL at 76.1 percent.
The Coyotes PK was elite at 82.7 percent, the fifth best mark in the league. It's power play was average at 19.2 percent (18th). As the rust wore off, the power play unit looked better and better in the exhibition game against Vegas. Three keys for that unit's success are crisp movement (of bodies and pucks), puck retrievals, and the ability of the defenseman up top to get pucks through to the net, both to create second chances and to draw attention to that defenseman, thereby freeing up space and time for the players on the flanks, including Phil Kessel and Taylor Hall.
Net-front presence: Whether it is Carl Söderberg and Lawson Crouse standing in to clean up second chances, or Conor Garland and Clayton Keller darting in at the right time, the Coyotes have to get to the middle of the ice to score. This area of the game is also accentuated in the postseason when teams batten down the defensive hatches, and the Predators have doubled down on a philosophy of winning the middle of the ice under Hynes. All of the Coyotes have to be willing to go to these areas (which often requires timing, rather than setting u shop) or the team will not win this series.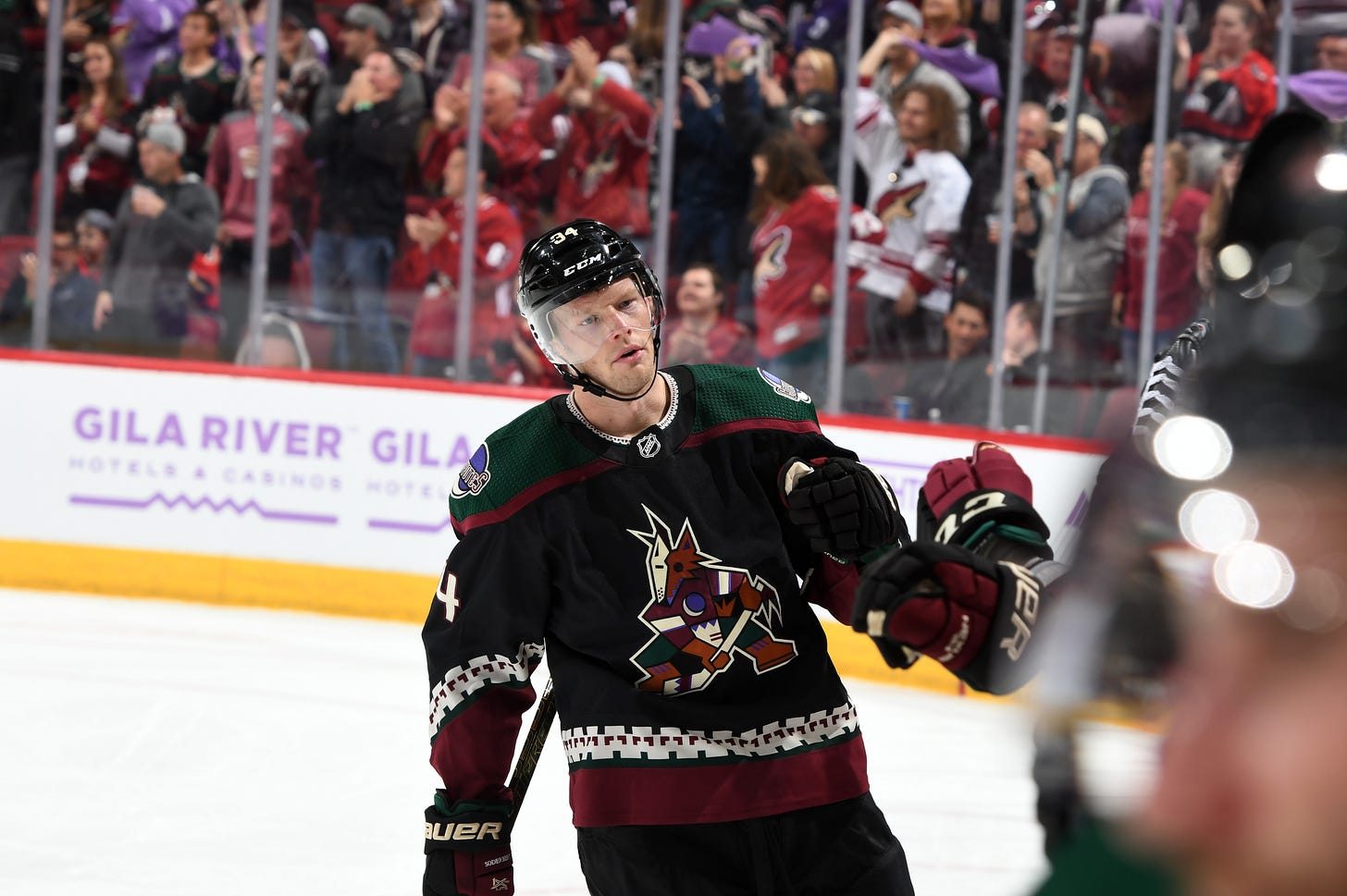 Photo courtesy of Arizona Coyotes
---
Lines
These were the lines (below) that the Coyotes rolled out in their exhibition game against the Vegas Golden Knights on Thursday before Nick Schmaltz suffered a neck injury from a high elbow by Vegas' Ryan Reaves.

Forwards
Taylor Hall Christian Dvorak Conor Garland
Lawson Crouse Derek Stepan Clayton Keller
Carl Söderberg Nick Schmaltz Phil Kessel
Vinnie Hinostroza Brad Richardson Christian Fischer
Defense
Oliver Ekman-Larsson Jason Demers
Jakob Chychrun Alex Goligoski
Jordan Oesterle Niklas Hjalmarsson
Goalies
Darcy Kuemper
Antti Raanta
I don't think that these are the lines that we're going to see. First off, Schmaltz didn't practice on Saturday, leaving his status for Game 1 questionable. Beyond that, I think the coaching staff is thinking about shaking up the lines, but the staff isn't tipping its hand just yet. It's possible that Barrett Hayton could replace Schmaltz if he can't play, but we could also see Michael Grabner in place of either Vinnie Hinostroza or Christian Fischer. If Schmaltz plays, we still could see Hayton and Grabner on the fourth line with Brad Richardson. We'll have to wait and see.
As I have noted a million times, lines are fluid and dependent upon a variety of factors including matchups, who's hot and who's not, who's healthy and a coach's gut feelings. I like the idea of getting Grabner's veteran experience into the lineup.
Extras (for now)
Forwards: Michael Grabner, Barrett Hayton, Brayden Burke, Hudson Fasching, Michael Chaput
Defensemen: Ilya Lyubushkin, Aaron Ness, Kyle Capobianco, Jordan Gross, Victor Söderström
Goalie: Adin Hill (Ivan Prosvetov remained in Arizona)

Predators' projected lines (per Adam Vingan of The Athletic)

Forwards

Filip Forsberg Ryan Johansen Viktor Arvidsson
Kyle Turris Matt Duchene Mikael Granlund
Rocco Grimaldi Nick Bonino Craig Smith
Calle Jarnkrok Colton Sissons Austin Watson
Defensemen
Roman Josi Ryan Ellis
Mattias Ekholm Dante Fabbro
Jarred Tinordi Yannick Weber
Goalies
Juuse Saros
Pekka Rinne
Schedule
Dates, times and television listings for the Coyotes' play-in round series vs. the Nashville Predators at Rogers Place in Edmonton.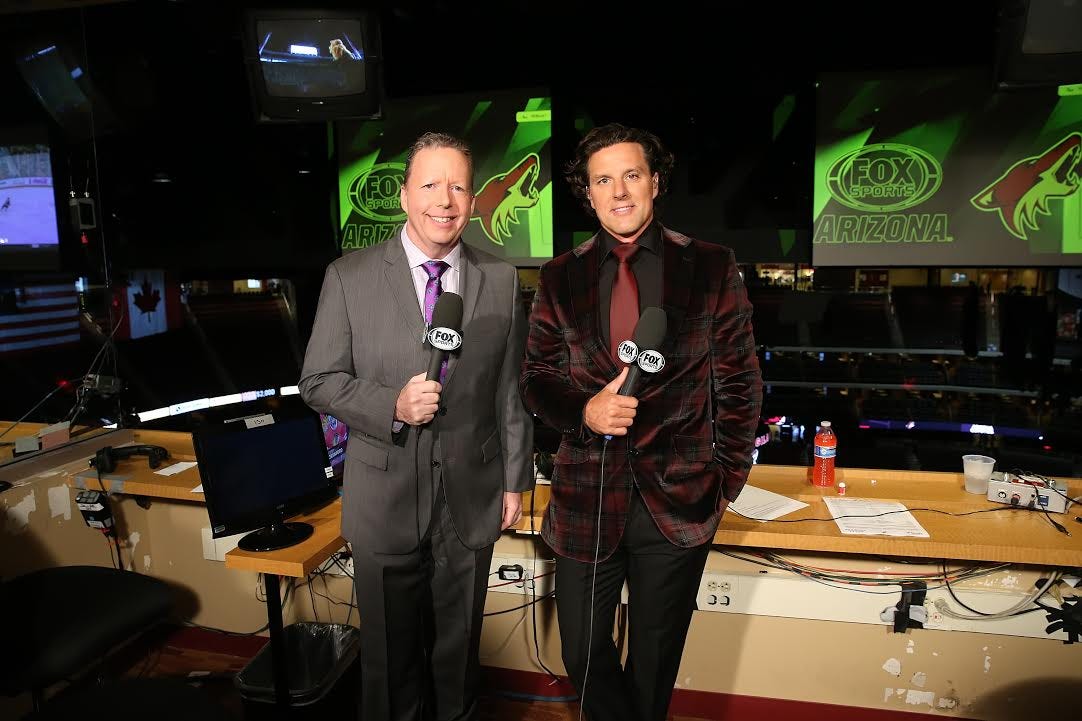 Photo courtesy of Fox Sports Arizona
---
Game 1: Sunday, 11 a.m., FOX Sports Arizona
Game 2: Tuesday, 11:30 a.m. FOX Sports Arizona Plus
Game 3: Wednesday, 11:30 a.m., FOX Sports Arizona & FOX Sports Arizona Plus
Game 4 (if necessary): Friday, TBD
Game 5 (if necessary): Aug. 9, TBD
Fox Sports Arizona Channel finder
Fox Sports Arizona Plus Channel finder

Follow Craig Morgan on Twitter: @CraigSMorgan