Coyotes' Halloween master of ceremonies Jakob Chychrun talks go-to candies, costume stress
Defenseman will hand out candy at team event at Gila River Arena on Saturday
Welcome to the AZ Coyotes Insider newsletter. I generally publish stories four to six times per week (some of them free). By subscribing, you'll be supporting independent, accountable journalism. Subscribe now so you won't miss a story.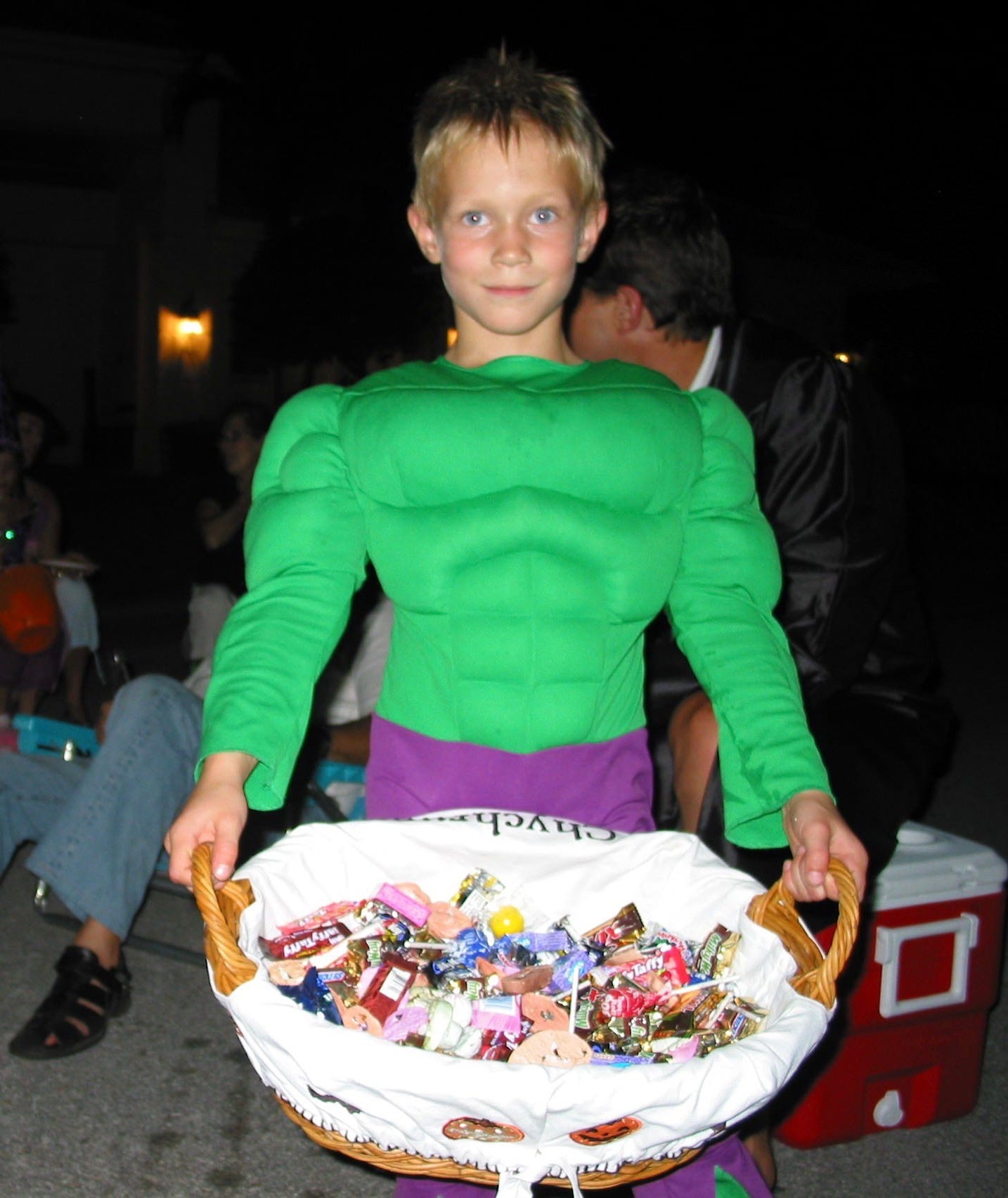 At age 5, Coyotes defenseman Jakob Chychrun dressed as The Incredible Hulk for Halloween. It's a shame that his parents couldn't find him a larger basket.

Photo courtesy of Jeff and Nancy Chychrun
---
Jakob Chychrun has a bad history with Halloween costumes.

"I was never really good at it, I still am horrible at it and it kind of stresses me out, to be totally honest with you," Chychrun said. "I'm just waiting for the day when I can have a girlfriend so she can just kind of pick my outfit and dress me so I don't have to worry about it. I hate doing it."
Chychrun's stress reached new levels last Halloween when he had planned with teammates to go as characters from the movie "Talladega Nights: The Ballad of Ricky Bobby," only to have ecommerce fail him.
"My costume ended up not showing up," he said. "I had to go on Amazon and order something and there wasn't much available. I was so stressed out and I settled on this onesie. It was a unicorn onesie. It was white and it looked like pajamas and it had like a rainbow tail and it had a hoodie."
I asked for a photo but Chychrun wasn't keen on the idea of sharing more than the story. It was probably a wise choice.
"I actually liked it," he said, laughing. "It was so comfortable and that's all I really cared about the whole night."
As he rattled off some of his costumes from childhood, including the one pictured at the top of this story, Chychrun noted that his favorite childhood costume was an equally simple design with a creative twist.

"We used to have boogie boards for the pool and I always loved the ocean; I was such a big ocean kid growing up in Florida with the long blond hair," the Boca Raton native said. "I dressed as a surfer but we cut out a chunk of the boogie board to make it look like Jaws took a bite out of it. So I was a surfer that got attacked by a shark."
The low point in his costume arsenal?
"I went as a greaser one year," he said. "It was terrible. I looked like an idiot."
Chychrun won't have to worry about costume anxiety this year. He'll be dressed as himself when the Coyotes host drive-thru trick-or-treating on Coyotes Blvd. outside Gila River Arena from 10 a.m. to noon on Saturday. Chychrun will pass out candy to fans in their cars from 10 a.m. to 11:30 a.m.
Per a news release, fans should enter Coyotes Blvd. from the west and drive eastbound because traffic will be one way. Fans are required to stay in their cars while Coyotes staff, dressed in costumes, will hand out treat bags and candy while supplies last.
Chychrun isn't sure what he'll be handing out on Saturday, but he does have his favorites.
"I'm a big candy guy," he said. "Candy over chocolate. I'm a big Skittles guy. I like Sour Patch Kids, too, but Skittles are definitely No. 1. I love it when people hand out the big bags, too.
"Nerds always seemed to be a big one. I would never really go for those but if I didn't see anything I liked, those were always a solid choice. If I had to go with a chocolate bar, I'll go with Snickers or Twix or Reese's."
Aside from Snickers, Chychrun's choices make it clear that he is in touch with the younger generation. Like all of us, he remembers those nightmarish experiences when someone handing out goodies was woefully out of touch.
Everyone who has gone trick-or-treating has, at some point, come across that healthy house of horrors where the residents seem intent on ruining the holiday with their self-righteous stance. They might as well hang signs that read: "We hate kids."
"When I was growing up there was a dentist in my neighborhood and one Halloween they weren't giving out candy because it's obviously bad for your teeth," Chychrun said with an eyeroll that I could sense over the phone. "They were literally giving out highlighters for school. 'Here you go. Happy Halloween.' I could not believe it. I was literally in shock. I was so young but I would pay for video of me and my buddies' faces when they handed us highlighters.
"Honestly, we get it, you're a dentist, but come on. It's Halloween. Give out some candy."
Chychrun is looking forward to being on the other side of that candy exchange on Saturday.
"I love interacting with kids," he said. "When I was a kid I always had role models and older guys I looked up to on the football team or whatever. When they would talk to me or be friendly to me it was always pretty cool. I was almost star-struck. I try to do the same for kids because I think you can have an impact.
"I'm sure it will be different handing out candy this year with COVID. I'm not sure exactly how it's going to work but hopefully it goes smoothly and some people show up. It will be nice to see some of the fans. It has been a while. It will be nice to have that interaction again."
Follow Craig Morgan on Twitter: @CraigSMorgan