Can Coyotes ride Kuemper in postseason or will it take two goalies to tango?
Unique challenges of postseason could put Raanta in mix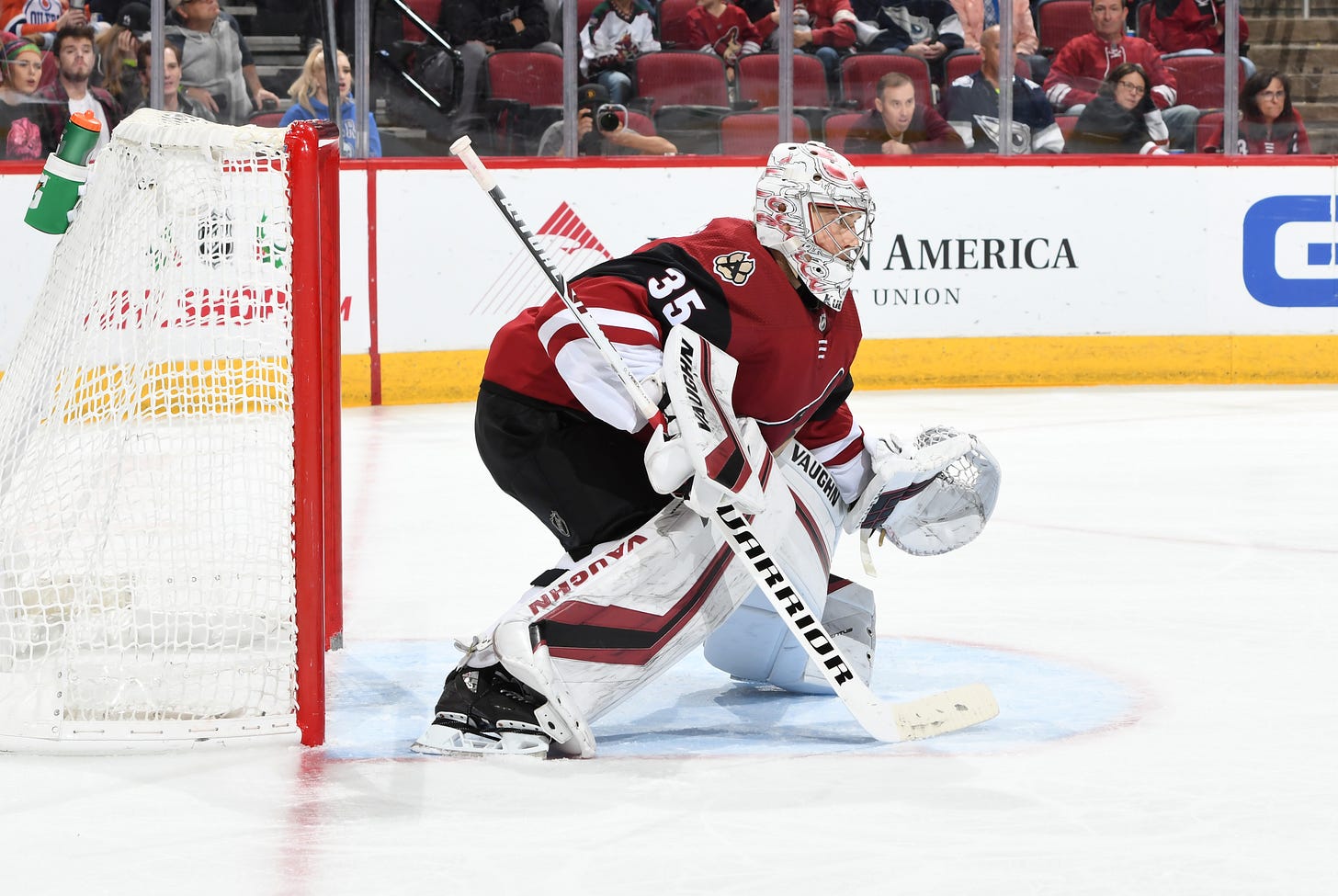 Darcy Kuemper, photo courtesy of Arizona Coyotes
---
Darcy Kuemper is approaching the NHL's play-in round as he would approach the start of a new season. Except for one very important qualifier.
"With a little more urgency," the Coyotes goalie said Tuesday. "There's not really an 82-game schedule to build up your game. It's elimination games right away and in a best-of-five series, there's not a lot of room for error."
Therein lies the Coyotes' conundrum. By the time Kuemper plays in an exhibition game after the Coyotes report to Edmonton (the Western Conference's hub city for the postseason), it will have been 20 weeks since his last game action on March 9 in Winnipeg. He won't get more than a couple of exhibition games in the week between the hub-city report date and the start of the play-in round, and there won't be any regular season games so he won't have much opportunity to fine tune his game before the stakes increase. Dramatically.
It has been widely assumed that the Coyotes would ride Kuemper as far as he can carry them in this unique format. It may play out that way, but that approach isn't as simple as it looks. Kuemper isn't the only one treating this restart like the start of a new season. So, in many ways, is Rick Tocchet, and that creates some concerns for the Coyotes' coach.
"When the season starts in a traditional season in October, I've yet to see where a coach rides a goalie for 10, 15 games in a row," Tocchet said. "I don't know if it's ever happened. It's pretty difficult to even ask a goalie to play a bunch of games in a row after being off for four months and not being on the ice for 2½ months."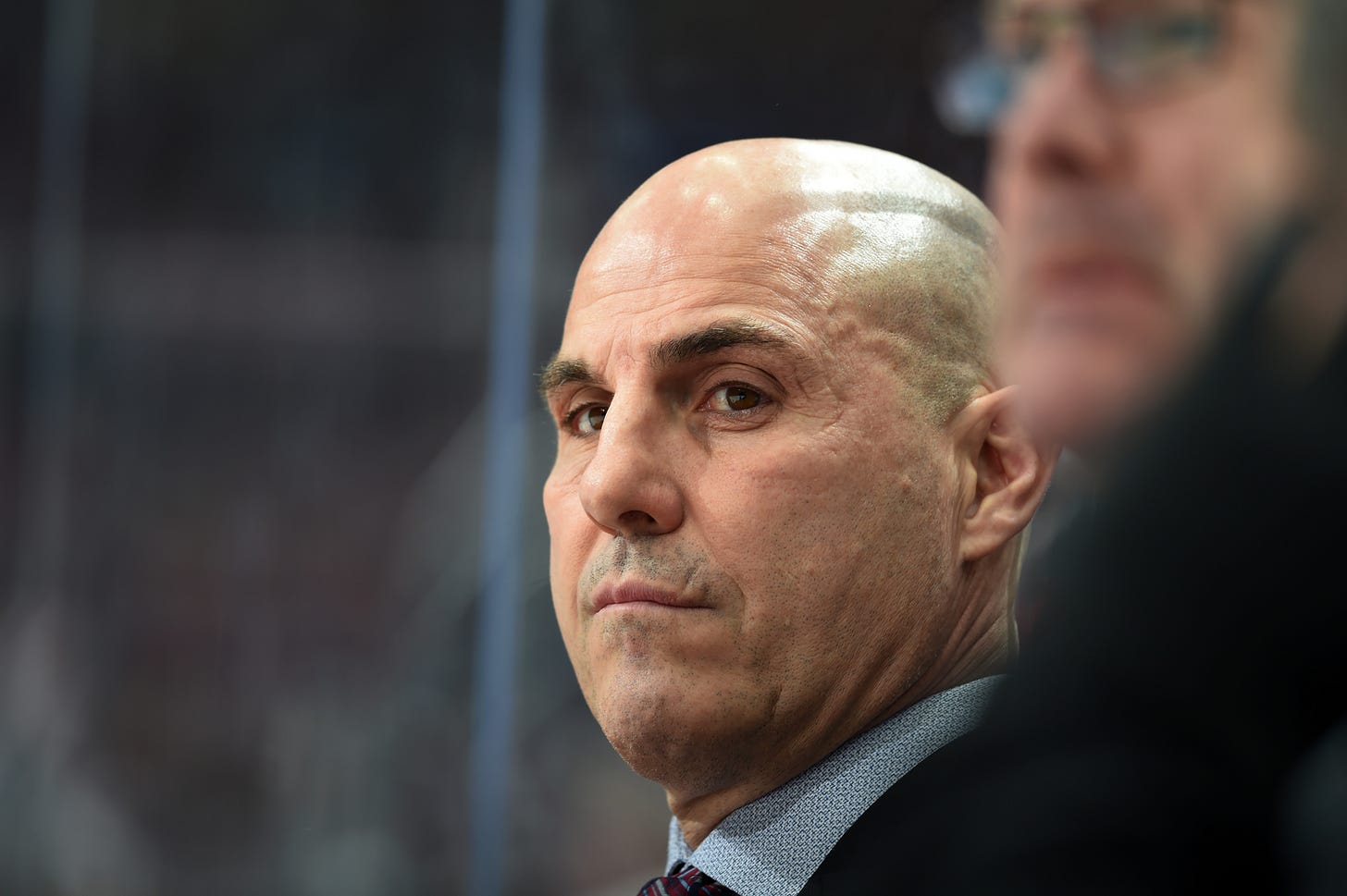 Coyotes coach Rick Tocchet is still mulling his goaltending plan, photo courtesy of Arizona Coyotes
---
Over the first 10 games of the 2019-20 season, every one of the Western Conference's 15 teams used it second goalie in at least two starts. Seven teams started their No. 2 three times, two teams started their No. 2 four times and Chicago evenly split Corey Crawford's and Robin Lehner's starts over the first 10 games. The idea is simple: Let your goalie work himself into rhythm while giving his body enough rest between starts to adapt to the season's demands.
"You usually build up through the exhibition before the regular season and then you're in more of a rotation to start the season so you don't generally have that opportunity or need to play a bunch of games right out of the gate," Kuemper said. "So if that is going to happen, you have to take advantage of the skates in Phase 2 here and then once we get into real training camp, you've got to be really dialed in on the ice because there's not going to be that window to build up your game."
There is another potential wrinkle to consider. The NHL has not released the schedule for the play-in round, but there has been speculation that teams may have to play back-to-back games and maybe three games in four days to squeeze in the rounds in Edmonton and Toronto. Can Kuemper really be expected to carry that load after such a long layoff? Even if the schedule requires only a game every other day, would the Coyotes be better served playing to perhaps their greatest strength: a goaltending tandem that features two players who finished among the top 10 in save percentage for goalies who played at least 29 games?

UPDATE: The NHL released its play-in round schedule on Friday and the Coyotes will have to play back-to-back games, as well as three games in four days. Here is the full schedule, with the Coyotes set to play the Predators in Edmonton on Aug. 2, 4, 5, 7 and 9 (the latter two only if necessary in the best-of-five format).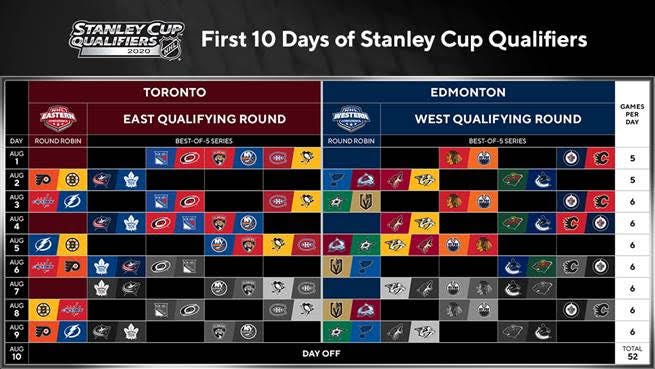 "It's hard to say how it will all play out because we haven't been told how many exhibition games we'll be playing," Coyotes goalie coach Corey Schwab said. "In a normal training camp, you come in and you're playing six or seven preseason games where you can make sure each of our NHL returning goalies are going to get in enough games. It's all about getting your rhythm and timing from the game action and that to me is a big difference in what we're facing so we're going to have try to replicate that in training camp with intrasquad games."
An oft repeated mantra from coaches is that the players and teams that did the best job of keeping their conditioning level will have a leg up in the postseason, but the work the players put in during Phase 2 and in training camp will play just as big of a role in success. Coaches are not yet allowed on the ice with players, but they can observe and suggest. Schwab is actively advising Kuemper and Antti Raanta, both of whom are fully healthy after the long layoff.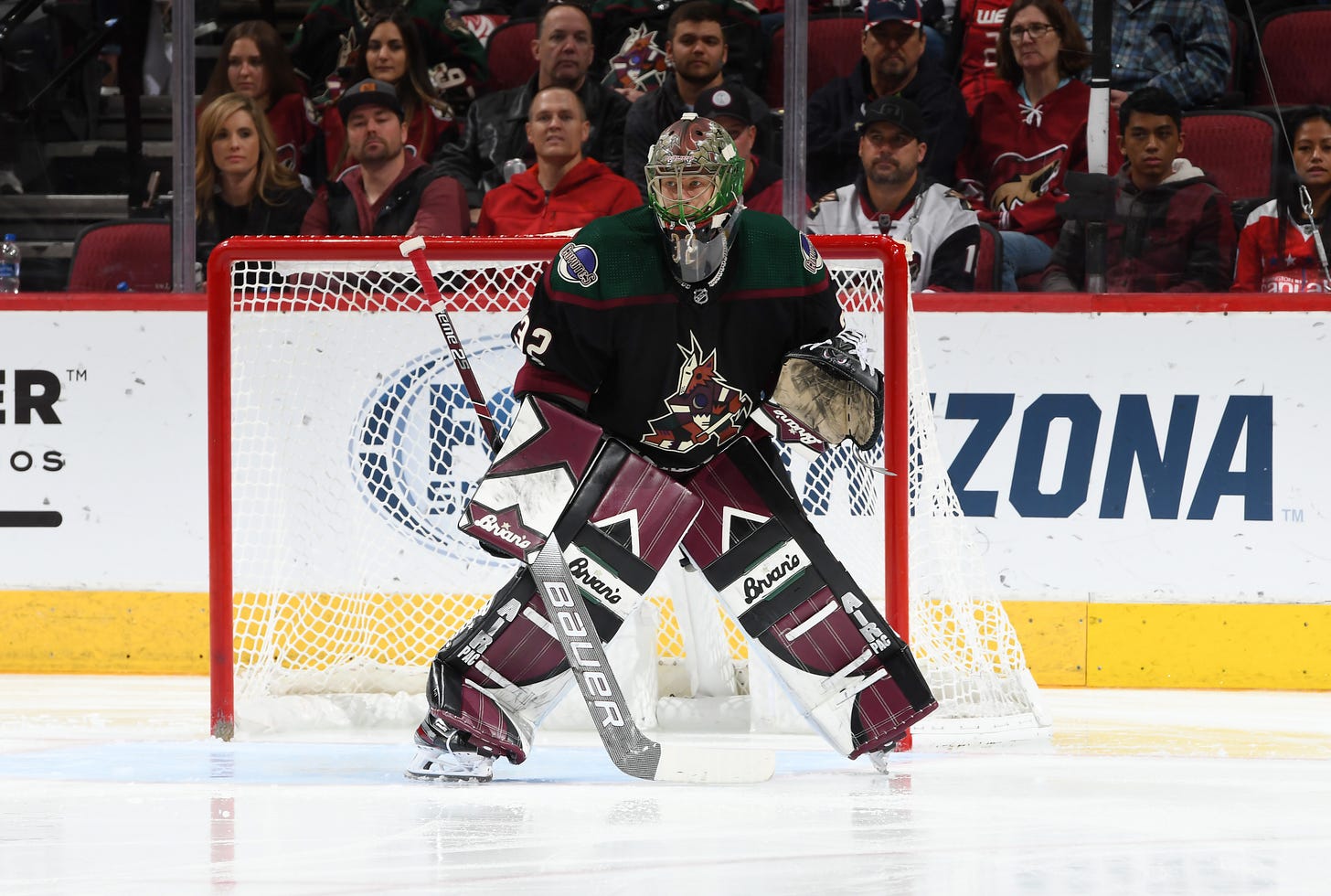 Antti Raanta, photo courtesy of Arizona Coyotes
---
"It's about getting them in all the different situations that they would face in a game," Schwab said. "That's what you don't have when you're not on the ice regularly. What I would normally do with a training camp is different situational and technical things to make them feel good about their game so they're not getting into a game situations and thinking, 'Oh, that area doesn't feel good.' It's just getting the reps in post play, behind-the-net play, deflections or screens and traffic. That's what we'll use training camp for, too.
"I think both guys have done a really job at conditioning throughout this pause. From what I have seen on the ice, they've been able to get their reps in the small-group sessions that we've been having and get their conditioning. We're going to have not quite two weeks, but there is enough time prior to getting to the hub city so I think there is enough time to build up to where we need to be. Obviously, games are often more taxing. You never know what you're going to get out of a game, but not having to manage an 82-game schedule alters your thinking. We don't have that in front of us. There is no tomorrow so we do what we have to do to win today."
We won't know for certain until he steps onto the ice, but Kuemper insists he is ready to roll.
"I'm feeling pretty dialed in," he said. "I'm feeling healthy and feeling well conditioned. I want to hit training camp ready to go for day 1 because I think that will help me for game 1.
"A lot of it is getting back to the strengths of your game so you have that base to fall back on and then work out from there. Right now, it's about holding your feet, working on your edges, getting square and getting your hands going and everything else kind of comes along after that.
If Kuemper gets on a roll, it is logical to assume that the Coyotes will ride him, but if there is any sign of fatigue (mental or physical) or slippage in his game, he likes the team's chances with Raanta in net.
"We like to think that we're the top tandem in the league," he said. "There are obviously other good ones, but it's definitely a strength of our team. If that is the case where teams are rolling both guys, I think that definitely puts us as an advantage."
That is, at least, one comfort for Tocchet in a postseason format rife with uncertainties and unique challenges.
"It's a weird situation, it's a different situation and in this situation I think you have to have two really good goalies," Tocchet said. "I'm preparing like we're going to play back-to-backs, I'm preparing to play every other day and I'll prepare the team for whatever comes our way. I can't tell you today whether we're going to ride one goalie but I can tell you we are very fortunate to have two good goalies."
Follow Craig Morgan on Twitter: @CraigSMorgan