Discover more from AZ Coyotes Insider, LLC
The most complete, independent coverage of the Arizona Coyotes. Sign up to sample free content. Want full access? The cost: $5 per month, $60 per year or the founding member option (any amount above annual sub rate). Twitter: @CraigSMorgan
Over 2,000 subscribers
Are you ready for another rebuild, Coyotes nation? It may be needed with a flawed, tapped-out roster
Welcome to the AZ Coyotes Insider newsletter. My plan is to publish stories four to six times per week. By subscribing, you'll be supporting independent, accountable journalism. Subscribe now so you won't miss a story.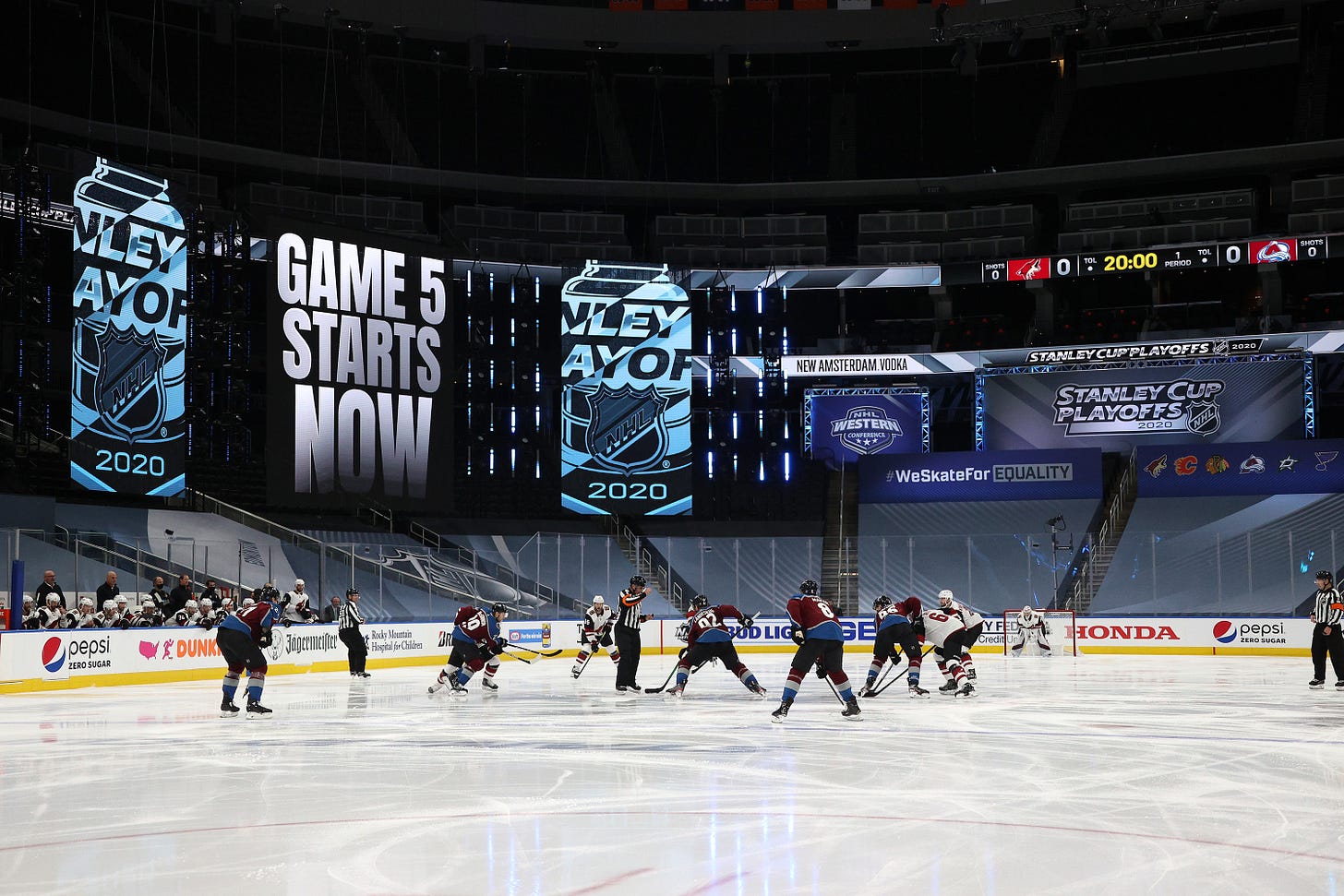 The opening face-off for Game 5 was as good as it got for the Coyotes, who were eliminated from the playoffs in a second straight 7-1 loss to the Colorado Avalanche in Edmonton on Wednesday.
All photos courtesy of Arizona Coyotes
---
One freeze frame of Rick Tocchet on his postgame Zoom conference Wednesday told the story of this Coyotes season. Tocchet was understandably disappointed and subdued after his team was eliminated from the playoffs in humiliating fashion. The Coyotes talked Tuesday of putting on a better face after an embarrassing 7-1 loss in Game 4, but there was no action to back those words in a second, 7-1 loss in Game 5 that ended their season.
"We were overmatched," said Tocchet, whose team trailed 3-0 after one period. "You take three penalties right off the bat. You can't do that against Colorado and what's frustrating is they're just not smart penalties. We knew we had to get a good start, we had no answer for (Nathan) MacKinnon the whole series and we collectively had a bunch of guys that just did not play well. Quite frankly, I'm not sure where their minds were."

Tocchet didn't want to dive into season assessments with this loss still so fresh, but there was more on his face than frustration and disappointment. He also looked tired. It is the same look I saw deep into Dave Tippett's coaching tenure here. It's a fatigue that comes from fighting the same uphill battle, season after season.
Overmatched in the skill and scoring departments, Arizona scratched and clawed its way into the first round of the playoffs with grit, defensive structure, speed on the flanks and great goaltending. It was an admirable achievement for a franchise that had missed the postseason the previous seven seasons.
But in Game 5, and in this series against the Avalanche, a legitimate Stanley Cup contender, those ingredients weren't nearly enough. Therein lies the problem.
While this group deserves praise for reaching the round of 16, regardless of the pandemic-induced format or how it ended, the formula for this modicum of success is not sustainable. The Coyotes do not have a true No. 1 center. The Coyotes do not have a physical defenseman to keep opponents honest, or a physical forward who makes things happen around the opposing net. The Coyotes do not have a player that finished among the NHL's top 60 in points. The Coyotes do not have a player who finished among the top 50 in goals scored, and their top point-producing defenseman was 35-year-old Alex Goligoski, who finished 40th among NHL blue-liners with 32 points.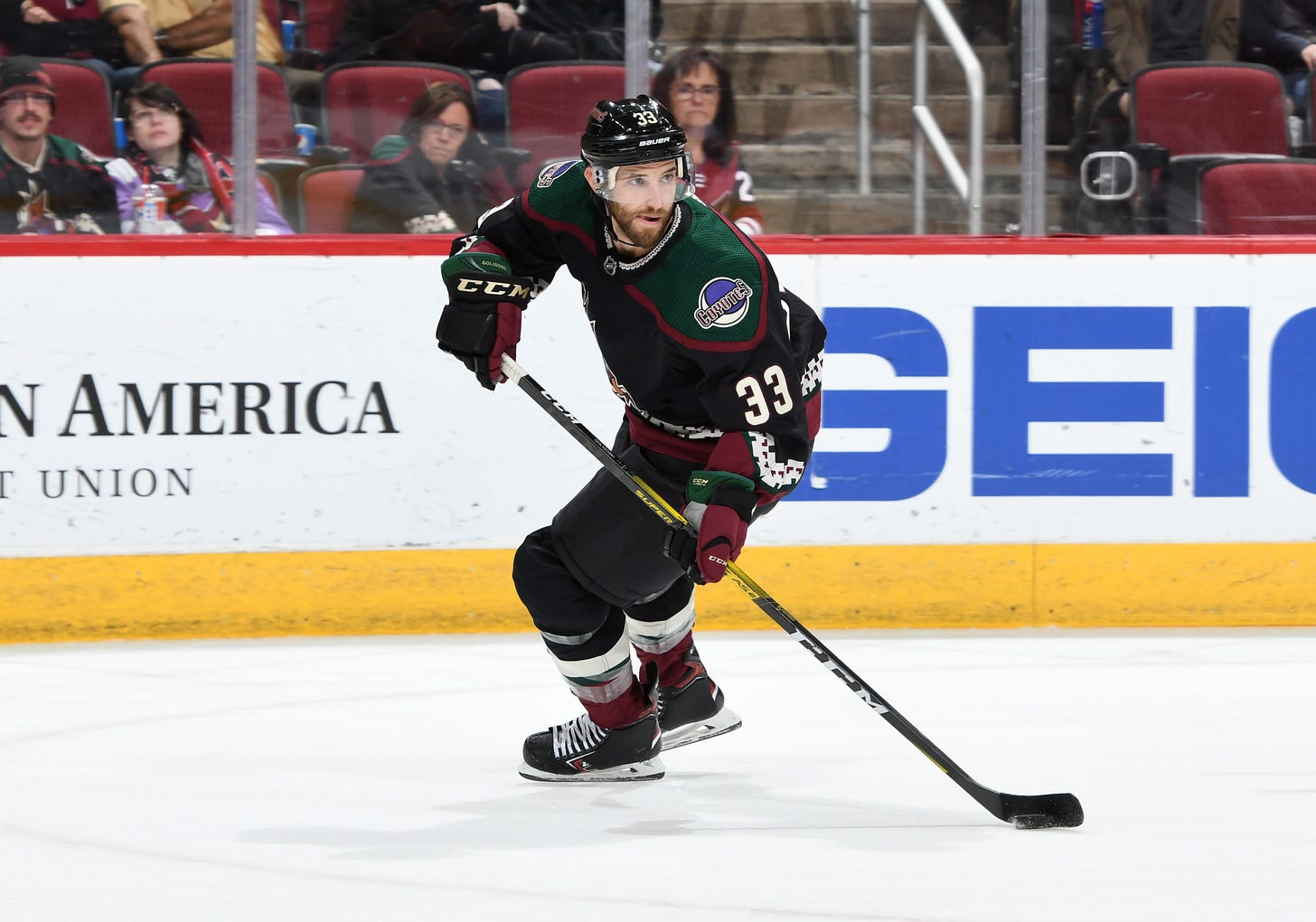 Alex Goligoski
---
When management and ownership look at this current group, they have to ask themselves a simple question: Is there reason to believe that this roster can achieve more than it did this season? Is it hard to say yes with any conviction.
Center Barrett Hayton could help in what will be a telltale season for him in 2020-21. Aside from him, there are no saviors in the prospect pipeline who are ready to make their mark. Defenseman Victor Söderström needs some seasoning and time to adapt to the smaller North American ice surface. Power forward Jan Jenik needs more time to develop after an ACL tear at the World Junior Championship cut short his progress. Other than goalie Ivan Prosvetov, all of the other players in the system are likely role players. You need those, but you need top-end skill to win championships. You need guys like MacKinnon, Mikko Rantanen and Cale Makar. Hell, it would be nice to have a guy like Nazem Kadri, who had five goals in this series.
There will be a lot of criticism of the roster that John Chayka constructed before his messy departure, so let me digress for a moment. It is easy to throw stones when a guy departs, but some of the criticism you will hear is convenient and insufficiently analyzed. Personally, I liked the job Chayka did early in his tenure but I thought he turned too impatient with the acquisition of Phil Kessel, who has been a major disappointment, the trade for Taylor Hall that cost the Coyotes a No. 1 draft pick this season, and the long-term contract extension for Clayton Keller, who hasn't yet earned such a payday. The Coyotes will be a cap team for another season and that is a mind-boggling realization after Wednesday's result.
Multiple analysts have suggested, however, that Chayka made a mistake by dealing assets at the 2017 NHL Draft. I do not agree. The acquisition of Niklas Hjalmarsson for Connor Murphy and Laurent Dauphin was a clear win, and I understand why Chayka acquired Antti Raanta and Derek Stepan at the time. The Coyotes needed a starting goalie and they desperately needed a top-six center who could bring veteran stability to a young core. That presence is vital in a young locker room and Stepan definitely brought it. Nobody saw Raanta's perennial injury issues coming, and nobody foresaw Stepan's offensive production dropping off a cliff after his first season in Arizona.
Here's another point that critics conveniently gloss over. The 2017 NHL Draft was awful. Chayka knew it and he said so privately, before the draft. Go ahead and look over that draft and tell me which game-changing player came after the top five picks. In light of that, I still don't mind giving up that pick which the Rangers used to select hugely disappointing center Lias Andersson at No. 7, while also acquiring defenseman Tony DeAngelo, a player with significant character issues (read this collection of wonderful links) that were well known in his time here.
As for the they-should-have-drafted-Quinn-Hughes-instead-of-Hayton-crowd, maybe they should have drafted Hughes instead of the still unproven Hayton, but every GM has swing-and-a-miss moments in the draft because scouts are evaluating 17- and 18-year-old kids with miles of mental and physical development ahead of them. It is the hardest draft of the four major pro sports to evaluate for that simple reason. It's dumb that the NHL drafts such young players. The draft age should be raised like every other league, but that's a subject for another day.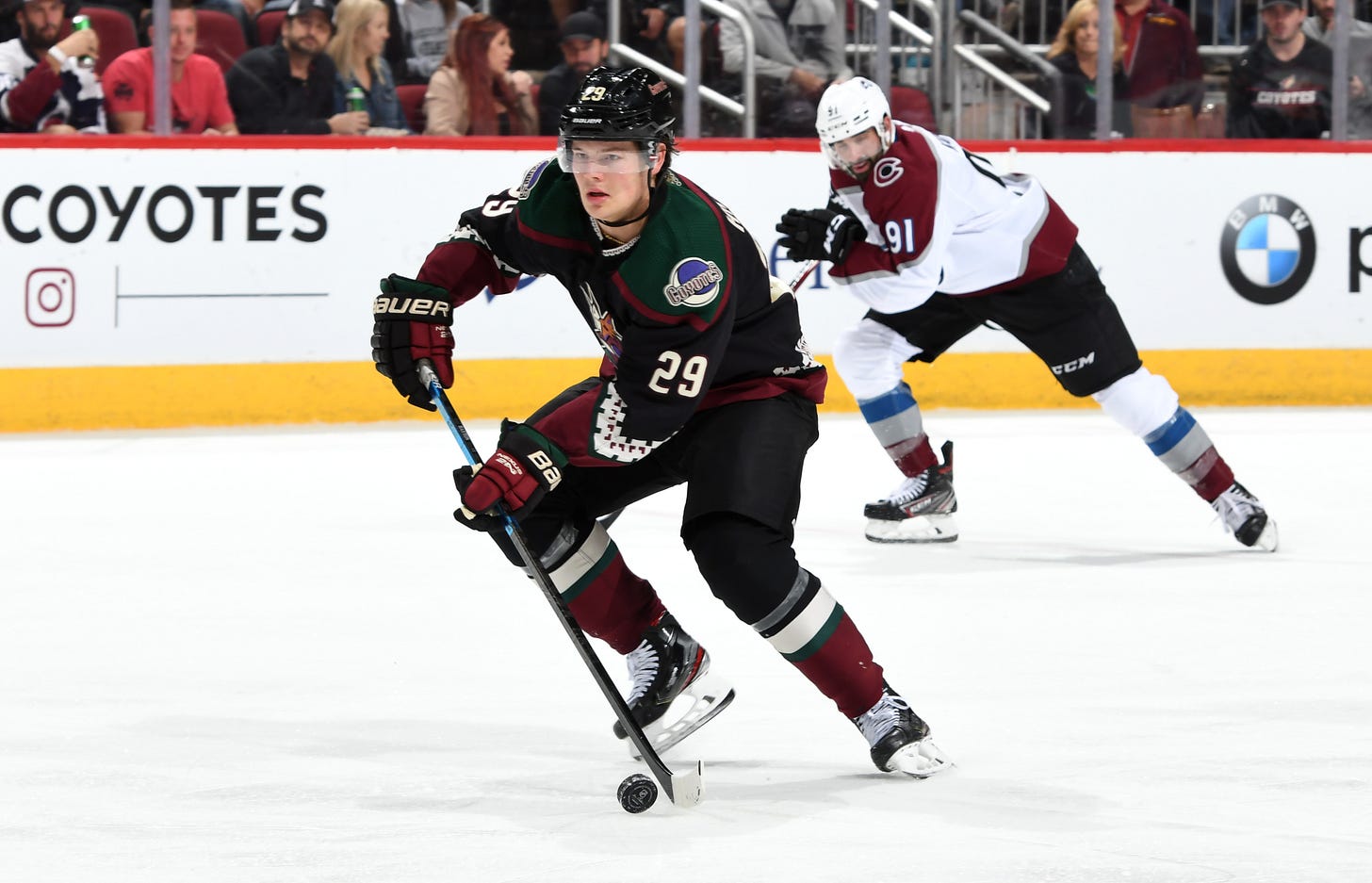 Barrett Hayton
---
The point here is that the draft is an inexact science, maybe even a crapshoot. Every GM, repeat, every GM has picks he'd like to take back. So when the Hughes crowd comes to criticize the Coyotes' 2018 first-round pick, my response is something like this: "I know, right? Imagine drafting Olli Juolevi instead of Matthew Tkachuk. Imagine drafting Jake Virtanen instead of William Nylander, Nikolaj Ehlers, Dylan Larkin or David Pastrnak!"
The greater point here is that every critic has opinions, but too many of them cherry pick the examples that fit their narrative. A thorough examination will often poke holes in their arguments, and that is the case with Chayka's body of work.
Just look at what he had to work with when he arrived. Not happy with Nick Schmaltz's second half of 2019-2020? Well, Chayka got him for Brendan Perlini, who had one goal this season, and Dylan Strome (another GM's mistake) who is now a third-line center in Chicago and may be expendable this offseason. Not happy with Raanta's injury issues? Well, Chayka flipped Tobias Rieder and Scott Wedgewood for Darcy Kuemper. Chayka's tenure was a mixed bag like most GMs, with the jury still out on some picks.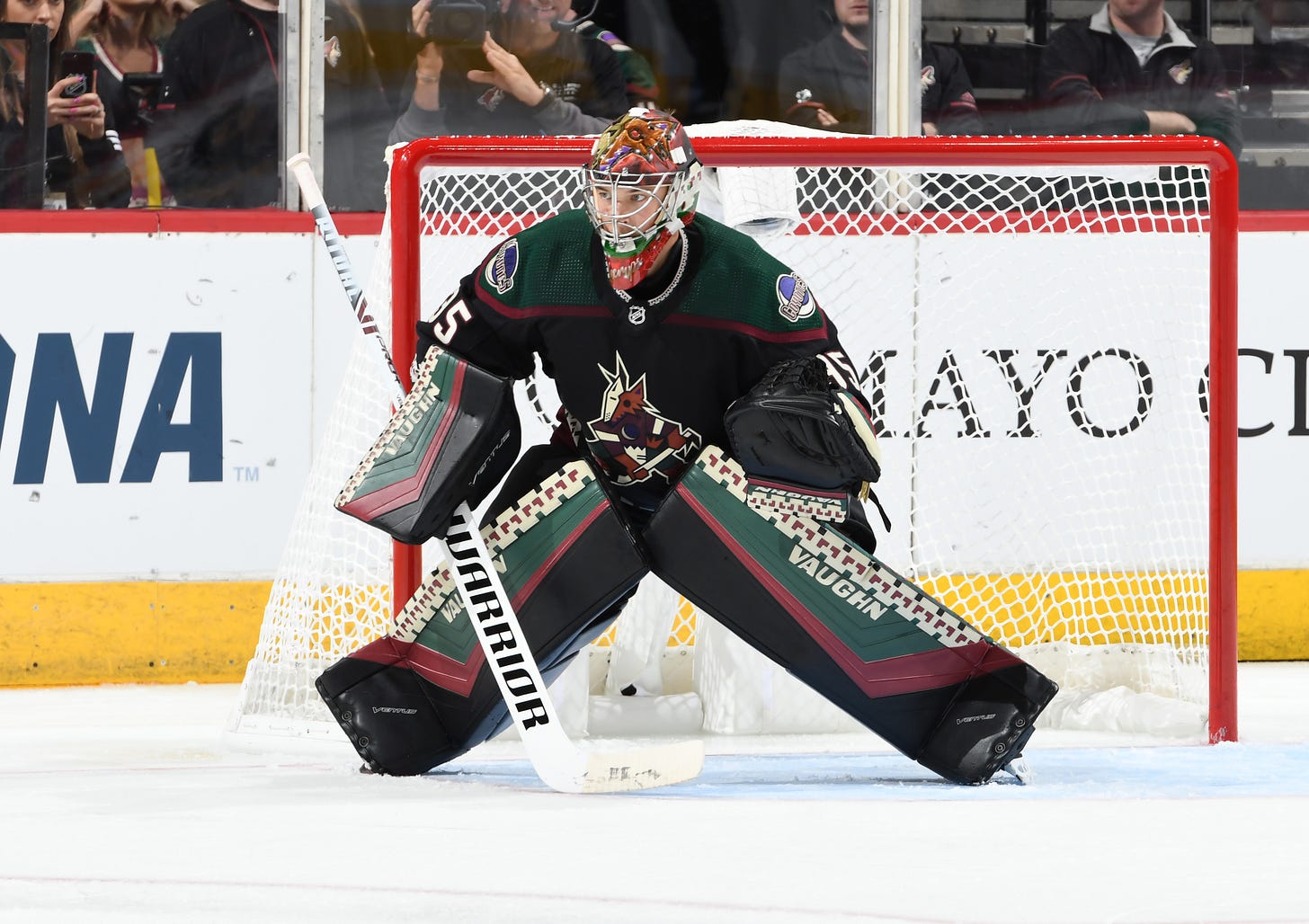 Darcy Kuemper
---
You know what has really hurt the Coyotes' accumulation of talent more than anything? They didn't get lucky like Edmonton, Toronto, Colorado, Buffalo, Florida, Pittsburgh or Chicago, and finish among the top two picks in the lottery in years when a franchise altering player was available. Edmonton, Buffalo, Florida and Toronto have somehow managed to waste that luck to date, which to my way of thinking opens them up to far more deserved criticism than the Coyotes, who had the added challenge of a lack of resources before Alex Meruelo arrived.
OK, back to our regularly scheduled postseason wrap-up column. We don't know who the Coyotes next GM will be (I threw out some possibilities in this story), but ownership has to get this right with an experienced, steady hand, and they have to get it done in fairly short order with the draft and free agency tentatively scheduled for October. Once that decision is made, this has to be a better offseason for whoever sits in the Coyotes GM chair.
The Coyotes currently don't own a first- or third-round pick so it will be difficult to accumulate young talent this offseason, and oh, by the way, there's still that looming NHL investigation and the possibility that the Coyotes may be fined in dollars and draft picks. Those challenges aside, there are also difficult decisions ahead with the current roster. You can't just push this same group back on the ice and expect a different result just because your young players are a year older. So are the older players, and there are significant flaws on this roster.
Could the Coyotes flip a veteran or two for second or third-round picks? Maybe, but compounding the new GM's challenge is a salary cap that will be flat for next season, and perhaps beyond because of COVID-19 associated financial losses. A lot of teams are facing a cap crunch which might make it difficult for them to take on big contracts.
I doubt that pending unrestricted free agents Brad Richardson and Carl Söderberg will be back, but the Coyotes would probably like to move a few other veteran contracts with one year left on their deals. Stepan, Raanta, Goligoski, Michael Grabner and maybe Jason Demers are on the list of possibilities. So, I'm sure, is Phil Kessel, whose contract, clauses and performance would make moving him difficult.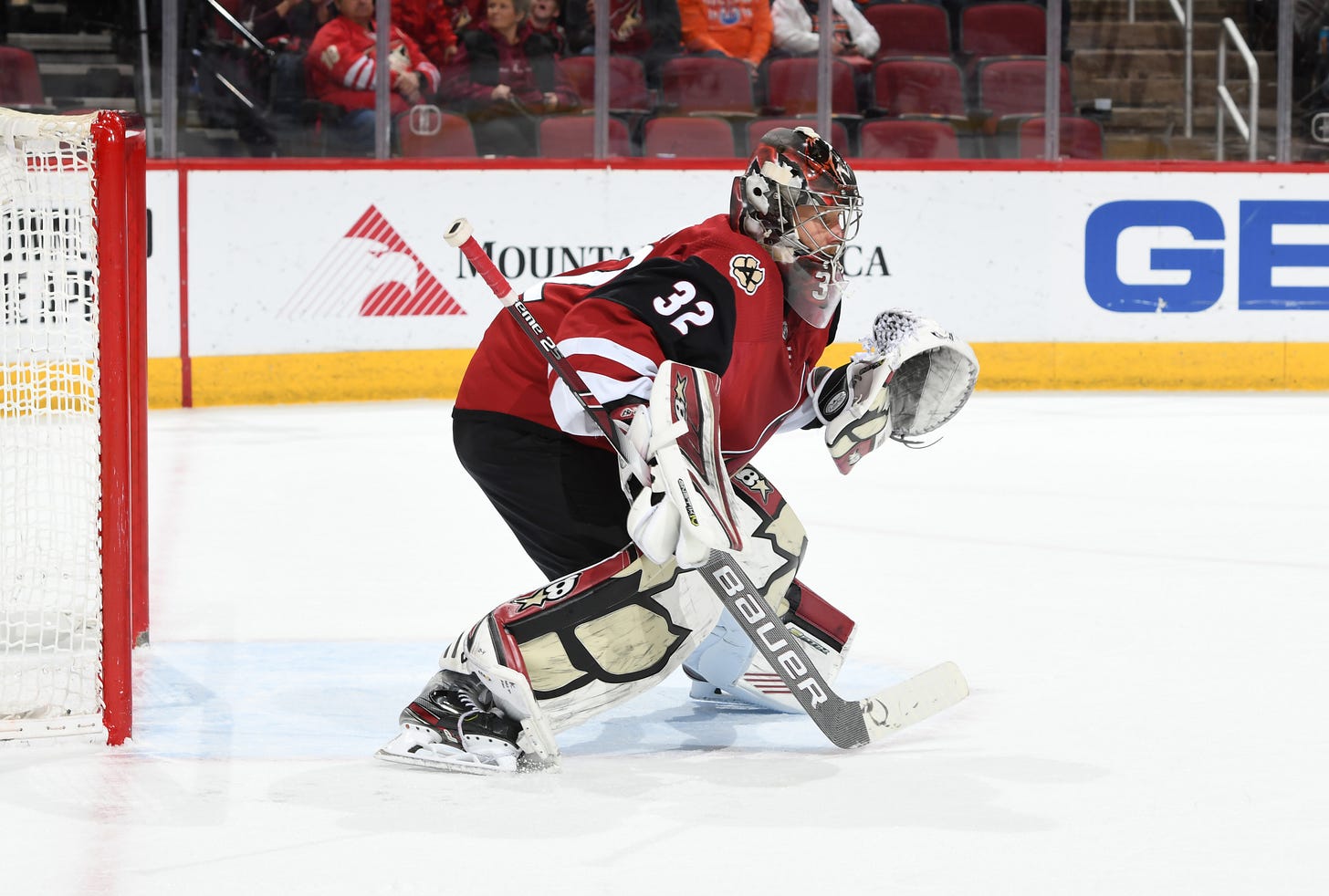 Antti Raanta
---
Goligoski is coming off a good season and may have value on the open market. The same may be true of Raanta, who is still elite when he's healthy, and Niklas Hjalmarsson, who hasn't had a great postseason, but is still one of the game's elite shot suppressors.
If the Coyotes aren't able to move a couple of those veterans out, would they consider trading young players and acquiring picks or assets? It is hard to discount anything at this point with a new ownership group, a new president and a new GM coming in. None are beholden to the previous plan.
If ownership chooses to strip down this roster, and then manages to do it in this flat-cap world, I also have to wonder about the wisdom of re-signing Taylor Hall, even if he wants to return. Hall is the only legitimate top-line player on this team, but if you consider a timeline for a reboot — one that may also factor in an arena solution three or so years down the road — does it make sense to commit big money to a player who may not be at the height of his game when the long-term plan comes to fruition? Would they be better served saving that money in hopes of wooing a certain Arizona product home in 2024-2025?
The Coyotes have to be careful here. They need a good mix of veterans to shepherd the young core to NHL maturity. The latter is almost there, but it's not there yet and I think this is reflected in Chayka's original plan. That's why so many veterans are on expiring contracts next year. Chayka felt the young core would be able to assume control at that point when the Coyotes would also have ample cap space to fill out the roster with free-agent or trade-acquired talent. Is that the way to go, or would it be better to strip this down for a couple of seasons to earn more high draft picks and try to find the kind of game-breaking skill that this team so badly needs? All of that will remain unclear until the new GM is in place, but the draft is usually the place where you find that kind of talent.
Can you stomach another rebuild, Coyotes nation? It feels inevitable that more changes are coming. Stay tuned for another fascinating and news-filled offseason in the desert. The details of the plan may come in staccato fashion, given the condensed offseason, but that's nothing new for a franchise that, to date, has made more news off the ice than on it.
Follow Craig Morgan on Twitter: @CraigSMorgan