Discover more from AZ Coyotes Insider, LLC
The most complete, independent coverage of the Arizona Coyotes. Sign up to sample free content. Want full access? The cost: $5 per month, $60 per year or the founding member option (any amount above annual sub rate). Twitter: @CraigSMorgan
Over 2,000 subscribers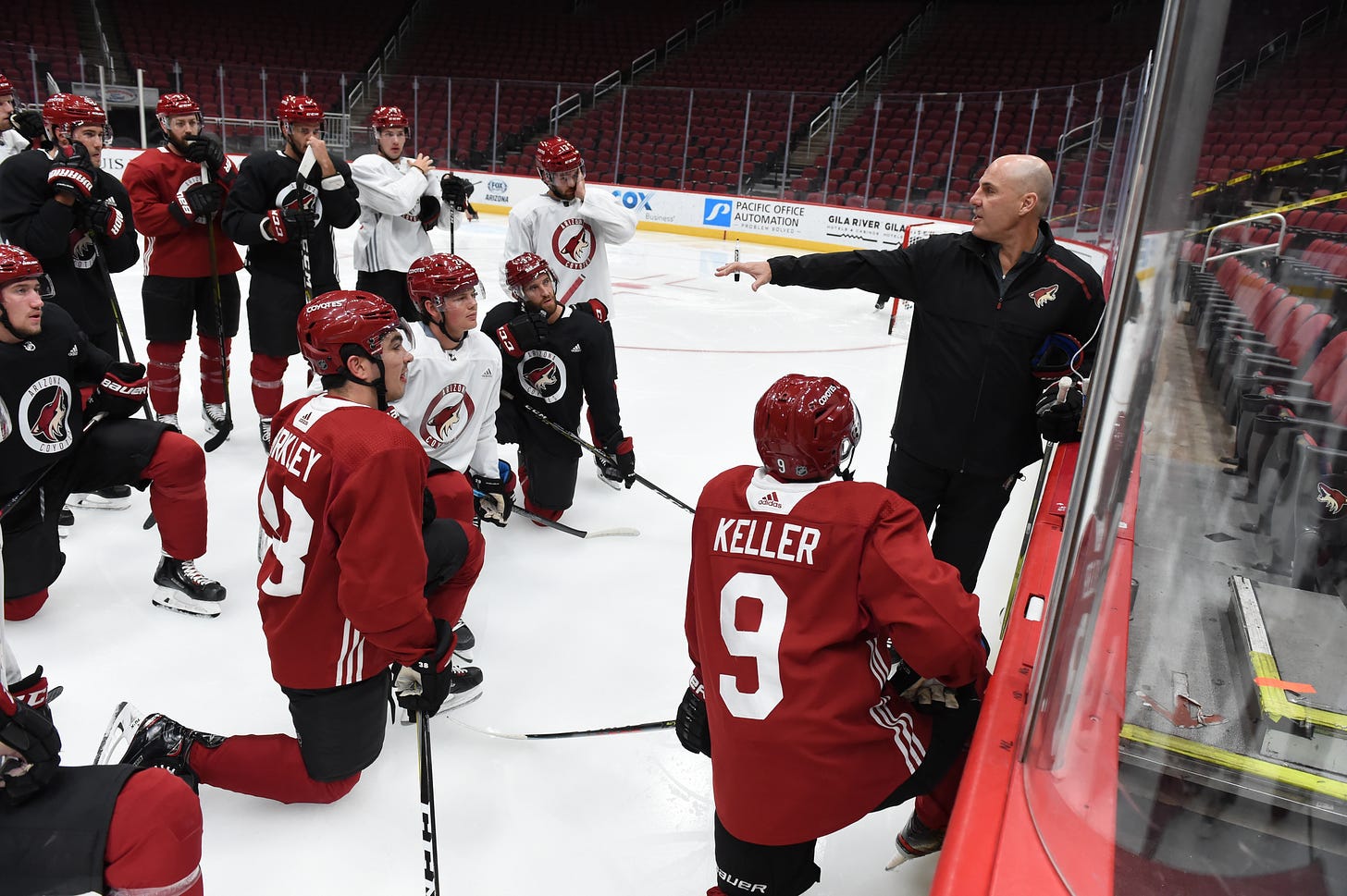 Photo courtesy of Arizona Coyotes
---
Imagine how you would feel if you took a 124-day break and then returned to full-time work with an all-or-nothing deadline looming in three weeks. That might give you an inkling of the challenge the Coyotes will face when training camp begins at Gila River Arena on Monday.
The Coyotes haven't played a game since March 9, finding ice was a challenge for much of their time off, they won't play any home games no matter how far they advance in the postseason, they won't have fans in the stands in that postseason, and their entire season likely will be judged by the results they produce between Aug. 2 and Aug. 9.
How do you plan for that? And how do you lay odds on what comes next?
"I'm the worst guy you could possibly talk to about gambling so I won't say it's a crapshoot," Coyotes assistant coach John MacLean said of the NHL's unique 2020 postseason. "I think you have to look at it as an opportunity. I won the Cup as a player (with New Jersey) the last time we had a shortened season. It was different circumstances but '95 was a shortened season, 48 games. We were average in the regular season (22-18-8) but we ran the playoffs.
"Of the 24 teams in it this time around, there's really nobody that doesn't have a chance. Montreal got in by the skin of their teeth, but they have Carey Price so who knows? We have a clean slate coming up. If you had a terrible regular season but you're on the dance floor, you can make any narrative you want going forward. I think there's opportunities for guys like that on this stage. If you had an off year but then people say, 'Wow, what a playoff performer he was,' they forget about whatever happened in the regular season. You can change your year around in three games."
From a preparation standpoint, coach Rick Tocchet is feeling good.
"We're ahead of schedule," he said. "Everything is scripted and we've got our game plan against Nashville already done. I think we prepared well and I'm excited about what we've got in place. We'll see how it transpires. That's the million-dollar question."
The Coyotes will have 32 players participating in training camp including four goalies, 17 forwards and 11 defensemen. Thirty-one players will go to Edmonton for the play-in round (one goalie will not).
The Coyotes will practice six times between now and Sunday, taking Friday off. There is a lot of material to cover, but here are the key pieces of information in this training camp primer.
Projected lines
The Coyotes won't be able to experiment with their lines as much as they would in a normal training camp and extended exhibition season, but the staff still expects to throw a few different combinations together. Lines are fluid on every team, and they will be fluid for the Coyotes as they attempt to match up with the Nashville Predators, replace injured players or jump start under-producing players. That said, here are our projected line combinations and defense pairs.
Forwards
Taylor Hall Christian Dvorak Conor Garland
Carl Söderberg Nick Schmaltz Phil Kessel
Lawson Crouse Derek Stepan Clayton Keller
Barrett Hayton Brad Richardson Vinnie Hinostroza
Extras: Christian Fischer, Michael Grabner
Defensemen
Oliver Ekman-Larsson Jason Demers
Jakob Chychrun Alex Goligoski
Jordan Oesterle Nik Hjalmarsson
Extra: Ilya Lyubushkin
A couple of notes on this: Keller may move around the top six and Fischer is a definite candidate for the right side on the fourth line. Hjalmarsson could also play with Ekman-Larsson.
Projected power-play units
*First unit: Phil Kessel, Derek Stepan, Taylor Hall, Clayton Keller, Oliver Ekman-Larsson
Second unit: Carl Söderberg, Nick Schmaltz, Conor Garland, Jakob Chychrun, Alex Goligoski
Christian Dvorak could also see time on the power play.
Projected penalty-killing units
First unit: Brad Richardson Lawson Crouse, Niklas Hjalmarsson, Alex Goligoski
Second unit: Derek Stepan, Vinnie Hinostroza/Taylor Hall, Oliver Ekman-Larsson, Jason Demers
* - If Michael Grabner is in the lineup, he would likely play on the top unit with Richardson. Crouse would slide to the second unit with Stepan.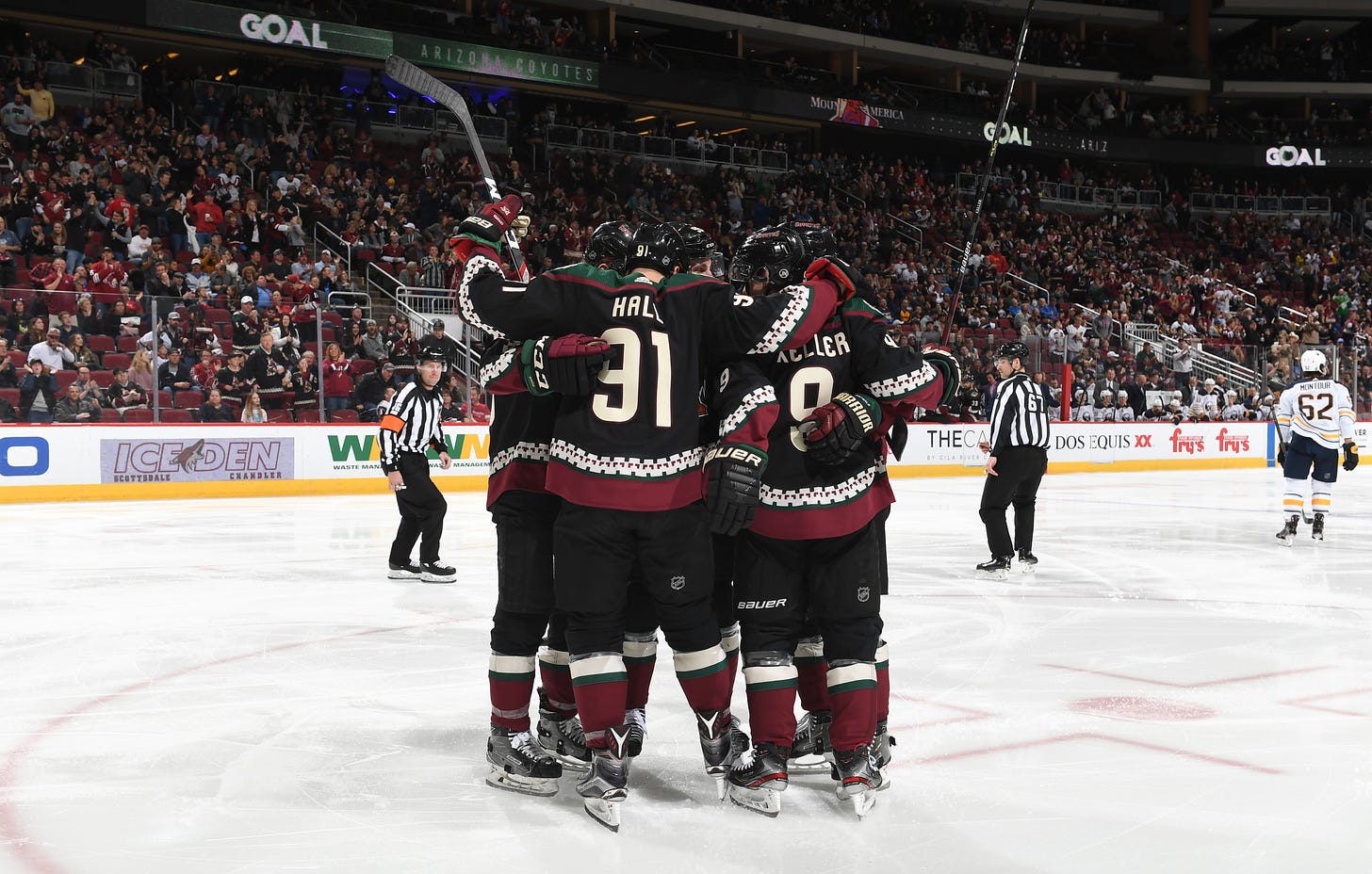 Photo courtesy of Arizona Coyotes
---
Points of emphasis
More goals: The Coyotes will have to brush up on just about everything after such a long layoff, but as I noted in a story last week, squeezing a little more juice out of the offense is a priority and there are multiple points of focus within that goal that you can read about in the story.
Who's in net: Another major storyline, which I also wrote about, is the goaltending plan. With Game 2 and Game 3 of the Predators series coming on back-to-back days, and Game 4 coming two days after Game 3, can the Coyotes really ride Darcy Kuemper for the entire series? Goalie coach Corey Schwab and the team are doing whatever they can in this short window to prepare the greatest strength of the team, the goaltending tandem of Kuemper and Antti Raanta.
Defensive structure: It has been a long layoff. How quickly can the Coyotes restore and polish the defensive identity that is critical to their success.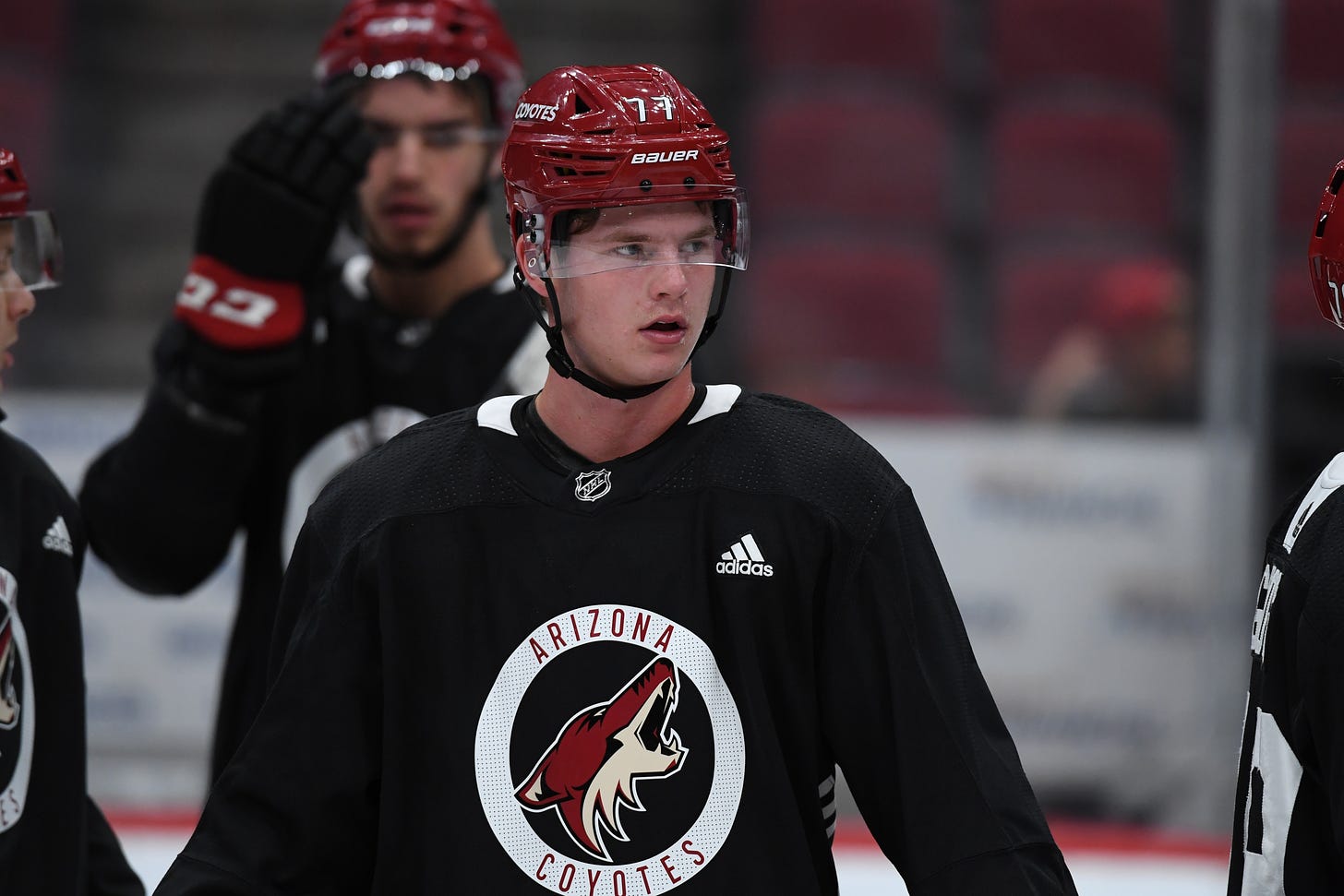 Defenseman Victor Söderström is one of the Black Aces participating in camp.
Photo courtesy of Arizona Coyotes
---
Black Aces
As I reported on June 14, these are the Black Aces who will join the Coyotes in camp: F Brayden Burke, F Hudson Fasching, F Michael Chaput, D Victor Söderström, D Aaron Ness, D Kyle Capobianco, D Jordan Gross, G Adin Hill, G Ivan Prosvetov. The entire camp roster is eligible to participate in the postseason.
Skating with the team is an invaluable experience for minor-league players during the postseason, but how will the coaching staff incorporate them and provide them with the requisite experience without those players getting in the way of what the team needs to accomplish in a short camp window?
"It's a great question because that's the hardest part," Tocchet said. "At the same time, you don't want to have the attitude that they're in the way because I'm telling you, to win a Stanley Cup, one of those guys is going to help you win. It's just the math and the way the playoffs are with injuries. In the history of the NHL, there have been Black Aces that have come in and played for teams that win a Stanley Cup. You don't use just 21 or 22 guys. It's extended to 24, 25, 26. Those guys will help so you have to make sure you include them when you can."
The plan is for the Black Aces to skate in a separate group from the main players (they will skate before the main group on Monday), because the coaches do not want 28 skaters on the ice, but the Black Aces will be involved in scrimmages and maybe select drills/situations when the team needs more bodies.
Health
The NHL will continue to announce league-wide positive COVID-19 numbers. Teams are forbidden from commenting on them.
As for the handful of players who were dealing with injuries, all are healthy and ready to go. President of hockey operations John Chayka said the entire team is healthy as camp begins. That list includes forward Conor Garland (Grade 2 MCL sprain in left knee), defenseman Jakob Chychrun (psoas muscle strain), center Brad Richardson (double core muscle surgery, hips and groin), goalie Darcy Kuemper (groin), and defenseman Oliver Ekman-Larsson (knee).
COVID-19 logistics
Nothing about this training camp feels normal, but the biggest switch is clearly the safety precautions that the Coyotes and all other teams must take to keep their staff healthy and COVID-19 free.
Media who cover training camp must sign in and undergo a temperature test and attest that they are free of COVID-19 symptoms and COVID-19. The Coyotes will provide a hygiene tech to check the temperature of all media who enter the arena. If a media member has a fever of 99.5 or higher, he or she will not be admitted to the facility.
All media must wear a face mask while they are inside Gila River Arena and sit in designated seats in the stands marked six feet apart for proper social distancing. Media will not be allowed any in-person interaction with Coyotes players, trainers, coaches or management. All media availability with Tocchet and the players will be conducted via ZOOM conference calls each afternoon following the on-ice practices.
As for the players and staff, they are working with the Mayo Clinic (a team partner) on testing, preventative and containment measures.
"In any phase or any part of this, the key is prevention and that's what we're trying to accomplish," Chayka said. "That's a 24-hour goal. In the arena, there are certain things we can do to prevent, but also things we can do to detect. The goal with the detection piece is just to ensure that in the event of an infection, we're able to identify it and through contact tracing, mitigate it.
"There is a self-symptom check mobile app where players are able to input all of their data and information. That gives them a clear sense of when they should contact team physicians, but the staff are alerted through that app before the players even show up. There are temperature checks, mask wearing. A lot of the fundamentals are going to be the most important like hand washing and social distancing, but we're going to try to pull any lever we can to keep these guys as safe as possible."
Chayka said meals, locker room access, video sessions and everything else associated with preparation has a different feel to it.
"Our chef is preparing pre-packaged meals for guys to take and eat on their own," Chayka said. "There's no communal meals or anything like that. We'll use two separate locker rooms to keep the proper social distancing. We'll manage the number of people coming through our weight room although we're lucky to have a very spacious weight room. Even so, we're going to have some set-ups in different areas so we can minimize times spent in large groups.
"We're going to try and do as much as we can outdoors and we've also got the whole arena available to us so we'll use any kind of space we can. They can do some treatment or meetings outdoor. Obviously, we'll need to use misters to keep it cool, but anything we can do outdoors, we'd prefer to do that."
Are any players opting out?
Calgary's Travis Hamonic, Edmonton's Mike Green, Dallas' Roman Polak, Montreal's Karl Alzner, Boston's Steven Kampfer, Pittsburgh's Zach Trotman and Vancouver's Sven Baertschi have already announced that they are opting out of the NHL's return-to-play format, a right afforded them without penalty in the agreement between the players and the owners. The Canadiens and former Coyote Max Domi have agreed to wait seven to 10 days before deciding if the forward will join the team for Phase 3. Domi has Type 1 diabetes, putting him in a higher risk group for COVID-19.
NHL players have until Monday at 2 p.m. Pacific time to opt out without penalty. Chayka said that as of midday on Sunday, no Coyotes players had informed him of their intent to opt out.
"All of the guys have been in to participate in training and ramping up so I think everyone is in a really good place in terms of preparation," Chayka said. "I have not been made aware of any (players opting out). Obviously, they still have some time to do so, but no one has communicated to me that they are opting out."

Monday update:
If any Coyotes do opt out, they may face backlash from some fans, but Chayka made it clear that they will have the full support of the organization.
"Everyone has a unique situation, a unique family situation, and this thing impacts everyone individually so I certainly understand and would support anyone that has a concern in terms of not being able to play," Chayka said. "A big part of all of this has been the education piece. I can't tell you the number of Q&A sessions we've had for our players with our staff, with our immediate doctors, with our infectious disease experts at the Mayo Clinic, you name it.
"This is a novel virus. It's clearly something the likes of which hasn't hit society in a long, long time. I think everyone is trying to understand it so education is probably the biggest piece in terms of any misunderstanding. The more you know, the more you understand what you're dealing with and you know how much you don't know, too. Anyone that has a difference of opinion in terms of support and consideration for those who have a unique situation is probably not understanding what we're dealing with as well as they should."

Schedule
Here is this week's on-ice schedule (all practices are closed to the public due to COVID-19)
Monday
Main group: 11 a.m. to 12:30 p.m.
Tuesday
Main group: 11 a.m. to 12:30 p.m.
Wednesday
Main group: 11 a.m. to 12:30 p.m.
Thursday
Main group: 12 p.m. to 1:30 p.m.
Friday
Day off
Saturday
Main group: 11 a.m. to 12:30 p.m.
July 19
Main group: 11 a.m. to 12:30 p.m.
Camp roster
Forwards
Number Player
8 Nick Schmaltz
9 Clayton Keller
13 Vinnie Hinostroza
15 Brad Richardson
18 Christian Dvorak
21 Derek Stepan
24 Hudson Fasching
26 Michael Chaput
29 Barrett Hayton
34 Carl Söderberg
36 Christian Fischer
40 Michael Grabner
67 Lawson Crouse
80 Brayden Burke
81 Phil Kessel
83 Conor Garland
91 Taylor Hall
Defensemen
Number Player
4 Niklas Hjalmarsson
6 Jakob Chychrun
23 Oliver Ekman-Larsson
33 Alex Goligoski
42 Aaron Ness
46 Ilya Lyubushkin
55 Jason Demers
75 Kyle Capobianco
77 Victor Söderström
79 Jordan Gross
82 Jordan Oesterle
Goaltenders
Number Player
31 Adin Hill
32 Antti Raanta
35 Darcy Kuemper
50 Ivan Prosvetov

Follow Craig Morgan on Twitter: @CraigSMorgan