Welcome to the AZ Coyotes Insider newsletter. My plan is to publish stories four to six times per week. By subscribing, you'll be supporting independent, accountable journalism. Subscribe now so you won't miss a story.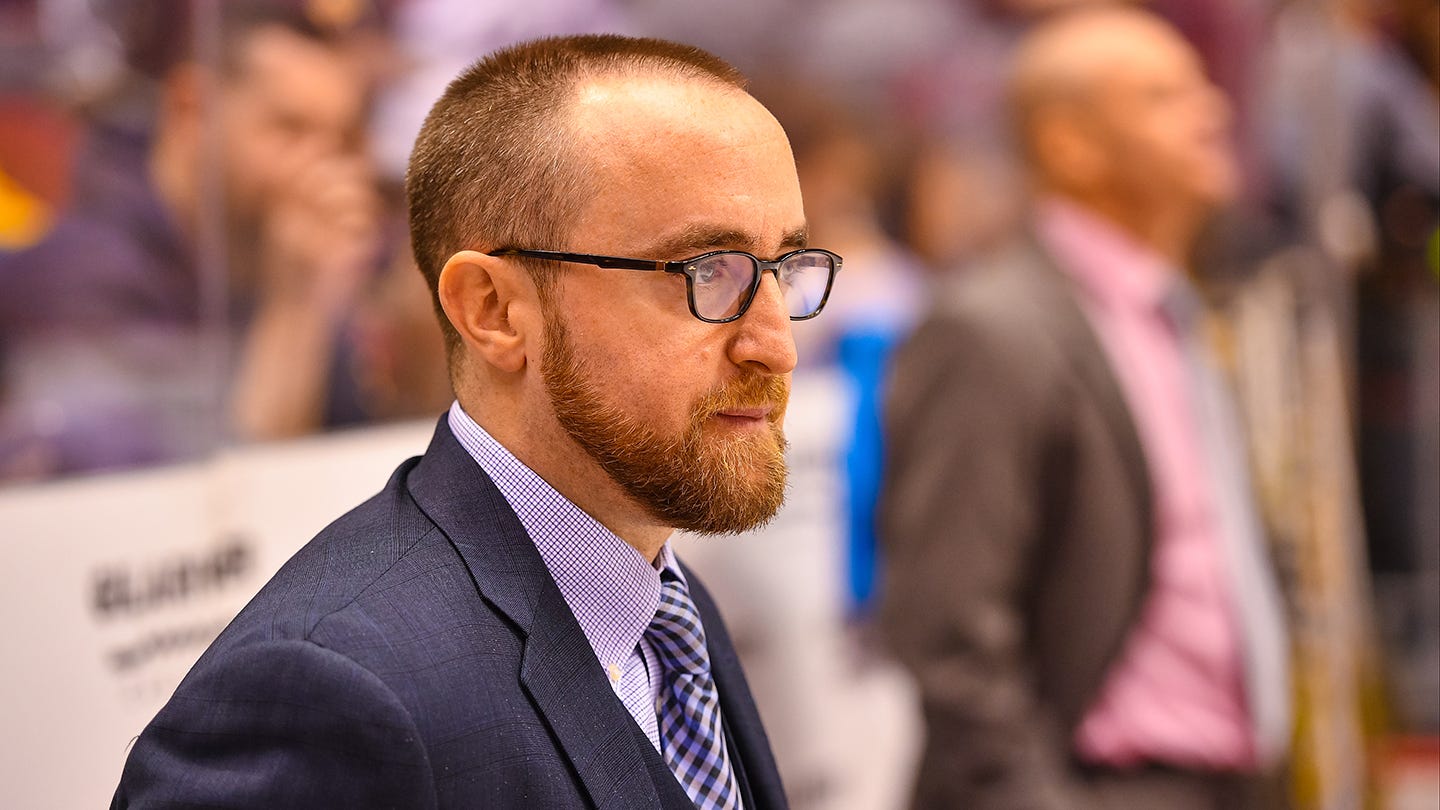 ASU coach Greg Powers. Photo courtesy of Sun Devil Athletics
---
The Arizona State men's hockey team began practicing last week under hour restrictions set forth by the NCAA. While the Sun Devils know they will be able to ramp up that schedule once October begins, they don't know much else about the 2020-2021 college hockey season. The Pac-12 has postponed all sports through the end of 2020 and ASU's isolated location on the college hockey map, and its status as an independent program make its prospects all the more challenging.
I caught up with ASU coach Greg Powers for a Q&A on his plans, hopes and expectations for the upcoming season.
What is your understanding of how the Pac-12's ruling impacts your team?
The Pac-12 has ruled that all sports cannot compete until Jan. 1. It hasn't been said to us that we are a part of that, but it's understood that we probably are. If the college hockey season starts in November and we stay independent, then clearly we will request that we not be a part of the Pac-12 ruling because we have an extenuating circumstance that nobody else in the Pac-12 has. We're an independent program so for us to get a full meaningful season in, we need to start when everybody else does because that's when the heavy slate of nonconference play is played and in January a lot of those teams will start conference play. We don't have conference play right now. Whatever is decided, I'm thinking by mid-September we're going to know what the plan is.
Is there a possibility that ASU could join a conference as soon as this season?
It's still completely unknown, but if there is one positive for the future of our program that has come out of this crazy situation, it has been the in-depth talks we have had internally in terms of conference direction. We have made more headway in that direction than at any point prior. There's contingencies and options on the table, but we are talking with a conference and that's a strong possibility. There are some balls that have to drop and some things that have to happen in order for that to happen, but we are confident that no matter what the situation is, we'll have a seat at the table and have as a full of a season as anyone else.
It's amazing the support that we are getting nationwide from programs saying, "Hey, we're going to play you. We are going to figure it out." We have paid our dues and had some success and helped grow college hockey. They want to support us and they are, so we're not in any way concerned that our season is in jeopardy and we're going to be left without a season at all.
The idea of conference-only schedules has been floated because of a potential January start date, but several coaches have voiced their support for a longer season that includes nonconference games. What is your stance?
From a college hockey standpoint, the majority of our body wants to attach ourselves to what college basketball decides to do. We are a rare sport in college where we're designated as a winter sport even though we really start in the fall. College basketball generally starts sometime in November (and practices begin six weeks earlier than the games). We start games in early October and we start practicing in August when school starts. We're a year round sport classified as a winter spot.
We are, for sure, going to have to make changes to our season and we all know that. It sounds like college basketball's best-case scenario is to start around Thanksgiving weekend so college hockey will try to target Thanksgiving weekend, too. There are still programs out there that are saying we can't start until Jan. 1. There are programs that want to play in October, but whatever we do, in my opinion, it needs to be unified and we should just do what basketball does.
To play a nonconference schedule is important and that's why college hockey is so hellbent on starting as early as possible so the PairWise (rankings are) intact because it works. It's a great tool for deciding the 16 tournament teams, outside of the conference winners. If they don't have nonconference play then those teams have to come in other ways. What that other way is we don't know yet but with no crossover you can't use computer rankings. That's why we have to play as close to a full season as possible."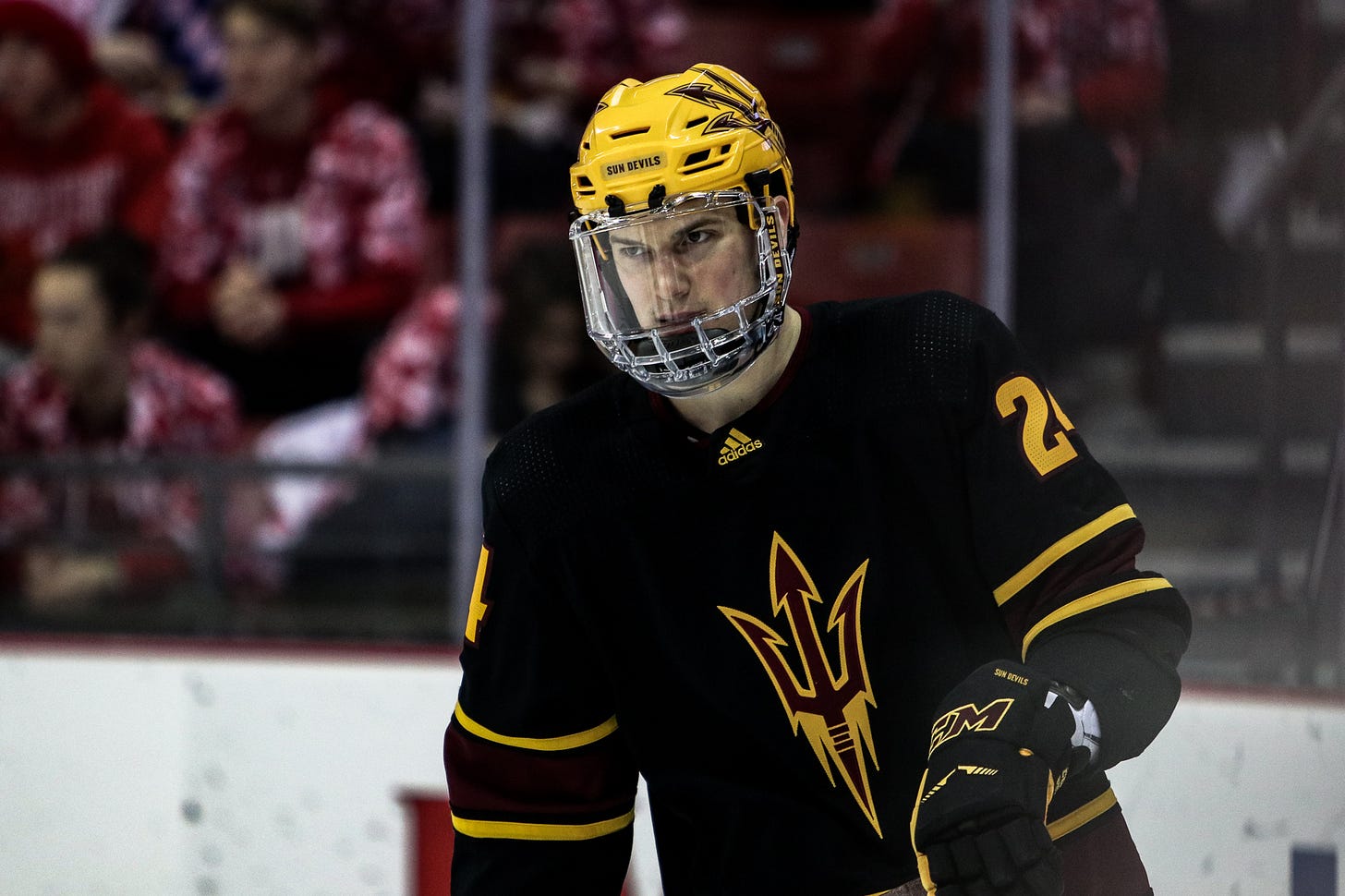 Josh Maniscalco. Photo courtesy of Sun Devil Athletics
---
Has the uncertainty of the season impacted players' decisions on where to play next season, and did it influence Josh Maniscalco's decision to sign a contract with the Pittsburgh Penguins in August?
In Josh's case, he had four or five NHL contract offers last year. We sat down and met for three hours and went through the pros and cons of turning pro. In March, we still thought it was in his best interest to come back, but in March we thought the COVID situation wouldn't get drawn out this long and we'd have a normal season. The longer it got drawn out, his concern wasn't what ASU season's looked like. It was, "How do I turn an NHL contract down for what the college hockey season might look like?" He signed on for a 34-game schedule and a run at the national championship. Right now, we don't know what the schedule will look like. Nobody knows, so he made a great decision for himself and it's one that I agreed with and supported him on.
I know Pittsburgh and other teams that offered him were supportive of him coming back for his junior year and what this year of development would have done for him. He's probably a guy that with one more year would have a very good chance of going straight into the (NHL). He may have that chance with Pittsburgh because of where they are with their right-shot D depth chart, but it was a life decision that was a no-brainer under the circumstance.
For everyone else, it's my belief that any kid in college hockey, unless you have a bona fide chance at an NHL contract and an NHL roster spot, you should stay in school. We're on the ice with our guys now and they're in a world class strength and conditioning program. They are continuing their education and they're getting more of a development focus right now under our current umbrella with no games than they would get anywhere else.
Some kids have Juniors eligibility, and that has been brought up that maybe they should go back there, but we feel like this is the best situation because of how we're able to train and develop them. And then there is the education piece. Do we have guys who could sign American (Hockey) League deals? Absolutely, but we've got a great thing going here. Those options aren't going to go away for kids like Johnny Walker and James Sanchez. We suggest they stay with us, ride this out, have a dominant senior year and make that their American League year and maybe they get an NHL deal next year.
What does practice look like for you right now?
We're only allowed to practice in small groups so we have the team divided into three groups with a goalie in each group and about seven or eight skaters. Right now in September, we're in partial hours so we are limited by the NCAA to four hours per week on the ice with our guys, and then four hours in the gym. We've got one group at each end, and the focus is heavy on skills and development. The third group goes on the ice on its own each day and we rotate which group that is.
On Monday, it was agility and shooting. On Tuesday, it was a lot of shooting and passing. On Wednesday, it was wall work and puck possession. On Thursday, it was habits and concepts. And at the end of each hour for the last 15-20 minutes, we do some sort of competition. They love it.
What is your message to the players right now during this time of uncertainty?
We just tell them we're playing the cards we're being dealt and that is all we can do. We can't worry about what the season looks like. It's out of our control but we know for a fact that we have classes on campus and our guys are on campus and we are allowed to practice so we are going to make the most of it.
So we tell them, "You know what you're going to get here with this development program we're doing and the world class strength and conditioning program we have, and then once October rolls around, we can expand it even more because we're not in limited hours." Let's say we start playing Dec. 1. We have guaranteed our guys that they are going to be better hockey players by then, and my commitment to them is we are going to keep it fresh, exciting and new and we're all going to be better because of this. Hopefully with this approach, when we come out of this, we're the team that can catapult out of it.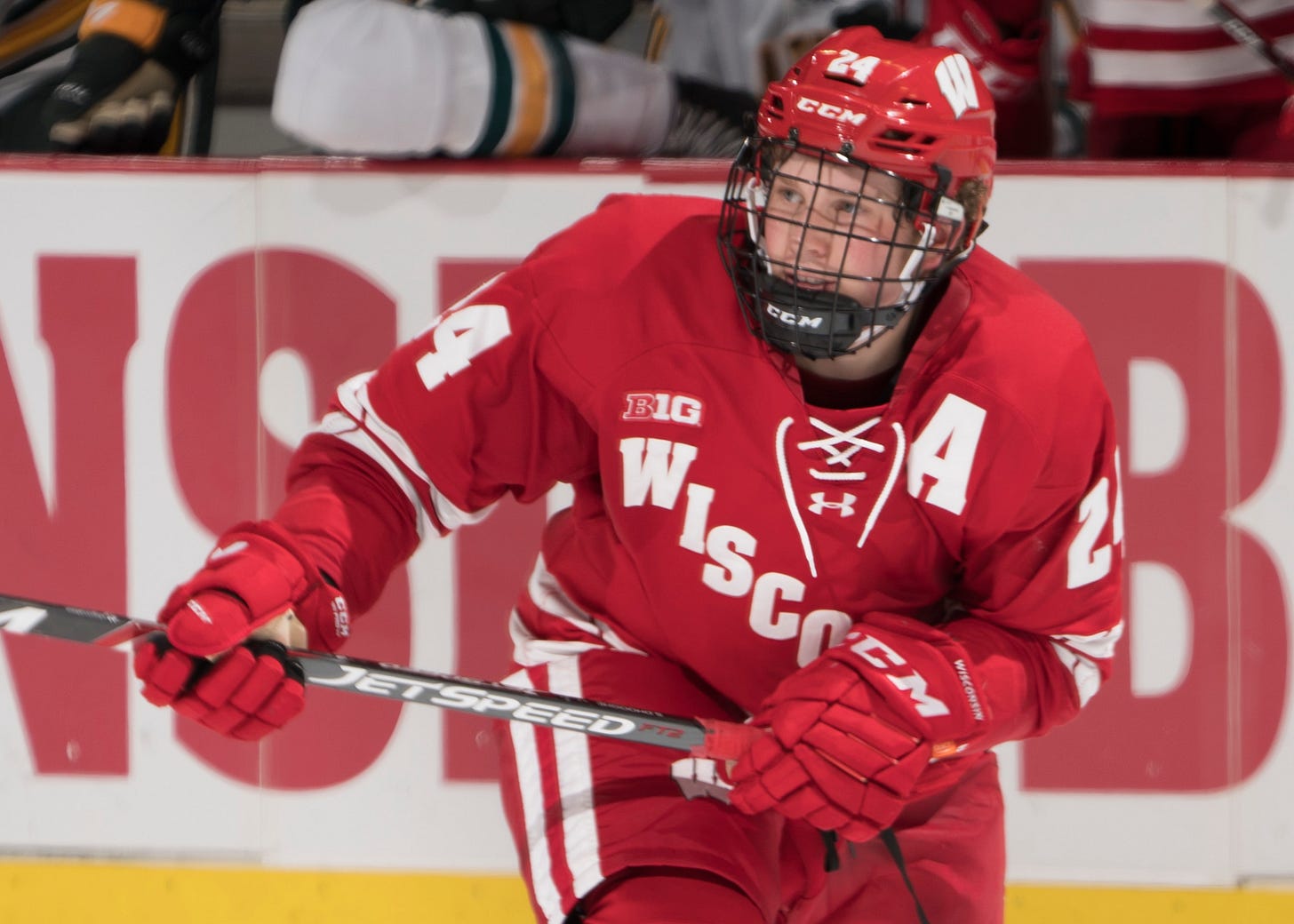 Sun Devils forward Sean Dhooge transferred from Wisconsin. Photo courtesy of Sun Devil Athletics
---
You have said that you think you have a special group this season, and that you are champing at the bit to get going. Can you expand on that?
Even after the first week you can see it. It's a different level. It has progressed that way and it should when you're a new program, but this team is really good. We felt like last year, if things had gone our way and we had gotten some bounces, we could have made the Frozen Four. This year, I think we'd be disappointed if we didn't. We're just so deep. Even losing Brinson (Pasichnuk) and (Maniscalco), who both signed NHL contracts and ate 26-28 minutes a night on the back end, we still think we have a top-10 D corps.
The goaltending depth is there with our freshman that we brought in who is a New Jersey Devils draft pick (Cole Brady, fifth round). Our starter (Evan DeBrouwer) is back from last year and he looks amazing and strong and fast and explosive.

Up front, the depth is silly. We return essentially all of our offense up front and then we added some really high end kids. (Transfer) Sean Dhooge led Wisconsin in scoring as a sophomore. He just needed a change of scenery but he looks incredible, and then our freshman class looks so skilled and so polished compared to what we have had coming in as freshmen. It's going to be a battle getting into the lineup. We want to create that environment where every practice matters and we have that now because we're going to have a fifth line of guys who can flat out play.
Twitter poll
(click on poll to participate)
Follow Craig Morgan on Twitter: @CraigSMorgan